From Manish Malhotra to Rohit Bal, we have rounded up the top lehenga choli designs for 2017. Let's see which Indian lehenga trends will rule weddings in 2017!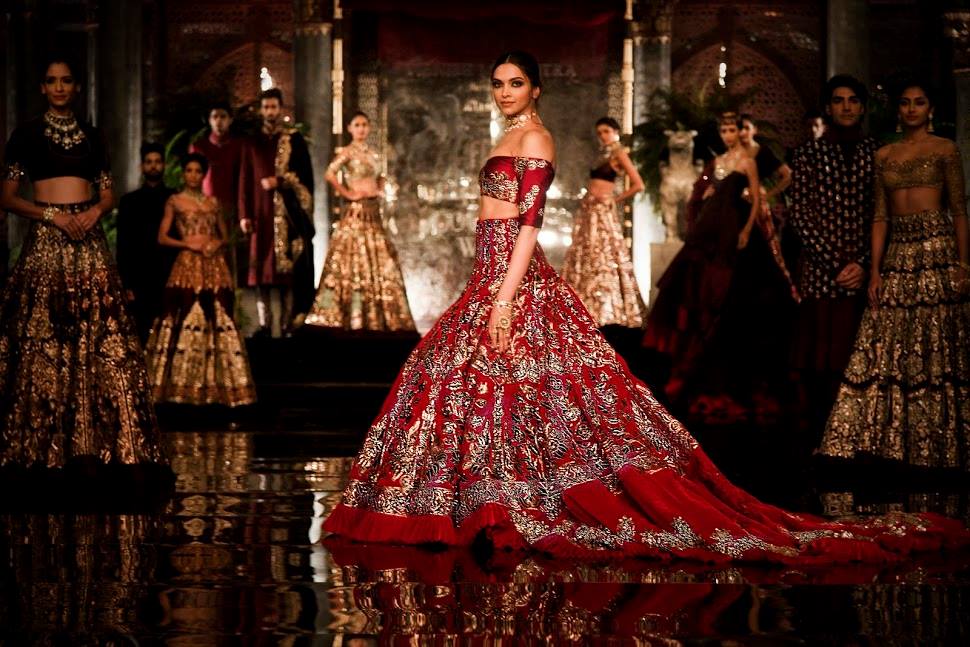 Hey gorgeous! Weddings are the time when brides and guests wanna embrace the traditions. And yet they wanna wear something that's not he beaten ol' conventional dress. We wanna look trendy, sexy, without being too much, of course, don't we? And that's why I have rounded up the hottest and latest lehenga trends for 2017.
The Indian fashion weeks bring loads of lehenga choli designs every season. So we went through all the designer collections to pick out the trendiest styles in wedding lehengas that'll rule the 2017 wedding season. If you're a fashionista, you'll surely find the perfect one for yourself amongst these lehenga choli designs for your parties and weddings!
So let's take a look.
Latest Designer Lehenga Choli Styles for 2017 Weddings
1. Lehenga with Unusual Embroidery Patterns
Forget flowers and peacocks! The modern woman wants to wear unconventional motifs like fish, large exotic leaves, geometric patterns, architectural embellishments, paisley patterns and what not. That's why the #1 trend in wedding lehenga designs is unconventional motifs. We're seeing nature-inspired themes like leaves and botanical patterns in the best lehenga styles.
2. Designer Lehengas with Long Trail
Long trains were the top trend in 2016 lehenga designs too! And obviously, we can't have enough of them. The longer the train, the lbetter! Perfect for brides who wanna make a dramatic entry and would work well for fairy-tale themed weddings and engagements too!
3. A-Cut Lehenga Styles
2014 and 2015 were all about big and poofy lehengas. But come 2016, we have been seeing A-cut lehengas in the fashion shows, such as by Reynu Tandon and Tarun Tahiliani. The A-cut lehenga style may not be so fairy-tale like, but we're happy for it to be amongst the latest lehenga trends. It's a very flattering style, and makes you look taller and slimmer. Pair one with embellishments on its bottom half with sheer dupatta and either short choli or long waist-covering blouse.
4. Lehengas with Architectural Motifs
Florals are passé! Don bold Mughal-inspired morifs on your lehenga for 2017. We're seeing Mughal arches and window motifs in Indian lehenga designs for wedding. One design by Rimple and Harpreet Narula has a whole mahal embellished on its girth.
5. Off-the-Shoulder Lehenga Choli Designs
"Off-the-shoulder is the new backless!"
Off-the-shoulder is the new backless! Off-the-shoulder cholis are the perfect way to look chic and sexy. So wear these lehenga choli designs for all the weddings and Diwali parties! You can go for one-shoulder, strapless or slightly off-the-shoulder designs too.
6. Plain Bordered Lehengas
"Gota patti is so 2016!"
Gota patti is so 2016! Instead of the shiny and embellished border, we're seeing the new trend of plain borders in wedding lehenga designs. Go for a shade darker or matching your lehenga, and satin or silk borders.
7. Lehengas with Cape & Ponchos
Capes and ponchos make their way in lehenga style trends from 2016 to 2017. Floor-touching sheer ponchos, asymmetric lace ones, crop-capes attached to shoulders and floor-sweeping capes – all trendy amongst the latest lehenga styles.
8. Layers and Ruffled Lehenga
Ruffles are trendy this season in Western cloths and accessories, too. So sure enough, this feminine trend made its way into the ethnic designer lehenga styles. Princess-like asymmetric layered lehenga gowns look super rich and classy, and are my favorite style so far this season!
9. Plain and Embroidery Panels
Uneven plain and embroidered panels look really trendy and eye-catching. Many designers like Manish Malhotra, Gaurav Gupta and Varun Bahl are embracing this new trend of mixing embroidered sections with plain ones on lehengas. Mixing negative space with positive. This dismisses last year's trend where the full lehenga was covered with embroidery or embellishment evenly. So look for some empty space in the Indian lehenga designs for the next wedding you have to go to. Perfect for wedding guests and sisters of the bride who wanna make a statement without overshadowing the bride's wedding dress!
10. Jacket Lehengas
From lehengas to sherwanis to salwar suits, jackets are coming up in a big way. For 2017, we're seeing front-slit and ankle-length, embroidered jackets to match the plain designer lehenga for weddings. Also try a shade lighter or darker jacket than your lehenga. The more embellished the better!
11. Analogous Color Combinations
Matchy-matchy lehenga choli designs and contrasting colors are still in trend. But in 2017, we'll be seeing more of pairing a lehenga with a slightly lighter shade of choli or dupatta and metallic cholis. Pair red with pink, and olive green with light pastel green. So go for shades that are next to each other in the color wheel for a unique designer wedding lehenga.
12. Indo-Western Lehenga Gowns
Lehenga-gowns have been amongst the latest lehenga trends for a couple of years now and are showing no signs of stopping down. This season, we're seeing lehenga-gowns with dupattas and a sheer midriff section. I'm loving the Gaurav Gupta multi-layered one!
#SlubAdvice
Work – Embroidery or Embellishement? The latest wedding lehenga designs have metallic threadwork, embroidery, zardozi and sequin work.
What Colors? The trendiest colors for 2017 are blush pink, champagne, royal blue and classic red. Black, scarlet, silver, deep burgundy and pastel green are also popular.
What Fabrics? The latest fabrics for wedding lehenga choli designs for 2017 are silk and raw silk, net, satin, velvet and crepe. Velvet, net and silk are popular for cholis. Velvet, net, silk and georgette are trendy fabrics for duppattas for 2017. Sheer sleeves are super in for wedding lehenga designs!
Aren't you just loving these hot, hot trends in the latest lehenga choli designs for 2017? Which is your favorite new trend? And least favorite? Comment below! Lemme know!
Happy dressing up!
Muaah 🙂
Shilpa Ahuja the editor-in-chief of ShilpaAhuja.com, which she founded with the goal of inspiring confidence in the modern working woman through fashion. Other than defining the direction of the magazine, she also writes about fashion & beauty trend forecasts, industry analysis, and opinions.
Shilpa's work has been published in the University of Fashion blog and Jet Airways magazine. She is also an artist, illustrator and cartoonist. She is also the creator of Audrey O., a comic series that represents the lifestyle of millennial women. She enjoys creative writing and world travel. Her art has been exhibited at Harvard Graduate School of Design and the Aroma Hotel, Chandigarh and been published in Chandigarh Times.
Originally from Chandigarh, Shilpa also has a degree in architecture and has worked in interior project management. She is also the author of the book "Designing a Chinese Cultural Center in India". Shilpa has a Masters in Design Studies degree from Harvard University.
For feedback and questions, please email [email protected].