The latest addition in collectible Barbies is the new Oscar de la Renta bridal Barbie. Inspired by a gown from the designer's Spring 2014 runway collection, the "Something Blue" Barbie doll is a real vision to behold! The limited-edition Barbie is priced at $175 and there are only 10K of these made for worldwide shippin' n shoppin'. Yes, really.
The Oscar de la Renta bridal Barbie wears a guipure and chiffon white gown with a fish-tail-like silhouette. Tiers of blue tulle add a lot of volume on the sides, and sort of reminds me of the Disney movie, Frozen! Fantasy-like and romantic, indeed. The doll also wears diamond earrings, gold-accented pumps and an old Hollywood-style side chignon, and she holds a bouquet! Adorable.
Here's the runway dress from Oscar de la Renta Spring 2014 bridal collection that was the inspiration for this stunning Barbie look: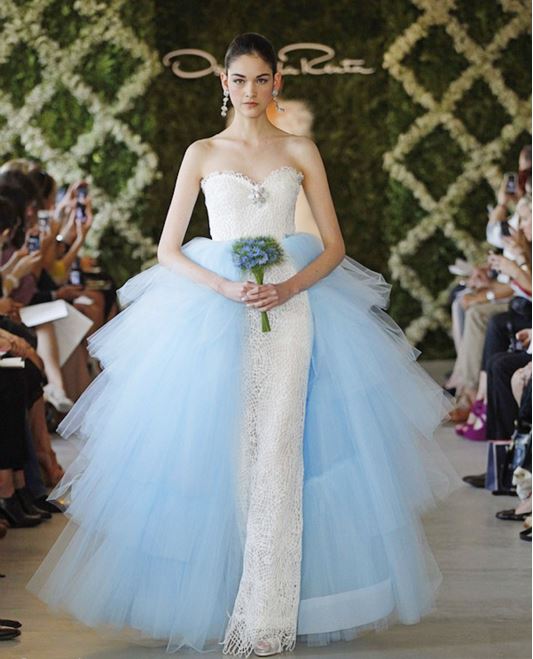 And here's the box this beauty comes in!
As Barbie would say, "It's totally amaze!" Easy for her to say, though, considering this dress will be a part of her closet which is spread out over 10 acres. Ha! 😉
So, girls, what do you think of the latest Oscar de la Renta bridal Barbie dress? Lemme know! Comment below! Muaah! Ciao.
Shilpa Ahuja the editor-in-chief of ShilpaAhuja.com, which she founded with the goal of inspiring confidence in the modern working woman through fashion. Other than defining the direction of the magazine, she also writes about fashion & beauty trend forecasts, industry analysis, and opinions.
Shilpa's work has been published in the University of Fashion blog and Jet Airways magazine. She is also an artist, illustrator and cartoonist. She is also the creator of Audrey O., a comic series that represents the lifestyle of millennial women. She enjoys creative writing and world travel. Her art has been exhibited at Harvard Graduate School of Design and the Aroma Hotel, Chandigarh and been published in Chandigarh Times.
Originally from Chandigarh, Shilpa also has a degree in architecture and has worked in interior project management. She is also the author of the book "Designing a Chinese Cultural Center in India". Shilpa has a Masters in Design Studies degree from Harvard University.
For feedback and questions, please email [email protected]