Kpop fashion has taken over the teenagers' style by storm and it's not slowing down either. Discover how to dress like a Kpop idol in our fashion guide below!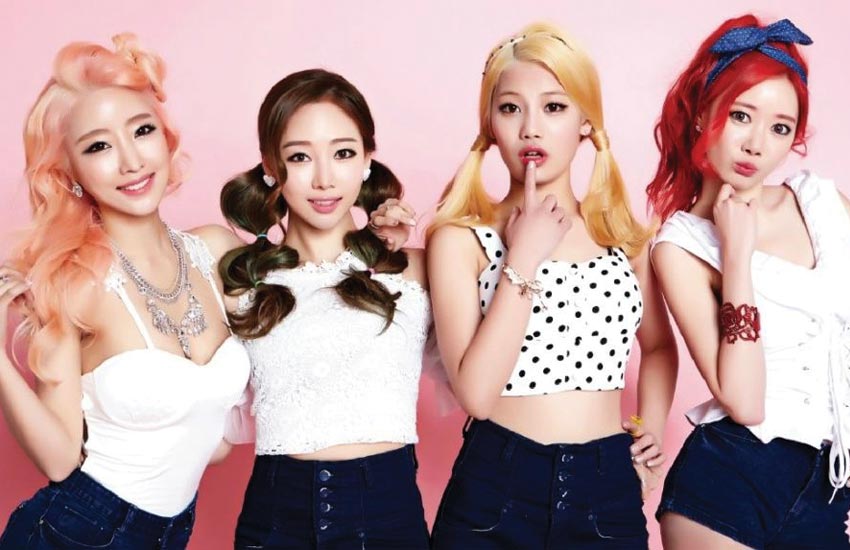 With the rise in popularity of Korean pop groups and artists, modern Kpop is creating history. From topping global charts to performing at international music awards, they're entering territories that Kpop has never been able to during the many years it's been around. This global exposure has made them and their Kpop aesthetic incredibly popular. So popular that they now have millions of fans who love having them on repeat and obsess over their exceptionally bold and glam fashion sense. I'd know, I'm one of them.
So whether you're just looking to learn about Kpop fashion 'cause you're curious or you're already a die-hard fan like me and want some ideas for cute Kpop outfits. Or you just wanna look back on some of the best Kpop fashion, keep reading! Our guide is all about the Kpop clothing brands you need to check out, the latest Kpop fashion trends to try and how to rock them (or "pop" them!)
What is Kpop Fashion?
K-pop or Kpop, is an abbreviation for Korean popular music and it's a music genre that originated in South Korea during the late 1800s. Kpop music is usually a treat for both the eyes and ears, simply because of the fashionable clothing and not to mention the visual effects. With a combination of both retro and futuristic and plenty of street influences, Kpop fashion is by far one of my favorite styles. I love Kpop music video fashion so much that it even got me into exploring different genres within Kpop and watching Korean TV shows or Kdrama.
History of Kpop Fashion
As I mentioned above, Kpop began ages ago but modern Kpop, the one that we obsess over today, only came around in the 90s. Influences from western cultures and musicians like Bob Dylan, Marilyn and the Beatles was a major part of both Kpop fashion and music. Even movements in America like the hippie culture, played an important role in shaping Kpop. However, as time went by, Kpop began to form its own trademark style of music and Kpop fashion. Today, Kpop is so huge that they're topping American and European music charts as well. And because of that, their Kpop fashion, too, now has a huge fan following worldwide.
Latest Kpop Fashion Trends
As the music evolves, so does Kpop fashion. With the release of music videos such as Bad Boy by Red Velvet, Bboom Bboom by MOMOLAND, Heroine by Sunmi, 2018 has been a great year so far in terms of Kpop music and Kpop idol fashion. Matching two-piece sets, athleisure, bomber jackets, skirts with knee-high socks and snapbacks, all of which were spotted in the latest Kpop music videos are very in at the moment.
How to Dress Like a Kpop Idol
Whether you're just getting the Kpop fever now, or have always wondered how to dress like a Kpop star, here you go! From Kpop apparel to the accessories, you can now look like your favorite Kpop stars.
Kpop Clothes
Saying that Kpop stars go all out with Kpop clothing in their music videos and red carpet appearances would be the understatement of the century. From mermaid costumes to pauldrons, they do 'em all! Having said that, they also have music videos where they wear more laidback clothing. Like two-piece matching sets, color blocked outfits, denim on denim looks and lots of tights and fishnets!
Also, a recurring theme in Kpop style music videos is pastel colors. So that's a safe place to start dressing like your favorite Kpop idols. I personally would never think to pair pastels together but girl groups like 2NE1 and Girl's Generation always rock them so I might have to reconsider that. And whatever you wear, wear it with confidence!
Kpop Shoes & Bags
Now that you know the basics of how to dress Kpop, let's move on to shoes and bags in Kpop fashion. Typically, a main part of the Kpop aesthetic is to match the accessories to the outfits. So if you were to pair a pink skirt with a yellow top, your shoes and bags have got to be either of those two colors. Pumps, sneakers, wedge sneakers, booties, mini bags, mini backpacks and fanny packs are common.
Kpop Accessories
Flower crowns, beret hats, stacked bracelets, chokers, chunky necklaces, multiple rings and asymmetrical earrings are popular and cute Kpop accessories.
Kpop Makeup & Hair
Kpop idols change up their hair colors every so often that they have atleast three different colors in each music video. From soft lavender and grey to shocking green and orange, there isn't a color they haven't tried! Let's just hope they're all wigs and not their actual hair that they color!
As with Kpop fashion, they get super creative with their hairstyles as well – double buns, micro braids, pixie and bob cuts.
To match the fun hairstyles, the makeup is also more often than not, fun and flirty. Face stickers, jewels, matching eyebrows to eyeshadow and lip color, glitter lips and eyelash gems are super popular.
Kpop Airport Fashion
As wild and out there the Kpop fashion and makeup looks may be in music videos, when it comes to real life, they keep things quite subtle yet stylish. Kpop idol airport fashion usually revolves around comfortable and chic Kpop clothing. A pair of jeans, basic tee, cardigan and converse is a go-to look. But nowadays, athleisure is common in Kpop airport fashion, too. And their makeup includes no heavy coverage foundations, no contour and no highlight, it's all about a fresh face. And that's hardly surprising considering how popular the Korean morning skincare routine is, and the importance Koreans place on youthful skin.
Kpop Men's Fashion
My favorite thing about male Kpop idols is no, not their flawless porcelain skin and Greek god-like faces, but their experimentation when it comes to fashion. There have been countless iconic moments in Kpop male fashion, which made the whole world go crazy. Like Baekhyun's pierced lip chain in the music video of Exo's Monster. Or red-haired G-Dragon's appearance in Chanel women's wear at PFW.
And I also love how they go over the top with their hairstyles. From Taeyang's scorpion tail hairdo to Kai's dreads to G-dragon's pink & blue cotton candy hair and yellow spaghetti hair.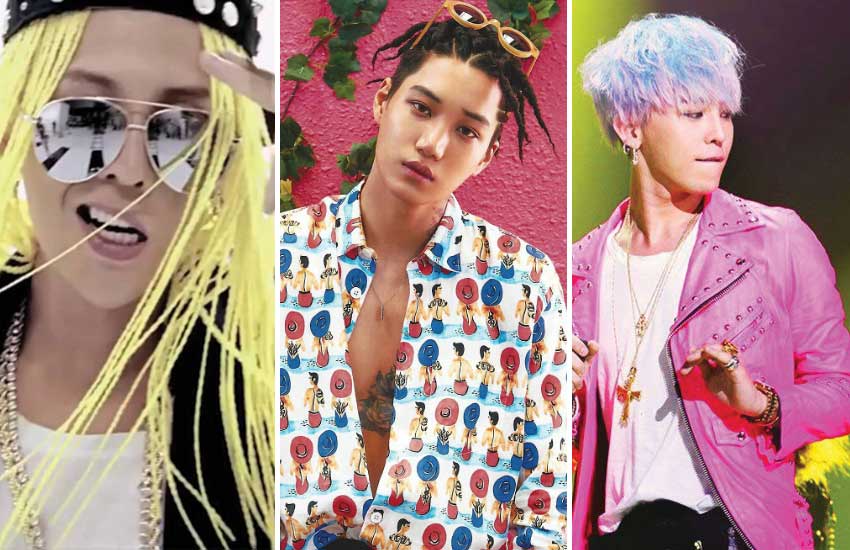 I also adored the glow in the dark dreadlocks of none other than G-Dragon himself. Honestly, the man deserves a whole other article dedicated to just his locks. I also think it's safe to say that subtlety does not exist in Kpop fashion. And by no means are we complaining!
Another thing I admire about male Kpop idols is how they're breaking gender stereotypes. 'Cause wearing makeup has got nothing to do with your masculinity. Kai, Luhan, T.O.P, Jin and Taemin can vouch for that. In fact, G-Dragon even endorsed a lipstick targeted just towards men!
As for Kpop accessories for men, they go all out with tassel and fur earrings, huge chains, flower crowns, scarves, bandanas and multiple piercings.
Kpop Clothing Brands
There are plenty of Kpop clothing brands operating worldwide 'cause who wouldn't wanna look like a Kpop star? If you're looking to buy some trendy Kpop apparel, you should probably check out these popular Kpop clothing brands:
1. D.GNAK by KANG.D
2. Stylenanda
3. Sonyunara
4. Miamasvin
5. 87MM
6. KYE
Kdrama Fashion
Anyone who's into Kpop obviously loves Kdrama as well. If not, then what are you doing? Kdramas are up there with some of my absolute favorite American TV series. Although they're painfully clichéd, typical and expected, it won't stop you from watching them. Mainly because of the unrealistically good-looking actors, exotic locations, theme music, an opportunity to learn a new language and of course, the Kdrama fashion.
From what I've seen, the men in Kdramas dress exceptionally chic – dress shirts, oxford shoes, pea coats, permed hair and what not! And the girl, who is usually the protagonist, wears causal yet cute and preppy styles, almost reminiscent of Blair Waldorf's fashion of Gossip Girl. I'm also a fan of historical Kdramas like Queen Seondeok and Jumong, which show gorgeous kings and queens in equally gorgeous traditional Korean fashion – armor, gowns and headdresses.
So that was all about Kpop fashion for men & women and Kdrama fashion. What is your favorite part about Kpop aesthetic? Tell us by tweeting @shilpa1ahuja!
Nishita is a Staff Writer/ Journalist at ShilpaAhuja.com. She is a graduate of National Institute of Fashion Technology and has a degree in leather design. A lover of all things fashion, she writes about everything from beauty, hair and lifestyle to fashion trends and how-to's. Her area of expertise is outfit ideas but being fresh out of college, she also loves writing about college fashion. Her new found love of baking is currently taking over her life, making her write about all things chocolate and easy recipes. With a flair for sketching and a great eye for detail, she's previously designed leather garments for brands like Diesel and Salsa. When she's not writing, she's busy reading extremely sappy Nicholas Spark's novels, sewing clothes and listening to some indie rock. Also super passionate about photography, she loves portraits and wildlife photography – a habit turned love that formed with the amount of traveling she did as a teenager. As a girl who grew up with books and movies like Pride & Prejudice, her love for period fashion is huge. And being curly haired, she's always on a constant hunt for solutions to problems that come with having ringlets and loves sharing them with people through her articles. For feedback and questions, email [email protected] or connect with her on twitter @ni95.