King and queen tattoos have hit the internet by storm! From small crown tattoos to cute anniversary tattoos, check 'em all out here!
Howdy! Tattoos have been super popular for past many years now! My love for tattoos is increasing day by day! Since the time I started researching for my first tattoo styles article, I have always been wanting to write an article on king and queen tattoos or couple tattoos. The trend of couple tattoos is all over the social media these days. The king and queen tattoos give a chance to show the world your love towards your partner. Personally, I feel it one of the most romantic way to show your dedication, as tattoos, just like true love, are forever!
King/ Queen & Crown Tattoo Meaning
The crown tattoo represents royalty, supremacy, power and leadership! Crown tattoos are popular both amongst men and women. It's also a great idea for those who have a thing for responsibility and reliability. Matching or king/queen tattoo means that no matter what happens to the whole world the two of you will always remain together. It signifies a strong and undying bond between two people. Furthermore, you can also try tattoos of chess pieces.
Different Styles in King and Queen Tattoos
King and Queen Quotes
Quotes like "one love" "one life", "be the one to guide me" "but never hold me down", each other's names, etc. are a few trending king and queen quotes to get inked. Go for hand tattoos.
His and Her King and Queen Tattoos
There are plenty options to choose from when opting for king and queen tattoos. One of which includes his and her tattoos. If you don't want to go for the quotes and stay minimalistic, then go for tattoo ideas like "his queen" and "her king". These tattoos show the depth of your relationship with each other, and forever mark you as the other's!
King Tattoos
Even if you're not in a relationship and want to get the king tattoo, sure, no restrictions! Afterall, the relationship we all have with ourselves is the most important. King tattoos are one of the stylish tattoo ideas. Anywhere from getting a king's crown inked to just inking the four letter word 'king', are good ideas for king tattoos. A king tattoo means you value leadership, responsibility and are born to rule.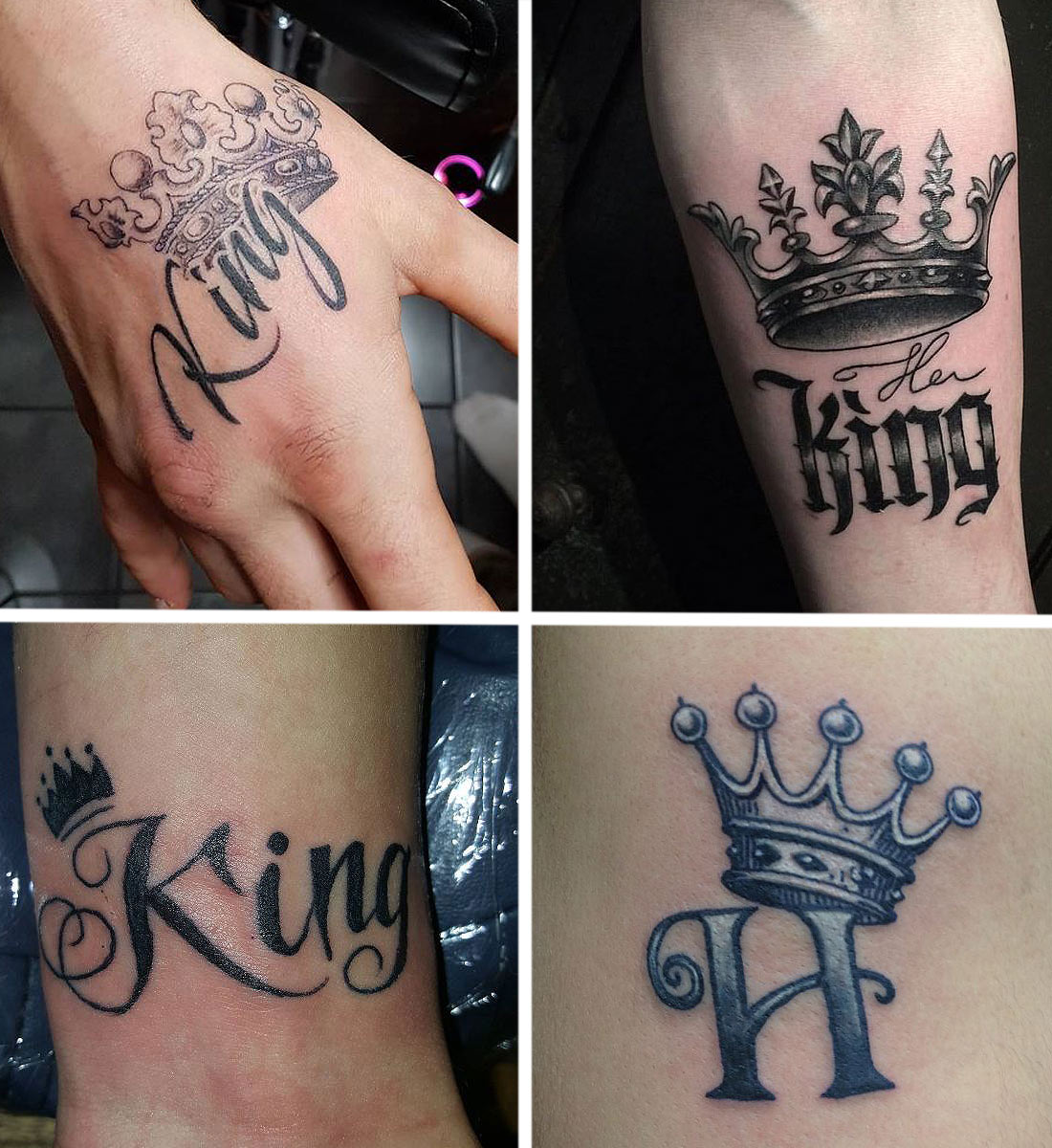 Queen Tattoo
Feel like a queen with crown queen tattoos! On this note, I remember a quote, "A queen will always turn pain into power." So, what best way to feel powerful all the time than a queen tattoo. Feel confident, bold and energized with a queen tattoo and never forget that you have to lead everyone with your positivity!
Chess Tattoo
Sports tattoos may be a bit weird to get inked but a chess tattoo is an exception. If you want to get the king and queen tattoos in a unique way then try chess tattoos. Try on your forearm, shoulders, sleeves or a tiny one on the wrist. You can also try the 3D chess tattoos to get the chess board like feel!
King and Queen of Hearts Tattoo
If you feel the crown or the king & queen tattoos are big and want to try the couple tattoos, then go for these miniatures ones – king and queen of hearts. Just with the symbols K and Q, and a tiny heart beside them will fulfill your wish of having king and queen tattoos. Instead of black tattoos, you can also try the colored ones like king and queen of hearts to get a beautiful effect. These are perfect for those who love tiny, minimalistic tattoos.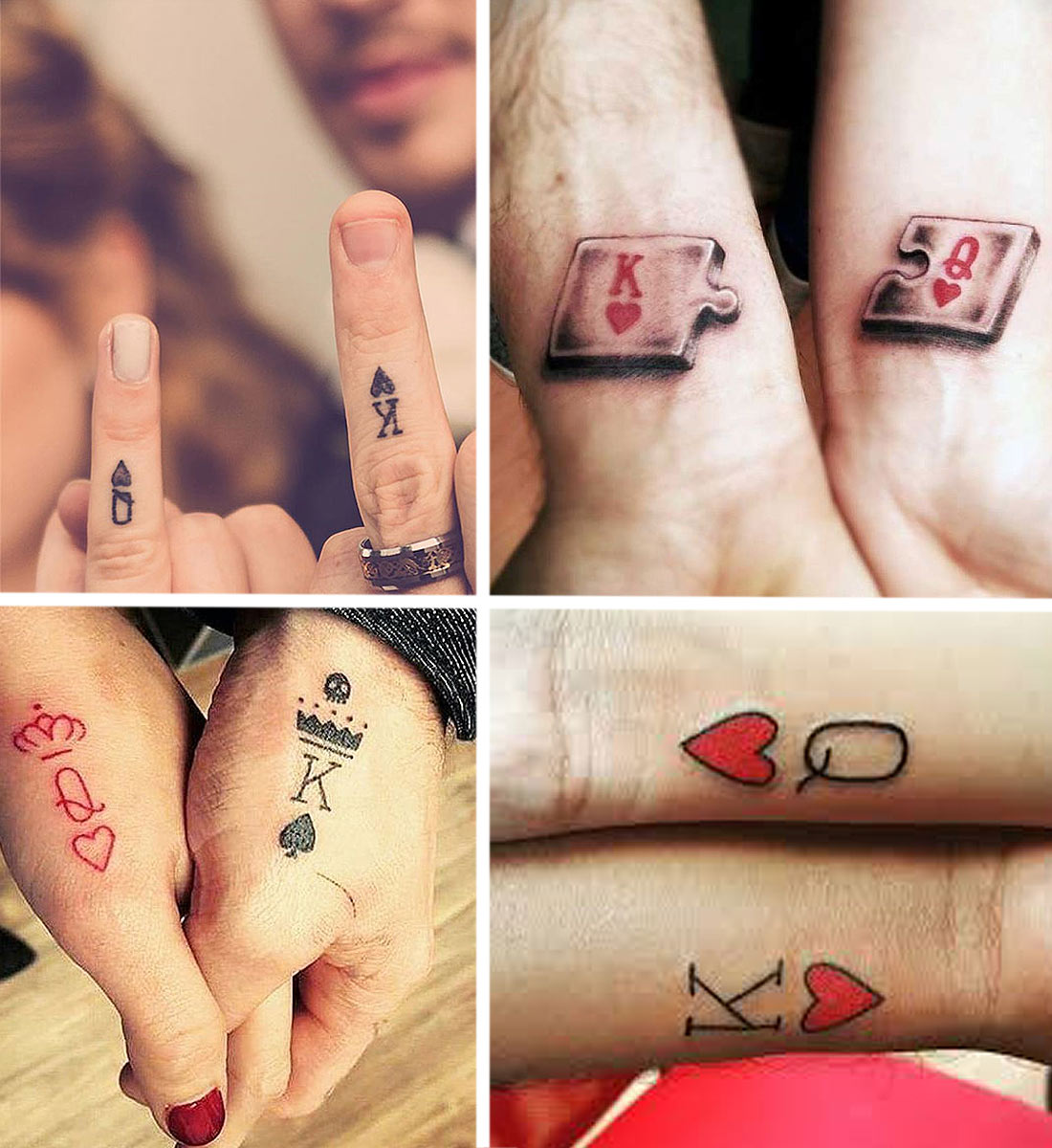 Egyptian King and Queen Tattoo
Interested in ancient culture and mythology? Go for the Egyptian tattoos. These tattoos are rich in meaning and showcase leadership and power. Try Pharaoh tattoos for men and Nitocris tattoo for women, both of whom are Egyptian king and queen! For a darker theme, try skull tattoos!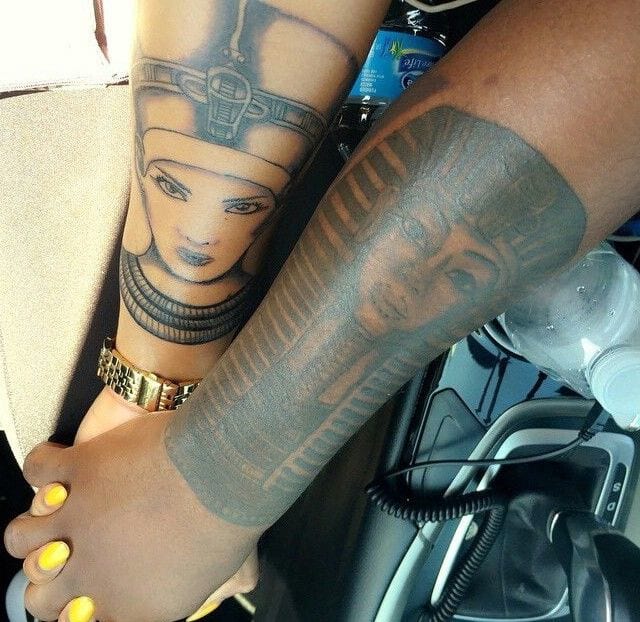 Where to Get Your King and Queen Tattoos
1. King and Queen Wrist Tattoo
The wrist is one of the most popular parts and my personal favorite to get the king and queen tattoos inked. Tiny crowns, his and her, just the first letters of king and queen are all good options for getting tattooed on the wrist. Also, when it is on the wrist it is easily noticeable and works well for photographs too! Yay, Instagram #couplegoals!
2. Crown Tattoo on Chest
Crown tattoo with rhinestone or diamond symbols, crown tattoo with your special one's name written on it or a crown tattoo with wings are a few ideas to get inked. You can either get a tiny one that can peek through your shirt, or a really big one!
3. Crown Tattoo on Hip
Hip tattoos work well for women as they can expose them better when compared to men. Personally, I like the colored crown tattoos as you have lots to experiment with the colors than the black ones.
Crown Tattoos
There are many varieties to try in crown tattoos. Check out a few crown tattoos below.
Simple and Small Crown Tattoo
Looking for something cute, then try the small crown tattoos! Just a simple crown on one of the fingers or at the wrist or back of the neck look will look pretty! Or even the side of your neck is a good, unique place!
British Crown Tattoo
Go totally royal with a British crown tattoo. They're instantly recognizable and speak of undeniable tradition and authority.
Women's Crown Tattoos
The crown tattoos have so much to offer and hence they are most popular amongst women. Ideas for women's crown tattoos include a small tiny simple crown, intricate patterns of crown, crowns with rhinestones, crown with initials, crown as a part of engagement ring tattoo and many more. You can also try colorful crowns or photorealistic ones with real gemstone effect, which are really trendy these days.
Name with Crown Tattoo
Crown tattoos with name uplift the overall look of the tattoo. However, if you don't want the name to pop up much then try getting it inked in a smaller size than the crown. You can also add the initial of your someone special as a rhinestone in between the crown.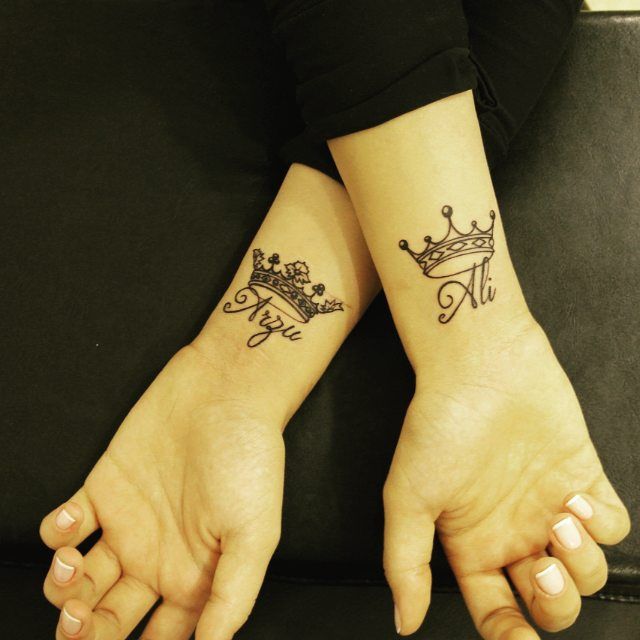 Other Tattoos for Couples
While king and queen tattoos are quite popular amongst couples, there are many more couple tattoo ideas that help the couples remind them of each other constantly. So, let's take a look at some of them!
Husband and Wife Matching Tattoos
Mickey and Minnie, his and her, forever love, wheel and anchor, infinity symbol, zodiac signs, puzzle tattoos are a few endless tattoo ideas for husband and wife. In fact, matching tattoos are one good way to stay together always! Even if one wants to ditch another one, seeing the tattoo they may change their mind! So you never know when your tattoo will save your relationship! Moreover, they'll also constantly remind you of the things that made you fall in love with them initially!
Anniversary Tattoos
Firstly, amongst the anniversary tattoos, the most popular ones are getting the anniversary date inked! Now your husband has no excuse for forgetting it!
Couple Finger Tattoos
Couple finger tattoos are good if you want small cute ones! Sun and moon, king and queen, half heart, lock and key are the best ones to try from! Also, one of my favorites is Superman and wonder woman symbols. Aww so cute, right?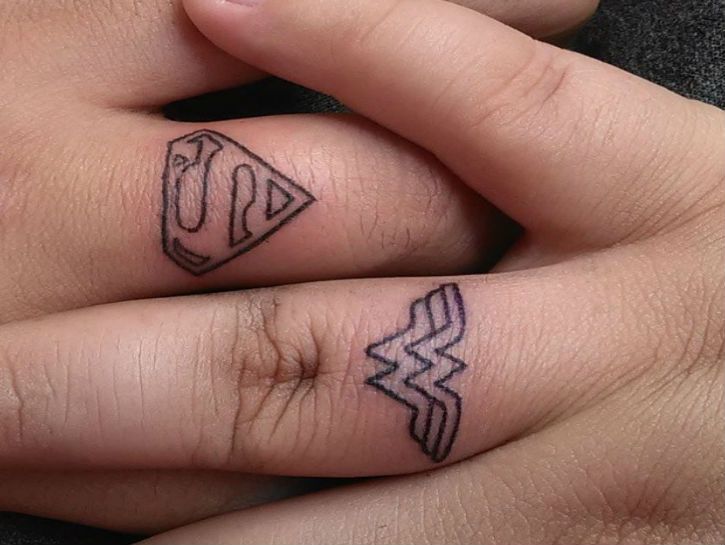 One Life One Love Tattoo
One life one love tattoo is super duper famous as couple tattoos. From getting inked on arms to fingers to shoulder to stomach, this is a popular couple tattoo. For example, OLOL with and without crown are both good tattoo ideas!
Yin Yang Tattoos for Couples
Ying and yang represent the male and female elements in the Chinese culture. Yin and yang are complete opposites but they complete each other, always found together! There's a yin to every yang! A circle with partial dark and partial light is what constitutes the yin and yang symbol.
True Love Tattoo Designs
Last but not the least, true love tattoo designs can be inked by both couples and singles. Sure enough, both subtle and bold ones are popular. For couples, try ideas like a pigeon with true written on it on one person and the other with love written on it.
So, we hope you liked the different king and queen tattoos ideas. Which couple tattoo style did you like the most? Do let us know by tweeting @shilpa1ahuja.
Image Credits: Instagram (refer individual handles)
Also, check out:
– 60 Cute Tattoo Ideas | Best Tattoo Designs for Women
– Feather Tattoo: Meaning, Types, Designs, Ideas & Inspiration!
– Best Cherry Blossom Tattoo Ideas & Designs with Meanings
– 60 Lotus Tattoo Ideas: Lotus Flower Tattoo Meaning & Where to Get It
– 50 Best Tattoo Designs and Ideas for Men
– Tattoo Styles: 16 Most Popular & Cool Tattoo Ideas
– 30 Wolf Tattoo Ideas: Lone Wolf & Other Designs with Meanings
– Tattoo Removal: Guide to Types of Processes, Cost & Pains Involved!
– – Love Couple Images | Creative Ideas for All Types of Couple Pictures
Anusha Jain is a Staff Writer & SlubShop Manager at ShilpaAhuja.com. She has a diploma in Fashion Design from iNIFD and is originally from Andhra Pradesh. Before entering into the field of fashion, she got a Masters in Analytical Chemistry. Her love in fashion design, a passion in staying updated with the latest trends and zeal to do something creative paved her way to a career in fashion. Here, at Shilpaahuja.com, she works on bringing the latest in shopping ideas, fashion tips and beauty advice to SlubShop, the world's first purely trend-based affiliate store. Accessories are her expertise. Her work on SlubShop involves bringing the latest runway trends to the masses, and designing the UI/UX to make it look innovative and fresh. She is also a fitness and dieting aficionado, writing about bringing the latest in the world of wellness and health. When she's not writing she loves to travel, watch movies and also she is interested in photography, using herself as a muse. For feedback and questions, email [email protected] or connect with her on Twitter @Anushajain14.