Hey! The Hunger Games: Mockingjay – Part 2 has just released and the Hollywood movie series that is a wordwide success is four films old now! Jennifer Lawrence plays Katniss Everdeen, the brave survivor in the fight till death! To see how much Jennifer Lawrence's looks have changed since the first movie was released in 2012, we have compiled all the coolest and best Hunger Games costumes! Let's take a look:
Jennifer Lawrence Hunger Games Looks
The famous hunting pose of Jennifer from hunger games is a good example of how much effort is put into her ironically, effortless-looking look! Lawrence who plays Katniss Everdeen underwent numerous injuries and extensive physical training to learn combat and achieve a perfectly toned body.
Jennifer Lawrence Hunger Games: The Best Looks from The Hunger Games: Catching Fire
Catching Fire is perhaps the only movie of the series that has sexier, more feminine costumes for Jennifer Lawrence.
The wedding dress is perhaps the best (and most glamorous) look in the movie! It is very unique (just saying, compared to traditional wedding dresses!), and it's made of feathers! This outfit not only makes her look gorgeous but also gives her a godly appearance. It's great to see Katniss in something feminine and non-fighter-like.
Indonesian designer Tex Saverio designed this dress in collaboration with costume designer Trish Summerville.
This is the famous catching fire look. She has been given a bold eye makeup in black and gold, sort of stick eye shadow look which is not Smokey, paired with a healthy-looking skin and a fancy hair accessory.
Jennifer Lawrence Hunger Games: The Best Looks from Mockingjay – Part 1
This is Jennifer Lawrence latest hunger games mockingjay part 2 costume. I really love her shoulder-pads, okay, on second thought; they're really not my type. Kinda androgynous, but suits her fighter-role. Androgynous is a theme that actually best describes Jennifer Lawrence's costumes in this movie.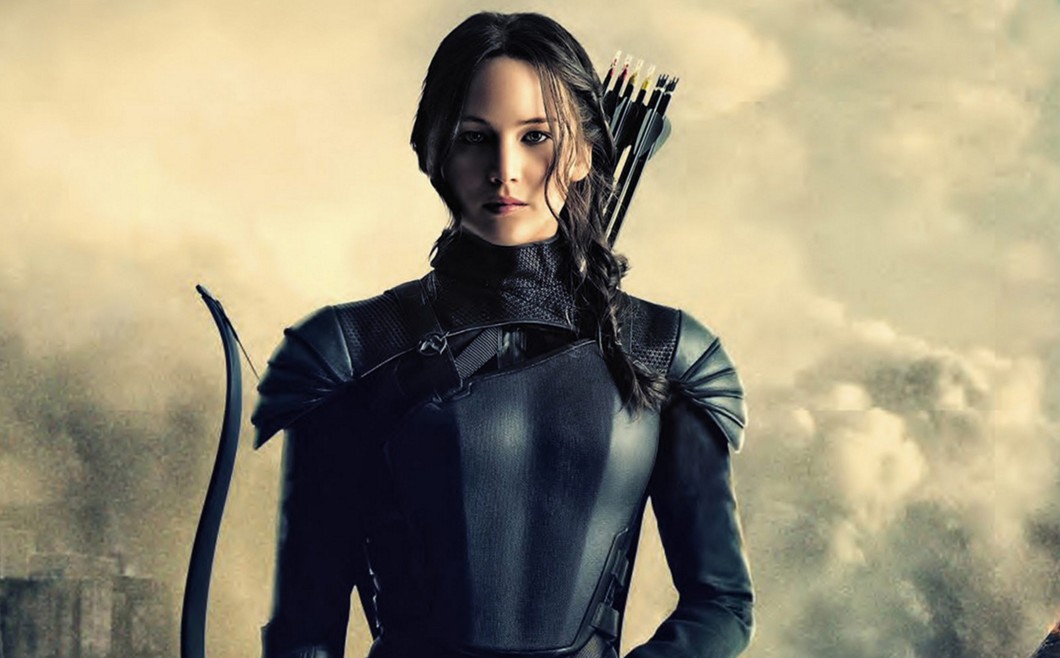 Here's another one without the shoulder pads! I like this one with her fierce look!
Here is the Jennifer Lawrence's hairstyle almost throughout the movie. It is a simple messy side-braid with lots of wavy stray-strands framing the face. The messy braid look suits the game girl perfectly. As if someone who is involved in extensive toil the whole day has no time to put up a neat hairstyle. 😛
Jennifer Lawrence Hunger Games: The Best Looks from Mockingjay – Part 2
The red costume is from the movie poster and is quite similar to the Part 1 costume, but with wider shoulder pads and a bolder sexier red color. This one I guess would be the perfect choice for a Hunger Games Halloween costume.
She's back to her black and grey monochromes for the movie!

So which one of Jennifer Lawrence's costumes from The Hunger Games did you love? And which one did you hate? Lemme know below! 🙂
Also read:
– Jennifer Lawrence Haircuts and Hairstyles: Bob Cut, Pixies, Buns
– Jennifer Lawrence Street Style | Best Casual Outfits Ever
– Best Jennifer Lawrence Makeup Looks | Smokey Eye, Nude, Party Makeup Looks
– Best Jennifer Lawrence Red Carpet Dresses Ever
Sonali Mishra has interned at ShilpaAhuja.com as a Content Contributor. She graduated with a degree in Production Engineering from Trichy Engineering College and currently works at Amazon. With a vast experience in engineering at companies like Ford and L&T, Sonali's real love for fashion got the opportunity to be showcased through her fashion articles. She loves to write about fashion shopping and celebrity style. Please email at [email protected] for questions and comments.