From mouth-watering pizzas to tempting tiramisus, discover the true taste of Italy in our Italian food guide below! Plus some super easy Italian recipes!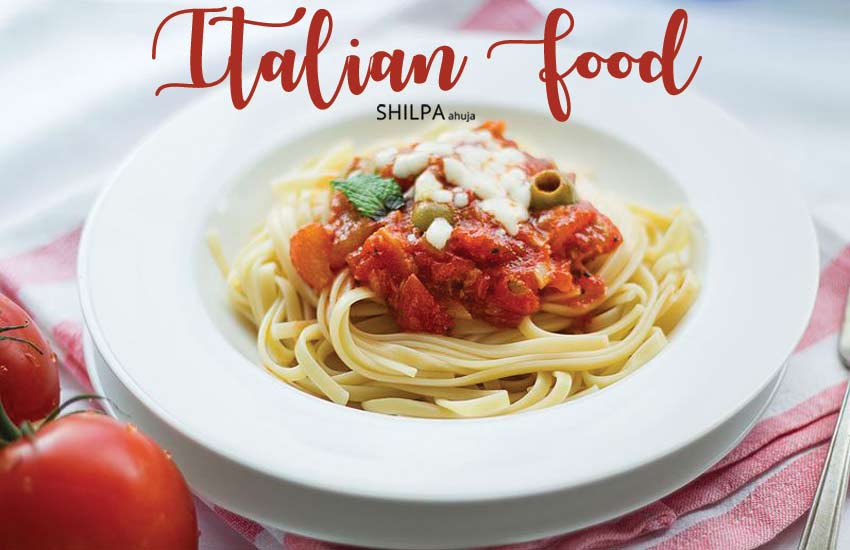 I'm a sucker for Italian food, especially the desserts! I may not be a coffee lover per se but I can sure scarf down four tiramisus in one go! I recently read a fictional chick-lit book centered around Italy, its culture and mainly, its food, called One Night in Italy. Less than halfway through the book and I was already drooling! Thankfully, the book had a couple of recipes at the end, which I was more than happy to recreate! And I still do it every time I crave an Italian dish. So here's all the Italian food 101 you need including some easy Italian recipes for you to try at home!
About Italian Cuisine
It doesn't matter where you live, Italian foods are always within reach. You'd be sure to find atleast one authentic Italian food restaurant in every locality. And thanks to pop culture, we always know what to try when we're heading to a restaurant next. Watching movies like Letters to Juliet, Eat Pray Love and Mamma Mia were enough to tempt me to rush to the nearest Italian cafe!
From the different types of bread, pastas and appetizers to wine and desserts, Italian food has so much to offer. So keep reading to know more about this European cuisine.
Italian Cuisine History
Italy has always been known for its appreciation and love for the simplicity and subtlety in food. After the fall of the Roman Empire, each region and city began to develop its own cooking style and methods. Black truffles, risottos and Tuscan beef were popular in the north, pizzas, spaghetti and mozzarella became famous in the south and the central region was known for their tortellini and gnocchi. There were differences even in the way the noodles were cooked. The northern region preferred soft egg noodles while the southern part loved hard-boiled ones. And these differences in cooking can be seen to this day in modern Italy.
Traditional Italian Cooking & Authentic Italian Food
From pickling and smoking to frying and baking, real Italian food uses various cooking techniques. Traditional Italian food isn't overloaded with spices, sauces or cheese. Instead of using everything together, authentic Italian food uses only two or three major ingredients to their natural flavor and pairing can be enjoyed. In fact, the flavor is so light and subtle that no ingredient overpowers the other.
Authentic Italian food also consists of fresh homemade pasta dishes, which are cooked al dente, meaning not too soft. Some of the veggies that can be found in typical Italian foods are artichokes, eggplant, cherry tomatoes, olives, peppers and zucchini.
Herbs & Oils in Italian Cooking
The Italians are very particular when it comes to their food and really love to celebrate the flavor, texture and color of each ingredient. I would know, I've watched pretty much every episode of David Rocco's Dolce Vita!
The subtleties that they enjoy in their Italian dishes comes from the herbs and garnishing they choose to add. The most popular ones include oregano, basil, thyme, rosemary, sage, parsley and fennel. And most households have a jar of all these spices combined together called Italian seasoning and add it to certain dishes.
The most widely used ingredient in all of Italian cooking is olive oil. It can be drizzled over salads, bread, sandwiches, pizzas, you name it! Balsamic vinegar, pesto, sun dried tomatoes and marinara sauce are some other condiments that are commonly used in Italian dishes. Truffle oil is also used in gourmet cooking.
Types of Breads & Pastas
Breads are a classic Italian cuisine staple. Bread is typically served with olive oil at restaurants while patrons wait for the server or their order to arrive. They're also often eaten alongside soups, with toppings or stuffed with meat and veggies. Some popular types are ciabatta, focaccia, cornetto, rosetta, pane, taralli, laterza, friselle and pizza bianca.
Pastas made from scratch are common in Italian households. Some common ones are penne, spaghetti, fusilli, linguine, tortellini, rigatoni, fettucine, tagliatelle, orzo and macaroni.
Top 10 Italian Dishes
I can list so many, and it'd be hard to choose just 10. But these popular dishes from Italy are a definite must-try. So if you're a newbie to Italian food, these 10 best Italian delicacies are great to start with!
Pizza – Try classic, authentic Italian pizza topped with sun-dried tomatoes, ricotta and arugula.
Mushroom risotto – A creamy Italian rice dish cooked in a vegetable broth.
Tiramisu – Delicious, layered coffee flavored dessert.
Focaccia bread – Italian flat and fluffy bread, which can have toppings like tomatoes, herbs and cheese.
Chicken lasagna – Layered pasta dish lined with meat filing.
Bruschetta – Small bite-sized bread usually topped with tomato, basil and olive oil.
Ravioli – Meat, cheese or mushroom stuffed pasta dish.
Panna cotta – Pudding-like Italian dessert made with gelatin.
Gelato – Soft, creamy Italian version of ice cream.
Panini – Italian grilled sandwich filled with meat or vegetables.
Read on to find our favorite recipes and other delicacies.
Italian Meals
Each Italian meal is a feast in itself and the Italians see it is as a great way to spend time with family while enjoying scrumptious food. A typical Italian meal consists of 9 stages:
1. Aperitivo – Aperitivo or apéritifs are small bites served with wine before the appetizer. They include cheese and olives.
2. Antipasto – It translates to before the meal and consists of appetizers like bread, cured meats and marinated vegetables. Antipasti can also be bruschetta or bread with tomato and ricotta. Or toasted bread with an olive spread or tapenade.
3. Primo – The primo is the first main course and typically consists of a warm, hearty dish such as soup, rice, pasta, polenta and risotto.
4. Secondo – The second part of the main course is usually a filling dish made from meat or seafood.
5. Contorno – An accompaniment to the main course, it could be a platter of veggies or a simple salad.
6. Formaggio e frutta – Fresh fruits accompanied with cheese form the first part of the dessert.
7. Dolce – The main dessert, it could be anything from gelato to tiramisu.
8. Caffe – Any type of coffee drink like a ristretto or macchiato is a must in Italian cuisine after dolce.
9. Digestivo – Drinking an alcoholic beverage at the end of an Italian meal to help with digestion is common. And they could be cocktails or distilled liqueurs. Amaro and grappa are popular in Italian cuisine.
Wines in Italian Cuisine
As great as wine and Italian food go together, there are certain specific pairings that are truly made for each other! Try white wine like pinot grigio and chardonnay with seafood dishes like shrimp pasta. Pair red wines like cianti and barolo with red sauces like marinara and bolognese. And try rich red wines like pinot noir and syrah with spaghetti and pizzas.
Italian Snacks & Appetizers
Bruttiboni (almond cookies), cornetti con panna (croissants filled with cream), ciambelle (pretzel bread), and gelato are some famous Italian snacks. And others include toasted garlic bread, kalamata olive tapenade, stuffed mushrooms and deep-fried calamari (my fave!).
Italian Desserts
Hands down, my favorite part of Italian food! Some popular ones are cannoli (a crispy pastry dough tube filled with cream), panna cota (Italian custard), gelato (smooth Italian ice-cream) and of course, my personal fave – the tiramisu, which is a layered coffee dessert. And more traditional ones include torrone (nougat), brittle (hard sugar candy with nuts) and panforte (fruit cake).
Italian Christmas Food
Christmas in Italy is celebrated in grandeur with the company of relatives, family and a delicious feast! Each Italian region has its own set of traditional Christmas foods. Scillatelle al ragu (pasta with pork sauce), Minestra di cardi (artichoke soup), carbonata (beef marinated in red wine), baccala (codfish), canederli (bread dumplings) and panettone (sweet bread) are some common ones.
Easy Italian Food Recipes
From easy Italian appetizer recipes to delicious Italian dinner ones, check out the best Italian recipes below!
Tiramisu
Try this easy yet amazing Italian dish by Recipetineats for a sweet caffeine kick!
3

 

eggs

 with the yolk and whites separated

1/2

 

cup

 

caster sugar

1/2

 

tsp

 

vanilla extract

250g 

mascarpone

1 1/4

 

cups

 

hot espresso coffee

2 tbsp

of any of your favorite liquor

200g (24 – 30) 

lady fingers

Cocoa

 powder
Beat the yolks and sugar in a stand mixer for 12 minutes or until they turn white and thick. Now add the vanilla and mascarpone, beat until just combined and transfer the mixture to a bowl and set it aside. Then beat the egg whites in the mixer until they become stiff. Fold 1/3 of the yolk mixture into the egg whites. Then gradually fold the rest of it in to combine.
Now you can start assembling the dessert! Mix the coffee and liquor together and dip the lady fingers in them and start putting the dessert together. Line the bottom of your container with the coffee dipped lady fingers, spread some cream, then add another layer of lady fingers. Top with more cream and repeat. So once you've used up all the ingredients, cover and refrigerate for 3 hours. And just before you serve, dust some cocoa powder over it.
Authentic Italian Pizza
Check out this easy-to-follow homemade recipe by Jamie Oliver on YouTube! Made from scratch and wood-fired, it's as traditional as Italian food can get.
Bruschetta
Try Shilpa's quick and simple bruschetta recipe whenever you're craving some Italian!
Here's what you'll need:
Slices of soft bread like foccacia
1 tomato, diced
Fresh basil leaves, chopped
Extra virgin olive oil
Sea salt
Lay out the bread on a plate. You can also use bruschetti instead. Top with tomatoes and drizzle some olive oil. And add a pinch of chopped basil and a pinch of sea salt on each slice. So simple yet so good!
Focaccia Bread
Check out another one of Jamie Oliver's super yummy traditional Italian recipes below!
Sun-Dried Tomatoes
There are plenty of ways to make this popular Italian food ingredient. You could use an oven, a dehydrator or the good old sun, which is probably the most time-taking but easiest method. So start by choosing your favorite variety of  tomato but just make sure that they are all the same size so that they dry at the same time. Then, slice the tomatoes in half, place them on a screen, sprinkle sea salt and leave under the sun to dry for 3 days. And use them to top any of your favorite Italian dishes. Store them in an air-tight jar or container with extra virgin olive oil.
Roasted Veggies
Here's another authentic and easy Italian recipe from Shilpa. It's also super healthy as it uses fresh veggies like cauliflower, broccoli and caramelized onions. So check it out here: Italian oven-roasted vegetables recipe.
Pasta with Tomato Sauce
4 tbsp extra virgin olive oil
4 or 5 cloves of garlic
Small bunch of fresh parsley, finely chopped
Freshly pureed tomatoes
1 1/2 tsp sea salt
3 or 4 leaves of fresh basil
Parmigiano reggiano to grate
Crush the garlic, add it to a pan filled with the olive oil and saute the garlic until it just starts to turn brown, then add the parsley. Now turn the heat up to high, add the tomatoes and cover with the lid for about 30 seconds, until it stops bubbling up. Then stir with a wooden spoon and lower the heat. Add some salt and let it simmer while you stir it occasionally. Then, turn off the heat and add the basil. Now pour the sauce over your favorite cooked and drained pasta and garnish with some grated parmigiano reggiano cheese and pepper.
Chicken Lasagna
For all you meat-lovers, Italian cuisine has tons of wonderful meat dishes as well and chicken lasagna is one of them. So read the recipe by Foodandwine here: Chicken Lasagna Recipe.
Italian Street Food
Street eats are one of my faves as they really capture the essence of the cuisine and here are all the ones that you must try when in Italy. Cuoppo napoletano (deep-fried seafood served in a paper cone), arancini (fried rice balls stuffed with cheese) and sgagliozze (fried polenta). Some sweet treats that can be found on the streets are zeppole (cream-filled fried dough balls), sfogliatella riccia (layered phyllo pastry with ricotta filling) and of course, the classic gelato!
Italian Fast Food
Famous Italian food items that you'd typically find at any Italian fast food restaurant are margherita pizza, panini (grilled sandwich), gelato and bruschetta. Also, pizza pockets (pizza toppings stuffed into pastries), calzone (folded pizza) and I cocoli (fried pizza dough topped with honey).
So that was everything you need to know about Italian cuisine. Also, which of these Italian foods are your favorite? Do let us know by tweeting @shilpa1ahuja!
Also read:
– All About Mexican Cuisine: History of Mexican Food, Best Dishes to Try!
– Greek Food Obsession: 8 Recipes from Greek Cuisine You Need to Try!
– Wine Ice Cream Recipe: It's the Coolest Gourmet Dessert Trend in Town!
Nishita is a Staff Writer/ Journalist at ShilpaAhuja.com. She is a graduate of National Institute of Fashion Technology and has a degree in leather design. A lover of all things fashion, she writes about everything from beauty, hair and lifestyle to fashion trends and how-to's. Her area of expertise is outfit ideas but being fresh out of college, she also loves writing about college fashion. Her new found love of baking is currently taking over her life, making her write about all things chocolate and easy recipes. With a flair for sketching and a great eye for detail, she's previously designed leather garments for brands like Diesel and Salsa. When she's not writing, she's busy reading extremely sappy Nicholas Spark's novels, sewing clothes and listening to some indie rock. Also super passionate about photography, she loves portraits and wildlife photography – a habit turned love that formed with the amount of traveling she did as a teenager. As a girl who grew up with books and movies like Pride & Prejudice, her love for period fashion is huge. And being curly haired, she's always on a constant hunt for solutions to problems that come with having ringlets and loves sharing them with people through her articles. For feedback and questions, email [email protected] or connect with her on twitter @ni95.