Here are the best designer Indowestern bridal dresses for 2017. Choose your Indo western wedding dress according to your wedding type!
Hey, gorgeous! Indo western outfits have been making waves both at the parties and in weddings. If you're the unconventional bride and are planning an adventurous wedding in caves or an intimate ceremony in the gardens, or you want to have a seaside affair with a beach wedding, then an Indo western outfit would be perfect for you!
With the changing times, the traditional bridal wear, too, has evolved. From lehenga gowns to off-the-shoulder dresses, Indo western bridal wear is something you can try if you want a chic and unique look.
Whether you want a small, intimate wedding ceremony, or want the fun of something non-traditional on your wedding day, an Indo western wedding dress would be suitable for you.
How to Select an Indo Western Wedding Dress for Yourself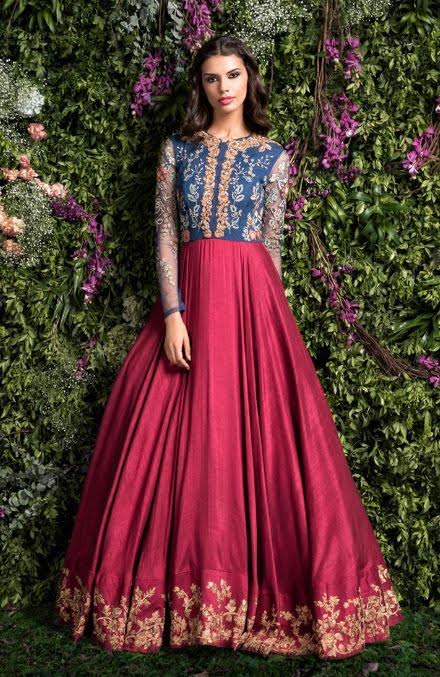 With plunging necklines, long-trail skirts, capes and ponchos making waves on the runway, you have a wide-range of designs to opt for your wedding.

Red is the classy and traditional color most brides go for. You can choose otherwise and go for something different like pinks, pastels, burgundy or even metallic colors. Choose a color that suits your skin tone.
Choose your outfit according to your body type.
If you are pear shaped, then wear an empire-waist lehenga gown that puts the emphasis away from your hips.
If you have an hourglass figure, go for a well-fitted cocktail gown.
If you have a small waist then go for a crop top and skirt.
If you wanna flaunt your neckline or shoulders, go for something strapless or off-the-shoulder.
Also check out: What Type of Indo-Western Clothing Would Suit a Curvy Woman?
So, let's discover how brides can rock in an Indo western dress for different types of ceremonies!
Select an Indo Western Wedding Dress According to Your Wedding Type
1. Pastel Gowns for Engagement
Rock a gown or a pretty crop top and skirt. Keep it elegant and chic! If you're wearing red for your wedding, then avoid it on your engagement. Instead, choose pinks, pastels or royal blue. If it's an evening affair then go for metallics or a poofy engagement gown.
2. Statement Cocktail Dress for Rehearsal Dinner
Though it's not your actual wedding day, you still want all eyes on you. It's almost like 'the' day! You want to look all pretty and stand out but also make sure you don't overshadow your wedding dress. So, you can opt for a classy gown with unconventional embroidery or a side slit.
Choose a metallic bubblegum pink or a silver cocktail gown for an attractive look. A ruffled Indo western wedding dress in pink or blue would also look vibrant and peppy!
3. Royal Destination Wedding Dresses
Destination weddings are always an exotic affair. With beautiful and enchanting locations, you don't want to compromise with your outfit.
Fort and castle weddings are magnificent and beautiful. Hence, opt for a heavy embroidered lehenga gown. To give an Indo western feel to your attire, opt for a sheer poncho or cape instead of the dupatta. Royal colors are perfect for a destination wedding dress like royal blue, red and gold. Go for a rich fabric like velvet, silk or brocade.
4. Peachy Pastels for a Beach Wedding
Beach weddings are always fun. Opt for light pastel colors like peach and white for a sundowner wedding. And purples and oranges if it's an evening wedding. Also, try ruffled gowns to match the waves of the sea. Off-shoulder gowns and plunging necks look really sexy for beach weddings.
5. Trendy Indo Western Wedding Dress for an Intimate Ceremony
If you're planning an intimate wedding ceremony or a simple and small gathering, then you can sport a lehenga with a twist! Crop tops are making waves in traditional attire, so opt for an unconventionally designed top. Try sheer fabrics and metallic shades. You can wear a simple fluffy gown with minimal accessories.
6. Florals for a Garden Wedding
Garden weddings are beautiful and mesmerizing. Floral embroidery, long trials, capes, and ponchos look the best! Embellished gowns, ruffled tops, vibrant pastel colors go well for garden weddings. Accessorize with a flower pin or tiara.
7. Full Sleeved Gowns for Winter Weddings
If your wedding is during winter then choose a full sleeved gown or an Indo western wedding dress with a long jacket. You can also team it up with a crop jacket to complete the look. Go for the classic winter shades like crimson, burgundy, navy and amethyst.
8. Bold Metallics for a Themed Wedding
Wedding themes for Indian weddings have gradually evolved over the time. Unique themes give you an opportunity to experiment with your wedding outfit as well.
Go bold with colors and collars for imperial and victorian themed wedding. For a fairytale wedding, opt for a big poofy gown with layers, ruffles and a long train. Choose a charming Indo western wedding dress for your themed wedding.
So, these are our favorite Indo-western outfits for brides for this year. Which Indo western wedding dress would you choose? Let us know by tweeting us @shilpa1ahuja!
Sahana is a Senior Staff Writer at ShilpaAhuja.com. With an experience in fashion and lifestyle writing, Sahana is responsible for Indian and international fashion week coverage every year, and is developing an expertise in apparel trend forecasting. She also writes about health and fitness, having pursued yoga for 6 years now. She's not a gym person at all but is all for "running in the park" and is an amateur cyclist. Books and coffee are her other passions. She's also an amateur photographer. She's a hardcore Bollywood fan and she loves to cover the nostalgic topics on the same. From fashion trends to famous characters, she can make anyone love Bollywood! Her best article has been 90s Bollywood fashion, a readers' favorite so far! Prior to her experience with ShilpaAhuja.com, Sahana has written as a freelance author for online magazine, Mashup Corner, and interned at EventsHigh as a content writer. Her blogs on basic fashion, makeup, fitness and city's food joints that gave her a chance to experiment with her writing. She also has voiced her opinions about feminism and equal rights for men and women at PolkaCafe journals and after quitting her job, she decided to take up writing as her full time career.
Sahana is an engineering graduate and has worked in an MNC, Tesco, for more than a year as an Operations Support. It was her sheer love for fashion that made her quit the monotonous 9 to 5 job to pursue a career in the fashion industry. She's originally from Bangalore and is currently settled in Chennai (she's loving the city)! For any queries and discussions, contact her at [email protected] You can also tweet her at https://twitter.com/Sahana_17