From anarkali to ball gowns, learn about all the Indian gown styles here. Discover what type of gown would be best for different occasions and body types.
Hey gorgeous! While there are so many Indian women's ensembles like sarees and lehengas, modern Indian fashion has evolved into many other Indo-western dresses, too. Gowns are the best example, which are hugely popular at every occasion these days.
Indian Gown Styles
Indian gowns come in a wide variety of designs, different patterns and fabrics. But what every girl should know definitely about is the different kinds of Indian gown styles. Because if you're looking for a gown for a wedding, party or any other occasion, you can select a different style each time. Moreover, different types of gowns can look the best on different body type.
So let's check out all Indian gown styles…
1. Cape Gown
A cape is a long piece of fabric that is worn over the shoulders, tied or stitched around the neck and goes at the back, either till the hips or floor-touching. Gowns with capes are very popular in Indian fashion weeks, and they're perfect for when you want to make a big statement, since they give a western touch. This is a great idea if you're going to a fancy party, such as a black-tie event.
2. Saree Gown
Saree gowns are perhaps the most well-known among the Indian gown styles. A saree gown is a gown that has a fabric going from the waist across to the other shoulder and hanging at the back, resembling a saree pallu. In a saree gown, the top half gives the illusion of a saree, whereas the bottom half looks just like a dress, so the gown looks somewhat as a mix of a dress and a saree. A saree-gown is different from a pre-stitched saree because the former doesn't have pleats. Saree gowns are a great option for wedding sangeet or mehndi ceremony, or for a fashion event, since they look so glam.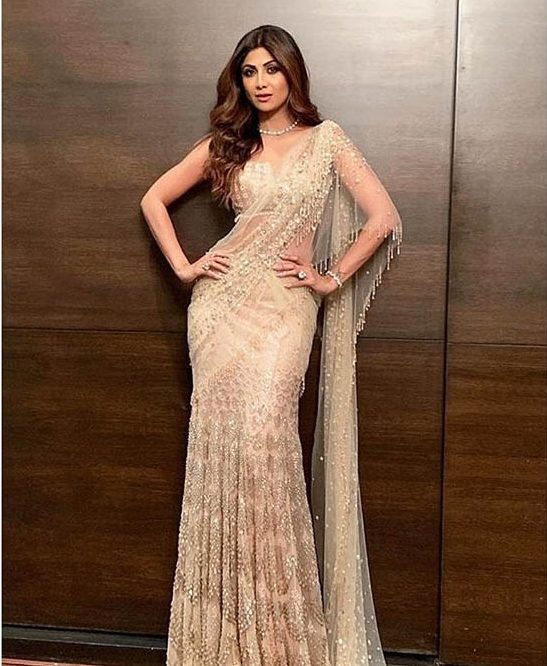 3. Lehenga Gown
Basically, a lehenga-gown is a one-piece lehenga. Just like a saree-gown resembles a saree, a lehenga-gown looks like a lehenga. It has a well-defined waistline, sometimes covered in sheer fabric to give the illusion of a choli. It also has a dupatta, sometimes attached. A lehenga gown also has a lehenga-like skirt, which is flared. This is a great idea for your sister's wedding or even your own wedding.
4. A-Line Gown
An A-line gown is one that has a well-defined waistline, and then flares out to form almost an A-shape. The skirt may be lined with can-can to increase its volume, and it may also have a train, just like the below gown. This style looks perfect on short girls, as well as pear-shaped women. A very flattering style A-line gown is the perf option for your engagement, first anniversary or your friend's wedding.
5. Modified A-Line Gown
An A-line gown that doesn't have a well-defined waist seam is called a modified A-line gown. This gown has a very contemporary yet elegant silhouette, but it looks flattering if you have a flat stomach. So if you have tummy-fat, avoid this style. Great idea for your roka ceremony or college farewell.
6. Anarkali Gown
Anarkali gown is a type of A-line gown that consists of slices of fabric, each of which is called a kali, stitched together to create a flared, pleated skirt. Usually floor-touching, anarkali gowns are the longer versions of anarkali suits. This is the best idea for a religious ceremony when you don't want to wear a saree or suit, such as griha pravesh, roka ceremony or karva chauth.
7. Jacket Gown
A gown that comes with a jacket is called a jacket gown. Usually, the jacket gowns are designed in a way that the jacket completes the design, either through extra coverage or with the embellishments. For example, the below gown is strapless, and the sheer jacket provides a sequined coverage over it. Jacket gowns are great for winter weddings, destination weddings or reception parties.
Similarly, the below gown is a plain dress, but the jacket adds an elegant party touch to it with gold embroidery and border.
8. Kurta Gown
A kurta gown is a type of modified A-line gown that is designed like a kurta, usually with long sleeves and a front button placket or front stitching. They don't have a waist seam. The top part of this gown looks like an embellished kurta, whereas the bottom part looks like a long skirt. Kurta gowns are the most casual amongst all Indian gown styles, and so they can be a great idea for kitty party, rakhi party, Diwali or a small function.
9. Ball Gown
A ball gown is a gown with a well-defined, cinched-in waistline and a very voluminous skirt. Ball gowns are very princess-ey and they're the perfect attire for a wedding, reception or engagement party, either for the bride or for your sister or brother's wedding. This type of gown suits all body types, but may make short women seem even more petite, because of the increased volume.
10. Sheath Gown
A fitted gown that goes in a straight line from the waistline, without a flare, is called a sheath gown. Sheath gowns have a cinched-in waist but no well-defined waist seam. This type of gown gives a simple look, and looks best on hourglass-shaped women. This type of gown can be a good option for a new year party, exhibition opening or your kid's birthday party.
This style of gown may also have a high slit along one leg, so that it's easier to walk in, since there's no flare at the bottom.
11. Mermaid Gown
Just like a mermaid's shape, a mermaid gown is fitted along the waist till the hips and thighs, and then flares out at the knees. This type of gown suits almost all body types, but looks the best on hourglass shaped women. Perfect option for your engagement, your sister's sangeet or a your cousin's reception.
12. Trumpet Gown
A gown that is well-fitted at the waist and hips, and then flares out to a full skirt mid-thigh is called a trumpet gown. While a mermaid gown flares at the knees, a trumpet gown flares at the thighs.
13. Asymmetric Gown
A gown that has different pattern on both sides is called an asymmetric gown. It could be either one shoulder, one sleeved, or the skirt could be higher on one side. This style of gown is great to make a statement, so it's a good idea to wear it to a fashion event, gala or wedding cocktail night.
14. Tiered or Layered Gown
A gown whose skirt consists of more than one layer is called a tiered gown (or layered gown). Tiered gowns are great for wedding parties, because layers give added volume and make a great statement. They work well for all body types.
15. Empire-Waist Gown
A gown that has a higher waistline, which is fitted at the top and then flares out below the breasts is called an empire-waist gown.
Hope this list of Indian gown styles was helpful. Have you tried all these different types of Indian gown designs? Which one is your favorite? Lemme know below! if you try a new gown style, do show me your pic by tagging me in your pic on Instagram @shilpaahujadotcom!
Muaah <3
Also read:
– Types of Gowns for Different Body Shapes
– Types of Silhouettes: Different Fashion Silhouettes & Waistlines
Shilpa Ahuja the editor-in-chief of ShilpaAhuja.com, which she founded with the goal of inspiring confidence in the modern working woman through fashion. Other than defining the direction of the magazine, she also writes about fashion & beauty trend forecasts, industry analysis, and opinions.
Shilpa's work has been published in the University of Fashion blog and Jet Airways magazine. She is also an artist, illustrator and cartoonist. She is also the creator of Audrey O., a comic series that represents the lifestyle of millennial women. She enjoys creative writing and world travel. Her art has been exhibited at Harvard Graduate School of Design and the Aroma Hotel, Chandigarh and been published in Chandigarh Times.
Originally from Chandigarh, Shilpa also has a degree in architecture and has worked in interior project management. She is also the author of the book "Designing a Chinese Cultural Center in India". Shilpa has a Masters in Design Studies degree from Harvard University.
For feedback and questions, please email [email protected]