From jewelry to makeup to colors, we've compiled a list of the top Indian bridal trends for 2019, straight from runway and celeb styles. Take notes, brides-to-be!
Hey gorgeous! If you're a bride-to-be, you're in the right place! Weddings are as exhausting as fun to plan. I would know, I planned my entire wedding with my parents, right to the tiniest detail. And I loved every moment of it.
Current Indian Bridal Trends 2019 & Wedding Fashion
When it comes to the bridal outfit, every bride wants everything to be picture-perfect. Indian brides are extremely gorgeous, with intricate jewelry, bright colors and royal embroidery work, the whole look is breathtaking. Our traditions are so precious. And that's why, year after year, even though western fashion changes so much, the Indian bridal fashion just stays true to its roots.
So this year, let's see how you can don the latest modern bridal look without losing your ethnic touch!
1. Pastels
Weddings and receptions are the one time when brides do not want to wear anything light colored. With traditional choices like red, maroon, magenta and plum, brides have always steered clear of the pastel shades. However in 2019, celebrity brides have been making light colors and even ivory a big choice. This Sabyasachi bride wears a powder pink lehenga with a peach colored border.
The #1 top Indian bridal trend is pastel shades. The traditional red may still be a preference for brides, but less conventional brides are increasingly choosing subtle, soft shades such as peach, blush, powder blue, nude pink and even ivory. Anushka Sharma was one of the first to get on the pastel bridal lehenga bandwagon with her petal pink lehenga.
And now we've seen both Deepika Padukone and Priyanka Chopra choose ivory lehengas for their receptions. And other non-celeb brides are loving the pastel shades too.
In 2019, we're seeing loads of pastel shades in the bridal collection of Sabyasachi. Here's one in powder blue with green and pink accents.
Here, a Tarun Tahiliani bride wears a bridal lehenga in gold and blush colors. She pairs it with a dupatta that has an ombré effect in red and blush.
This gorgeous lehenga by Shyamal and Bhumika uses a contrast color palette. An ivory lehenga with a peach dupatta with gold embellishments.
Here, Fatima Sana Shaikh wears an ivory lehenga with a crop blouse. I love the large earrings, nose ring and statement ring. Paired with black smokey eye makeup and elegant bun, this would be the perfect outfit for a summer bride.
2. Analogous Tonal Color Schemes
If you don't know what these words mean, check out Types of Color Schemes.
Gone are the days when bridal lehenga had to be monochromatic with just tiny accents in a different color. This year, the designers are throwing all old Indian bridal fashion rules out of the window. We are seeing tonal and analogous color schemes in Indian bridal fashion a lot. In this trend, the lehenga is of a different color than the dupatta and choli. Here's an example of tonal color scheme in shades of pink.
Here are two beautiful examples by Tarun Tahiliani from his Spring 2019 collection. The one on the left has a tonal color scheme with red pink and orange. And the one on the right has an analogous color scheme with gold, maroon and red.
Here's a gorgeous bridal gown design that has shades of burgundy. Would be great for a destination wedding.
This bridal lehenga takes tonal color scheme to the extremes: plum paired with dark plum and pink.
Pair your red lehenga with pink or nude choli. Or go for a darker, burgundy dupatta with red lehenga. You can also go for pink with purple. The whole point of these new Indian bridal trends is to know how to make your outfit unexpected and unique.
Here's another Indian bridal outfit by Tarun Tahiliani that has ombré effect in creamy nude and blush. And the dupatta is in nude and pale yellow.
3. Western Touches
Western elements are touching all sorts of Indian wear, for example lehengas, sarees, suits and even bridal fashion. This year, almost all the designer collections have some western elements or the other. Indo-western bridal lehengas are super hot.
We are seeing a lot of feathers, fringes and appliqué. Strapless and off-the-shoulder choli is our another one of the hottest Indian bridal trends for 2019. We're also seeing bridal gowns with attached dupattas or paired with capes.
If you're an unconventional bride, this lehenga by Manish Malhotra would be perfect for you. Feather accents on an off shoulder silver blouse, paired with a poufy lehenga looks gorgeous. This blouse can also be an alternative to re-wear or reuse your bridal lehenga.
If you wanna go really bold, try a strapless nude choli with a traditional red lehenga. Or a bustier.
For an engagement or reception, the modern bride can try an Indo-western gown with attached cape, tiered design or rose appliqué details. The options are endless.
Here's one perfect for a winter wedding: the bride pairs her lehenga with a matching robe and poncho.
4. Double Dupatta
Wearing two dupattas with the bridal lehenga is common in quite a few parts of India. However, these days, the double dupatta trend is taking over the Indian bridal fashion everywhere. We're seeing matching double dupattas with different sequin work designs worn together.
Or you can go for dupattas that look very different from one another, such as a net dupatta over the head and a velvet or zari dupatta draped over the shoulder.
Here, the bride wears two dupattas of the same color. One has mukaish work on it, and the other has an embroidered border with beautiful booti design in zari.
This Manish Malhotra bride pairs a goti patta dupatta that matches her lehenga, with a plain net dupatta with a rich border.
If you like your bridal outfit to be light and fairy-like, here's a great idea, especially for a day wedding. This Sabyasachi bride uses a dupatta with mukaish work to drape her head, and one with floral motifs and sequin border on the shoulders. Both match her lehenga.
You can even go for two dupattas that don't match each other at all. Go for a simple sequined net dupatta over your head, and a dupatta with applique work for draping on one shoulder to the waist, which can contrast the lehenga.
5. Thin & Large Nose-Rings
The trend of large nose rings is back, and once again, Anushka Sharma was the one who started this lovely trend.
Large, traditional nose rings with just one or two stones or pearls are super trendy these days. They look very sexy if worn right, and are becoming one of the hottest Indian bridal trends for 2019. You can just pair it with your traditional neck piece, drop earrings and hair accessories. Or keep it minimal with a bridal choker.
Or just wear it with a headpiece for a clean minimalist, modern look. This kind of a look can be great for reception or engagement, too.
Deepika Padukone paired hers with an extra large maang tikka. And she had lovely super-big hoop earings and a choker to go with it. The jewelry perfectly complements her lehenga, and even Ranveer's jewelry.
Priyanka Chopra was also seen in a thin and large nose ring on her wedding day. She paired it with a maang tikka, layered necklace and stud earrings.
This Sabya bride pairs her nose ring with a beaded neck piece and kundan jewelry. Green accents are super trendy right now.
6. Chokers
Chokers are the hottest accessory for brides in 2019. Go for broad kundan choker design and pair it with a long pendant necklace.
Or wear a heavy choker just by itself with jhumka earrings. Kundan and jadau are the top trending designs right now.
You can also go for a Gothic inspired silver choker for an Indo-western look.
Or pair a traditional choker design with rani haar necklace for an Indian royalty inspired look, a la Anushka Sharma. She also matched the pink beaded design bridal choker with her neck piece, earrings and necklace.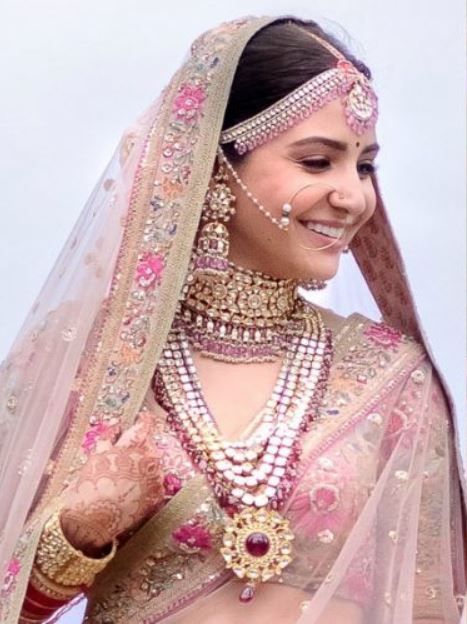 Match them with your lehenga and maang teeka or keep them contrasting with green stones or beads.
7. Belts
Belts are one of the top Indian trends this year, both in saris and lehengas. And now, they're taking over bridal lehengas, too. Both broad fabric belts and narrow, embellished, metallic belts are trendy. Designers are using them to tuck the dupatta in, and add structure to the outfit.
Priyanka Chopra wore a silver embellished belt to match her kundan and diamond jewelry.
Also read: Latest Bridal Lehenga Trends for Spring Summer 2019
You can also match your belt with a traditional bridal choker. Go for a base that matches the embellishment on your lehenga.
We're also seeing contemporary versions of the traditional metallic jaali belts.
8. Jewelry with Green Accents
Green is considered a very auspicious color for Indian brides. So it's a great idea to wear green jewelry, no matter what your Indian bridal lehenga color is. Plus, this year's Sabyasachi bridal jewlery collection is full of green pieces.
We are seeing emerald jadau necklaces as well as green beaded jewelry in gold and kundan. They go well with many lehenga colors such as turquoise, pale gold, red and mauve. Try green and gold necklaces with matching jhumka earrings and nose rings.
9. Light Lip Colors
The Indian bridal make up has undergone a lot of changes in the last couple of years. From the gaudy, dark make up that focused equally on lips, eyes and face, this year makeup has become all about the eyes. While red and other matching lip colors are still common, 2019 is also giving way to light lip colors such as light pink and nude.
We saw all the three recent Bollywood brides – Anushka, Priyanka Chopra & Deepika Padukne wear light lip colors on their weddings. Pair it with smokey eye or cream-colored shimmery eyeshadow and natural blush for a clean, modern look.
Priyanka paired a petal pink lip color with her red lehenga, and barely there eye makeup.
Whereas Anushka went for a day bride look Her light makeup consisted of nude pink lips, shimmery pink eyeshadow and a subtle smokey eye.
10. Minimal Work
Traditionally, designer lehengas have always been about intricate, excessive and opulent embroidery and zari work, especially for bridal lehengas. However in 2019, minimal work is also becoming very trendy.
This trend was made popular by Sonam Kapoor when she wore a cute red lehenga with well spaced-out lotus motifs on her wedding. Now we're seeing silk, tulle or velvet lehengas with floral, leaf and bridal-scene motifs.
This year, we're even seeing hand-painted designs, which are being preferred by NRI brides in daytime weddings.
We are seeing this trend of minimal work in the designer collections of Sabyasachi and Rohit Bal.
11. Smokey Eye
While light lip colors are getting so trendy in 2019, dark smokey eye make up is also one of the top Indian bridal fashion trends this year. It goes very well with light lip colors. We're seeing smokey eye looks in black, dark brown and deep grey on celebs on magazine covers.
Even Deepika Padukone wore smokey eye makeup on her wedding and reception.
And in 2019, were even seeing a lot of real brides try this kind of modern, celebrity-inspired makeup trend.
So I hope this list of Indian bridal fashion trends was helpful. If you're shopping for bridal outfit, I'd love to see your choice! Do tag me in your bridal look or shopping pic on Instagram @shilpaahujadotcom!
All the best and happy shopping!
<3
Shilpa Ahuja the editor-in-chief of ShilpaAhuja.com, which she founded with the goal of inspiring confidence in the modern working woman through fashion. Other than defining the direction of the magazine, she also writes about fashion & beauty trend forecasts, industry analysis, and opinions.
Shilpa's work has been published in the University of Fashion blog and Jet Airways magazine. She is also an artist, illustrator and cartoonist. She is also the creator of Audrey O., a comic series that represents the lifestyle of millennial women. She enjoys creative writing and world travel. Her art has been exhibited at Harvard Graduate School of Design and the Aroma Hotel, Chandigarh and been published in Chandigarh Times.
Originally from Chandigarh, Shilpa also has a degree in architecture and has worked in interior project management. She is also the author of the book "Designing a Chinese Cultural Center in India". Shilpa has a Masters in Design Studies degree from Harvard University.
For feedback and questions, please email [email protected]