From Korean-beauty-inspired makeup techniques to Paris Fashion Week-inspired lip colors, here are the 9 latest Indian bridal makeup trends for 2019-2020 every bride-to-be needs to see!
Hey gorgeous! The wedding season is here and we're excited to be sharing our fashion forecasts about everything from bridal lehengas to accessories. And today, I'm writing about the latest bridal makeup trends that are popular this year.
Bridal fashion in India is tricky. Every bride wants the perfect balance of traditions and modernity in her look. And makeup is a great way to incorporate that chic factor. Every bride wants her personality to reflect in the makeup on her special day, without compromising on looking "like a real bride"! But that challenge is what makes it so fun to research the different possibilities and select what's right for you.
So without further ado, let's take a look at the hottest Indian bridal makeup trends so that you can choose the perf one for yourself!
Indian Bridal Makeup Trends for 2019-2020
1. Bold Eyes and Brows
In street style beauty looks, emphasis is usually either on brows or on eyeshadow/liner. But bridal looks are all about going that extra mile. And this year, bold eyes and eyebrows are the #1 unexpected trend on our list of Indian bridal makeup trends.
Both Deepika Padukone and Priyanka Chopra's bridal looks focused on bold brows. It's a trend that we've been seeing on western runways and editorials for two years now. And Indian women's naturally lush dark brows make it a great match.
We also saw a lot of real brides on Instagram who paired bold eyebrow looks with lighter lip colors like blush pink, coral, rosewood, etc.
For this look, apply thick kohl on both upper and lower waterlines. Pair with smokey eye makeup or neutral metallic eyeshadow. Add false eyelashes and tons of mascara. Fill in the brows to make them full and shapely, but not artificial. This type of look is perfect for brides with big beautiful eye, and those who don't like to wear heavy lipstick.
2. Smokey Eye
It says much about how important eye makeup is this year that the top two Indian bridal makeup trends are to do with bold eyes. We saw magazine editorials, real brides and celebs sporting smokey eye makeup in bridal looks.
Black smokey eyes are the most popular this year, but you can also go for browns. Keep it all black or add a pop of color or metallic eyeshadow to match your dulhan lehenga.
We're spotting black smokey eye paired with nude or light pink lipstick. Add a dash of blush and you can even skip the bindi with this western makeup look. Let your eyes steal the show!
3. Pink Pastels
Black, bold liner and smokey eyes seem like too much? If you're looking for a soft, feminine idea, this one's for you!
Anushka Sharma wore the softest pink makeup look on her wedding day, and since then, we've been seeing more and more brides follow suit.
From real brides to fashion magazines, we're spotting pink pastel shades and light makeup looks everywhere. This beauty trend ties up with the latest bridal lehenga styles in light pastel colors that are extremely trendy this year.
This makeup look works perfectly with a light colored lehenga, like pink, lavender, light green or ivory. But you can also pair a soft colored look with a darker color wedding dress.
4. Glowy Skin
The glowing skin bridal makeup idea takes its inspiration in the latest Korean glass skin trend that became viral on Instagram, and even inspired many runway looks at Paris Fashion Week this year.
This is one of the Indian bridal makeup trends that's very skin-focused, enhancing one's natural complexion and youthfulness through deep skincare and highlighting.
Also read: Homemade Beauty Tips for Brides Before Marriage: 9 Natural Face Masks
This is a beauty trend that we've spotted more in magazine editorials and on the runway rather than celebrities. So this makeup idea would be great for brides who are looking for a look that looks like straight out of a page of a magazine!
Let your glowing skin be the highlight of the bridal party. Let it reflect all the lights as you pose for pictures, shining like a star that you are! This type of look would also be perfect for reception night or engagement ceremony. Or even for your mehendi night.
To achieve this look, be sure to keep your skin thoroughly healthy and hydrated by taking care of it everyday for a month before the wedding. Follow a good skin care regimen like Korean Morning skincare routine that focuses on step-by-step cleansing, toning, hydrating and mask. Begin the day by rubbing ice or something like a jade roller to reduce puffiness.
Also read: Natural Tips for Glowing Skin You Need to Try.
Start your makeup by using lot of moisturizer over a toner, then massage it for a good 2-3 minutes before putting on the makeup primer. Once the eye makeup and base is done, use highlighter on the high points of the face to get that glowing look. For extra shine, go for highlighter mixed with your foundation.
5. Classic Red Lip & Bold Features
The traditional Indian bridal makeup trend of highlighting big eyes along with bright red lips is still trendy this year, and many brides can't get enough of this look.
Western wedding makeup is usually softer, with pink lip shades and neutral eyeshadow colors. However, the idea of highlighting both lips and eyes is a very Indian beauty look, which many brides prefer.
This is one of the Indian bridal makeup trends that would be perfect for brides who have large features, or those who are going for a traditional bridal lehenga. As this beauty look would complement their desi attire.
6. Natural Makeup
In contrast to the above trend, we even have one on the list that just doesn't focus on any facial feature in particular! Natural makeup is all the rage among the modern brides who just love a simple elegant look without all the makeup jazz.
In particular, we're seeing this beauty look a lot among foreigner and NRI brides who don't want to get too much decked up as far as makeup is concerned.
Even celebrities are opting for the natural makeup look. Both PC and Anushka Sharma went for something very lightweight with simple colors. Priyanka's look seemed simple because she paired a pink lip with red lehenga, and skipped heavy eye makeup altogether.
On the other hand, Anushka's look was pink and lightweight because it matched her petal-colored lehenga and was perfect for her daytime wedding ceremony.
Note that the trend of "natural makeup" is not the same as no makeup makeup. This trend is all about using light colors and light application to create a look that doesn't overdo the highlight of features like eyes and lips. If you want to go for something like this, try shades like blush pink, rosewood, rose, peach, salmon, lilac, etc.
Use a light hand when it comes to the blush and add highlighter to achieve the glow on cheekbones and bridge of the nose. Skip the heavy smokey eye, black kohl or winged liner. Instead, go for a brown eyeshadow on the lash-line.
7. Nude Lipstick
Gone are the days when the demure Indian bride had to wear a hundred bindis along her brow and a dark red lipstick just to show that she's now a "suhaagan." Now it's all your choice to make! While deep lip colors are still trendy, if you like it light and feathery, go for the western-inspired nudes and wear 'em like a red carpet celebrity!
This look is perfect for anything from a roka ceremony to a nighttime wedding ceremony, as long as you want a light lip color to suit your elegant charm and no-show-off personality. Pair them with matching metallic eyeshadow or go for a brown or black smokey eye makeup to create a western beauty look.
This look doesn't just have to be very western. In fact, nude lips are deep-rooted in the history of Indian fashion. Bollywood heroines of the 60s like Sharmila Tagore, Asha Parekh and Sadhana rocked plenty of nudes in their day. Try retro shades like tan, pinky nude, pale rosewood and ginger. Or go for modern lipstick colors like caramel, biscuit and pumpkin-spice.
Deepika Padukone also wore a nude-ish lipstick on her big day, paired with a smokey eye that put all the emphasis on her big eyes and dimples.
8. Dark Lip Colors
As I mentioned above, dark lipsticks are just are in as nude shades. So if you want your lip makeup to match your lehenga, try the deep, sensual shades. You can even go for very dark, 90s lipstick colors like mahogany, dark cherry, chocolate and burgundy with a light-colored dress.
This type of makeup look would be a great idea for your reception or engagement ceremony too. It would be great for a night-time wedding ceremony or party.
Although dark lipstick colors find their history back in earlier decades like the 60s and 90s, this look can also look really modern if you pair it with mascara, falsies and strobing. Add some modern wedding jewelry and hairstyles and you'll look like the 21st century bride that you are!
Dark lip colors look great on all Indian complexions and can even go with light eye makeup. However, you can also go ahead and pair your dark lipstick with a matching smokey eyeshadow. Or go for an eyeshadow in the same color family as your lipstick, but 3-4 shades lighter.
9. Metallic Eyeshadow
Indian weddings are all about the bling and shine, whether it's fashion or decor or anything else! So how can makeup not be all about the glimmer too? Metallic eyeshadow is one of those Indian bridal makeup trends that's not going away anytime soon!
But that doesn't mean that metallic eyeshadow always has to be very shiny and extra. You can go for a metallic lighter shade for a very light, day-time look. Try something like dusty peach, pale bronze, metallic cream or porcelain. Add matching lipstick and a hint of blush for a really soft yet shimmery look.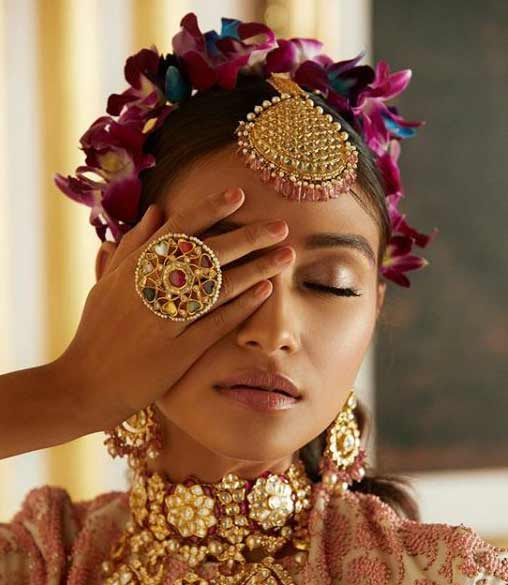 Either go for a nice, timeless color like gold or copper, or create a smokey eye makeup with a metallic shade to match your lehenga, and combine it with black or deep brown. Or go for something that matches the shade of your jewelry or embellishments on your dress.
So that's our roundup of the 9 latest Indian bridal makeup trends and looks you can consider for your special day. Which type of look would you go for? Let us know down below! And we'd love to see your beautiful makeup on your D-day, so don't forget to tag me @shilpaahujadotcom on Instagram to share it with me!
Happy wedding prep!
Muaah <3
Shilpa Ahuja the editor-in-chief of ShilpaAhuja.com, which she founded with the goal of inspiring confidence in the modern working woman through fashion. Other than defining the direction of the magazine, she also writes about fashion & beauty trend forecasts, industry analysis, and opinions.
Shilpa's work has been published in the University of Fashion blog and Jet Airways magazine. She is also an artist, illustrator and cartoonist. She is also the creator of Audrey O., a comic series that represents the lifestyle of millennial women. She enjoys creative writing and world travel. Her art has been exhibited at Harvard Graduate School of Design and the Aroma Hotel, Chandigarh and been published in Chandigarh Times.
Originally from Chandigarh, Shilpa also has a degree in architecture and has worked in interior project management. She is also the author of the book "Designing a Chinese Cultural Center in India". Shilpa has a Masters in Design Studies degree from Harvard University.
For feedback and questions, please email [email protected]