From romantic chiffon sarees to item number costumes to sexy bikinis, we pick out the most iconic Bollywood costumes and actresses dresses ever!
Most Iconic Bollywood Costumes & Dresses Ever
If one talks about fashion and style, it's impossible that Bollywood actress looks don't crop up in that conversation! So I compiled a list of the most iconic ones – Bollywood actress looks that stood the test of time! And by that, I don't mean glam dresses or beautiful sarees or hottest looks. I'm talking movie-industry-defining-copyright-owning-recreated-countlessly-over-the-ages type of looks. I'm talking you-wear-it-to-a-halloween-party-and-everyone-instantly-recognizes-it type of looks. Or rather iconic Bollywood costumes! Okay, here goes my considerations for the most iconic Indian Bollywood actress looks. Ever!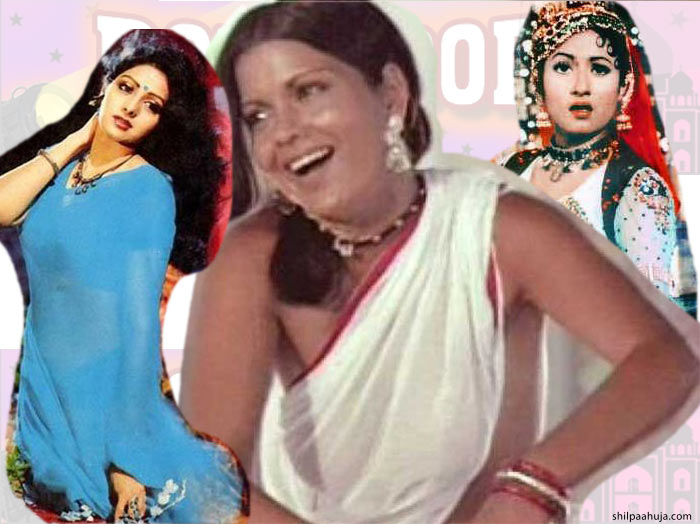 15. The Rich Girl with Hollywood-Hair Look – Saira Banu in Purab aur Pashchim
I love this look, especially because it's very wearable and in these days. I can wear the exact same hair and makeup and go out today looking super chic. It started with Saira Banu in Purab aur Pashchim with her blonde look playing a London girl, and then Sharmila Tagore also spotted a similar bouffant (big poofy hair) with medium length outward curls in her movie An Evening in Paris. Both Bollywood actress looks are beautiful, with Bridgette Bardot inspired poofy hair and Audrey Hepburn-ish short sideways bangs. And has also somewhat inspired the rich girl played by Sri Devi in Laadla.
14. The School Girl Look – Jaya Bachchan in Guddi
This is also quite unforgettable, and was also the inspiration for Sonam Kapoor's look in Raanjhanaa. Newer versions of the school girl look have been done lately by Kalki (too difficult to spell her last name) in Dev D and even a sexier version by Sunny Leone in an item number I don't know the name of. But certainly the most remembered school girl look ever is Jaya Bachchan's cute and young Guddi.
13. The Gaon ki Gori/ Lehenga Choli Bollywood Actress Look- Hema Malini in Sholay
Hema Malini's look for Basanti is pretty iconic and memorable. Who can forget that simple village girl character with lots of naivety and humor that said, "Humien yun befizool baat karne ki aadat to hai nahi" and talked unstoppingly! But jokes aside, the simple Gaon ki gori look of Basanti categorizes lots of other village girl looks, like that of Gauri in Lagaan. This is certainly a simple and recognizable look, and that's why it makes it to our list of iconic Bollywood costumes.
12. The Knotted Cropped-Top Look – Dimple Kapadia in Bobby,
This really sexy look of Dimple Kapadia from Bobby is not only unforgettable but has also inspired Prachi Desai's look from Rock On.

11. The 80's Shiny-Dress Singer look – Parveen Babi in Shaan
Very iconic, the two everyone remembers are 's silvery dress look from the song pyar karne wale and Zeenat Aman's red cut-out dress look from the song Aap jaisa koi meri zindagi mein aaye from the movie Kurbaan. This has even inspired Sonakshi Sinha's singer look from Himmatwala. Definitely became one of the most iconic Bollywood costumes.

10. The Towel Look – Kajol from Dilwale Dulhaniya Le Jayenge (DDLJ)
Bollywood has had lots of towel moments, (like Ranbir Kapoor did it in Saawariyaa, Preity Zinta and Rani Mukherjee did it in Har Dil Jo Pyar Karega (Piya Piya song) and Aishwarya Rai in Guru), but Simran's is undoubtedly the most iconic one. Very naughty and cute.
9. The Bikini Look – Parveen Babi in Yeh Nazdeekiyan
This was surely iconic enough in the day, and came after Parveen Babi being featured in the Time magazine and even after Sharmila Tagore sporting a bikini in An Evening in Paris. Anyway, the bikini Bollywood actress looks are even more popular today with Kareena Kapoor, Ameesha Patel and Priyanka Chopra having their own famous versions of the bikini.

8. The Cabaret :Bollywood Actress Looks – Helen in Sholay
There are many Bollywood actress looks of cabaret, by Bindu and Helen, but I'll pick this one as the most iconic. This one is so famous, it has inspired not only Mallika Sherawat's look in the remake, but also continues to inspire basically any item song of today. Like, think about it, the Munnis and Sheilas of the day are all modern versions of this look. Also: basically all Mallika Sherawat's item number looks are some version of this.
7. The Maharashtrian Bollywood actress Looks – Madhuri Dixit in Sailaab
It's not only beautiful, but pretty referenced even today, with Antara Mali understandably redoing this in Main Madhuri Dixit Banna Chahti hoon. Also, the Maharashtrian look has been done several more times by Vidya Balan, Rani Mukherjee, Priyanka Chopra, Kareena Kapoor and is even featured in item numbers like Ishq Kameena by Aishwarya Rai.
6. The Rajasthani Bollywood Actress Looks – Madhuri Dixit in Khalnayak
The two most iconic Rajasthani Bollywood actress looks are Choli ke Peeche and Megha Re Megha by Sri Devi in Lamhe, but I pick this one as I think it's more iconic, and popular. The Rajasthani look has not only been redone by Neha Dupia, but it's sister, the Gujrati look is also featured in old movie Mirch Masala by Smita Patil and new movies like Ram Leela by Deepika Padukone.
5. The Retro Wrap-Saree Look – Mumtaaz in Brahmachaari
If I had to pick between the fitted pajami and kameez look of 'Dhal gaya din, ho gayi sham' fame, and the fitted Mumtaaz saree look of 'Aaj kal tere mere pyar ke charche', I'd pick the saree any day. Both the looks came back in vogue recently, seen as wedding wear, party wear and daily wear, and both have inspired other new actress looks, such as Deepika Padukone's look in Om Shanti Om and Priyanka Chopra's look in Teri Meri Kahaani.
4. The White Cotton Saree Look – Zeenat Aman from Satyam Shivam Sundaram
The cotton saree had been done many times before this, but the translucent white saree look of Zeenat is perhaps the most remembered and mentioned, even controversial look. A very ethnic and yet sexy look, this was also done in Ram Teri Ganga Maili, and has also been redone by Neha Dhupia.
3. The Kothe-Wali Look – Rekha in Umrao Jaan
Whatever Rekha wore usually got into the list of iconic Bollywood costumes, but if I had to pick one, I'd pick her favourite bollywood actress look from Umrao Jaan, even over her maroon lipstick and saree look in Silsila. It's beautiful and poster-girl worthy. Also, here's what I think- the Kajrare look of Aishwarya is only a more revealing version of this look.
I'll put Madhuri Dixit's green dress look from "Maar Dala" in Devdas also in this category, even though it's pretty iconic on its own. In fact both the above Aishwarya's and Madhuri's looks are pretty iconic Bollywood costumes.
2. The Mughal Entertainer – Madhubala in Mughal-e-Azam
This is easily one of the most recognized looks of Bollywood not only in India, but also internationally. Also, this look, especially in the song 'Pyar Kiya to Darna Kya' estabished Madhubala as a queen of Indian cinema. This look has been redone by none other than Rekha.
1. The Chiffon Saree Look – Sri Devi in Mr. India
Very Indian, very sexy and the most used in Bollywood certainly has to be the chiffon saree look, made trademark of the Yash Raj Chopra movies. Most popular chiffon saree donning actresses I can think of are Juhi Chawla, Rekha, Sri Devi, Madhuri Dixit, Kareena Kapoor, Kajol, Priyanka Chopra, Katrina Kaif, Aishwarya Rai in fact, I can't think of any major actress since the 90s who hasn't worn this. These are THE most iconic Bollywood costumes and so recognizably filmy! Lol.
I know there are a few other iconic Bollywood costumes that I haven't mentioned here because I thought they were less loved, a.k.a. the Indian goddess look by Jaya Prada and Sri Devi, and the "badminton" look!
Lol, but vote for your favorite amongst the most iconic Bollywood costumes and actress looks by tweeting us @shilpa1ahuja! Don't forget to mention the reason for your response! 🙂
Going to a Bollywood theme party? If you're looking for retro iconic famous female characters in Bollywood movies for costumes or dress up, also read: The Most Fashionable Movie Characters in Bollywood Ever, in which I've written about some of the most memorable epic Bollywood ladies. Additionally, we've also got one for your man: Bollywood Theme Party Outfits for Men: 21 Male Dress Ideas.
Muaah <3


Shilpa Ahuja the editor-in-chief of ShilpaAhuja.com, which she founded with the goal of inspiring confidence in the modern working woman through fashion. Other than defining the direction of the magazine, she also writes about fashion & beauty trend forecasts, industry analysis, and opinions.
Shilpa's work has been published in the University of Fashion blog and Jet Airways magazine. She is also an artist, illustrator and cartoonist. She is also the creator of Audrey O., a comic series that represents the lifestyle of millennial women. She enjoys creative writing and world travel. Her art has been exhibited at Harvard Graduate School of Design and the Aroma Hotel, Chandigarh and been published in Chandigarh Times.
Originally from Chandigarh, Shilpa also has a degree in architecture and has worked in interior project management. She is also the author of the book "Designing a Chinese Cultural Center in India". Shilpa has a Masters in Design Studies degree from Harvard University.
For feedback and questions, please email [email protected]