Wanna try hair accessories but not sure how to? Well, here's the COMPLETE guide on how to wear hair accessories for all occasions, from casual to party to work to weddings!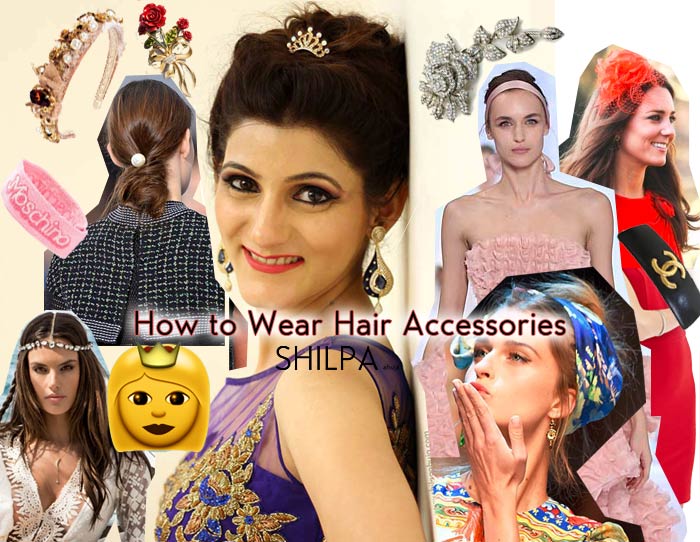 Hey gorgeous! Do you know that hair accessories are the top jewelry trend this season? Well, from statement necklaces, the focus has shifted up to our hair, and we love 'em embellished with some bling. All fashion bloggers and celebrities have been experimenting with louder and bigger hair accessories, but it's even possible for them to be very subtle and wearable IRL.
Hair accessories are versatile, just like any other type of jewelry. How you wear them depends on your mood, the type of accessory and the occasion – casual, work, party or wedding. Before we dive into how to wear them for every occasion, let's take a look at all the different types of hair accessories there are.
How to Wear Hair Accessories for Different Occasions
I'm intending this guide on how to wear hair accessories to be your go-to guide for years to come. So I've split this article into 4 different sections, depending on the occasion, so that it's easier for you to find them whenever you read. Let's go!
How to Wear Hair Accessories with Casual Outfits
Most women wear hair accessories only on special occasions like weddings or parties. But there are plenty of ideas to pair hair accessories with casual outfits that are often forgotten. Here are some basic tips:
Headbands, hairpins and clips, ribbons and head scarves are the best accessories to rock with casuals. They all go with short as well as long hair (except hair clips).
The best idea is to keep them fuss-free and neatly pinned so you don't have to repin or work them throughout the day.
Match the hair accessories with your dress. They should look like a part of your outfit rather than an unnecessary add-on. If you don't wanna buy hair accessories in all colors, just start with one in a neutral color like beige or black. And pair it with a matching outfit.
You can also match your hair accessories with your other accessories – like your bag, belt or jewelry. Like, pair a silver headband with silver-toned shoes and a green dress.
If you're unsure which one to pick, pick the most minimal or subtle one – like hairpins or headbands that'll look elegant.
Keep your other jewelry minimal around the face so that the hair accessory is the show-stopper! If you really need to wear other jewelry, try studs or a tiny pendant necklace.
Headbands: Metallic or subtly embellished headbands are the best choices for casual outfits.
Ribbons: Wear ribbons around your head as headbands or tie them around your ponytail over your band to cover it completely. Then secure it with a pin at the underside to hold it in place.
Hair Clips: Hair clips are the best ideas for summers when you want your hair out of your face but you wanna avoid the ugly scrunchie (ugh!)! Choose unique ones like minimalist geometric designs or embellished ones. Avoid the bulky huge ones. You can use hair clips for medium hair, too, but they work best on long hair.
Hair Pins: Hair pins are for when you wanna pin just a few strands of your hair on one side, or at the back for half-up hairstyles. They also work great for both long and short hair. Again, choose either minimalist designs, or unique shapes like starfish, leaf or whatever.
Head Scarves & Bandannas: Head scarves are great for summers, and can work for all types of casual outfits. You can wear them as bandannas with jeans and tees, or wrap them around your top-knots and buns with summer dresses. And for winters, you can swap them with silk or wool head scarves! Here are some great ideas and tutorials on how to tie head-scarves: Turbans and Bandanas : Spring Summer's Hottest Trend. Also check out Dolce & Gabbana's headscarf ideas:
How to Wear Hair Accessories at Work
Work attires and interviews calls for professional-looking accessories. So it's best to keep hair accessories simple and minimal in design.
If your hair has a tendency to get flyways or loose strands, wear functional hair accessories like headbands or hair-pins.
Match them with your outfits for an elegant, professional look.
If you're wearing a bun, you can tie a silk scarf around it to keep the hair from getting messy. Be sure to keep the scarf neatly pinned, so you don't spend the day at work re-fixing it.
You can use ribbons to tie around your ponytails or hair-pins to keep your hair in place.
Choose geometric designs and avoid anything cutesy or girly if you want a "power-woman" look.
Don't overdo it. Business attire is all about looking professional, so if you're wearing a hair accessory that stands out, avoid other jewelry.
Get more ideas here: Try Subtle Hair Accessories for Work to Get a Polished Look
How to Wear Hair Accessories with Party Outfits
For parties and night-outs, try what you really want to reflect your personality. There's plenty of ideas for every girl.
If you're in the mood for a badass look, rock leather or studded bands.
If you wanna look cute, try lace headbands rhinestone hairpins.
If you wanna look classy and elegant, try silk headscarves or pearl hairpins.
If you wanna make a chic statement or start a conversation, wear a fascinator, broad embellished head-bands or tiaras.
Be creative and try out new ways.
Hair Accessory Ideas for Different Types of Day Parties/ Events
For picnics, wear cute hairpins on the side of your head, or flower headbands.

For music festivals

and day concerts, wear floral headbands, boho head-chains.
For casual day parties like garden or brunch parties, wear unique materials like feathers, sea-glass hair-pins or semi-precious stone-embellished headbands. You can wear small fascinators, hair-pins or clips.
For formal parties like graduation lunches or work lunches, wear elegant hairpins, thin headbands or clips. You can try embellished ones, but don't go overboard.
For fancy day events like art openings, cocktail parties or horse-races, you may even go a little overboard and wear fascinators or broad embellished headbands.
Hair Accessory Ideas for Different Types of Night-Outs/ Parties
For nightclubs or night-outs, wear something sparkly. Try rhinestones or studded hair accessories. It could be headbands or hairpins.You wanna let your hair down, so avoid headscarves and hair clips.
For formal nights like work dinners or dates, wear elegant hairpins, thin headbands or clips. You can try embellished ones, but don't go overboard.
For fancy parties like cocktail, dances, charity galas or birthday parties, wear large statement hair accessories, like embellished headbands, tiaras, statement fascinators or large hairpins.
Ideas for DIY Hair Accessories
#1: Wear a statement necklace as a headband, and secure with bobby-pins at the ends, behind the ears or at the back of your head, then cover with hair to hide the pins!
#2: Roll up a tulle fabric or a tulle scarf and then tie it around your head like a headband or bandana. Secure with bobby-pins at the back of your head. Then pin up a brooch on one side to create an embellished headband look! Psst: Check out the runway hair accessories:
How to Wear Hair Accessories at Weddings
Hair Accessories for Wedding Guests
The best idea is to match your hair accessories with your dress, not just in color but also in material or design. Like if you're wearing a purple lace dress, you cam try a face headband in purple, lilac, violet etc.
Good options to try are flower pins, flower headbands, small fascinators and embellished hair-clips or combs.
For fascinators, pins and clips, stick to the side or back of your head. If you want something in the front or top of your head, wear a tiara or headband.
Hair Accessories for Brides
If you're the bride, you can wear a large flower-pin on one side of your head or a or headband. try pearls, crystals, lace and flower appliqué.
You can also try a fascinator with an attached veil.
Another good idea is to wear a bridal comb that you can attach next to your bun, or at the side or back of your head.
You can also try a crystal or rhinestone headband next to a high poofy-bun.
Multi-wrap chains or pearl strings also look great next to buns. They're a timeless, elegant style.
I also love large pearl-ended hairpins with buns, which look very classy.
If it's a casual outdoor wedding, you can also wear a floral band for a boho-chic bridal look.

Image Credits: Hair Accessories by Chanel, Dolce & Gabbana, Celine, Versace, Ale by Alessandra, Elie Saab, Oscar de la Renta, Zuhair Murad, Ralph & Russo; Dresses by Ann Taylor
Shilpa Ahuja the editor-in-chief of ShilpaAhuja.com, which she founded with the goal of inspiring confidence in the modern working woman through fashion. Other than defining the direction of the magazine, she also writes about fashion & beauty trend forecasts, industry analysis, and opinions.
Shilpa's work has been published in the University of Fashion blog and Jet Airways magazine. She is also an artist, illustrator and cartoonist. She is also the creator of Audrey O., a comic series that represents the lifestyle of millennial women. She enjoys creative writing and world travel. Her art has been exhibited at Harvard Graduate School of Design and the Aroma Hotel, Chandigarh and been published in Chandigarh Times.
Originally from Chandigarh, Shilpa also has a degree in architecture and has worked in interior project management. She is also the author of the book "Designing a Chinese Cultural Center in India". Shilpa has a Masters in Design Studies degree from Harvard University.
For feedback and questions, please email [email protected]