Wanna try hair accessories but not sure how to? Well, here's the COMPLETE guide on how to wear hair accessories, from headbands to tiaras for all occasions!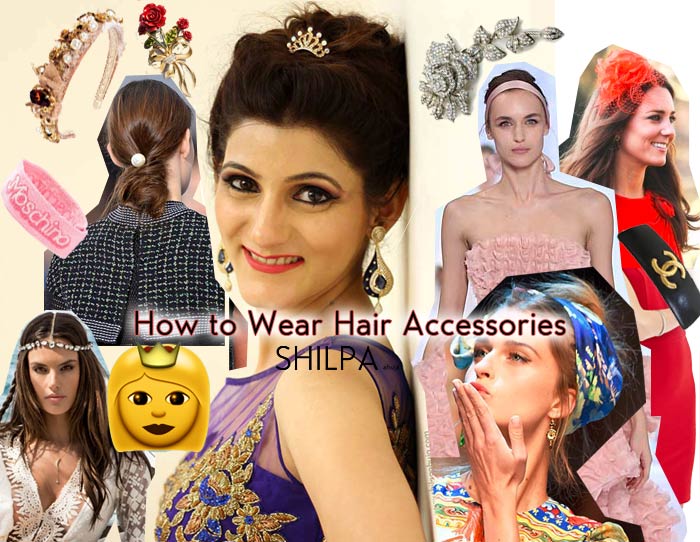 Hey gorgeous! Do you know that hair accessories are the top jewelry trend this season? Well, from statement necklaces, the focus has shifted up to our hair, and we love 'em embellished with some bling.
Hair accessories are versatile, just like any other type of jewelry. How you wear them depends on your mood, the type of accessory and the occasion – casual, work, party or wedding. Before we dive into how to wear them for every occasion, let's take a look at all the different types of hair accessories there are:
How to Wear Hair Accessories with Casual Outfits
Most women wear hair accessories only on special occasions like weddings or parties. But there are plenty of ideas to pair hair accessories with casual outfits that are often forgotten. Here are some basic tips:
Headbands, hairpins and clips, ribbons and head scarves are the best accessories to rock with casuals. They all go with short as well as long hair (except hair clips).
The best idea is to keep them fuss-free and neatly pinned so you don't have to repin or work them throughout the day.
Match the hair accessories with your dress. They should look like a part of your outfit rather than an unnecessary add-on. If you don't wanna buy hair accessories in all colors, just start with one in a neutral color like beige or black. And pair it with a matching outfit.
You can also match your hair accessories with your other accessories – like your bag, belt or jewelry. Like, pair a silver headband with silver-toned shoes and a green dress.
If you're unsure which one to pick,  pick the most minimal or subtle one – like hairpins or headbands that'll look elegant.
Keep your other jewelry minimal around the face so that the hair accessory is the show-stopper! If you really need to wear other jewelry, try studs or a tiny pendant necklace.
Headbands:
Metallic or subtly embellished headbands are the best choices for casual outfits.
Ribbons: Wear ribbons around your head as headbands or tie them around your ponytail over your band to cover it completely. Then secure it with a pin at the underside to hold it in place.
Hair Clips: Hair clips are the best ideas for summers when you want your hair out of your face but you wanna avoid the ugly scrunchie (ugh!)! Choose unique ones like minimalist geometric designs or embellished ones. Avoid the bulky huge ones. You can use hair clips for medium hair, too, but they work best on long hair.
Hair Pins: Hair pins are for when you wanna pin just a few strands of your hair on one side, or at the back for half-up hairstyles. They also work great for both long and short hair.  Again, choose either minimalist designs, or unique shapes like starfish, leaf or whatever.
Head Scarves & Bandannas: Head scarves are great for summers, and can work for all types of casual outfits. You can wear them as bandannas with jeans and tees, or wrap them around your top-knots and buns with summer dresses. And for winters, you can swap them with silk or wool head scarves! Here are some great ideas and tutorials on how to tie head-scarves: Turbans and Bandanas : Spring Summer's Hottest Trend. Also check out Dolce & Gabbana's headscarf ideas:
Next: How to Wear Hair Accessories at Work