Wonder what dark lipstick shades would suit your skintone? Here's the FULL guide on how to wear dark lipstick trend properly and in a polished way!
Hey beautiful! Lipsticks are must have makeup essentials. Some girls like to have a million shades and some are good with just a few basic shades. But one trend that's the trickiest to pull of is dark lipsticks. All shades certainly don't suit every skintone, and if not worn properly, they look tired and smudgy.
The dark lipstick trend is super hot this year. We saw 90s lip shades like dark chocolate, rust, deep plum and mahogany in Spring Summer and Fall Winter runway collections. We've also spotted celebs rocking this trend – from Rihanna's black lipstick to Gigi Hadid, the dark lips fashion is getting the spotlight! Here's some 90s inspiration for you…
Dark lips work well for all lip shapes and skin tones, even though every one of them may need their own shade and way of rocking 'em! Applying the dark lipstick is tricky. If not done well, you risk looking like Goth queen. But it's not rocket science. It's just like any other trend, one needs practice. So, here's all you need to know how to wear dark lipstick!
How to Wear Dark Lipstick
The first step is to select the right shade for your skintone. Here are some general rules to rocking dark lipsticks:
If you have more yellow undertones or a warm skin, warmer shades like burgundy or wine will suit you. For cooler skintones or those with blue undertones, cool shades like crimson, plum or violet will suit you.
Never skip lip-liner with dark lipsticks.
And finally, always wipe off the excess on a tissue to avoid the smudgy look later on! Now let's get into the details of all these in a step-by-step guide…

Perfect Dark Lip Shades for Different Skintones
Select your shade according to your skin tone:
If you're pale, go for shades with pink, purple or red tones.
If you have yellow undertones with medium skintone, go for deep red or brown colors.
If you have darker skintone, go for wine, plum or burgundy lip colors.
Berry shades work well for almost all skintones.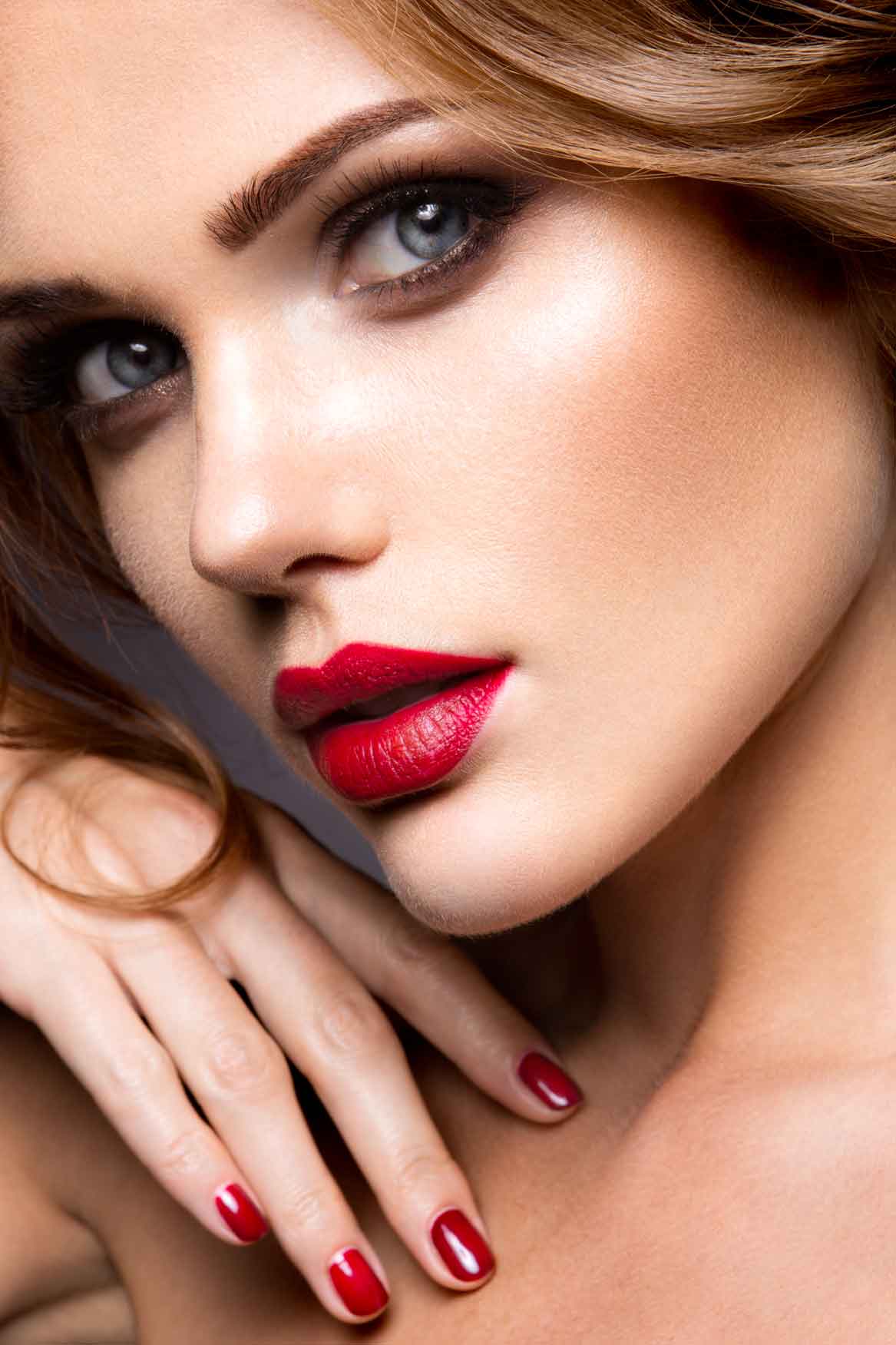 Steps on How to Wear Dark Lipstick
1. Prep your skin with primer and foundation and conceal under your eyes. And also, conceal if you have redness or discoloration. You need to have a flawless base for the dark lips. This is because dark lipsticks tend to bring out the redness and spots more.
2. Shimmery neutral eyeshadow eyeshadow works best with dark lips. Good options are to go for shades like peach, nude, cream or dusty rose. For a date, party or wedding, keep it highly smokey by using the darker shade on the outer corners of your eyelids and along the socket-line and adding lighter ones on the inner. For casual outings, you can just apply a single light shade all over the lid for a low-key look. Keep the eye makeup minimalistic with thin eyeliner and mascara.
3. First, apply a light coat of the lipstick roughly. Then use a matching liner to shape your lips. Overline, if you have thin lips. While overlining, always overline the upper and lower lip but maintain the same line at the corners of the lips. Lastly, reapply the lipstick to fill in any gaps and pat the excess product onto a napkin by kissing it! Add gloss if you like.
4. Complete the look with the blush on the sides of your cheeks and some highlighter on your cheekbones. Do not skip this step or your face will end up looking drained with the dark lips.
So, that's all you need to get the perfect pout! Did you like our tips on how to wear dark lipstick! If you give it a try, do show us by tagging us @shilpaahujadotcom on Instagram!
Read next:
– 8 Latest Matte Liquid Lipstick Trends You Gotta Try in 2018!
Sahana is a Senior Staff Writer at ShilpaAhuja.com. With an experience in fashion and lifestyle writing, Sahana is responsible for Indian and international fashion week coverage every year, and is developing an expertise in apparel trend forecasting. She also writes about health and fitness, having pursued yoga for 6 years now. She's not a gym person at all but is all for "running in the park" and is an amateur cyclist. Books and coffee are her other passions. She's also an amateur photographer. She's a hardcore Bollywood fan and she loves to cover the nostalgic topics on the same. From fashion trends to famous characters, she can make anyone love Bollywood! Her best article has been 90s Bollywood fashion, a readers' favorite so far! Prior to her experience with ShilpaAhuja.com, Sahana has written as a freelance author for online magazine, Mashup Corner, and interned at EventsHigh as a content writer. Her blogs on basic fashion, makeup, fitness and city's food joints that gave her a chance to experiment with her writing. She also has voiced her opinions about feminism and equal rights for men and women at PolkaCafe journals and after quitting her job, she decided to take up writing as her full time career.
Sahana is an engineering graduate and has worked in an MNC, Tesco, for more than a year as an Operations Support. It was her sheer love for fashion that made her quit the monotonous 9 to 5 job to pursue a career in the fashion industry. She's originally from Bangalore and is currently settled in Chennai (she's loving the city)! For any queries and discussions, contact her at [email protected] You can also tweet her at https://twitter.com/Sahana_17