Here's our ULTIMATE guide on how to wear black leather skirt! Find out what kind of leather skirt to buy, & what to wear with it & how to accessorize!
Hey gorgeous! I've been writing featuring the black leather skirt a lot in my blog lately. I featured it in the  Barbie Halloween Costume Idea article, and also in Street Style Chic Looks to Try Right Now! I included a black leather skirt in my Ultimate Shopping Guide for Fall Winter.
That's why this week's shopping picks include a black leather skirt as well. And this time around, I decided to write an article about how to wear black leather skirt, or what to wear with a leather skirt.
Ready? Let's go!
How to Style a Leather Skirt
Leather skirts are hot this year. They've been seen on the runways, and on all supermodels and celebrities. Miranda Kerr, Blake Lively, Kate Hudson, Gigi Hadid, Kim Kardashian, Kendall Jenner, and many many more have been spotted in them!
Granted, if you're not a celeb or on the runway, a leather skirt is a bold item to wear. But fashion is all about taking risks, and then styling pieces according to our taste and comfort. So if you've decided to wear a leather skirt, then you've already made your first move!
What Black Leather Skirt to Shop for
For Fall/ Winter, lots of different types are in. You can go for a knee-length pencil leather skirt, a straight midi skirt, a leather skirt with fringes, or a mini leather skirt. My favorite type this season is a mini leather skirt with an A-shape, almost like a tennis skirt. It looks sexy, effortless but yet seems comfy enough to actually walk in, unlike those tight pencil skirts. If you decide to get a longer leather skirt, make sure it has a slit so you can easily walk in it.
I also recommend black leather skirts with studs, zipper details, pocket or buckle details or hemline stitching. Asymmetric skirts or those with slits are also trendy.
AVOID: Peplum skirts. And: At all costs, avoid skirts that are too tight.
Where to Wear a Leather Skirt
You can wear it in the day casually, or at night for partying or to the nightclub. You can wear it to a date night. If you work in a fashion-forward workplace, then you can wear it even to your office. You can style it formally – as long as you're comfortable being in it all day long.
How to Wear Black Leather Skirt
Here's all about what tops/coats/sweaters to wear, and also what shoes and jewelry to wear with leather skirts! That depends on what type your skirt is:
1.
How to Wear a Pencil Leather Skirt
Pair it with sheer or floaty button-down shirts, front open jackets, or cropped jackets, cowl-neck or ruffled, feminine tops, or fitted sweaters.
Accessorize with top-handle bags, chain necklaces or studs/single earrings. Wear with pumps, ankle-length booties or mid-heeled loafers.
AVOID: skin-tight tops, crop tops that are too tight on the waist.
2.
How to Wear a Tight Leather Mini Skirt
Pair it with a loose or oversized tee-shirt, airy feminine tops, turtlenecks, cropped jackets, embellished/sequin/ruffle tops, loose or oversized sweaters or hip-length cardigans.
Add a clutch, top-handle micro-bag or a chained cross-body bag, stacked bracelets or fringe necklaces/earrings. You can also accessorize with rocker-chic or studded jewelry. Wear with pumps, ankle-length or knee-high boots or ballet flats.
AVOID: skin-tight tops, crop tops, strapless tops and tops that are long enough to hide the skirt, boho tops.
3.
How to Wear an A-line Leather Mini Skirt
Pair it with long tucked-in tees and tops, full-sleeved tees and tops, hip-length cardigans, fitted sweaters, button-down shirts, cropped jackets and cardigans, sheer tops and shirts.
Accessorize with a cross-body bag or shoulder-bag. Add a pendant necklace/ statement necklace or fringe earrings. Wear with pumps, ankle-length or calf-length boots or strappy heels.
AVOID: long tops unless fully or partially tucked in, A-line tops, long cardigans, oversized tops.
4.
How to Wear a Leather Midi (Calf-Length) Skirt
Pair it with sleeveless or tank tops, ruffle/feminine tops, fitted sweaters, tucked-in shirts or tops, fitted crop or hip-length cardigans, belted long cardigans.
Add a clutch, top-handle bag or micro-bag, minimal jewelry (because the skirt will steal the show). Wear with pumps, knee-high boots or strappy heels.
AVOID: Peplum tops, loose tops, loose cardigans or long/oversized sweaters.
AVOID: Too tight crop tops with leather skirts and peplum leather skirts are no-no's!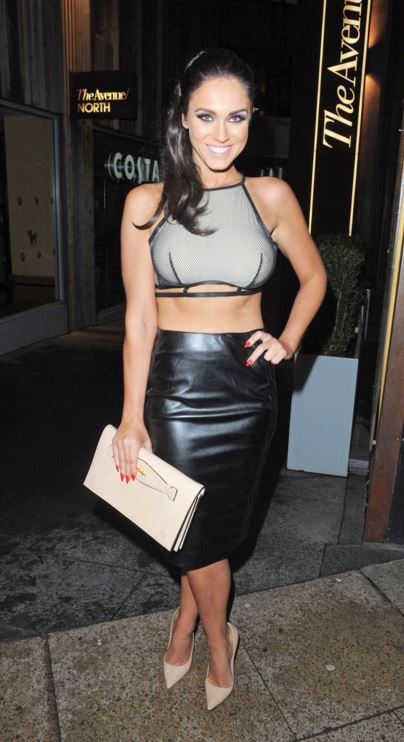 Ok, hope that was helpful! I've also made an infographic Style-Guide for how to wear black leather skirt (see below). I'm sure with this guide, you can figure out how to style your skirt. Yes, you CAN pull it off!
Lemme know in the comments below what kind of a skirt are you thinking of buying and how do you plan to style it! If I helped you with it, tag me on your Insta pics @shilpaahujadotcom or add #SlubAdvice so I can see (and like) your sexy pic!
XOXO
Shilpa Ahuja the editor-in-chief of ShilpaAhuja.com, which she founded with the goal of inspiring confidence in the modern working woman through fashion. Other than defining the direction of the magazine, she also writes about fashion & beauty trend forecasts, industry analysis, and opinions.
Shilpa's work has been published in the University of Fashion blog and Jet Airways magazine. She is also an artist, illustrator and cartoonist. She is also the creator of Audrey O., a comic series that represents the lifestyle of millennial women. She enjoys creative writing and world travel. Her art has been exhibited at Harvard Graduate School of Design and the Aroma Hotel, Chandigarh and been published in Chandigarh Times.
Originally from Chandigarh, Shilpa also has a degree in architecture and has worked in interior project management. She is also the author of the book "Designing a Chinese Cultural Center in India". Shilpa has a Masters in Design Studies degree from Harvard University.
For feedback and questions, please email [email protected]