Denim shirts are simple and easily styled, but yet, not many women wear them. Miranda Kerr shows us how the denim shirt can become a wardrobe staple for everybody. So check out our guide on how to wear a denim shirt in 15 EASIEST ways!
A denim shirt is one of the most versatile pieces to style and Miranda Kerr sure loves her denims. We've seen her strolling the streets, at the airports and in holiday outfit looks in just a simple shirt. So let's get some inspiration from the supermodel!
How to Wear a Denim Shirt
1. Denim on Denim with Skinny Jeans (Tucked-In)
If you ask me how to wear a denim shirt, I guess one of the easiest ways would be to pair it with a skinny jeans in nearly the same shade of denim. Add some heels (Miranda Kerr chooses leopard print), sunnies and a classy tote! And you got the perf street style or airport look.
2. With Denim Shorts
For an instant summer ready look, shorts are the way to go. Doll up in a monotone look, to swipe into sleek and sophisticated look. Great for brunch or coffee dates.
3. Denim on Denim with Loafers (Not Tucked-In)
If you are just starting out to trying different looks, then you can play safe with a denim on denim. Create a nice balance with the shades of denim to your benefit. You could opt for a darker denim to mask away all the bulk. Adding an interesting element with an unconventional color or print such as tan or leopard print will scoop you back into the fashion game. Here, Miranda also adds a ponytail to make it more comfortable, with a pair of sunnies and a leather tote. Perfect for the airport, for mommies or for shopping (you need flats)!
4. With an All Black Outfit
Choosing to go all black with just the denim shirt to be as the stand alone piece is excellent. If you're looking for cool ideas on how to wear a denim shirt, this is one of the chicest yet easiest to rock. A basic pair of black jeans teamed with simple black crop top and booties can make for an easy throw on look, exuding an urbane style.
5. Lighter Denim Shirt Over Darker Jeans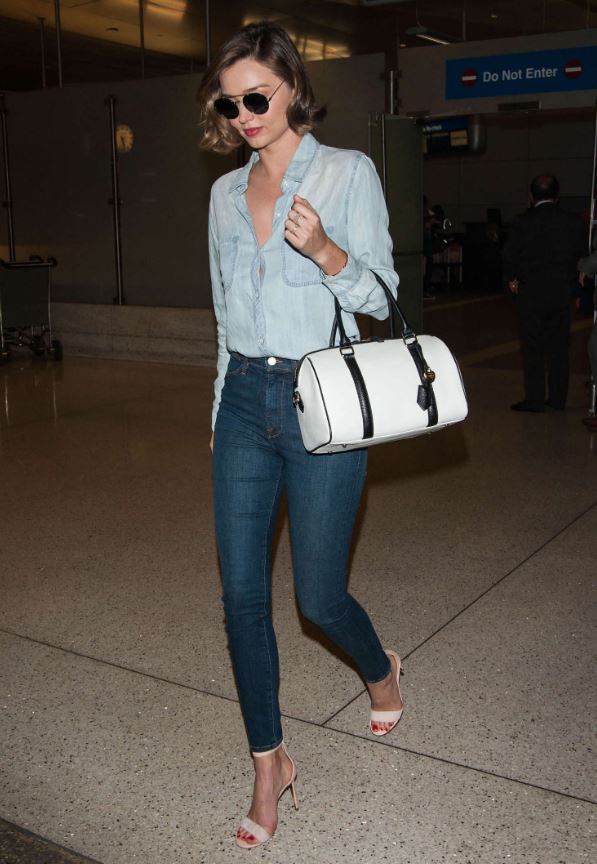 If you have a light colored denim shirt, you can still rock it over a skinny jeans that's in a darker shade. Tuck it in to make it look structured and add heels and a matching bag for added charm.
6. Over a Long Chiffon Shirt
Now, we know this is a jacket, but it can easily be replaced with a crop denim shirt. Miranda Kerr knows surely how to make a noteworthy entrance in a shirt as simple as your denim shirt. Slip on a sheer chiffon shirt and cover up with a shorter denim one. Give the look an effortless spin with a classic fedora hat and match that with a pair of same-colored ankle boots.
7. With Leather Pants & Sneakers
Miranda sure knows how to combine wardrobe essentials in an unexpected way that looks very classy and rich. A pair of leather pants would take the look a notch higher and the sneakers make it look comfort-chic. The white bag and tucked-in shirt give the classy factor. She wears it to the airport, but this would be the perfect look for a lunch date, too.
8. With Colored Leather Pants, Over a Sweater
Carrying an effortless vibe in the winter season can be tricky. Team your denim shirt, leaving it casually unbuttoned over an oversized sweater top. Add a scarf and fedora hat with sunglasses and cute ballet flats for making it all look put-together.
9. With Pleated Shorts
Make a topmost style quotient with the trending pleated shorts. This is a day to day casual throw-on piece. Fling on a denim shirt and slip on some flip flops for an effortless cool style for the weekend. No matter what your style statement is, the denim shirt and the pleated shorts are here to stay for multiple looks.
10. Stripes and White Pants
This is the look for maintaining a sense of style with holiday getaway must-haves. Stripes have been known to be the causal staple. Wrap the denim shirt around the waist to keep going with the feel of the look. Raise the bar by just a bit with a pair of muted statement stilettos.
11. With White Pants
Miranda Kerr shows how to wear a denim shirt in a way that exemplifies an uber chic statement. Here, she pairs a bright denim shirt with white jeans. Keeping it crisp a with minimal details like flap pockets, metal buttons. Thin belt, Structured bag with some oversized sunglasses are all the accessories you will need to ace the look.
12. Grunge Look
Tap into the grunge style with a denim shirt. Leather pants, lace up boots and fringe are all the elements to make up for the look. Mix and match things of the same characteristics to master your look like how Miranda does.
13. Under a Jacket or Longer Knit Sweater
If it's colder, try pairing your denim shirt with a sweater jacket. Or you can even carry the jacket if you're planning a day-to-night look in the early fall season. A simple black skinny jeans and loafers are great pairings for a simple yet chic look.
14. Over Leather Shorts
If you're feeling a little daring, pair your denim shirt with sheer black tights, leather shorts, and ankle boots. This combo will make a strong case of edged glamour. And here's the long jacket again we saw in the previous look too. Love how Miranda re-wears her separates into new looks!
15. Belted Long Denim Shirt Over a Skirt
Wondering how to wear a denim shirt that's too long? A long denim can easily be made into a top for a cute print or brocade mini skirt. Just add a broad fabric belt in the same shade of denim to make it look like a part of the denim shirt. Add a micro bag and pumps to match the skirt.
So I hope you found our guide on how to wear a denim shirt helpful. Which out of these 15 looks did you like the most? And do you have your own way of wearing a denim shirt? Let us know below or tag us in your Instagram pics @shilpaahujadotcom!
Shazia Bargathullah is a regular freelance writer at ShilpaAhuja.com. She is also a fashion design graduate from iNIFD. Her journey started with a keen visual eye, an interest in styling and a passion for design. She has an expertise in modest fashion and writes about makeup tips, beauty trends and runway-inspired fashion ideas. She is also the author of the blog Devil Wears Parda. For comments and feedback, please email [email protected]