Wanna know how to look stylish at the airport and while traveling? Here's all you need to know about selecting chic luggage and luxury travel accessories!
Whether you're traveling solo or with friends. Whether you're taking a business trip or even if you're planning you're honeymoon – it's always nice to travel in style. Phone chargers, extra batteries for your camera, facewash, matching lingerie, scarves – there's so many things to pack. It's exciting as well as exhausting. But there's no reason why it shouldn't be chic!
And how can we make it chic? How do we select a bag large enough to carry all the paraphernalia and also look great carrying it? How can we spend those uncomfortable nights in the plane that rob our skin of all moisture and yet look stylish? Well, don't worry! I've selected the most fashionable luggage and luxury travel accessories for you. And even sorted them on the basis of how long your trip's gonna be! And of course, these basic tips can work on non-luxury travel accessories too! Essentially it'll help you with any travel or airport fashion! Let's take a look!!

(Find out more about keeping the skin hydrated during travel in my previous article 15 Essential Beauty and Skin Care Tips for Fall)
Overnight or Day-Trips
These mini- travels can be exhausting, because they're usually packed with activities. You've been up since early morning and you don't get time to freshen up or retouch up your makeup during the day. I suggest carrying a travel-sized lotion bottle because hydrated skin is happy skin. I usually avoid early-morning makeup when my eyes are tired, and carry an eyeliner and lipstick with me to touch up during say, noon time. I like being comfortable during the journey so I also avoid wearing my jewelry during the travel. I carry it with me in a jewelry pouch. For travel accessories, carry a large handbag that's washable but also stylish!
Lady Dior Old Rose Rendez-Vous Wallet
Dolce and Gabbana Ivory Sunglasses with Mosaic Pattern
Swarovski Glam Rock Black Smartphone Crystal Case
Salvatore Ferragamo Verrina Leather Flats
Graphic Image Personalized Metallic Cosmetic Case
Chanel Large Canvas Bag
Kate Spade Cedar Street Dot Passport Case
Kate Spade Bits and Baubles Jewelry Bag
Advert:

Short Trips or Extended-Weekend Trips
It's always advisable to pack light for these trips so that you can travel without the heaviness and be comfortable. Plus weekend or short-trips tend to involve multiple modes of transportation. That's why I suggest dark-colored baggage so that you don't have to worry about it collecting dust during the commute. Also select dark clothes so you can reuse your scarf on the airplane or your jeans for travel and this'll help you pack light. Don't forget to carry a cute pair of flats so that you can be comfy yet fashionable!
Dolce and Gabbana Black Leather iPhone Case
Fossil Sydney Tab Maroon Clutch
Swarovski Couture Edition Crystal Oval Ombre Sunglasses
Chanel Large Canvas Trolley Bag
Jimmy Choo Pointy Toe Lace Up Glisten Flats
Ann Taylor Ribbed Turtleneck Poncho
Long Trips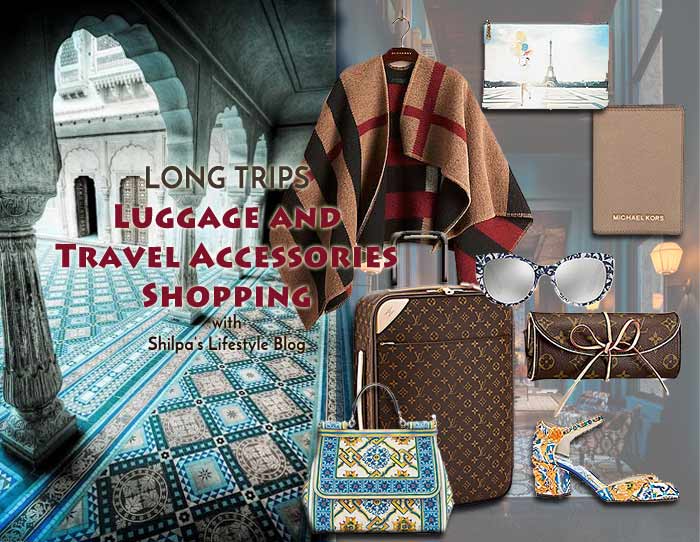 It's always a good idea to plan in advance the outfits that you're going to pack. That'll include making sure your jewelry goes with your dresses and shoes. Some girls like to match their handbag to their luggage, but it's better to coordinate your handbag with your outfits. A great idea is to pick a cute suitcase, and then match your travel scarf with it. So that when you get cold in the airport, you still look cute! And also coordinate your passport holder and other travel accessories with your suitcase.
Then pick a handbag in a contrasting color that goes with most of your travel clothes. And match your shoes and sunglasses with it. This will make sure that all your outfits from the airport to the destination and back look well-co-ordinated!
Dolce and Gabbana Majolica Pattern Cat Eye Sunglasses
Dolce and Gabbana Majolica Ceramic Mary Jane Pump
Dolce and Gabbana Maiolica Tile Top Handle Bag
Catseye London 'Balloons in Paris' Cosmetics Bag
Michael Kors Jet Set Passport Case
Louis Vuitton Pegase Legere 55 Monogram Suitcase
Louis Vuitton Folding Jewelry Case
So, where are you planning to travel next? And what's your travel style? Comment below! Happy packing! 🙂
Shilpa Ahuja the editor-in-chief of ShilpaAhuja.com, which she founded with the goal of inspiring confidence in the modern working woman through fashion. Other than defining the direction of the magazine, she also writes about fashion & beauty trend forecasts, industry analysis, and opinions.
Shilpa's work has been published in the University of Fashion blog and Jet Airways magazine. She is also an artist, illustrator and cartoonist. She is also the creator of Audrey O., a comic series that represents the lifestyle of millennial women. She enjoys creative writing and world travel. Her art has been exhibited at Harvard Graduate School of Design and the Aroma Hotel, Chandigarh and been published in Chandigarh Times.
Originally from Chandigarh, Shilpa also has a degree in architecture and has worked in interior project management. She is also the author of the book "Designing a Chinese Cultural Center in India". Shilpa has a Masters in Design Studies degree from Harvard University.
For feedback and questions, please email [email protected]