Who said buns are just for long hair? From top knots to two buns, discover different trends and tutorials on how to make a bun with short hair!
Hey gorgeous! A hairstyle that never goes out of vogue is the bun. Buns are the perfect summer hairstyles for short hair. Are you still contemplating whether to go for them or not? Wondering how to style your short hair? Here you are! These hairstyles aren't only for those with super-long hair, but also for the ones who have short hair.
Short hairstyles don't necessarily have to be a blunt bob or a high ponytail. In fact, you can go for some amazing top knots, bangs with buns and much more to look gorgeous and different every day! I loved these styles because they make my hair look thick and more voluminous.
So let's take a look at different ways for how to make a bun with short hair.
How to Make a Bun with Short Hair
1. Cute Buns
Cute buns are versatile and can be styled in a number of ways. These cool buns can also be done in different ways for different occasions. Trendy styles include low bun with braid, medium bun and bun with bangs. You can even add hair accessories depending on the look you go for!
2. Short Hair Top Knot
Topknot hairstyles are super classy and suit all face types. And it keeps all the hair tucked in and out of your face. Top knots on short hair accentuate with their facial features and make you look taller. Great hairstyle idea to pair with both formal and casual outfits. Most importantly, with your hair tied up, you also get a chance to flaunt your gorgeous earrings.
3. Messy Bun
Messy buns and updos are indeed the perfect summer hairstyles for short hair. It's not exactly a new hairstyle for short hair, but still, you can adorn your messy bun according to different occasions with hairpins, fascinators or flower crowns.
4. Two Buns Hairstyle
Tired of your regular ponytail and bun hairstyle? Then here's something for you! It's time to catch up with the iconic 90s trend that is big these days. So if you're looking to add some cuteness and funkiness to your look, you should definitely try this hairstyle.
5. Bun with Bangs Hairstyle
Bangs with buns are super in! We saw hair stylists trying asymmetric bangs with top knots, medium and low-level buns. Ranging from mid-forehead to below the temples, these bangs look great with almost all buns done with the short hair.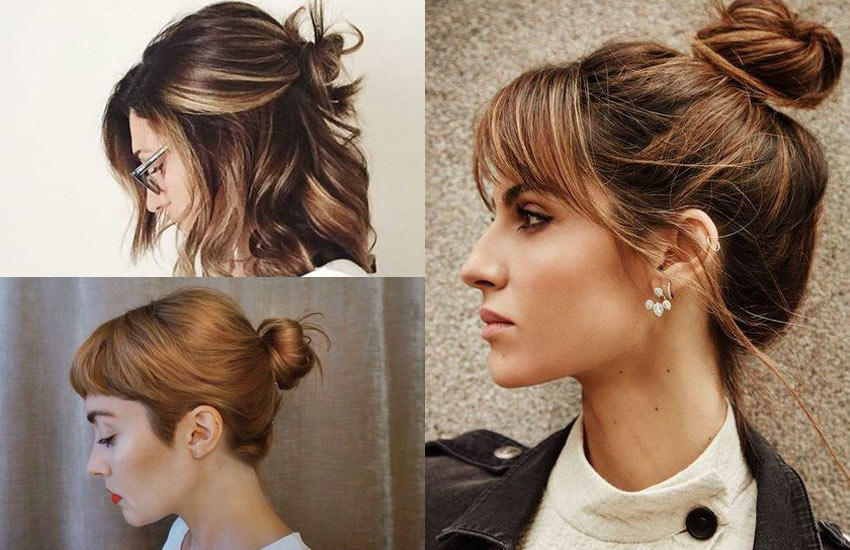 6. Cute Half Up Hairstyles
Can't decide between a fancy updo or a romantic down do? Half up hairstyle offers the best of both the styles. But getting your top knot in the center and style neatly is the key to nailing this look. This style that goes well both with loose curls or straight hair. Great idea to pair with casual outfits and suits all face types.
How to Do a Messy Bun with Curly Hair
If your curls are unruly and you don't have time to style them, then here is something for you! Use some of these basic hair styling ideas to just quickly create a messy bun that you can wear anywhere. You can also adorn this hairstyle with flattering headbands and decorative hairpins. If you have no idea on how to make a messy bun, then here's a tutorial for you!
You may also like: 50 Easiest Curly Hairstyles & Haircuts for Long Curly Hair
How to Do a Good Bun with Short Hair
So those were the trends and tutorials on how to make a bun with short hair. Which bun style is your favorite? Let us know by tweeting @shilpa1ahuja!
Pinky is a Staff Writer and Research Analyst at ShilpaAhuja.com, and an iNIFD graduate with a diploma in fashion design. Pinky's expertise lies in the latest wedding fashion trends and hair/makeup advice. Prior to taking up a career in fashion, Pinky graduated with a B.Com (C.S) from Ethiraj College. She is also an art and a movie buff, she loves to read a lot of online stuff, mostly fashion! The girl next door trying to juggle homemaking, blogging & wanderlust! Creating insights on beauty, hair & Indian fashion trends, one article at a time… Her hobbies include shopping (obviously!), hogging food at city's new restaurants & listening to Bollywood music.
Although Pinky is keen on taking the fitness route in 2018. For questions or discussions, email [email protected] or tweet her @coolbuddy13141