Tired of your usual old fashion style? Want to spice things up? Here's a complete guide on how to give yourself a makeover, while feeling confident about your new personal style.
Hey! Whether you are looking to go for a brand new look, or a set of tiny changes in your fashion style, we have created a guide on how to give yourself a makeover that will suit all your needs. We'll help you find your personal style that feels comfortable yet very you. Read ahead to find out how to add a little more glamour to your persona, and a little more poise to your life.
Want to Give Yourself a Makeover?
A makeover means transforming your outer appearance to a new and better version. And maybe even inner! You are likely to feel more confident when you look and feel your best. Makeovers are a fun way to get out of your daily routine and pamper yourself. Also, it is very refreshing to give yourself a new look once in a while.
So, are you bored of seeing yourself look the same usual self every day? Then maybe you can play up a bit with your hair or your clothes. Typically, makeovers mean completely revamping nearly every aspect of your look, changing your whole wardrobe, etc. However, it completely depends on what level of change you want. It does not even have to be high maintenance.
This guide on how to give yourself a makeover is the only one you will ever need. Let us show you how to do it and here are some of the little but important things that will contribute to your new look.
1. Elevate Your Wardrobe
An ideal makeover is where your fashion fantasy meets practicality. While you need to dress to feel your best, you also need to be comfortable. So create an inspiration board, and simultaneously do a closet purge. Figure out which items from your closet have been unused for long. Try making a Pinterest board or collage of images from Instagram for your makeover goal.
So how does one go about finding your makeover goals? We sat down with Miami-based Viktoria Myr, fashion blogger, model and stylist for some expert tips. "I like to see when people's life is beginning to change through the makeover transformation. I don't change people, I just show them how to present their stronger side and become the best version of themselves. I like both trends and fashion; but at the same time I love individual style, which has become so rare nowadays. That's why my goal is to always balance fashion and personality," she says.
However, when you're revamping your wardrobe, make sure to not do it at once. Overbuying will not only stuff your closet with unnecessary things but will also make you lose focus. Try to do it very slowly so that you keep finding what's working and what's not. Here are some tips: Smart Shopping Tips on What Not to Buy.
2. Find Your Personal Style
This is the first step to transforming your wardrobe for the better. Through your personal style, you project your personality to the world. It is very important to find out what type of style makes you feel like you. One good way is to go to the store and try on random clothes and see what works best. Here are the major different types of personal styles:
Romantic Style
If your closet is full of clothes with fabrics like silk, linen, or cashmere, or with feminine shapes and colors, you probably have a romantic style. Those with romantic style prefer feminine silhouettes like flounce and ruffle, flared skirts and well-defined waistlines.
Classic Style
If you like to wear neutral colors and statement pieces that are well-tailored, your personal style is classic. Classic styles include buttoned shirts, A-line dresses and timeless structured bags and shoes.
Casual Style
People with a casual style like wearing simple, comfortable clothes and do not put on a lot of accessories. Casual styles include simple denims, minimal silhouettes and practical everyday outfits.
Bold Style
On the contrary, the bold style includes donning body-hugging clothes, a lot of accessories, and a little bit of skin show. They prefer experimenting with new trends too.
Vintage Style
If you are a big fan of silhouettes and fabrics from the past decades, your style is retro or vintage.
Bohemian Style
But if you like earthy tones, chunky jewelry, loose outfits, and you get inspired from the 70s, boho is your go-to style.
Your style can be a combination of more than one of these. If you are still confused, take our quiz to find out your personal style:
Viktoria Myr further says, "I always tell clients not to wear something that doesn't feel like you. I always teach them to find the balance between them and their style/clothes. It all depends on your lifestyle, age, place where you live, what you like, etc. I like to make people look better, but at the same time to retain their individuality."
Also read: How to Dress according to Your Personality?
3. Find Your Body Shape
Take a quick measurement of your bust, waist, and hip. Now find out which of these body shapes resembles yours.
Pear-shaped body types have a well-defined waist, but the measurement of their hips is much more than that of their bust. Rectangle-shaped body types' waists are not much defined since their measurements are nearly equal throughout their body. Hourglass body types have a prominent waist and the measurements of their breasts and hips are almost the same.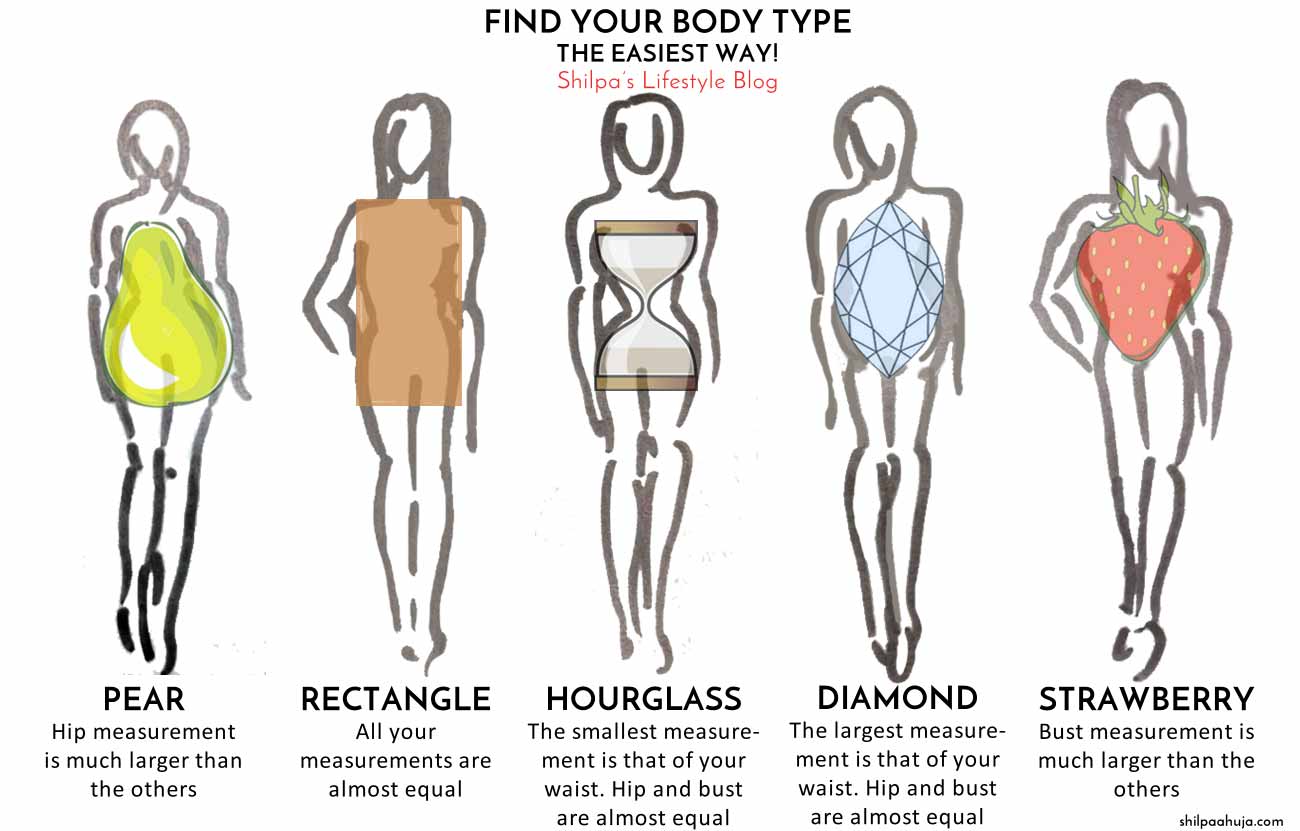 Diamond body types have a curvy waist and their waist is much larger than their bust and hips. Strawberry body shapes have broad shoulders and fuller breasts, their hips' measurement is much lesser than that of their bust.
Now that you have an idea of your body type, dress according to that. Dress in such a way that your body looks proportionate. Camouflage your wider body parts with dark colors and wear bright colors on your best parts to accentuate them. You can read a more thorough guide on body types with step-by-step tips on how to dress for each here.
4. Discover the Right Colors
Have you ever noticed that some colors make you look great but some make you look pale or tired? Yes, colors also play a big role in determining your look and you can find out which colors look awesome on you based on your undertones. If you just decided to give yourself a makeover, then finding out your best colors will be extremely helpful. Also read a bit about basic color schemes used in fashion, which will help you put together your outfits.
Look at your veins. If they are green, you have a warm undertone and warm hues will make you look your best. On the other hand, if your veins are blue or purple, you will look good in bluish or cool tones. If you have a mix of blue and green veins, you do not have to worry about colors because any color will look amazing on you.
5. Love is in the Hair
Hair is truly a woman's crown and it is very important to know how to take care of it. You cannot forget your hair when you think about how to give yourself a makeover. Trying out a new hairstyle or a hair color can upgrade your look and is the quickest makeover trick. The hairstyle you opt for says a lot about your personality and lifestyle so make sure you choose the right one. Let us help you sort it out:
Haircut
Fringes? Bob? Layers? It can be tricky to find the right haircut. The perfect haircut should balance out the proportions of your face and it should bring attention to your best facial features.
Round face shapes can rock a pixie cut, long layers, long straight hair, and uneven fringes. Keep it sleek. Stay away from curls since they will add more roundness to your face.
Oval face shapes look good with side-swept bangs, long waves, sleek long bob, feathered cut. You can also get fringes if you have a big forehead. Avoid very long hair if you have a big chin.
Diamond face shapes can highlight all the right features with curtain bangs, face-framing layers, braided bob, and angled pixie. Choose a haircut that makes your cheekbones look slender.
Heart face shapes should try wispy bangs, bouncy bob, wavy lob, and layered pixie to accentuate their pretty features. Avoid very short bangs.
Square face shapes can try a long lob, sharp bob, pageboy, textured layers, and textured pixie. Heavy bangs will look unflattering for this face shape, however you can try uneven bangs.
6. Find a Hair Color that Suits Your Skin Tone
Choose a hair color that complements not just your complexion but also your undertones. Women with warm undertones should go for yellowy hues like caramel, golden brown, copper, strawberry blonde. Cool undertones often look good in bluish hues like pearl blonde, chestnut, mocha, burgundy and violet brown. People who have neutral undertones can pretty much rock any hair color.
Keep in mind not to go for more than 2 shades darker/lighter than your natural hair color if you are just a beginner. Also, decide on what kind of hair color would you like to get. Global hair color is applied to your entire hair, balayage and ombre give a shaded effect by fading towards the end. Highlights and lowlights add more depth to the hair by dyeing just a few hair strands.
7. Hair Style
Hairstyling is about how you keep your hair, like ponytail, braid, updo, straight and open, etc. Well, it is not always just the face shape that you should consider before trying out a new hairstyle but you should also consider your lifestyle. If your work does not let you spend a lot of time in front of the mirror every day, then it is better to stick with some easy hairstyles. Easy does not mean less fashionable. Find hairstyles that are stylish but do not consume a lot of time putting them all together.
For example, fringes, layers and treated hair are more high maintenance. You can check out some low-maintenance hairstyles and create your own inspiration board. It is a good idea to master one everyday hairstyle, one party updo and one date-night style that you can do in 10 minutes or less.
If you cannot manage long hair then it is advisable to keep it short. It is good to experiment with different hairstyles so that you can find out what suits you the most. When we discuss about how to give yourself a makeover, it does not mean you have to have a role model. Blindly copying your favorite celebs might not always work out in your favor. Instead, try a new style based on your own practical needs.
8. Set a Hair Care Routine
The first step to caring for your tresses is to admire them. Do not mess up your hair by using too much of chemicals. See if you can find ways to rock your natural hair in a fun new way, without going for a treatment. If your hair is not healthy, it will not look good even if you dye it with an expensive color. Opt for hair products that suit your hair type.
If you have dry hair, go for hydrating shampoos and conditioners. Do not wreak havoc on your curls by using relaxers frequently. Avoid excessive styling with curlers or straighteners. Heat can cause irreversible damage to your hair. Your motive is to beautify your hair but not at the expense of its health.
Also read: Ayurvedic Hair Care Tips Every Girl Needs to Try
9. Style Up with Accessories
Wondering about how to give yourself a makeover really quick? Accessories are the best way to uplift any simple outfit. They can make or break your look. From pieces of jewelry to sunglasses and bags, there is a lot to include in your style game. These are also a quick way to showcase your makeover. It can be pretty overwhelming to choose from all the options available out there. So here are some guides:
Bags
Handbags are a women's best friend and we should make sure that you have at least one or two bags that last for long apart from making you look stylish. Go for a high-quality bag that goes with most of your everyday work outfits. The size of the bag depends on the number of essentials that you usually carry.
Again, your body shape is a factor to consider while choosing a bag. The shape of the bag should be proportional to your body shape. If you are a plus-sized woman, go for slender medium-sized bags and if you are slim, go for a mini-bag. If you're short, avoid broad bags, and instead go for longer ones. From pretty evening clutches to sling bags to a classic tote bag, there is a lot to choose from. If you want to look fashionable, don't forget to incorporate this arm candy in your style.
10. Find Flattering Shoes
Moving down from our bags to our legs, they also deserve all the attention. It is said that the world is at your feet so make sure that you wear good shoes. Every woman should have a pair of nude heels in her closet. They go with every outfit and they also make you look taller. Other than that, go for colors that can work well with every dress like black, white, and tan.
A pair of pumps, stilettos, or gladiators will make you feel confident. But if you are not a big fan of high heels, you can try kitten heels, ballet shoes, or espadrilles. Studded sandals or lace sandals are some good options to highlight your feet. Whatever you choose at last, you should be comfortable walking in it. So avoid buying a trendy pair of shoes if it's the wrong size or uncomfortable.
11. Jewelry & Other Accessories
Make sure that your jewelry matches your outfit and also the time of the day. You can select your jewelry based on your personal style. For example, if your style is bold, go for big statement necklaces or novelty rings. If you have a classic style, put together your look with silk scarves, sunglasses, watches, or a classic pearl necklace and a pair of earrings to get an elegant look.
Do not put on too many accessories that will make your outfit look very busy. When in doubt, wear just one piece of jewelry. They can be great conversation starters too.
Less is more. It is advisable not to put on more than 7 pieces of jewelry. Be mindful of what you wear and when. A bohemian necklace won't go well with your business attire. Likewise, wearing a smartwatch to your friend's wedding will look very odd. The jewelry should be in accordance with the event you are attending.
12. Polish Your Appearance
What we mean by polishing your appearance is grooming. It is a well-known fact that grooming can take your look up several notches. It just does not make all heads turn around but also helps you maintain proper hygiene. Grooming and makeovers go hand in hand. Let's see how to give yourself a makeover by brightening your appearance.
Starting from your smile, because it is one of the first things that people notice, maintain good oral hygiene. Schedule your visit to a dentist at least twice a year. Brush after meals so that you can always sport a bright smile. Use a mouthwash if you are worried about bad breaths, or to wash off those coffee stains.
The next thing to address is your nails, keep them short and clean. Do not step out of the house with chipped nail paints. It is better to wear none than chipped nails. You can get even a professional manicure done. The skin on our hands is more prone to dryness so invest in good hand cream.
Our skin is the largest organ in our body so give it utmost importance. Take bath and wash and condition your hair regularly. Exfoliate to get rid of all those dead skin cell build-ups. Have a proper skincare routine and wear sunscreen regularly. Keep yourself hydrated. Also learn how to do a basic at-home manicure, pedicure and DIY facial.
Makeup is another way of enhancing your appearance and self-confidence. It adds more beauty to one's natural features. Wear an appropriate amount of makeup to even out your skin tone, uplift your cheekbones and make your face look more symmetrical. While makeup is a visual treat, it is not compulsory if you are not comfortable wearing it. You can reserve it for special occasions, or just wear an eyeliner and concealer/BB cream.
You can also use your makeup to give your everyday style a makeover. "If you have a safe everyday look and want to change it up, use a fun-colored eyeliner or a lipstick to give it a fun twist. Also, a fun-colored lower lashline can give an adventurous look," says Marjolein de Ridder, a Netherlands-based makeup artist.
13. Educate Yourself
When you explore how to give yourself a makeover, you might just consider the physical aspect. But nothing is more attractive than a well-read woman. Try to gain new experiences to broaden your perspective. Be more curious, enjoy learning new things, get a new hobby. And master at least one skill that you also love to do. Learn proper etiquette and social graces.
Carry yourself with elegance and ooze confidence in everything that you do. You'll feel more confident when you're good at what you do, and are humble about it.
Shyness is just a state of your mind, challenge yourself to socialize more. And to do that, you need to have excellent command over your language. Surround yourself with people who can make positive contributions to your life so that you can learn from them.
Also read: Self-Guided Personality Development Course
In addition to that, do not forget to practice kindness. This part of your makeover is something that you can totally customize as per your wish. Invest time in your soft skills as well to have a more unique personal style and charms.
14. Improve Your Body Language
Facial expressions are powerful. They are the window to predict what's going inside your mind. So it is advisable that you learn how to control it. Your expression should be approachable, relaxed and confident. Apart from expressions, you also need to focus on your gait. Pull your shoulders back, straighten your back, lift up your chin and make eye contact with people while you walk. While being seated, relax your shoulders but don't hunch your back. Do not cross your legs as it can make you look tensed and unapproachable.
Exercise contributes a lot for a better posture and a better body language. Include simple weight-training, running and muscle toning exercises like planks to shed off that extra fat and feel your best.
15. Rework on Your Inner Self
Someone said it right that the happiest girls are the prettiest. Your makeover will be incomplete if you are not happy and confident. Confidence will make your makeover more noticeable to everyone. Do not be tensed about how to give yourself a makeover and make it quick. It is time to prioritize your mental health and get rid of all the negative self-talk. Start giving compliments to yourself and positive affirmations to boost your confidence.
Treat yourself to the fullest. Work out regularly to get a healthy glow and follow a healthy diet because your skin is made up of what you eat. Put all your worries at bay and get a proper sleep every night. And do not forget to always radiate happiness and positivity wherever you go with your beautiful smile.
Viktoria adds, "Sleep well, stay positive and remember we are what we eat. Be the best version of yourself. Don't try to be someone else. Just work on self-improvement everyday and you will never have this problem."
I guess that pretty much sums up everything on how to give yourself a makeover. The process of undergoing this positive transformation should be relaxing. Do not feel stressed out, the changes will take a little time to reflect on you. A makeover is how you express yourself through fashion and personality and it keeps on evolving. You have to keep working on this.
It is not an overnight thing but a gradual personal project. If you have a doubt, feel free to send us your questions at [email protected]. Also, do not forget to tag us in your makeover pictures on Instagram at @shilpaahujadotcom.
Read next on how to give yourself a makeover:
– 15 Basic Fashion Tips Your Stylish Friend Knows (But Won't Tell You!)
Anjali Khakha is a Fashion Journalist at ShilpaAhuja.com. She is currently pursuing her bachelor's in Computer Science at Women's Christian College, Chennai, and is originally from Ranchi. Apart from writing, she enjoys cooking, painting, reading, shopping and traveling.