If you're not skinny, fashion may seem tricky, but dressing for pear shaped body type might be easier than you think. Here's Here's how to dress for pear shaped body type – what to wear and what to avoid!
Hey gorgeous! I often write about the latest fashion trends, and how to incorporate them into one's daily wardrobe and personal style. But one of the most common question I get asked by my blog readers is how to know which trends work for them if they're not too skinny like runway models.
Personal style is all about working the latest styles according to your body type and personality. And not all styles work for every body type. There are five common body-types – pear, rectangle, hourglass, diamond and strawberry. These depend on your body measurements.
Pear shape is perhaps the most common body type amongst women, because it's just natural. But yet, it's often not the easiest to dress for. And how to find out if you're pear shaped? Well, if your hip measurement is (considerably) larger than your waist and bust measurements.
Also check out: What Does a Curvy Body Type Mean? A "Full" Guide to Curves!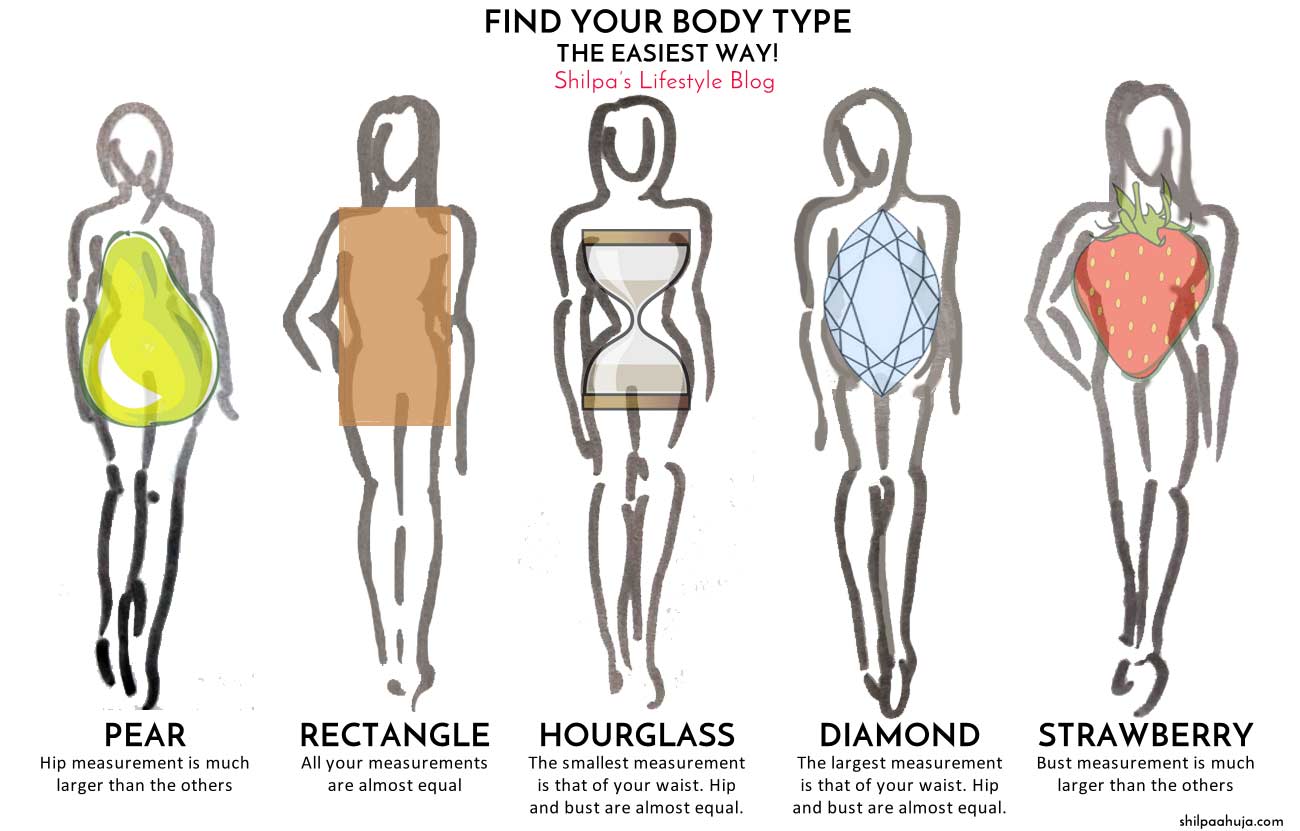 So if you're pear shaped, you have fuller hips than breasts and waist. Some celebrity examples I can think of include Kim Kardashian, Beyonce and Jennifer Lopez. Here are some basic tips on how to dress for pear shaped body type:
Wear outfits that make your bust seem proportional to your butt.
Avoid poofy skirts that make your butt look even bigger – like tulle or ruffled.
Try long cardigans, high-low tops and maxi dresses in thin fabrics.
Use lots of belts to cinch in your waist, because it'll make you look more hour-glass and it'll avoid the shapelessness of heavier fabrics.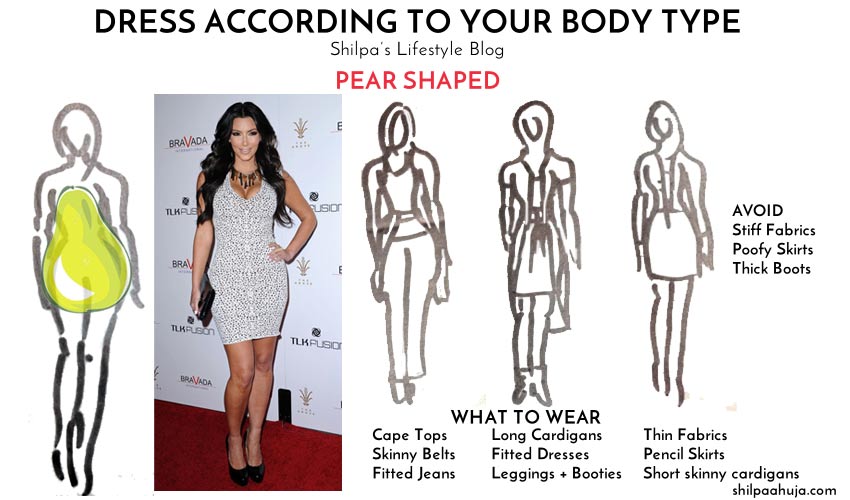 How to Dress for Pear Shaped Body Type: What to Wear
Fitted tops with long hip-covering cardigans and broad belts over skinny jeans.
Form-fitting short dresses that fall slightly above your knees with belts.
Blouses tucked into knee-length pencil skirts with slits.
Crop skinny cardigans over knee-length flared dresses and skinny belts.
Jeans: Both skinny and slim-fit jeans will suit you. Some pear shaped women rock flared jeans too. I would avoid boyfriend or baggy jeans because it'll make the bottom half all voluminous and out of proportion.
Tops: Try light fabrics with floaty tops, form-fitting blouses and tees. Avoid very loose tees or tops because they'll make your bust seem as full as your hips, thus eliminating any shape. I love long tops on pear shaped women, so try hip-covering shirts and tops with belts.
Belts: Belts are so important for pear shaped women because they'll give structure to your whole outfit, making you look slender (and not frumpy!)!
Skirts: By all means, yes! Wear long skirts, short skirts, maxi skirts. Wear slits in the left, right and center (well not all together, hopefully!). Maxi skirts work well. And knee length, or just-above-the-knee skirts work the best for pear shaped bodies.
How to Dress for Pear Shaped Body Type: Things to Avoid
Avoid stiff fabrics because they'll add extra volume and ruin your body proportions.
Avoid short peplums that end at your hip because they'll make your butt seem even more fuller than the rest of your body.
Avoid poofy skirts and thick boots.
So I hope my small guide on how to dress for pear shaped body type was helpful! Let me know what you wear if you're a pear-shaped girl by tweeting me @shilpa1ahuja 🙂
Read more here:
– How to Dress a Curvy Body According to Your Body Type
You may also like:
How to Dress for Spoon Body Type: Clothing and Fashion Tips
Shilpa Ahuja the editor-in-chief of ShilpaAhuja.com, which she founded with the goal of inspiring confidence in the modern working woman through fashion. Other than defining the direction of the magazine, she also writes about fashion & beauty trend forecasts, industry analysis, and opinions.
Shilpa's work has been published in the University of Fashion blog and Jet Airways magazine. She is also an artist, illustrator and cartoonist. She is also the creator of Audrey O., a comic series that represents the lifestyle of millennial women. She enjoys creative writing and world travel. Her art has been exhibited at Harvard Graduate School of Design and the Aroma Hotel, Chandigarh and been published in Chandigarh Times.
Originally from Chandigarh, Shilpa also has a degree in architecture and has worked in interior project management. She is also the author of the book "Designing a Chinese Cultural Center in India". Shilpa has a Masters in Design Studies degree from Harvard University.
For feedback and questions, please email [email protected]