Need the perfect bridesmaid dress for your sister or best friend's wedding? Discover on how to choose bridesmaid dresses according to your body type!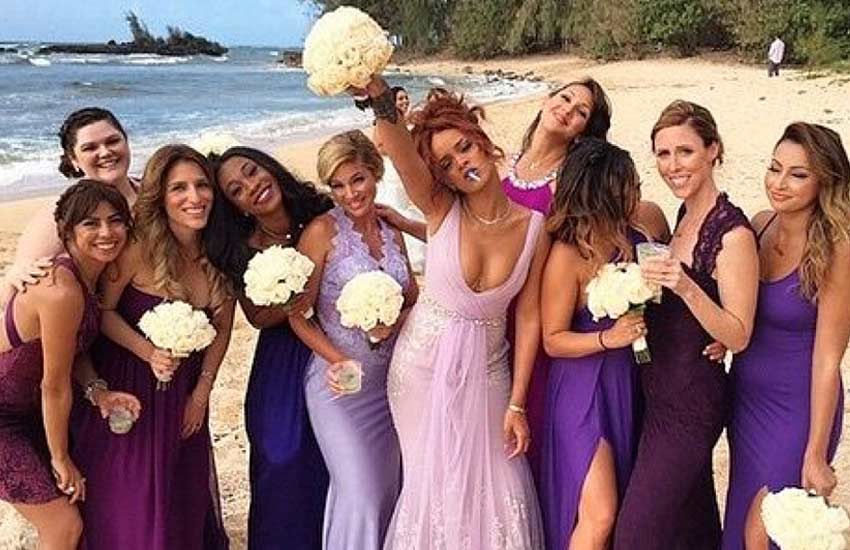 Hey beautiful! When can you look your best apart from your own wedding? Of course, when you're the bridesmaid – you get to sizzle and catch all the attention after the bride. Apart from choosing the right style and color for your bridesmaid outfit, the most important thing is choosing a dress according to your body type.
Bridesmaids don't just have to look pretty at a wedding. From helping the bride get dressed to ironing out last-minute difficulties, bridesmaid have lots of responsibility on their hands. Since you need to be comfortable and look gorgeous at the same time, donning an outfit that flatters your figure is essential.
We have made it all easy for you by making a list on how to choose bridesmaid dresses according to your body type. Let's check out!
Find Your Body Type
Take your measurements of bust, waist and hips, and see what your body type is.
How to Choose Bridesmaid Dresses
Bridesmaid Dresses for Pear Shaped Body Type
Most women are pear shaped and so am I! For pear shaped women, the largest measurement is that of the hips. So, you want to wear something that makes your bust look proportionate to your butt, while not adding any extra volume to the hips.
Color – Deep pastels like grape or sangria, red and black (if the occasion permits). Or try color blocking if the bride's okay with that!
Dress Type –
Asymmetric or high low dresses

are the best choice as it's longer at the back – covering your butt and in the front it's low like a knee-length or a mini dress.
If you don't have a well-defined waist, try an empire waist dress or a skinny belt to accentuate your curves.
Fabrics – Avoid heavy fabrics – specially at the bottom as they will make your butt look bigger like tulle or organza. Also avoid ruffles. Instead, opt for thin fabrics like satin or georgette.
Style – Go for off-the-shoulder or strapless as the attention will be on the top half of the body. Or get a dress with lace at the top. Plus, good for selfies!
Bridesmaid Dresses for Rectangle Body Type
As all your measurements are nearly equal, your waistline isn't well defined.
Color – Light pastels, white
Dress Type –
A-line skirts and princess cuts look the best on you as they define the waist by cinching it in.
Pleated and ruffled skirts add on some volume, mimicking an hourglass figure.
Fabrics – Georgette, tulle, silk
Style – A well-defined waistline is a must. Accessorize with a broad belt. Try to accentuate your features by wearing backless or strapless dresses. You can also try a sweetheart neckline to add more femininity!
Bridesmaid Dresses for Hourglass Body Type
Hourglass shaped women have a smaller waist, with bust and butt being almost equal in size. If you fall in this category it's pretty easy for you to choose your outfit as almost anything suits you!
Color – Almost all colors would be suitable. Try the best one for your skin tone.
Dress Type – Well fitted dresses look the best. Select a dress that brings out your best features.
Fabrics – Any fabric will go well with this body type. Try lace, silk, georgette or chiffon.
Style – Strapless or sleeveless dresses with flared skirt and a well defined waistline would look gorgeous.
Bridesmaid Dresses for Diamond Shaped Body Type
If your waist is your largest measurement and you have curvy hips and bust, then you're diamond shaped.
Color – Dark colors or deep pastels like chocolate, maroon, eggplant.
Dress Type – An outfit with a cinched-in waistline is the best choice. Go for empire waist and belted dresses as they accentuate your curves.
Fabrics – Thin fabrics like georgette or lace and chiffon. Avoid stiff fabrics.
Style – Try to accentuate your other features like wearing a plunging neckine, pencil skirts or flowy skirts. Avoid ruffles and layers as they'll make you look heavier. Also avoid shapeless and waistless dresses as they give that maternity look on diamond-shaped women.
Bridesmaid Dresses for Strawberry Shaped Type Body Type
If your bust measurement is the largest, then you are strawberry shaped.
Color – Try double shaded dresses like dark color on the top and light color for the skirt.
Dress Type – A-line dresses look the best as the attention will be on your bottom half, and it'll balance your body. Also try bubble dresses.
Fabrics – Thin fabrics for the top. Try tiered or fluffy skirts.
Style – Opt for mini dresses with a defined waistline. Avoid straight maxi dresses, pencil or shift dresses.
Bridesmaid Dresses for Plus Sized Body Type
If you have a fuller figure or are heavy built, here's how to choose bridesmaid dresses:
Color – Dark colors like red, maroon, navy blue, emerald or sapphire.
Dress Type – Maxi dresses, midi dresses and asymmetric dresses look the best.
Fabrics – Thin fabrics like chiffon, georgette and satin
Style – Go for a defined waistline to accentuate your curves. Try empire waist or A-line dresses. Keep the focus away from your problem areas by donning a statement necklace or earrings.
So, these were few tips and tricks on how to choose bridesmaid dresses according to your body type. Hope it was helpful!
Sahana is a Senior Staff Writer at ShilpaAhuja.com. With an experience in fashion and lifestyle writing, Sahana is responsible for Indian and international fashion week coverage every year, and is developing an expertise in apparel trend forecasting. She also writes about health and fitness, having pursued yoga for 6 years now. She's not a gym person at all but is all for "running in the park" and is an amateur cyclist. Books and coffee are her other passions. She's also an amateur photographer. She's a hardcore Bollywood fan and she loves to cover the nostalgic topics on the same. From fashion trends to famous characters, she can make anyone love Bollywood! Her best article has been 90s Bollywood fashion, a readers' favorite so far! Prior to her experience with ShilpaAhuja.com, Sahana has written as a freelance author for online magazine, Mashup Corner, and interned at EventsHigh as a content writer. Her blogs on basic fashion, makeup, fitness and city's food joints that gave her a chance to experiment with her writing. She also has voiced her opinions about feminism and equal rights for men and women at PolkaCafe journals and after quitting her job, she decided to take up writing as her full time career.
Sahana is an engineering graduate and has worked in an MNC, Tesco, for more than a year as an Operations Support. It was her sheer love for fashion that made her quit the monotonous 9 to 5 job to pursue a career in the fashion industry. She's originally from Bangalore and is currently settled in Chennai (she's loving the city)! For any queries and discussions, contact her at [email protected] You can also tweet her at https://twitter.com/Sahana_17