From Marilyn Monroe to Audrey Hepburn, discover the 9 most iconic Hollywood dresses, and how to wear them. Here are the perfect Hollywood themed costume ideas for every budget and mood!
What to Wear to a Hollywood Themed Party (Female)
Whether you're going to a theme party or a Hollywood Halloween party, if you want your friends to guess what you're recreating, you have to choose an iconic costume. From sexy to angsty, from modest to excessively glam, I've compiled a list of Hollywood themed costume ideas for any budget and mood. Let's go!
Other than the below mentioned ideas, there's also:
Bella from Beauty and the Beast (you just need a yellow gown: perfect for Hollywood themed wedding party)
Cinderella costume (you'll get to wear a glass slipper: what more reason do you want?)
Pink outfit from Legally Blonde
The scary 101 Dalmations outfit
Hollywood Themed Costume Ideas
Princess Leia (Carrie Fisher) in Star Wars
If you don't want a costume that's overtly sexy, this Princess Leia one is the perfect choice. She is a warrior, of course, and maybe she even has The Force. Anyway, Star Wars theories aside, Princess Leia also has a sexy gold costume (remember the one that Rachel wore for Ross in the 90s TV show Friends?), but this one is the one I'd choose so here we have it in my list of Hollywood themed costume ideas!
It's one of the best homemade 70s costume ideas. All you need to recreate it is stitch up a large white fabric to create a bell-sleeved maxi dress. Or you could purchase one online. It should be high neck and full-sleeved, hopefully with a hoodie. Add a silver belt and the stormtrooper gun. Pair it with flat white shoes and coral lipstick.
Marilyn Monroe in Gentlemen Prefer Blondes
This is one of the Hollywood themed costume ideas that's 50s in its full glory! This costume is, of course, from Marilyn's pink dress from the performance song 'Diamonds Are a Girl's Best Friend' in the 1953 film Gentlemen Prefer Blondes. Whether we've actually seen the film or not, I'm pretty sure most fashion-loving millennial women would have watched the video of this song. I love this gorgeous dress. So bold and fearless.
Making this costume at home would be difficult, since you'll also need the matching gloves. So it's best to opt for this only if you can find a readymade costume. Pair it with black strappy stilettos, diamond bracelets and a large diamond necklace (or fake ones, obviously!). Add a red lip and the famous Marilyn blonde wig and you're good to go!
Holly Golightly (Audrey Hepburn) in Breakfast at Tiffany's
This iconic black dress costume worn by Audrey Hepburn has been recreated by many celebs and is one of the common Halloween costume ideas, too. But it's also an easy movie character costume idea.
All you need is a long black dress (even a midi dress will do), which is a great investment even if you don't own one, since you can always wear it again. Find a chic pair of silk black gloves to go with it, if you want the full Holly Golightly touch. And add a multi-layered pearl necklace. The hairstyle is a bit tricky to make, but so many YouTubers have posted tutorials, and I even have my own version of this hairstyle, replete with the tiara!
Marilyn Monroe in The Seven Year Itch
Perhaps one of the most iconic Hollywood dresses of all time is the white halter dress worn by Marilyn Monroe in her 1955 movie The Seven Year Itch in the scene where she stands on a subway grating and lets it blow up! It's actually one of the easy female movie character costumes to recreate, too.
Go for a white midi halter dress, preferably pleated. Wear it with strappy white heels and large white stud earrings. This 50s Hollywood costume is incomplete without the perfect makeup (here's a tutorial). Add retro red lipstick with gloss and Marilyn's iconic extended lashes and blonde wig. This is also one of the halloween costume ideas for college or school party.
Cher (Alicia Silverstone) in Clueless
Clueless is one of the cutest rom-coms of the 90s, and one of the first ones to introduce wealthy Beverly Hills fashionable yet relatable protagonists. Her most memorable outfit is this plaid on plaid one. It's in yellow, but you can even do a black one too. Of course, if you're going with your BFF, this is one of the best Hollywood costume ideas for couples to try, you can your friend can be Cher and Dionne!
You need a yellow plaid schoolgirl skirt, wear it with a matching blazer over a white spaghetti top. Add heeled mary-janes and nude lip color. Now if we could only have her flawless hair and face! As if!
Vivian (Julia Roberts) in Pretty Woman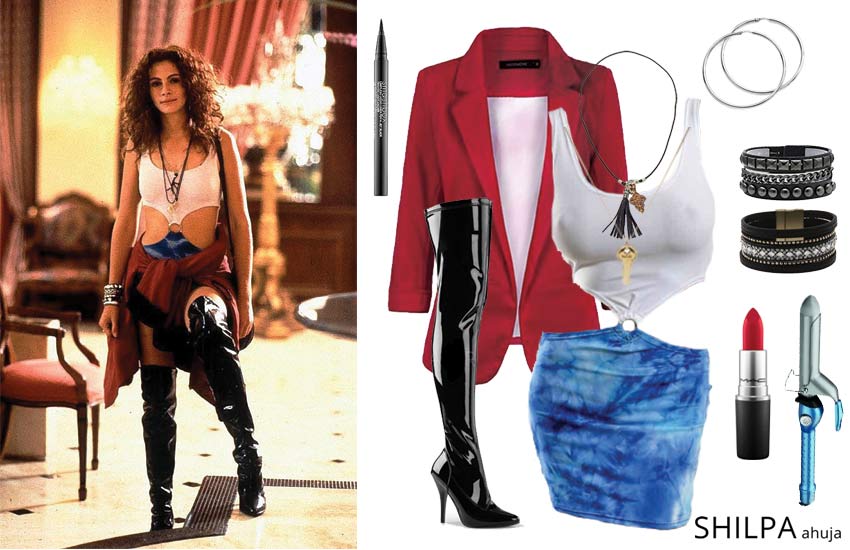 Pretty Woman outfit is memorable yet one of the lesser used Hollywood themed costume ideas.
Sandy (Olivia Newton-John) in Grease
Wanna look sexy without wearing a retro dress? Here's an excuse to wear leather pants and look super-hot! Pair skinny black leather pants with a black off-the-shoulder bodysuit. Add red strappy heels and black eyeshadow with a matte red lip. This is also one of the Hollywood themed costume ideas that gives you the perfect opportunity to don a curly blonde wig!
Uma Thurman in Kill Bill
If you're looking for last minute Hollywood Halloween costumes that don't expose every inch of skin, this is a great option. Uma Thurman's character in Kill Bill is what my husband says even he wants to wear! You need a yellow motorcycle suit, you can easily find this costume online, and shoes too. And even the sword!
This is one of the easy Hollywood costume ideas for a beach or poolside party. Bond girls have forever been men's fantasy and fear! So they make the perfect Hollywood themed costume ideas. For this one, you'll need an orange triangle halter bikini. Add a broad white belt and attach a white knife cover to it and voila! Spray tan and pixie wig optional!
So I hope my Hollywood themed costume ideas were helpful. Which other iconic Hollywood characters do you think I should have included in this list? Lemme know below!
Muaah!
Shilpa Ahuja the editor-in-chief of ShilpaAhuja.com, which she founded with the goal of inspiring confidence in the modern working woman through fashion. Other than defining the direction of the magazine, she also writes about fashion & beauty trend forecasts, industry analysis, and opinions.
Shilpa's work has been published in the University of Fashion blog and Jet Airways magazine. She is also an artist, illustrator and cartoonist. She is also the creator of Audrey O., a comic series that represents the lifestyle of millennial women. She enjoys creative writing and world travel. Her art has been exhibited at Harvard Graduate School of Design and the Aroma Hotel, Chandigarh and been published in Chandigarh Times.
Originally from Chandigarh, Shilpa also has a degree in architecture and has worked in interior project management. She is also the author of the book "Designing a Chinese Cultural Center in India". Shilpa has a Masters in Design Studies degree from Harvard University.
For feedback and questions, please email [email protected]