Read all about the latest hair coloring techniques and what colors you should choose in our highlights and lowlights guide below!
Hey there gorgeous! From celebs to runway models, everyone's been loving highlights and lowlights. These coloring techniques have been around forever but they have their own variations now! Like balayage, frosting, underlights, babylights and what not! Puzzled? Yes, me too. But worry not! Our guide on highlights and lowlights has everything you would need to know before you decide to get your hair colored!
Highlights and Lowlights
What are Hair Highlights?
Highlighting is a technique where colors that are a couple of shades lighter than your natural hair color are applied. It adds dimension to the hair. If you're after something that's more prominent than a
balayage
but not as bold as streaks, highlights are perfect for you!
What are Lowlights?
Lowlights are the exact opposite of highlights with darker colors added to your hair to give it more depth and volume.
What's the Difference Between Highlights and Lowlights?
The difference between lowlights and highlights is that highlights are colors that are lighter than your base hair color and lowlights are darker than your base color. They may both achieve the same end-result of adding depth to your hair and giving it a sun kissed look.
Highlights vs Lowlights: What Should You Get?
Your ideal and best suited color would depend on what your base hair color is. If you've got dark hair, highlights are your best option. And if you're a light-haired girl, go for lowlights. But that doesn't mean you can't highlight light hair or lowlight dark hair. You can. It all depends on the look you're going for – bold or subtle.
Additionally, being darker colors, lowlights take a lot more time to fade away than highlights. So, if you like changing up your hair color quite frequently, lowlights wouldn't be the best of hair color ideas for you.
Can You Get Lowlights and Highlights Together?
Yes, of course you can. Getting both highlights and lowlights together adds further dimension and texture to your hair. And anyone, irrespective of what their hair length, texture or color is, can get them.
What are Frosted Hair?
Hair frosting is one of the many types of highlights. It is when individual strands of hair are bleached to give a salt and pepper look. It's streaky but it can give a more natural look if the lighter strands and natural strands are only a shade apart. Frosting can also be done in addition to regular highlights.
What are Underlights?
It is a cool new trend where the coloring is done in the inner sections of your hair, which makes them stealthy and subtle. It's almost like your own li'l secret! This is great for someone who can't make up their mind about whether they want their hair colored or not. So, depending on your mood, this type of hair coloring techniques gives you the option of keeping it hidden or flaunting it by tying your hair up. Read more here: What Are Underlights & How to Rock the Hidden Highlights Trend
Balayage vs Highlights: What's Right for You?
Balayage and foil highlights give two very different end results. Find out which one's more suitable for you in our balayage vs ombre hair guide.
Also read: DIY Balayage: How to Do Balayage At Home
Hair Highlight Ideas
Choosing the right color for highlights and lowlights is crucial 'cause different colors will give you different looks. So, if you want something that's easily noticeable and bold, you can go for shades that are a lot lighter than your natural hair color. If you're looking for something more low-key, stick to shades closer to your base color.
1. Highlight Lowlight Ideas
Lowlights look best when they're done at the roots of the hair and along the base of the neck as underlights. Whether your hair is straight, curly, brown or blonde, check out our hair color ideas below for inspiration!
2. Ideas for Highlights and Lowlights for Brunettes
For brown hair, medium and light brown colors like caramel and chestnut are great for highlights. However, if you want a more bold look, try golden blonde shades. As for low lights, rich dark browns would be perfect. And if your natural color is dark brown, don't fret, you can still get lowlights of colors like chocolate brown or even a light black.
I'm loving Danii Minogue's brunette bob with light brown highlights at the tips and caramel highlights at the top. Also check out: Balayage Short Hair Ideas | 30 Celeb Inspired Pixies, Bobs & Lobs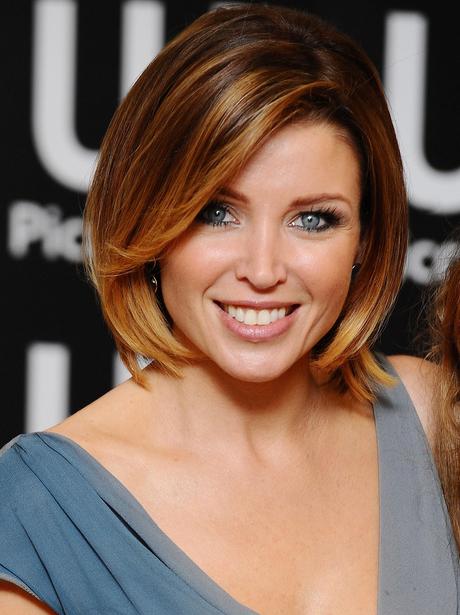 Try Chrissy Teigen's long hair with medium brown highlights and dark brown lowlights that are quite close to her base color.
Or Ashley Greene's light brown hair with blonde highlights. Also read: Highlights for Brown Hair: 35 Celeb-Inspired Highlights & Lowlights Ideas

Also read: Highlights for Brown Hair
3. Ideas for Blonde with Highlights and Lowlights
Blonde with lowlights at the roots along with underlights or darker tips with face framing blonde strands are what we're seeing on all the celebs and it-girls this season. To find out which shade is best for you and for more blonde highlights and lowlights ideas,  check out – Blonde Hair with Lowlights: 21 Chic Ideas to Choose from.
4. Highlights and Lowlights for Curly Hair
Curly haired women, use hair colors to your advantage by getting highlights on the high points of your curls. This not only adds volume but also makes your curls look more bouncy and loose. Go for different intensities of color on different strands. Again, the dark roots light ends technique is popular trend for curly hairstyles too. Between Shakira's subtle highlights and lowlights look and Beyonce's bold one, I can't decide which one I should get!
How to Care for Highlighted Hair
Highlights tend to fade quicker than lowlights as they are done in a lighter color. So, they need extra care. Use color protectant hair products and try to cut down the usage of a blow dryer, straightener or curler. And shampooing everyday is a complete no-no! Also, get your hair retouched once in two months or so to keep your highlights constantly looking the same.
Also, read:
–Best Shampoo for Color Treated Hair | Make Those Highlights Last
–Balayage Short Hair Ideas | 30 Celeb Inspired Pixies, Bobs & Lobs
– Highlights for Brown Hair: 35 Celeb-Inspired Highlights & Lowlights Ideas
So that was our guide on what are highlights and lowlights and hair color ideas for the same. Let us know what you think of them by tweeting @shilpa1ahuja!
Nishita is a Staff Writer/ Journalist at ShilpaAhuja.com. She is a graduate of National Institute of Fashion Technology and has a degree in leather design. A lover of all things fashion, she writes about everything from beauty, hair and lifestyle to fashion trends and how-to's. Her area of expertise is outfit ideas but being fresh out of college, she also loves writing about college fashion. Her new found love of baking is currently taking over her life, making her write about all things chocolate and easy recipes. With a flair for sketching and a great eye for detail, she's previously designed leather garments for brands like Diesel and Salsa. When she's not writing, she's busy reading extremely sappy Nicholas Spark's novels, sewing clothes and listening to some indie rock. Also super passionate about photography, she loves portraits and wildlife photography – a habit turned love that formed with the amount of traveling she did as a teenager. As a girl who grew up with books and movies like Pride & Prejudice, her love for period fashion is huge. And being curly haired, she's always on a constant hunt for solutions to problems that come with having ringlets and loves sharing them with people through her articles. For feedback and questions, email [email protected] or connect with her on twitter @ni95.