What's hot, what's not in men's hairstyles? We've selected the top 10 haircut styles for men from short caesar cut to long curly hairstyle trends!
Hey handsome! Looking for a brand new haircut this season to give yourself a makeover? Hairstyle can really make or break your overall look. So it's a great idea to experiment but also make sure you're going for something that suits your face type. Select a haircut that's really trendy, but is also easy to maintain for your lifestyle.
So here are the top 10 haircut styles for men for 2016! Let's see which one is the right one for you!

Men's Haircut Trend #1: Caesar Cut
Caesar cut was the top men's hairstyle trend in 2015, and it's still going as strong this year! In Caesar cut, the hair on top is short, and the hair on sides and back is even shorter, but not shaved. There's no visible strong definition or line between the short and shorter hair, but the gradient is subtle. Caesar cut is great for you if you want a trendy but low-maintenance haircut, as it barely requires any styling, and suits all face types.
Haircut Trend #2: Long Upstyled Tops with Shorter Sides
After Caesar cut, long upstyled tops are the top trend in men's haircuts. Lots of celebrities like Daniel Radcliffe and Zac Efron have this hairstyle. Keep your top hair long, and gradually shorten them on the sides and back, and style the top hair up and back.
This hairstyle is great for adding height, and also suits men with all face shapes except oblong. However, the upstyled tops need styling every morning, or before you go out, so it's not the right style for you if you want something low-maintenance.
Men's Haircut Trend #3: Gradient with Messy Top
If you want something that's more risqué than a Caesar cut, and if you want your tops to be longer but don't want the hassle of styling too much every morning, choose the gradient haircut with messy tops. It's great for wavy or curly hair and for adding height to small or short faces. In the gradient hairstyle, hair on the top are long and messy, but they gradually fade into nothing as they come down at the back and sides.
Men's Haircut Trend #4: The Undercut
The undercut is yet another trend besides the Caesar cut that's still trendy since last year! But this year, the sides have a gradient and fade from very small to nearly shaved. Keep the tops long enough to make a great contrast from the back and sides. Basically, this trend is the non-messy version of the gradient look from #3!
Men's Haircut Trend #5: Side Streak
I'm loving this brand new hairstyle, and it's great for guys who wanna make a statement and grab all the eyeballs! Just tell your stylist to mark a shaved streak that goes from a couple of milimeters in thickness to nothing as it goes from your forehead to the back of your head. The streak looks great on any side of the head, and keep it at least three inches from your ear for an eye-catching look.
Haircut Style for Men #6: Sharp Corners

Sharp corners at the sides of the head are also really trendy this year, although this robotic hairstyle is not one of my favorites! Great for guys who want a low-maintenance hairstyle but yet want something eye-catchy. Combine it with a gradient or upstyled tops if you wanna mix trends!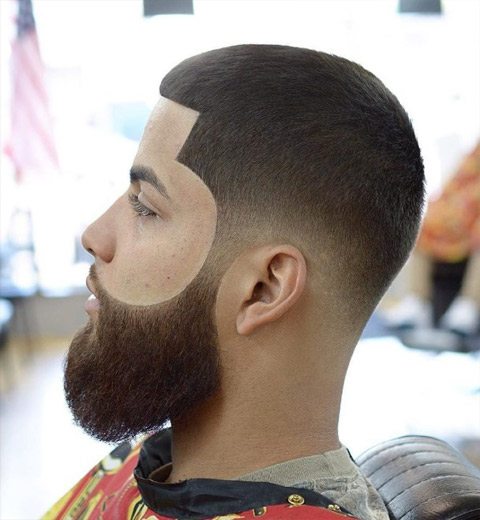 Haircut Styles for Men #7: Tousled Tops
Here's yet another hairstyle that we're seeing on lots of male celebs this year. Tousled tops are back again in 2016! To achieve this look, cut your hair so that the tops are long and sides are shorter, then use a little product (not too much) and just style your top hair into a natural out-of-bed type look – tousled but not messy. You can even spike them!!
Haircut Styles for Men #8: Downstyled Bangs
Bangs have been having their moment since last year amongst male hairstyles! This year, both asymmetric and symmetric bangs are in, although asymmetric are trendier. For the downstyled bangs look, go for long bangs from the top of your head, and keep the sides and back hair short. Then downcomb them so that they fall asymmetrically at your eyebrows and even farther below!
Haircut Styles for Men #9: Messy with Asymmetric Bangs
If you want even more of a messy look with the bangs, grow all your hair longer, including the bangs and cut them to be more asymmetric. Then style your hair to achieve a messy bed-look and style your bangs downwards. Also read: Also check out: Kids Haircuts: Cute Haircuts for Children.
Men's Hairstyle Trend #10: Diagonal Upstyled with Shorter Sides
Here's a trend that's easier to style than the messy bangs look. For this haircut, keep your hair long at the top and short at the sides, but not too short. Part the hair on one side, and style the tops diagonally away from your face.
Hope you found your perfect haircut! Which one did you select? And did you get inspired by any celebrity? Lemme know below!
Images compiled by: Pinky Mehta
Shilpa Ahuja the editor-in-chief of ShilpaAhuja.com, which she founded with the goal of inspiring confidence in the modern working woman through fashion. Other than defining the direction of the magazine, she also writes about fashion & beauty trend forecasts, industry analysis, and opinions.
Shilpa's work has been published in the University of Fashion blog and Jet Airways magazine. She is also an artist, illustrator and cartoonist. She is also the creator of Audrey O., a comic series that represents the lifestyle of millennial women. She enjoys creative writing and world travel. Her art has been exhibited at Harvard Graduate School of Design and the Aroma Hotel, Chandigarh and been published in Chandigarh Times.
Originally from Chandigarh, Shilpa also has a degree in architecture and has worked in interior project management. She is also the author of the book "Designing a Chinese Cultural Center in India". Shilpa has a Masters in Design Studies degree from Harvard University.
For feedback and questions, please email [email protected]