Influenced by grunge music, the 90s grunge style was a defining moment in fashion. Here's everything you need to know about this retro trend!
With the rise in popularity of 90s alternative bands like Nirvana and Pearl Jam, people translated the grunge music scene to fashion and so the grunge style era began. In fact, it inspired a whole lifestyle and set of values for the youth of the 90s. Although grunge music is something I'm not into at all, I love the changes it brought about in fashion!
What is Grunge?
A
style of music that combines alternative rock, punk and heavy metal
.
Nirvana
,
Soundgarden
and
Pearl Jam
were some of the best in this influential grunge style of music. Their music focused on insecurities and angst, which made them relatable. This genre of music influenced fashion massively and created an entire fashion movement. I've never been a fan of grunge or rock but doing all this research is making me want to put on my headphones, blast Nirvana and act rebellious for no reason! For anyone that wants to explore grunge music,
Smells like teen spirit by Nirvana
and
Alive by Pearl Jam
are two of the most famous grunge songs.
What is Grunge Style?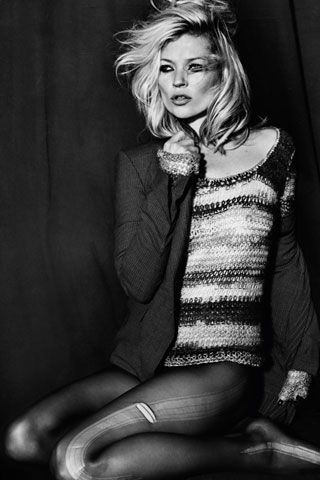 The grunge subculture started during the late 80s and was a way of being rebellious, dressing super casual and not following what was considered the norm. Dark, bold and edgy, 90s grunge fashion became a whole new level of dressing down. The grunge style was all about distressed and tattered clothes, layered jewelry and unkempt hair. Doc Martens and ankle length boots were the shoes of choice.
How to Be Grunge?
Grunge was not just a style of clothing, no! It was a way of life. Just dressing up in leather and distressed jeans doesn't make a person grunge. There's more to this subculture than just its super cool fashion. Having a carefree, rebellious and reckless attitude was a main part of being grunge. Grunge men and women had no care for what society had to say or do, they just did what they wanted and when they wanted. They also listened to loud and aggressive music (that's what I call rock and metal music. Metal fans, please don't come for me) that only fueled their rebellious nature.
So if you wanna be grunge, express your rebelliousness through clothes and grungy accessories. I never thought I'd ever say this to someone but, skip shampooing from your hair routine. Nothing's more grunge than messy and greasy hair. No high heels, 'cause that would wreck the badass vibes. And of course, be cool. Don't worry about tiny things. Just listen to Nirvana!
90s Grunge Clothing
90s grunge style always carried a wild, effortless and carefree attitude. Loose plaid shirts, frayed jeans, tights, shorts and ripped pantyhose were a huge part of every grunge girl's wardrobe. Pieces of clothing that didn't match or complement each other were paired together.
Grunge Dresses
Loose slip dresses or baby doll dresses were worn with ripped tights or stockings. This grunge style trend was popularized by Courtney Love.
Grunge Jeans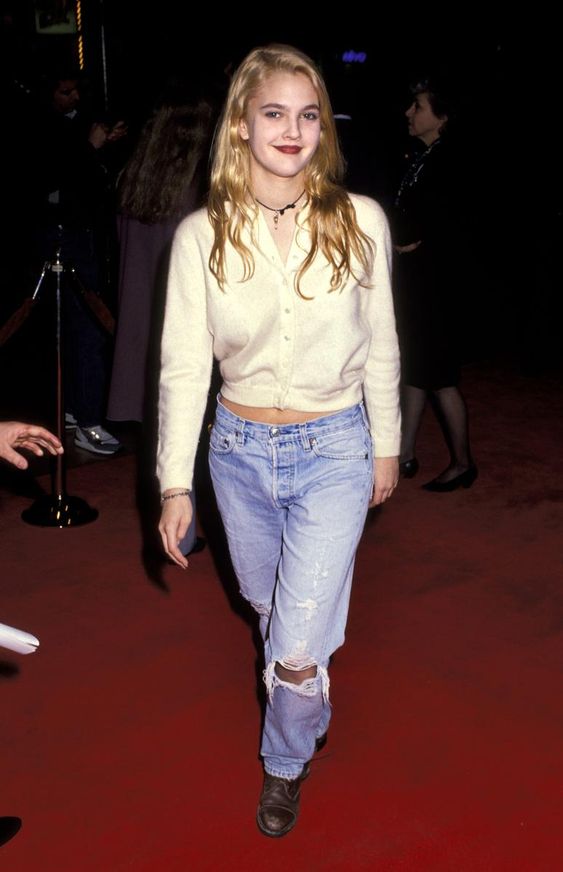 Ripped jeans in dark colors like black, grey and dark blue were a wardrobe staple. The bigger the rips, the better! More often than not, the fit was baggy.
Grunge Pants
If a grunge girl wasn't wearing ripped denims or tights, she was most likely wearing cargo pants. Plain black cargos and plaid printed ones were huge in 90s grunge fashion.
Grunge Shirts
I just cannot picture 90s grunge fashion without plaid button up shirts. Faded and worn flannel shirts were extremely popular and usually worn knotted around the waist.
Grunge Crop Tops
Loose, cropped and sleeveless music band t-shirts were a 90s grunge fashion favorite. Graphic printed tees were just as trendy.
They were worn underneath leather jackets 'cause nothing says rebel like an oversized black biker jacket.
Grunge Shoes
Combat boots and Doc Martens were all grunge men and women wore back in the nineties. Women stayed away from heels of any sort and stuck to shoes with chunky and thick soles. Some wore sneakers and converse too. And yes, they all had to be black!
Grunge Accessories
If there's anything 90s mainstream fashion had in common with 90s grunge, it was the accessories. Tattoo chokers and chokers with pendants were loved by both grunge followers and non-followers alike.
Crucifix necklaces, hoop earrings, rings and round John Lennon sunglasses were other in-trend grunge scene accessories. Pendant chains were popular too, and often paired with thin chokers.
Grunge Makeup
Dark lined eyes and dark lips were big in 90s grunge fashion. Drew Barrymore was seen in almost every shade of dark red and brown lips throughout the 90s. Some women preferred to keep their lips subtle with a darker eye. But one thing they all had in common was their natural-looking skin. They either wore a light coverage foundation or none at all. They believed in showing themselves in the most true and raw form, which meant no covering up those freckles, spots or pores. In fact, most grunge makeup looks we see on today's beauty gurus are too overdone and don't stay true to the original 90s grunge aesthetic. So avoid the smokey eye, skip the foundation, concealer, eyeshadow and mascara if you wanna  try the grunge look. Just go for a grunge lip shade of your choice (if you want!).
Grunge Hairstyles
The 90s grunge aesthetic lovers liked to keep their hair as low maintenance as possible. Or atleast looking like they hadn't touched it up, even if they had. Disheveled, unwashed, greasy hair was the go-to look. Celebs in the nineties had their unique and personal grunge hairstyles. Gwen Stefani had straight, colored hair that was shaved on one side while Kate Moss kept her hair wavy and messy, sometimes with thin braids here and there.
Other than the pigtail bun and the occasional high pony, 90s grunge fashion hairstyles were pretty simple. Leaving hair the hair loose, without a perfect part was the ultimate nineties grunge hair look.
Also read: Grunge Hair and Other Trendy Hairstyles for Women
Grunge Outfits
Putting together a grunge outfit is easier than you think. Pair two items from your closet that you think won't go together. Mix prints, colors and textures. If you wanna try an easy grunge outfit, just go for an achromatic look with white tee paired with grey jeans and a leather jacket. Baggy silhouettes are preferred to fitted ones. Layering with oversized jackets and cardigans is key. Also, grunge didn't mean you had to spend a lot. Items were mostly bought from thrift stores. But the best part? There are no rules. The entire point of being grunge is to dress the way you want to! Leave your hair tangled and just add a deep brown or burgundy lip!
Ideas for Grunge Look
Flannel Grunge Look

Monochrome Grunge Look
Men's Grunge Fashion
90s grunge fashion for men was similar to that of women. From ripped jeans to plaid shirts and combat boots, they donned them all.
We can't not mention Kurt Cobain's layered grunge style – band tee with an unbuttoned plaid shirt and baggy cardigan.
Shoulder length wavy hair parted at the centre was the go-to grunge hairstyle for men. Just like women, they were into the bed head hair as well.
Matt Dillon's fashion in the 90s grunge movie 'Singles' became every guy's source of inspiration.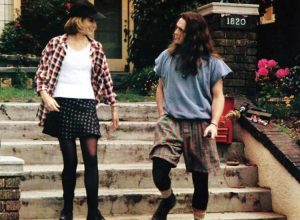 Also read: List of the Best 1990s Movies
Johnny Depp and River Phoenix were other 90s grunge style influencers. In fact, Johnny Depp and Kate Moss became the epitome of grunge couple's style!
And with the tragic suicide of Nirvana's lead singer, Kurt Cobain, grunge died too. But the legend of this culture lives on and continues to inspire us all.
So, that was our go-to guide on grunge style! What are your thoughts on 90s grunge fashion? Let us know by tweeting @shilpa1ahuja! 😀
Also read:
– Original 90s Supermodels & All You Need to Know About Them
– The Complete 90s Fashion Guide: All About 90s Women's Fashion & Clothing
– 90s Fashion Trends That are Making a Comeback
– Iconic 90s Jewelry Trends for Women
– 90s Outfit Ideas on What to Wear to a 90s Party
– Grunge Hair, Rachel Cut, Crimping & Other 90s Hairstyle Trends
– Awesome 90s Lipstick Shades We're Loving Right Now!
– 90s Men's Fashion – Hip-Hop Fashion, Rock, Punk & More…
Nishita is a Staff Writer/ Journalist at ShilpaAhuja.com. She is a graduate of National Institute of Fashion Technology and has a degree in leather design. A lover of all things fashion, she writes about everything from beauty, hair and lifestyle to fashion trends and how-to's. Her area of expertise is outfit ideas but being fresh out of college, she also loves writing about college fashion. Her new found love of baking is currently taking over her life, making her write about all things chocolate and easy recipes. With a flair for sketching and a great eye for detail, she's previously designed leather garments for brands like Diesel and Salsa. When she's not writing, she's busy reading extremely sappy Nicholas Spark's novels, sewing clothes and listening to some indie rock. Also super passionate about photography, she loves portraits and wildlife photography – a habit turned love that formed with the amount of traveling she did as a teenager. As a girl who grew up with books and movies like Pride & Prejudice, her love for period fashion is huge. And being curly haired, she's always on a constant hunt for solutions to problems that come with having ringlets and loves sharing them with people through her articles. For feedback and questions, email [email protected] or connect with her on twitter @ni95.