Gaurav Gupta's latest couture collection at ICW16 was innovative yet had the designer's signature style. View the collection and read our review!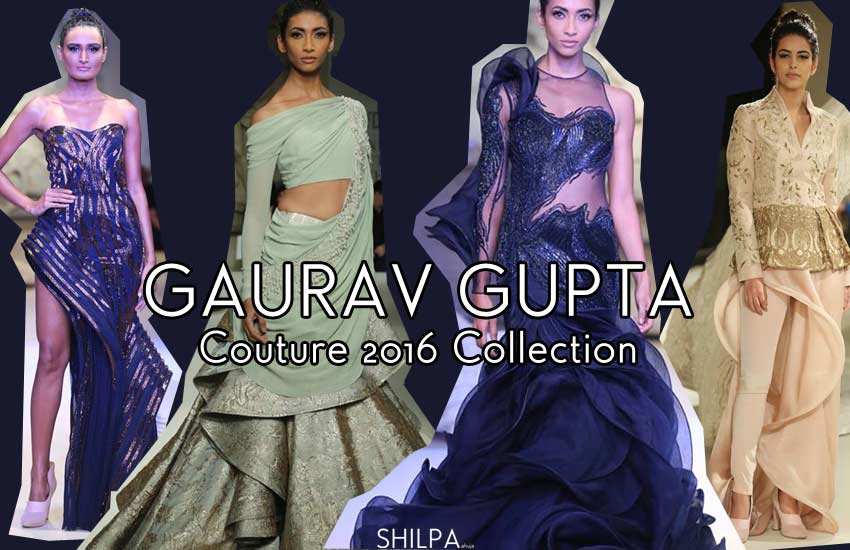 Ruffles, three-dimensional layers, Indo-western blend, floor-touching mermaid gowns and sensuality added through bare shoulders and plunging necklines – this collection had all the quintessential Gaurav Gupta couture elements.
The majority of the pieces were gowns and lehenga-gowns, with the exception of a pants-gown. The color palette ranged from off-white to pastel shades like sky blue, pale green, peach to bold colors like red and cobalt blue.
Some of the pieces didn't move the season forward at all. You could place them in any of the previous Gaurav Gupta couture collections and no one would notice. These cobalt blue and grey gowns are a good example:
Interestingly, this collection also had other pieces to save the day. The fresh silhouettes not just made this collection memorable, but also did the task of taking Gupta's style forward. My favorites were the lehengas, which are a rare sight in Gaurav Gupta's collections, whose main focus has remained gowns and saree-gowns in the past couple of seasons. These lehengas were essentially lehengas – but with an Indo-western flare to the drape, skirt or choli, making them seem more fashion-forward or experimental:
The pants-gown was another unique piece in this collection, which has also been seen in Versace Fall/Winter 2016 haute couture collection, albeit in a very different silhouette.
Yet another interesting silhouette, and one of my favorite looks in this collection, was the one-leg-baring gown – not slit, but asymmetric! This style and look can even be translated into casual-wear: pair a one-leg-baring casual maxi-dress with white sneakers! Perhaps we'll see variations of this style soon hitting the mainstream market!?
Here's to hoping we see more of these original trends in Gupta's future collections.
Gaurav Gupta Couture Collection 2016: Gallery
Shilpa Ahuja the editor-in-chief of ShilpaAhuja.com, which she founded with the goal of inspiring confidence in the modern working woman through fashion. Other than defining the direction of the magazine, she also writes about fashion & beauty trend forecasts, industry analysis, and opinions.
Shilpa's work has been published in the University of Fashion blog and Jet Airways magazine. She is also an artist, illustrator and cartoonist. She is also the creator of Audrey O., a comic series that represents the lifestyle of millennial women. She enjoys creative writing and world travel. Her art has been exhibited at Harvard Graduate School of Design and the Aroma Hotel, Chandigarh and been published in Chandigarh Times.
Originally from Chandigarh, Shilpa also has a degree in architecture and has worked in interior project management. She is also the author of the book "Designing a Chinese Cultural Center in India". Shilpa has a Masters in Design Studies degree from Harvard University.
For feedback and questions, please email [email protected]