Wanna find some new Insta bios?! Here are some quirky, smart, and clever ideas for funny Instagram bios that may inspire you to change yours!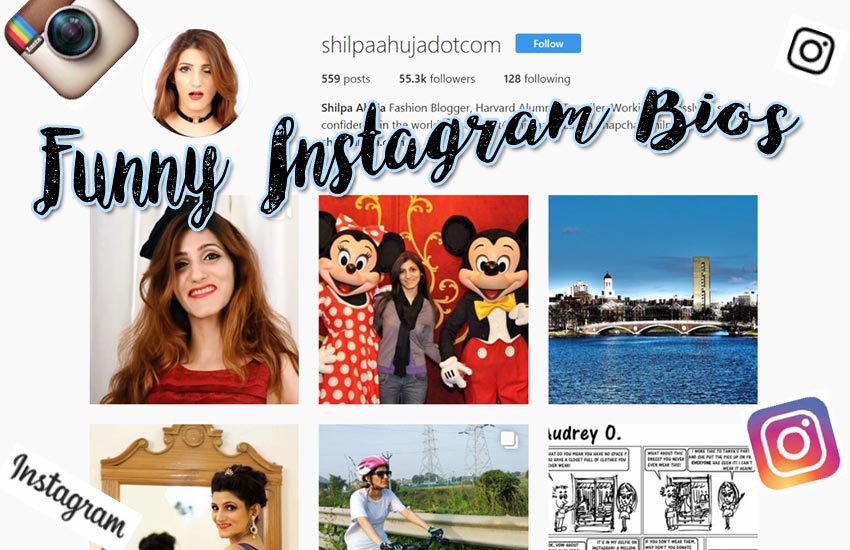 Social media has become key part of our lives. Period! We've one or the other new sites to keep us engaged. From Orkut days to Facebook, the social media has evolved a lot. While Facebook is a great way to connect with people, it's losing its charm for some. And Instagram is the new Facebook. Yeah! Who knows what might come up tomorrow to be the new Instagram?
But Instagram has stolen the spotlight because it's easy to use and one can express their thoughts through pictures. "A picture is mightier than words," is the new millennial quote, perhaps! However, Instagram is no longer just a photo sharing site, it's more than that. From marketing one's business to sharing creative work to connecting with like-minded people, it's all possible.
So, the bio that we mention in our profiles showcases our personality (yeah, whether it's true in real life or just for the virtual world). The bios are also important to draw followers as it's the first impression to your feed. So, we have curated a few bios from many users (including celebs) to show you some funny Instagram bios. We've given our own cool Instagram status ideas, too! Let's check out!
Instagram Bio Format
There's no particular format to follow to write the bio. But it's better if you include about your job or education, interest, mode of contact and maybe a line or a thing that defines your personality. Try to add a funny line in your Instagram feed where people feel that it is follow-worthy! Instagram bio can be an Instagram status, too, something that you keep changing every other day! Also, here are a few points to have a decent and good Instagram bio:
Let your bio match your profile. If your profile is about fashion or lifestyle, the bio should speak about confidence and personal style. Funny Instagram bios always work, especially if you wanna show your quirky personality. But if your account is silly filled with your daily life or dog's images, then your bio should be something witty and fun.
Also, keep your followers in mind or ones you want to attract. No matter how good your feed is, the bio speaks more about your personality. Even if they won't go through your entire feed, they will click the follow icon for the best Instagram bio.
Keep it brief and precise. No one has the time or patience to read too much text. Try to describe in a line or a phrase. Also, mention about your achievements (don't exaggerate) like your university or job profile or hobbies.
Funny Instagram Bios
*Insert your bio here*
Can someone tell me my Instagram username? I locked myself out and I do not know what to do.
The bags under my eyes are Gucci.
I only use Instagram to stalk…
I'm a Texan with lots of opinions and pretty hair.
Scratch here ▒▒▒▒▒▒▒▒▒▒▒▒▒▒ to reveal my bio.
Hey, you are reading my bio again?!
*Insert pretentious stuff about myself here.*
I'm here to avoid friends on Facebook.
Some people are alive only because it's illegal to kill them.
When you're downie, eat a brownie.
I wonder how many miles I've scrolled with my thumb..
404 error. The bio you're looking for cannot be found.
Cool Instagram Bios
Here are a few more cool and funny Instagram bios to try:
Moonwalks out of an awkward situation.
My heart says yes but my mom says no.
Only dead fish go with the flow.
Reality called so I hung up.
Life is short. Make each hair flip fabulous.
Confidence level: Selfie with no filter.
Emotionally stable, as an Ikea table.
Don't be ashamed of who you are. That's your parents' job.
Coffee-Drinker, e-Reader Addict, Blogger. I'm very busy and awesome.
Don't think for a second that I actually care about what you have to say.
Fabulous ends in "us." Coincidence? I think not!
Don't think of yourself as an ugly person. Think of yourself as a beautiful monkey.
Have lots of hair and like ugly things.
Also, check out:
Funny Things to Put in Your Bio
Being funny ain't easy. and I mean it. Sometimes I try to write funny stuff and it all gets so serious or others don't find it funny. But after going through a few good Instagram bios, and brainstorming, I have curated a list of funny cute quotes that you can try! You can also add cool quotes for Instagram bio.
Good Samaritan, washed-up athlete, especially gifted napper.
I have Instagram, Twitter, and Facebook. I guess that makes me an instant twit face.
Instagram cool effects allow me to wear expensive dresses without spending a penny, I love it.
I'm not smart. I just wear glasses.
The fat on my body is designer.
Roses are red, violets are blue. Behave yourself or I'll give you a taste of my shoe.
Asking me if I'm hungry is like asking me if I want money.
Short Instagram Bios
Short funny Instagram bios are to the point and fun to read. Choose cool bio quotes with just 4-6 words.
If you're not wasted, the day is!
I have nothing to declare but my genius.
I intend to live forever. So far, so good.
I wish my butt bloated like my stomach does.
You are offended by the things I say? Imagine the stuff I hold back…
Clever Instagram Bios
Here are some clever and best Insta quotes…
Me on my 850th selfie and realizing that I don't have bad angles, I'm just ugly.
You can't fix stupid, no matter how much duct tape you use over their mouth!
Time is precious, waste it wisely.
If opportunity doesn't knock, build a door.
Don't complain about the things you're not willing to change.
Emotional eater.
I'm not fat. I'm not out of shape. I prefer to call myself thicc.
The only thing stopping me from being pure white trash is my lack of motivation.
Where the hell am I, and how did I get here?
Trying to elevate small talk to medium talk.
I hope karma slaps you in the face before I do.
5'2 my height but my attitude 6'1
Forgive, yes. Forget, never.
There's a hole in my heart where you use to be.
Be a Warrior not a Worrier.
We got that Friday feeling.
Disappointed but not surprised.
You can't do epic shit with basic people.
It is not how much we have, but how much we enjoy, that makes happiness.
Hey, I just met you, and this is crazy.
Friday, my second favorite F word
Life isn't perfect.. but my Hair is! #selfieaddict
I didn't choose the thug life, the thug life chose me.
When I was Rome.. I did what the Romans did.
I got back with my ex… Box 360
Lost in the world that doesn't exist.
Today I will be as useless as letter g in lasagna.
You only drink diet soda? You must be so healthy.
The worst time to have a heart attack is during a game of charades.
The moment when she says you're cute.
If we could only turn back time…
Creative Instagram Bios
There's no point choosing funny Instagram bios if it's too overused, so you gotta be creative. Here are some good ones to try…
Don't follow me because I don't even know where I'm going.
Aggressively infancy and stuff.
A caffeine dependent life-form.
You'll understand when you're older… "I'm older and I understand absolutely nothing."
She's a maze with no escape.
She's stillness in a world of chaos.
I don't hold grudges. I hold memories that keep me better prepared for our next encounter.
Me: Boils water… Wifeyyyyy material!
*wear the same outfit as yesterday* Vintage.
Adulthood is mostly being tired and wishing you hadn't made plans.
I love saying the things that are better left unsaid.
I'm not perfect but I am loyal.
I don't know what's tighter, our jeans or our friendship!
Sometimes, being with your bff is all the therapy you need!
I don't need your approval to be me.
I like being myself. Maybe just slimmer, with a few less wrinkles.
I take a lot of pride in being myself. I'm comfortable with who I am.
Everyone said I could be anything.. So I became sexy!
Do you sit in a pile of sugar? 'Cause you got a pretty sweet ass!
They say tongue is the strongest muscle of the body. Wanna fight?
Did you swallow magnets? 'Cause you are attractive!
Kiss me if I'm wrong but dinosaurs still exist? Right?
Nice t-shirt. Can I talk you out of it?
Do you have a name or can I call you Mine?
Do you like sleeping? Me too! We should do it together sometimes!
Instagram Bios for Girls
Check out the funny Instagram bios for girls:
I'm addicted to buying clothes and I'm not rich enough to have this problem.
I'm at that age where a 22 year old is looking kind of good, but so is his dad.
Oh honey! You can't handle the kind of honesty I'll unleash.
He said his last girlfriend was the craziest girl he ever met. I said "challenge accepted".
I don't make mistakes, I date them.
I'm not crazy, my reality is just different than yours.
I wish I could swipe people left in real life like Tinder.
Just a cupcake looking for a stud muffin.
Things you deserve: A good life, good sleep, a good man.
I'm 99% angel, but oh, that 1%…
Don't be afraid to be the full package.
Tripping on skies, sipping waterfalls.
Cute Instagram Bios
Cute and funny Instagram bios for an interesting profile are:
No matter what has happened. No matter what you've done. And no matter what you will do. I will always love you. I swear it.
An apple a day keeps the doctor away, but if the doctor is cute forget the fruit.
Can anything be more valuable than our love? Since you are with me, my only measurement is in heartbeats.
Sit with winners, the conversation will be different.
I miss you like an idiot misses the point.
Instagram Bios for Guys
Phones are better than girlfriends, at least we can switch them off
I think, therefore I'm single.
My opinions may have changed, but not the fact that I'm right.
I always learn from mistakes of others who take my advice.
At last I graduated… Now thermometer is not the only thing in the world having degrees without brains.
Bald. Often Unreliable. Easily distracted.
Born at a very young age.
I think it's weird if a girl doesn't have an Instagram nowadays.
Only Swag girls are fascinated by hashtags on the Facebook.
Okay yeah I'm insane. But you the same.
Sometimes I just want to give it all up and become a handsome billionaire.
That awkward moment you get accepted to all the schools you applied for.
Awesome Instagram Bios (Our Personal Faves)
Get set to LOL! Funny Instagram bios that we totally love are:
Everyone on this earth is self-centered, the difference is the radius.
I am not on Instagram. Go do something useful.
Insert pretentious stuff about myself here.
Her attitude kinda savage but her heart is gold.
Better an oops than what if.
Wake. Pray. Slay.
Oh, so you wanna argue, Bring it. I got my CAPS LOCK ON.
Be less curious about people and more curious about ideas!!
Space available for advertisement.
The first 5 days after the weekend are always the hardest.
Decided to burn lots of calories today so I set a fat kid on fire.
Read books instead of reading my status!
Available when you get wifi network.
Can I borrow a kiss? I promise I'll give it back.
Aside from being sexy, what do you do for a living?
Do you live in a cornfield, coz I'm stalking you.
Don't talk, just act. Don't say, just show. Also, don't promise, just prove.
Never stop doing great just because someone doesn't give you credit.
Invest the now in tomorrow's dream.
Unique Instagram Bios
Funny Instagram bios that are unique and eye catching are:
I returned to work from vacation with fresh, re-energized hatred for job.
Roasting each other is a part of a healthy relationship.
I love making people hate me hate me more
Instagram is like Twitter, but it is for people who can't read!
Silence is the most powerful scream.
I only rap caucasionally.
Stay a mystery, it's better.
You ain't gotta like me. I like me.
Screw perfect.
Not everyone likes me, but not everyone matters.
I was born a dreamer but this world keeps spoon feeding me.
Don't stand too close to the heater babe. Plastic melts.
Got more issues than vogue.
You are a tornado with pretty eyes and a heartbeat.
Turn ya savage up and lose ya feelings.
In a room of arts, I would still stare at you.
I am fucking gold, you can prefer silver and it's okay.
Get you a Me, I am LIT.
I am not picky, I just know what I want.
Braless is flawless.
Sunshine mixed with little hurricane.
If you ran like your mouth, you would be in good shape.
Bitch I want to slap you, but in which face I don't know.
I accept my time back in cash.
Soul over ego.
Here are a few more funny Instagram bios:
But my personality is lit.
No guts, no glory.
Forever is composed of nows.
Let the good times roll!
Stay real or stay away from me.
Accept yourself unless you are a serial killer.
We serve drinks cheaper and colder than your EX
Thick thighs and pretty eyes.
I got it from my mama.
Exhale the bullshit.
I don't need any part-time people in my life.
My home is in heaven. I'm just traveling through this world.
If you liked it then you should've put a ring on it.
You couldn't handle me even if I came with instructions.
Don't mistake my kindness for weakness, bitch.
Life goes on, with or without you.
Own what's yours, or else others will try to.
Being pissed off gets old. I'm just at a whole new 'fuck it' level.
Don't Study me. You won't Graduate!
If you're honestly happy, fuck what people think.
Celebs' Best Instagram Bios
Celebrity Instagram accounts are follow-worthy. But apart from the boring bios saying "Actor", "Musician" or a link, a few celebs have funny Instagram bios. I had to dig into many accounts and choose the 11 cool bios for Instagram for celebs. Let's check out!
1. Bella Thorne
She's always on the point.

2. Cara Delevingne
"Embrace your weirdness." Take cue girls!

3. Lily Rose Depp
Aww! Same here!

4. Ricky Martin
Perfecto!

5. Ryan Reynolds
Typical guys' profile.

6. Taylor Swift
Haha!

7. Willow Smith
She's so creative!

8. Arnold Schwarzenegger
Hmm. Interesting!

9. Jessica Biel
She's awesome.

10. Karlie Kloss
Witty enough!

11. Priyanka Chopra
She's so engaging!
3.Good Instagram Bios About Love
Funny Instagram bios for couples are always fun to read:
You know you're in love when you can't fall asleep because reality is finally better than your dreams.
Do you believe in love at first sight, or should I walk by again?
Try to be a rainbow in someone's cloud.
My life with you is something that I would never trade, even for all of the riches under heaven.
There are two ways of spreading light: to be the candle or the mirror that reflects it.
Love is composed of a single soul inhabiting two bodies.
It hurts when you have someone in your heart but not in your arms.
Just peachy.
There is beauty in simplicity.
Gravitation cannot be held responsible for people falling in love.
The person you love is 99.9999999% water.
Life goes on, with or without you.
Instagram Bio Quotes
Some of the funny Instagram bios and quotes are:
Please don't forget to smile.
Without you in my life, I would be incomplete. I pray that I should never know such pain.
If life is not smiling at you, give it a good tickling.
Be a little more you, and a lot less them.
I'm a sweet disaster.
The most important thing is to enjoy your life – to be happy – it's all that matters.
Life is not a problem to be solved, but a reality to be experienced.
It had long since come to my attention that people of accomplishment rarely sat back and let things happen to them. They went out and happened to things.
When I feel a little down, I put on my favorite high heels and dance.
Love can be unselfish, in the sense of being benevolent and generous, without being selfless.
Women drivers rev my engine.
How I feel when there is no coffee. DEPRESSO!
50% Savage. 50% Sweetness.
I myself never feel that I'm sexy. If people call me cute, I am happier.
It is not how much we have, but how much we enjoy, that makes happiness.
The most important thing is to enjoy your life – to be happy – it's all that matters.
Life is not a problem to be solved, but a reality to be experienced.
Love can be unselfish, in the sense of being benevolent and generous, without being selfless.
When I feel a little down, I put on my favorite high heels and dance
Instagram Quotes About Life
Don't want something too quirky? Bored of all the funny Instagram bios? We see people quoting intellectual things. But for clever bios, keep it simple yet eye catching! From cute Instagram quotes to cool quotes, here's a list that you need to try for your bio!
Let life surprise you.
Create your own sunshine.
Sometimes the right path is not the easiest one.
Make the rest of your life the best of your life.
Prove them wrong.
Sometimes you never realize the value of a moment until it becomes a memory.
Everyone is beautiful in their own way because God makes no mistakes.
Dream without fear. Love without limits.
When life gets blurry, adjust your focus.
Anything that costs your inner peace is too expensive.
Hustle until your haters ask if you're hiring.
I didn't come here to lose.
If it doesn't challenge you, it doesn't change you.
Be self-starter.
You can ask Tommy, Hilfiger it out!
So, these were our fave funny Instagram bios. What's on your IG bio? Let us know by tagging in your pics @shilpaahujadotcom on Instagram. We will check out for sure!
Also, read:
– 201 Popular Hashtags to Use for Getting More Likes on Instagram
– Get Free Instagram Likes (and Followers) with These 25 Pro Tips
– Snapchat Filters & Best Snapchat Effects That Drive Us Crazy
---
READ NEXT!
Selfie Captions & Quotes: 300 Good Captions for Instagram for All Types of Selfies
Sahana is a Senior Staff Writer at ShilpaAhuja.com. With an experience in fashion and lifestyle writing, Sahana is responsible for Indian and international fashion week coverage every year, and is developing an expertise in apparel trend forecasting. She also writes about health and fitness, having pursued yoga for 6 years now. She's not a gym person at all but is all for "running in the park" and is an amateur cyclist. Books and coffee are her other passions. She's also an amateur photographer. She's a hardcore Bollywood fan and she loves to cover the nostalgic topics on the same. From fashion trends to famous characters, she can make anyone love Bollywood! Her best article has been 90s Bollywood fashion, a readers' favorite so far! Prior to her experience with ShilpaAhuja.com, Sahana has written as a freelance author for online magazine, Mashup Corner, and interned at EventsHigh as a content writer. Her blogs on basic fashion, makeup, fitness and city's food joints that gave her a chance to experiment with her writing. She also has voiced her opinions about feminism and equal rights for men and women at PolkaCafe journals and after quitting her job, she decided to take up writing as her full time career.
Sahana is an engineering graduate and has worked in an MNC, Tesco, for more than a year as an Operations Support. It was her sheer love for fashion that made her quit the monotonous 9 to 5 job to pursue a career in the fashion industry. She's originally from Bangalore and is currently settled in Chennai (she's loving the city)! For any queries and discussions, contact her at [email protected] You can also tweet her at https://twitter.com/Sahana_17