From the meanings they hold to the different types, colors and styles, read our feather tattoo guide to figure out which design is best suited for you!
Of late, feather tattoos have become super trendy and happening. And just like every other symbol and motif in the world of tattooing, they have a deep philosophical meaning as well. They carry characteristics similar to that of birds – freedom and courage. From eagles, to peacocks and even phoenix, every bird's feather holds a different meaning. Keep scrolling to find out more about them, pick the one that resonates with your personality most and get yourself inked!
Feather Tattoo Meaning
Typically, feather tattoos stand for free-spiritedness, bravery, and strength. It's for those who want to always believe in themselves no matter what and never give up. The spiritual meaning of a feather comes from its roots in Native American culture. The chiefs and leaders of tribes wore decorative headdresses with feathers as a way of expressing authority, power and wisdom. More often than not, they wore eagle feathers as they believed the eagle had connections with the heavens 'cause they fly at great heights.
Types of Feather Tattoos
Peacock Feather Tattoo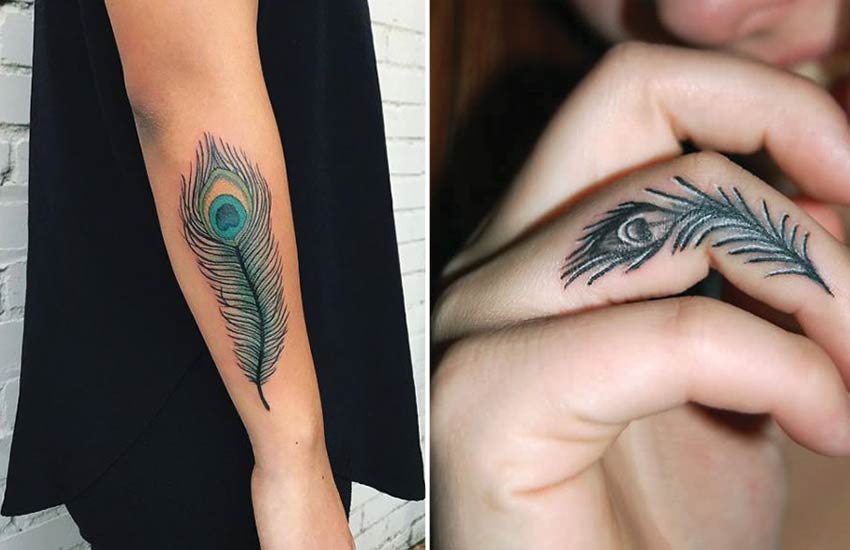 Peacock feathers have royal status and stand for beauty and love. In Hinduism, they're associated with Lord Krishna and represent the joyfulness and richness in life. Get a striking one in beautiful hues of blue and green or keep it minimal with fine line peacock feather tattoos. You can even get a blue jay feather tattoo, which has a similar color scheme.
And if bright, colorful feather tattoos are not your style, get a black crow feather tattoo. It's very different and means letting go of unwanted memories, emotions and situations.
Eagle Feather Tattoo
Respect, bravery, truth and power are what eagle feather tattoos mean. They're usually white at the bottom and dark brown or black towards the tip. Similarly, hawk feather tattoo designs are good ideas too.
Turkey Feather Tattoo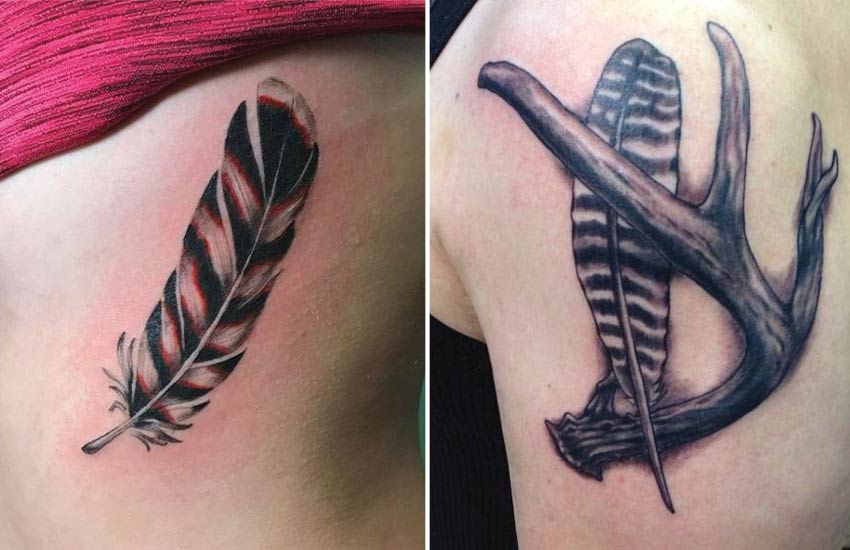 Turkey feathers signify good luck, profitability, wealth and abundance. To make your turkey feather tattoo looking as realistic as possible, get a colored one in horizontal stripes of brown and white.
Cardinal Feather Tattoo
Apart from being a very pretty red bird, the cardinal's often associated with Christmas and I love the message behind it. Its feather is all about positivity and motivation and means that anything is possible if you just believe.
Phoenix Feather Tattoo
Phoenix feathers are firstly, super cool and secondly, have great meaning to them. These types of tattoos stand for immortality, rebirth and eternal life. Get them in fiery shades like orange, red and yellow in a feather design that almost looks like it's rising from flames. Potterheads would love this feather tattoo trend for sure.
Arrow With Feather Tattoo
An arrow can mean anything from movement and direction to protection and defense. An arrow going through a feather or a simple feather wrapped around an arrow are some simple yet beautiful feather tattoo ideas.
Feather and Bird Tattoo
A bird along with a feather tattoo is another mainstream tattoo trend. They're often a simple feather with the top half of the feather turning into birds as a representation of breaking away and freedom. Or you could stay unique and get a literal one with an actual bird and feathers around it. Cool ideas include owls, seagulls, sparrows and eagles.
Infinity Feather Tattoo
If you wanna show everyone that you're unstoppable and your only limit is the sky, this tattoo is for you! A feather bent to form an infinity would be a unique feather tattoo idea. You could also get it along with a quote or phrase within the infinity symbol. Or even infinity tattoos with birds would look really hipster and cool.
Native American Feather Tattoos
Eagle feathers were the most common among Native Americans. Get them along with other Native American symbols like the sacred Thunderbird, totem poles, boomerang, wild buffaloes, dream catchers or geometric tribal prints.
Tiny Feather Tattoo
Miniature tattoos on the ankle, wrist, ear, shoulder or collarbone are some ideas for cute feather tattoos.
Different Styles & Trends in Feather Tattoos
From watercolor effects to geometric shapes, there's plenty of new styles and trends to try out in feather tattoos. Take a look at some not-so-mainstream feather tattoo designs below for inspiration!
Watercolor Feather Tattoo
These are absolutely perfect for anyone that loves a bit of fun and color. Go for fiery red feather tattoos to resemble a phoenix or simple pastel ones.
3D Feather Tattoo
Three dimensional tattoos are loved mainly because they look all the more real and make a statement. Curled or bent feather tattoos are huge currently. You can also get a feather pen tattoo like a quill if you love to write or read.
Geometric Feather Tattoo
These are not as popular as other feather tattoo designs, which makes them a stand-out. Either get a completely geometric feather tattoo or a cool half and half, with one half like a geometric design and the other half made to look like a real feather.
Colorful Feather Tattoos
Colorful feather tattoos look nowhere near realistic but they're oh-so-pretty! I'd love to get one of these. Try a monochromatic feather in the shades and tints of your favorite color or a striking multicolored one.
White Feather Tattoo
Also known as angel feathers, white feathers represent faith. These tattoos are gotten to keep loved ones in heaven closer to the heart and soul and also as a reminder that they are in a good place. Or it could also be a white duck feather tattoo, which stands for purity and hope.
Feather Tattoo Designs & Ideas
Choosing what to get where can be a real task, so we decided to make it easier for you. Keep reading to know all about it!
Feather Shoulder Tattoo
Get your shoulder feather tattoo with quotes or a watercolor splash effect. Or why not both?!
Feather Tattoo on Finger
Finger tattoos are adorable anyway but a feather tattoo on finger just takes it up a notch. I'm so in love! Simple fine line ones or ones with dot work are perfect.
Feather Tattoo Behind Ear
Get a feather tattoo behind your ear that sort of mimics the curve of your ear. Other cute feather tattoo ideas for the ear include helix tattoos, ear lobe and below the ear.
Tattoos on Chest
Feather tattoos on the chest, right below the collar bone, look amazing whether they're achromatic or colored. A mirror image feather tattoo design or a bunch of feathers look great on this body part.
Tattoos on Arm
As for the arm, you can go for feather tattoos as small or as big as you want. Tiny feather tattoos or ones that cover up almost the entire arm are both great options.
Feather Tattoo on Foot
A band around the ankle with a chandelier design and a feather hanging to one side is so pretty and not typical. Or get one along the side of your foot. Either way, they'd look amazing with flip flops at the beach!
Feather Cover Up Tattoo
If you're looking for a way to cover up your old tattoo that you're just not into anymore, a feather is a great idea. However, you can't get wispy feather tattoos, make sure to get filled ones in solid colors or just plain black. If the tattoo you're covering up is quite big, pair feather tattoos with other motifs like roses, jewels, geometric shapes or any other symbol that really speaks to you.
Feather Tattoo for Men
When it comes to feather tattoos for men, there are so many types and variations to choose from. Eagle and Native American ones are very popular among guys. Also, feathers along with other symbols like anchors, arrows and skulls are also just as great.
So those were the ins and outs of feather tattoos. Tell us what you think of them by tweeting @shilpa1ahuja! 😀
Image Credits: Instagram
You may also like:
– 60 Cute Tattoo Ideas | Best Tattoo Designs for Women
– Cherry Blossom Tattoo: Meaning, Designs, Ideas and Much More!
– Lotus Flower Tattoo Designs to Get Inked
– Tattoo Styles: 16 Most Popular & Cool Tattoo Ideas
– Tattoos for Men: 50 Guy Tattoo Ideas for All Body Parts
– King and Queen Tattoos | Best Couple Tattoo Ideas
– Tattoo Removal: Guide to Types of Processes, Cost & Pains Involved!
Nishita is a Staff Writer/ Journalist at ShilpaAhuja.com. She is a graduate of National Institute of Fashion Technology and has a degree in leather design. A lover of all things fashion, she writes about everything from beauty, hair and lifestyle to fashion trends and how-to's. Her area of expertise is outfit ideas but being fresh out of college, she also loves writing about college fashion. Her new found love of baking is currently taking over her life, making her write about all things chocolate and easy recipes. With a flair for sketching and a great eye for detail, she's previously designed leather garments for brands like Diesel and Salsa. When she's not writing, she's busy reading extremely sappy Nicholas Spark's novels, sewing clothes and listening to some indie rock. Also super passionate about photography, she loves portraits and wildlife photography – a habit turned love that formed with the amount of traveling she did as a teenager. As a girl who grew up with books and movies like Pride & Prejudice, her love for period fashion is huge. And being curly haired, she's always on a constant hunt for solutions to problems that come with having ringlets and loves sharing them with people through her articles. For feedback and questions, email [email protected] or connect with her on twitter @ni95.