From wavy to half-up hair, royal chignons to elegant updos, here are the best Kate Middleton hairstyle ideas for classy parties, weddings and formal events!
Hey gorgeous! Looking for some elegant hairstyle ideas? Where better to look at than Kate Middleton, whose hair is always immaculate and whose hairstyles never go out of fashion?
This princess sure knows her way around hair. Kate Middleton hairstyle ideas are great for classy parties, weddings and formal nights. Let's take a look at our personal favorites!
Kate Middleton Hairstyle: Wavy
Kate Middleton's usual haircut is the slightly layered, and she goes between face-framing pieces or below-the-brow fringes. The straight at top and wavy below hairstyle is very formal and easy to style – great for formal evenings, parties and graduations.
Kate Middleton Hairstyle: Half-Up
Half-Up Kate Middleton hairstyle is very royal and princess-ey! If you think that half-up hairstyle is too tame or unsexy, then use hair accessories with it to gloss it up! It can look very elegant, plus once you're done setting it, it's easy to carry throughout the day, no redoing/maintenance required! No frizzy flyways or annoying in-the-lipgloss strands!
Half-up goes well with hair accessories like fascinators and hairpins. So this hairstyle is great for fancy events like garden parties, art openings and weddings.
Here's my favorite one – knotted half-up with slight waves.
And this one – crossed strands worn with a fascinator!
Kate Middleton Hairstyle: Ponytails
Ponytails are my personal favorites in the summer, because strays irritate my skin. Especially during work-days or formal events when I want a distraction-free, easy to do hairstyle. Wear ponytails for formal parties and events like networking dinners and office parties on those hot nights!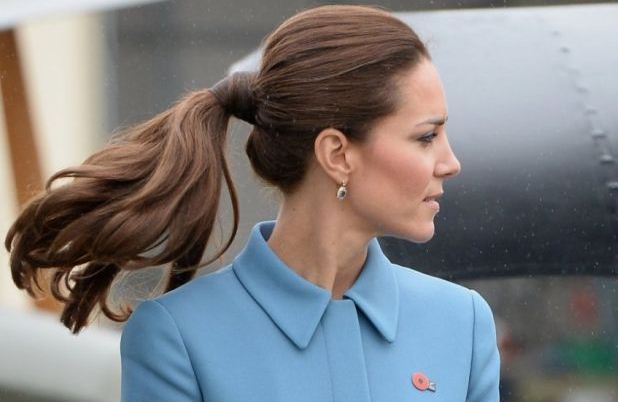 Kate Middleton Hairstyle: Chignons
Chignons are so Kate Middleton! They look very royal and refined. Here are my favorites – great for family parties, weddings and formal dinners.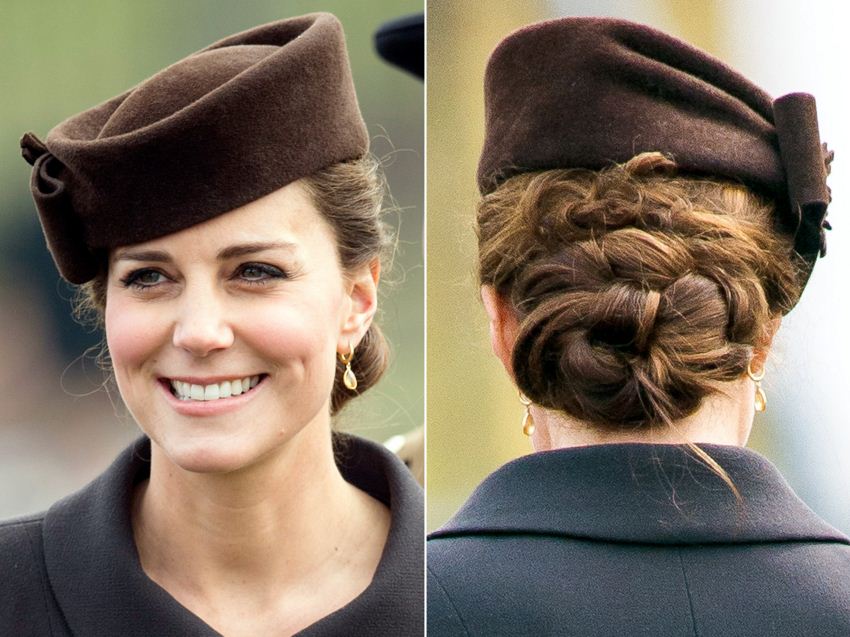 Kate Middleton Updos and Buns
Kate Middleton usually sticks with chignons, or low buns. Instead of messy complications, she keeps them classic. Here are my favorites:
So what Kate Middleton hairstyle do you love the most – chignons, updos, ponytails, half-up or let down? As for me, I love her buns and ponytails the best!
And which one is your favorite? For what occasion would you wear that hairstyle? Comment below! Lemme know! 🙂
Shilpa Ahuja the editor-in-chief of ShilpaAhuja.com, which she founded with the goal of inspiring confidence in the modern working woman through fashion. Other than defining the direction of the magazine, she also writes about fashion & beauty trend forecasts, industry analysis, and opinions.
Shilpa's work has been published in the University of Fashion blog and Jet Airways magazine. She is also an artist, illustrator and cartoonist. She is also the creator of Audrey O., a comic series that represents the lifestyle of millennial women. She enjoys creative writing and world travel. Her art has been exhibited at Harvard Graduate School of Design and the Aroma Hotel, Chandigarh and been published in Chandigarh Times.
Originally from Chandigarh, Shilpa also has a degree in architecture and has worked in interior project management. She is also the author of the book "Designing a Chinese Cultural Center in India". Shilpa has a Masters in Design Studies degree from Harvard University.
For feedback and questions, please email [email protected]