Bollywood female characters have become timeless fashion icons. Here are our top picks for the most fashionable movie characters in Bollywood ever!
Indian fashion is often inspired by Bollywood movie characters. New trends get picked up by women of all ages, who try to replicate the styles. Some of the fashionable movie characters have made such a lasting impression in our hearts that they became not only trendsetters but also lasting style icons. Whether it is for makeup, costumes or plain attitudes these characters won't be forgotten. They make Bollywood Bollywood!
So, we have picked out these iconic fashionable movie characters of Bollywood who set new waves in their time.
Let's take a look!
Most Fashionable Movie Characters
1. Saira Banu in Padosan
Saira banu as Bindu in Padosan was a fashionable character during the late 60s. It was the era of bouffant hair and Saira's hair also had a big bouffant and bangs too. She wore figure hugging sleeveless kurtas with chooridar pants which made a comeback too. The winged liner that she sported is still a trend!
2. Zeenat Aman in Hare Krishna Hare Ram
Zeenat Aman as Janice in Hare Krishna Hare Ram defined the bohemian fashion. In 70's, sporting a bikini was a big deal but Zeenat Aman carried it off with ease. Prints were the main theme of her costumes. Oversized sunglasses made their way to Bollywood fashion (which are back in trend). Flared pants and print on print were some of the iconic trends that remain unforgettable.
3. Dimple Kapadia in Bobby
Dimple Kapadia as Bobby in Bobby wore western wear elegantly in the era when ethnic wear was seen everywhere. Polka dots became a huge rage in the 70s because of the knotted crop blouse and mini skirt outfit. She became talk of the town with her sensuous dressing when she wore a bikini and made a bold statement.
4. Sridevi in Chandini
Sridevi as Chandini was a bubbly girl. And the western outfits were stylish like her off the shoulder worn with a tank top. Also, the salwar kameez and lehengas were beautifully worn by Sridevi. Chandini not only took the romanticism of chiffon chooridar pajami suits to a new level, but also wore some truly iconic (and white) outfits in the movie. Any Indian girl would still happily swap her wardrobe with Chandini! In the second half, she's seen in pretty chiffon sarees with matching round bindis – which became a trend during the time for sure!
5. Sridevi in Laadla
Sridevi as Sheetal in Laadla was a welcome change in Bollywood fashion as the movie showcased chic corporate fashion. Working women were rare to be seen in Bollywood in the 90s but with her sexy yet sophisticated dressing, Sridevi surely did justice to the character. Pencil dresses, silk tops, skirts and pants were seen. Her outcurled long bob became synonymous with rich working women in that decade.
6. Madhuri Dixit in Hum Aapke Hain Kaun
Madhuri Dixit as Nisha in Hum Aapke Hain Kaun redefined the young woman's style in 90s Bollywood fashion. With an efffortless mix of both Indian and western outfits, she really represented the modern woman's wardrobe of the time. Boyfriend jeans, lace dresses, satin sarees, salwar kameez and lehengas were worn beautifully by Madhuri. The movie was like a guide to daily and party wear for an Indian girl. Surely, Madhuri became the ultimate fashion icon in the early 90s!
7. Karisma Kapoor in Dil To Pagal Hai
Karisma Kapoor as Nisha in Dil To Pagal Hai changed the perception of western wear in Indian fashion. She wore athleisure as daily wear in the movie and looked effortlessly beautiful. Her wardrobe of mini dresses, tennis skirts and jogger pants redefined street fashion inspired by activewear.
8. Rani Mukerji in Kuch Kuch Hota Hai
Rani Mukerji as Tina in Kuch Kuch Hota Hai gave college wear a fresh change. Though still unwearable in real life, her mini skirts and crop tops looked super sexy! Also, she set the straightened hair trend in India that's still in!
9. Aishwarya Rai in Mohabbatein
Aishwaraya Rai as Megha wore elegant chiffon sarees. Um! So, we noticed that Aishwarya looked mesmerizing in the sarees only after she died in the movie. I mean her ghost looked elegant and chic. Hope she had nice fashion sense when she was alive, too (in the movie of course!). With her sleek silky hair and that enviable pastel-colored romantic saree wardrobe, she was sure a fantasy (pun intended)!
10. Kareena Kapoor in Kabhi Khushi Kabhi Gham
You cannot ignore Poo, I mean Kareena Kapoor as Pooja in Kabhi Khushi Kabhi Gham. She became an Indian girl's fashion icon in the 2000s. The character was also memorable for being one that brought Indian fashion designers into the limelight for designing Bollywood costumes. Hers was done by Manish Malhotra. Poo (Pardon me for referring her by her character name, I'm into the character way too much) wore an iconic red outfit to her college prom. Backless tops, mini skirts, colored leather jackets, fur scarves – she was a fashion visionary!
11. Preity Zinta in Kabhi Alvida Naa Kehna
Preity Zinta as Rhea in Kabhi Alvida Naa Kehna made the perfect girl boss. She played an editor of a fashion magazine whose style in the movie was remarkable. The leather jackets, demure dresses and pretty tops looked perfect. I loved her wavy tresses and very wearable makeup look.
12. Priyanka Chopra in Dostana
Priyanka Chopra as Neha in Dostana made a flawless fashion icon with a career in fashion, style came naturally to Neha. She wore dresses, shorts, bikinis and even a saree and made it all look sexy! The metallic desi girl saree became a huge rage. She, in fact, made gold an it-color for any ensemble – bikini or saree. Surely a true fashionista!
13. Deepika Padukone in Race 2
Deepika as Alina in Race 2 was one of the most fashionable movie characters in Bollywood. From plunging necklines to high slits, from elegant flowy gowns to sexy bikinis, she was a vision in every scene – always put together perfectly! Her makeup was on point and let's not forget the awesome accessories – sunglasses and fascinators.
So, that's our list of the most fashionable movie characters in Bollywood ever! Which fashionable movie characters could you relate to or got inspired by? Let us know in the comments!
Going to a Bollywood theme party? If you're looking for retro iconic famous female characters in Bollywood movies for costumes or dress up, also read: 15 Most Iconic Bollywood Costumes & Indian Actress Looks Ever, in which I've written about some of the most memorable epic Bollywood ladies. Additionally, we've also got one for your man: Bollywood Theme Party Outfits for Men: 21 Male Dress Ideas.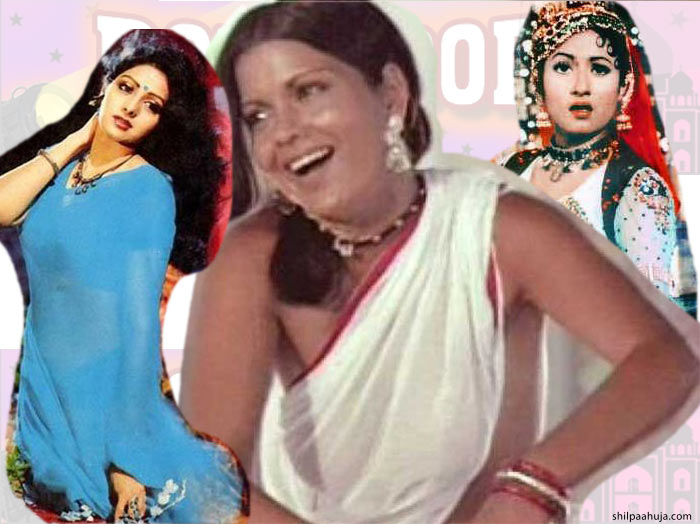 Sahana is a Senior Staff Writer at ShilpaAhuja.com. With an experience in fashion and lifestyle writing, Sahana is responsible for Indian and international fashion week coverage every year, and is developing an expertise in apparel trend forecasting. She also writes about health and fitness, having pursued yoga for 6 years now. She's not a gym person at all but is all for "running in the park" and is an amateur cyclist. Books and coffee are her other passions. She's also an amateur photographer. She's a hardcore Bollywood fan and she loves to cover the nostalgic topics on the same. From fashion trends to famous characters, she can make anyone love Bollywood! Her best article has been 90s Bollywood fashion, a readers' favorite so far! Prior to her experience with ShilpaAhuja.com, Sahana has written as a freelance author for online magazine, Mashup Corner, and interned at EventsHigh as a content writer. Her blogs on basic fashion, makeup, fitness and city's food joints that gave her a chance to experiment with her writing. She also has voiced her opinions about feminism and equal rights for men and women at PolkaCafe journals and after quitting her job, she decided to take up writing as her full time career.
Sahana is an engineering graduate and has worked in an MNC, Tesco, for more than a year as an Operations Support. It was her sheer love for fashion that made her quit the monotonous 9 to 5 job to pursue a career in the fashion industry. She's originally from Bangalore and is currently settled in Chennai (she's loving the city)! For any queries and discussions, contact her at [email protected] You can also tweet her at https://twitter.com/Sahana_17