Hey my Slubby fashionistas!! Who says fashion has to be expensive? Take a look at our picks for the best skirts for online shopping: each under Rs. 2000. Plus we have online shopping ideas for skirts for every occasion – office, party and casual!
First things first, dd you check out the new Slub logo on our Facebook page? As you may have noticed if you follow the Facebook page, Slub is short for Shilpa's Lifestyle Club. And it's a club exclusively for the smart and stylish! Those who love to travel and do online shopping and eat and basically have fun – a.k.a. – You!! So, now that it's established, we are official Slubbers, or Slubs, for short. And that's what we'll call anyone who fits into this super-awesome category, too!!
Moving on, I've gotten a lot of requests to include more budget-online shopping ideas, and after all summer is the best time to wear fashionable skirts and show off our, ahem, hot, ahem, bods, so here I am with shopping ideas for less: 20 Skirts for under Rs. 2000 – For all occasions – Party! Office! Date Nights! Street Wear!- All available for online shopping!!!! Can't wait to get started? So, let's take a look at them already, shall we?
Street Wear
Casual Skirts
Printed Women's Pencil Skirt in Blue – bYSI at Amazon
Cherry Bow Satin Skirt – Mango
Simply Simpsons Skater Skirt – FabAlley
Tie-Front Maxi Skirt – Koovs
Stripes Affair Skirt – Stalk Buy Love
A-Line White Printed Skirt – Zara
Club Wear
Partywear Skirts
Night Jewel Mini SKirt – FabAlley
Carapace White Party Star Mini Skirt – Yep Me
Ironi Black Orient Style Skirt – Yep Me
Solid Women's Skirt in Black with White Border – Flipkart
Back Jewel Mini SKirt – Koovs

Evening Wear
Date Night Skirts
Peach Pink Lace Pencil Skirt – Vero Moda
Black Cotton Skirt with Sheer Border- Elle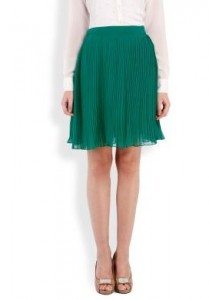 Green Pleated Knee-Length Skirt – Anaphora
Pop Dot Mazi Skirt – FabAlley
Slip Away Black Skirt – Stalk Buy Love
Formal
Office/ Work Wear Skirts

Crepe Woven Black Wrap Skirt – Forever 21

White Mono Skirt – Stalk Buy Love

Solid Women's Pencil Skirt – Liebemode
Blue Flared Skirt – FabAlley
Here are all of them together!
I want them all, don't you? Which one do you like the best? And if you have any of these already, please tell us how it was! Also: if you want to see more of this type of articles, lemme know what shopping ideas you want! Comment below, lemme know! XOXO! Saludar!
Shilpa Ahuja the editor-in-chief of ShilpaAhuja.com, which she founded with the goal of inspiring confidence in the modern working woman through fashion. Other than defining the direction of the magazine, she also writes about fashion & beauty trend forecasts, industry analysis, and opinions.
Shilpa's work has been published in the University of Fashion blog and Jet Airways magazine. She is also an artist, illustrator and cartoonist. She is also the creator of Audrey O., a comic series that represents the lifestyle of millennial women. She enjoys creative writing and world travel. Her art has been exhibited at Harvard Graduate School of Design and the Aroma Hotel, Chandigarh and been published in Chandigarh Times.
Originally from Chandigarh, Shilpa also has a degree in architecture and has worked in interior project management. She is also the author of the book "Designing a Chinese Cultural Center in India". Shilpa has a Masters in Design Studies degree from Harvard University.
For feedback and questions, please email [email protected]