From Lindsay Lohan to Zac Efron, read all about celebrity addicts, famous recovering alcoholics and alcoholic success stories below.
Whoever said money brings happiness never heard of celebrity addicts. Drug and alcohol addiction is a common health issue and source of frequent news in Hollywood. And that doesn't do much to inspire the youth, who look up to these stars for lifestyle inspiration. However, it's good to read about the hopeful alcoholic success stories of many Hollywood celebs, too.
Despite having fame, power and money, lots of celebs turn towards drugs and alcohol for many reasons, from depression to just blatant recklessness. And this addiction to alcohol and drugs is very common amongst regular people, too. So let's take a look at some famous recovering alcoholics and their sobriety stories from which we can all learn a thing or two.
Celebrity Alcoholics
Stephen King Alcoholism
Known for his horror stories like It and The Shining, this author is one of the famous people who are alcoholics. He went through a phase of binge drinking in the 80s and it got to a point so bad that he couldn't even remember some of the novels he wrote during that time. Yikes. Atleast we now have an explanation for why his books are so damn creepy. His alcoholism stemmed from his traumatic childhood in which he was abandoned by his father. Insecure about the fact that his mother might leave him too, he started to have constant nightmares and used drugs and alcohol to cope.
Demi Moore Alcoholic
After her split from long term husband, Ashton Kutcher, Demi began to start drinking and take adderall to deal with the sadness. And she knew it got to an extremely bad stage when she was hospitalized after having an epileptic seizure in 2012.
Zac Efron Alcohol Addiction
Zac Efron is one of the many famous people in AA. He said that the Hollywood life and the people around him were what made him turn to alcohol. After working on movies back to back, he felt overwhelmed by all the work and fame, isolated himself from his friends and began drinking to tolerate it all. He even got into fist fights with many people. So alcohol is not just harmful to you but it may also affect the people around you.
Kristin Davis Alcoholic
If you're a fan of Sex and the City, you might know her for playing the role of Charlotte Goldenblatt. She's one of the famous female alcoholics. Her drinking problem began in high school and she kept up the habit until she became an actress and started waking up with hangovers everyday, which took a toll on her career.
David Hasselhoff Alcohol Problem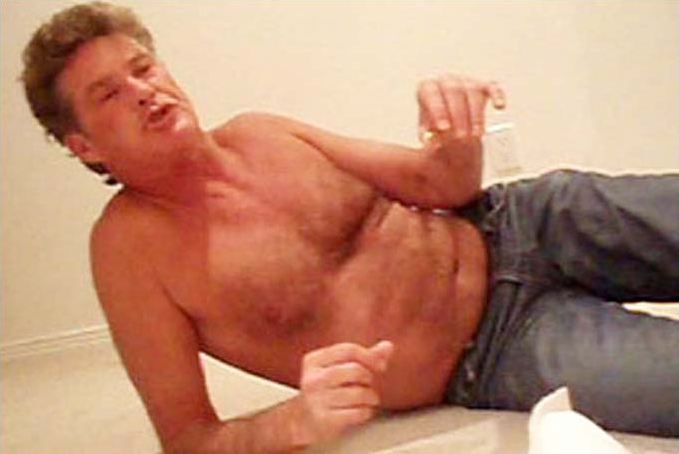 Apart from his role in Baywatch this actor is also known as one of the most famous recovering alcoholics. He was told by his family about his outrageous behaviour whenever he got drunk. So he asked his daughter to film him the next time he got drunk and on seeing the video (which was leaked BTW), he knew he had to make changes soon and looked for treatment options.
Billy Joel Alcoholic
Member of the 60s music band, The Echoes, Billy Joel is one of the most famous recovering alcoholics in history. His alcoholism ruined both his career and personal relationships. The band split because the members couldn't handle his raging drinking problem. He soon fell into depression and attempted suicide by drinking furniture polish. But luckily, he was found and admitted to a hospital and treated for depression. And he is now a popular name on famous recovering alcoholics lists.
Alex Trebek Drinking
The host of the game show, Jeopardy, Alex Trebek is another many of the celebrity addicts who are sober today. He admitted to drinking before his shows after people started speculating and questioning the things he said and the way he acted on TV. Thankfully, he later realized how his alcoholism was affecting the quality of his show.
Famous Drug Addicts
Gerard Butler Drugs
The day after this popular actor checked into rehab, tabloids spread rumors of him having a drug problem. Once he was out, he revealed the real reason. After injuring himself badly while shooting for the movie, Shattered, this actor was in pain for more than three years after the accident. He began taking prescription drugs a li'l to excessively to help with the physical pain and began developing a drug addiction.
Daniel Radcliffe Cocaine
The pressure of playing the role of Harry Potter, fan expectations and anxiety led to Daniel Radcliffe battling with both drugs and booze. He admitted he resorted to alcohol and drug abuse ever since the filming of Harry Potter and the Order of the Phoenix.
Charlie Sheen Heroin
One of the most controversial and famous drug abusers, the Two and a Half men actor has had a history of many drugs and many women. From overdosing on cocaine to trying to escape his rehab center and being terminated from his TV series, he's one of the worst celebrity addicts.
Zac Efron Drug Abuse
On the reality show, Running Wild with Bear Grylls, Zac opened up about how his struggle with fame made him develop a cocaine drug addiction. The High School Musical star has checked into rehab twice for the same.
Macaulay Culkin
Everyone's favorite child actor who played Kevin in the Home Alone series is yet another one of the many famous drug abusers. Despite looking very frail and unhealthy anytime he stepped out, he denied substance abuse.
Famous Recovering Alcoholics & Alcoholic Success Stories
As hard as quitting an addiction is, the withdrawal stage is even harder. So here are the stories of some celebrities who quit drinking and drug addicts who became successful. Read all about famous recovering alcoholics below.
Celebrities in Recovery from Addiction
Robert Downey Jr.
The Iron man actor is yet another celeb who became a victim of drug abuse. When he was just 6 years old, his father smoked cannabis with him in an attempt to bond with him (Seriously, Robert Downey Sr.??). 'Cause that was apparently the only way he knew to show love to his son. So naturally, he grew up around drugs and alcohol and continued them even when he was older.
Then, after being arrested plenty of times and spending six months in jail, he finally realized how much it was affecting his personal life and career. So he turned to natural therapies, kung fu and yoga and look at him now! He's more successful than ever!
Alec Baldwin Alcohol
From assaulting paparazzi and getting kicked out of an airplane to verbally abusing his own daughter, he was constantly in the news. His depression and his family's debt was what made him drink and do drugs. It might have been a li'l too late when he realized what he'd been doing but better late than never, right? He also published a book in 2013 called A Moment of Clarity where he spilled details about his battle with depression and alcohol as a way of helping others with the same problem. And now he's living a happy, sober life.
Drew Barrymore
By the age of 13, Drew Barrymore was a drug addict, alcoholic, and had checked into addiction centers. And her unavailable parents were to blame for that. When she turned 14, she legally separated from her parents and moved into an apartment by herself and soon, her life started spiraling out of control. She spent a lot of time at nightclubs and parties, drinking, smoking cigarettes and pot.
Later, she realized she had to make a change soon or her life would be ruined forever. So she began attending group therapy sessions where she met many others on the same boat as her. And learnt a lot about each and every one of them and herself. She also reconciled with her parents and is one of the top famous recovering alcoholics ever.
Lindsay Lohan
She's probably the worst alcoholic in history but her struggles with drugs and addiction recovery is quite inspiring. The Mean Girls star has spent majority of her life getting arrested, going to court and checking into rehab. She was extremely reckless when it came to alcohol and her entire life was going so downhill that she was ordered to wear a monitoring bracelet, attend a weekly drug testing and alcoholic counselling. She failed to do all of that and was sentenced to a month in jail plus community service.
After more than 7 years of checking in and out of a treatment centre, she got her life back on track. Today, she's no longer the person she used to be and has since launched a clothing line and is going to launch her beauty brand soon. With some new movies coming out next year, she probably has one of the most successful sober recovery stories.
So that was all about famous recovering alcoholics. What do you feel about alcohol addiction and how do you recommend addicts to seek help? Tell us your thoughts about these famous drunks and sober celebrities in recovery by tweeting @shilpa1ahuja!
Read next:
– Eating Disorder Help & Success Stories from Celebrities Who've Recovered
– Alcohol Help: How to Know if You Need Alcohol Addiction Treatment
– Alcoholism Treatment Program: Options & Steps to Know Before Seeking Help
Nishita is a Staff Writer/ Journalist at ShilpaAhuja.com. She is a graduate of National Institute of Fashion Technology and has a degree in leather design. A lover of all things fashion, she writes about everything from beauty, hair and lifestyle to fashion trends and how-to's. Her area of expertise is outfit ideas but being fresh out of college, she also loves writing about college fashion. Her new found love of baking is currently taking over her life, making her write about all things chocolate and easy recipes. With a flair for sketching and a great eye for detail, she's previously designed leather garments for brands like Diesel and Salsa. When she's not writing, she's busy reading extremely sappy Nicholas Spark's novels, sewing clothes and listening to some indie rock. Also super passionate about photography, she loves portraits and wildlife photography – a habit turned love that formed with the amount of traveling she did as a teenager. As a girl who grew up with books and movies like Pride & Prejudice, her love for period fashion is huge. And being curly haired, she's always on a constant hunt for solutions to problems that come with having ringlets and loves sharing them with people through her articles. For feedback and questions, email [email protected] or connect with her on twitter @ni95.