Famous in Love season 2 promo has finally been released. Watch the trailer, check out premiere date and read about some spoilers!
Hey gorgeous! It seems forever since we've been waiting for news, just any news, on Famous in Love Season 2. And now we finally have the promo and premiere date on the new and upcoming season of this TV show. Soon after Season 1 ended, we heard the news that this super glam girly TV series has been renewed for a second season. But ever since, there was barely any news (we looked hard!) on the premiere dates for the following season. The only times we heard about it were from lead star Bella Thorne herself who keeps posting changing room selfies on Instagram in between her shoots!
For those who missed the first season of this binge-watch-worthy and popular TV series, Famous in Love is produced by I. Marlene King of Pretty Little Liars fame. It is about a college student and how she deals with her new life as she gets a lead role in a big budget Hollywood movie. Chemistry with her co-star and one of her best friends also creates a cute love triangle, and there's a lot of Hollywood drama in the background. The series stars Bella Thorne, ex-Disney star who's now a party girl as we see on her Instagram and Snapchat. Hers is certainly one of the sexiest accounts to follow on Snapchat!
So the point, I guess, is that Famous in Love Season 2 premiere or not, Bella Thorne's selfies and vids are often newsworthy enough! Anyway, getting back to the TV series, the Season 2 promo is finally here! Check it out:
It looks as glam and as dramatic as ever, but that's only because they just compiled scenes from the first season. If it weren't posted on the verified YouTube account of TV Promos, I'd need to check if it were fanmade! The second season premieres on Wednesday April 4th on Freeform. Here's the current accompanying description, which actually doesn't say much:
"Based on the novel by Rebecca Serle, "Famous in Love" stars Bella Thorne as Paige, an ordinary college student who gets her big break after auditioning for the starring role in a Hollywood blockbuster. She must now navigate her new star-studded life — and undeniable chemistry with her two co-leads — while uncovering the truth about what happened to a missing, famous popstar."
So I'm assuming the darkness of <spoilers start here> Season 1's mysterious murder of the news presenter will continue, and so will the love triangle. Additionally, news is that the new season's shooting is halfway through. Co-lead Carter Jenkins, who plays Rainer Devon, said in an interview that "Rainer is working on himself [in Famous in Love Season 2]." He added that Rainer will find a new addiction, and find something selfless to put his energies into.
Co-star Charlie DePew who plays Jake Salt in the TV show, revealed to ETonline at the first annual Freeform Summit last week in Los Angeles, "It's gonna pick up two months after season one ended."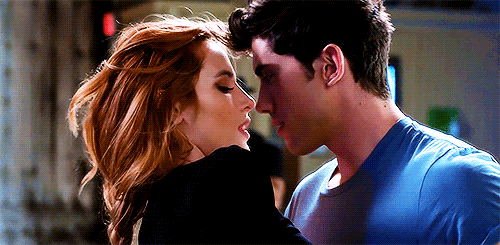 As for who Bella Thorne's character Paige Townsen will pick? We have some teensy spoilers and the actors' views on that, too.
"I feel like she doesn't belong with either character," the actress 19-year-old actress said in another interview last year. "She's so confused and so new to this. Right before [the press conference] scene takes place, she's put in a really uncomfortable position where Nina [Rainer's mom] tells her, 'People like you together. Stay together for press.' Even though she's not dating Rainer, then she has to look like she's with him, so either way, she's losing Jake. She should keep them both mellow and try and figure out her own sh*t and concentrate for a minute, because clearly, she's very lost and doesn't know how to handle these kinds of situations she gets herself into."
Okay, but who she gonna pick? Creator I. Marlene King spills the beans, "We definitely left her with what we call her 'Sophie's Choice.' You know, does she pick Rainer or Jake and you will find out very quickly when the show premieres."
Hmm… So let's wait till we find out more. And you'll certainly find it all out here, so watch this space for more news! Psst. binge-watch the first season on Netflix to catch up before Famous in Love season 2 airs!
Until then, ciao!
Muaah 🙂
Shilpa Ahuja the editor-in-chief of ShilpaAhuja.com, which she founded with the goal of inspiring confidence in the modern working woman through fashion. Other than defining the direction of the magazine, she also writes about fashion & beauty trend forecasts, industry analysis, and opinions.
Shilpa's work has been published in the University of Fashion blog and Jet Airways magazine. She is also an artist, illustrator and cartoonist. She is also the creator of Audrey O., a comic series that represents the lifestyle of millennial women. She enjoys creative writing and world travel. Her art has been exhibited at Harvard Graduate School of Design and the Aroma Hotel, Chandigarh and been published in Chandigarh Times.
Originally from Chandigarh, Shilpa also has a degree in architecture and has worked in interior project management. She is also the author of the book "Designing a Chinese Cultural Center in India". Shilpa has a Masters in Design Studies degree from Harvard University.
For feedback and questions, please email [email protected]