Ethnic wear doesn't define one as old-fashioned. With this adage, the new brand, Beyond Gallery is changing the perception of Indo-western and Indian fashion. Read on to know more!
Hey beautiful! Millennial Indian women and sarees have a complex relationship. From our grannies' generation to our mommies', sarees have always been synonymous with Indian fashion. But ethnic wear styles have experienced a sudden shift with our generation. With the westernization of Indian fashion, Indian sarees and ethnic wear are often deemed unfashionable and even backward, which puts the suit and saree lovers in dilemma!
Of course, we millennial women wanna wear sarees or other Indian dresses, but sometimes face judgment. Imagine when you wear a saree at your workplace and you get comments like, "Oh! A saree, what's special today?" or "Are your parents preparing you for married life?" Ugh! I know right. It's so pathetic! But Bollywood is to blame for stereotyping, girls who wear ethnic wear as behenji and those who wear western outfits as modern. So sexist.
And that's why everyone our age in India has two wardrobes – ethnic wear for weddings and western wear for everyday. Same with auntyji. The term behenji should be respectful, and should not be portrayed as something bad.
The so-called behenji and the modern girl don't get along in Bollywood! Likewise, the wardrobes aren't combined together. But the real Indian woman is a mix. For her, traditional doesn't mean backward.
She is strong, independent and a free thinker. She wears what she wants to and doesn't abide by the rules set by patriarchy. And that's exactly what the newest brand on the block, Beyond Gallery, is promoting with its designer brands in ethnic and western wear that are very niche.
Latest Ethnic Fashion | Indian Ethnic Wear
Beyond Gallery is an online shopping destination for Indo-western and ethnic wear by niche designers. In fact, they promote upcoming Indian designers and single studio owners. They strive to showcase the designs and creativity of those who are talented but may not be famous, nurturing them to provide the audience they deserve.
With an aim to fulfill the need for people to know about this growing creative vibe, Beyond Gallery is the only online platform that connects designers directly to the customers, to help fashionistas get what they really want and at the best price. So "discover unique fashioners… great designs" with this marketplace that lists apparels, jewelry and accessories.
Sarees or ethnic kurtis now have a new avatar that's chic, cool and confident. Sarees have often been considered age-specific. For example, if my mom who's 40+ wears a saree, no one questions but whereas when I wear a saree for a casual lunch with my husband, it's a big deal. In fact, I have got comments like, "Why you wanna auntify yourself? Wear a pair of jeans and tee shirt." But I'm expected to wear a saree only for weddings. Well, thank you!
But ethnic wear brands like, Beyond Gallery are changing the perception of Indian fashion. Like these beautiful cotton sarees that are worn with a casual top and crisp button-up shirts. Wear them for lunch with your girls, formal work parties and even on casual Fridays!
Ethnic sarees can be paired with crop top and ethnic skirts. Indian outfits, especially from the best ethnic wear online shopping websites in India, never fail to amaze me. These traditional dresses go well for parties or celebrations at work, too!
The new Indian dresses don't have to be always combined with western wear. Like these unconventional blouses. They are traditional wear but with an eccentric Marlyn Monroe print. So tempting! I'm gonna grab 'em soon!
I love finding ethnic wear online and I also love to wear 'em everywhere. From parties to work to casual outings, personally, I feel fusion wear grabs all the attention. And traditional gowns can be not too dressy nor uncomfortable. Party wear ethnic gowns are something I would wear for a reception night. And this layered off-the-shoulder gown is perfect for parties. And also, the asymmetric gown with Indian embroidery looks magical.
Kurtas are the go-to attire for Indian wear, and these are must-finds for ladies cloth online shopping. A kurta dress is a perfect example of casual Indian clothes. Try wearing them with the ever trendy white sneakers to create that carefree new fashion look! Wear them to work or university party.
Millennial women and jeans are inseparable. Indian ethnic wear brands are something you should look out for! Beyond Gallery has some unique and out-of-the-box ethnic tops. A layered peplum top with cropped jeans is so perfect for a coffee date. I would go ahead and pair it with Indian accessories like a layered beaded necklace.
Indian Accessories | Latest Ethnic Wear
Just like Indian ethnic wear, Indian accessories are to die for! From bags to jewelry to shoes, mix them with western wear and add a quirky touch to your look. And if you thought Indian prints are boring or too old-fashioned, well! Rethink! With colorful prints like hibiscus flowers or ostrich motifs, who wouldn't wanna carry them everyday?
If you're a teacher or university student, then the backpack with mango prints is a must-try!
Along with Indian style dresses, Indian jewelry is surely headturners! The beaded necklaces are so chirpy and eye-catching. I can imagine wearing them to a mall or on a coffee date and getting that second glance. 😉 Who doesn't love some extra attention?!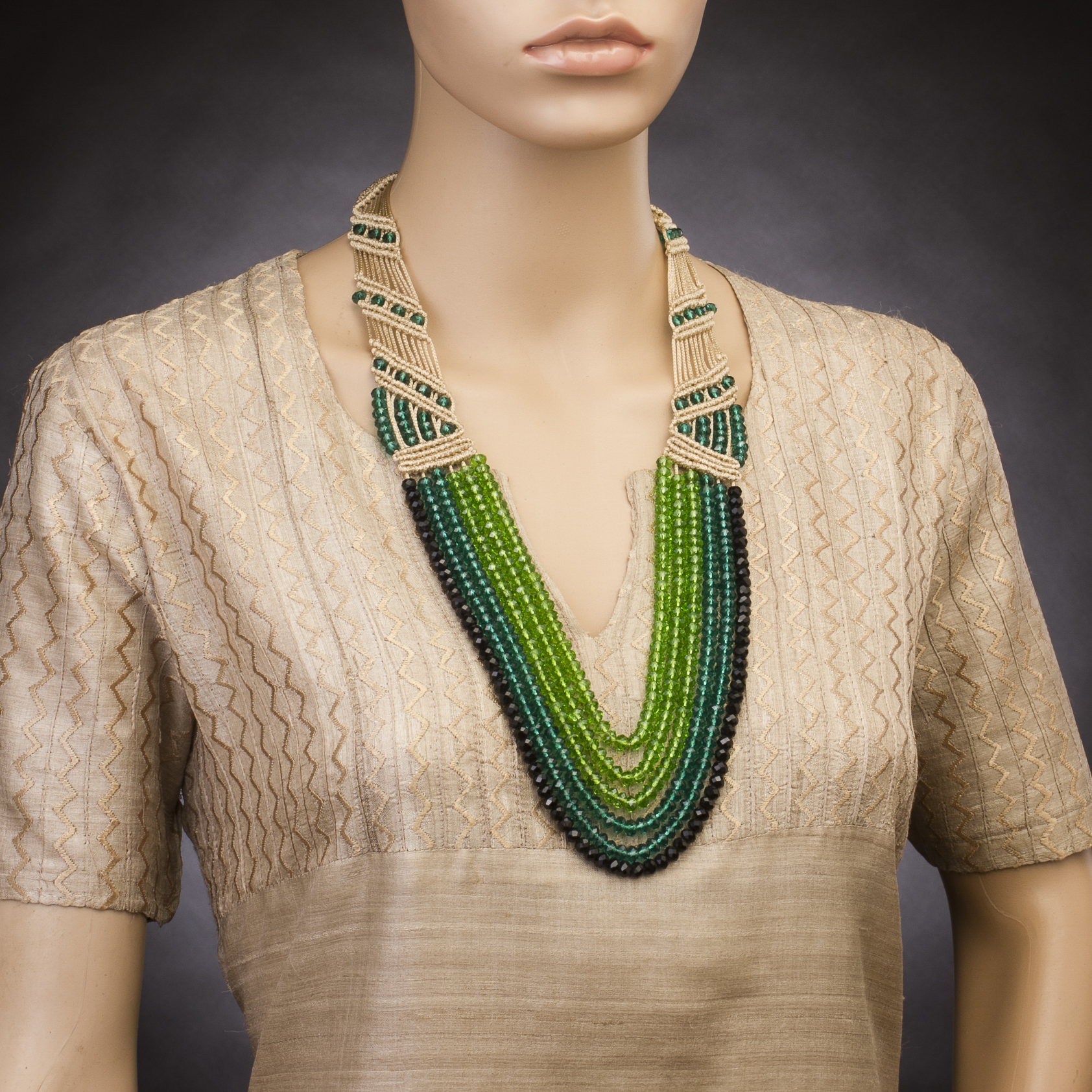 So, what do you think about ethnic wear? Does the behenji label also make you think twice before donning traditional wear? you and I can together change the perception of ethnic wear. Do you agree with us? Rock our traditions confidently, proudly and fashionably. It's #NotBehenji!
Let us know your thoughts by commenting below or tweeting @shilpa1ahuja! Also, share your proud pics in ethnic wear with us with the hashtag #notbehenji and tag @beyondgallery on Instagram!
Also, read:
– Trendy Jewelry Styles for 2017 | Shopping Ideas Under ₹700
– Latest Indian Fashion Trends for 2018
– Indo Western Dress Trends for 2018 | How to Wear Indo Western Outfits
– Latest Kurta Designs for Women | Stylish Kurti Trends for 2018
– 11 Latest Kurti Design Ideas for 2018 | Designer Kurti Patterns
– #UnFairAndLovely? Why, Of Course, I am!
– 11 Popular Jewelry Trends for Spring Summer 2018 – Trending Jewelry
Sahana is a Senior Staff Writer at ShilpaAhuja.com. With an experience in fashion and lifestyle writing, Sahana is responsible for Indian and international fashion week coverage every year, and is developing an expertise in apparel trend forecasting. She also writes about health and fitness, having pursued yoga for 6 years now. She's not a gym person at all but is all for "running in the park" and is an amateur cyclist. Books and coffee are her other passions. She's also an amateur photographer. She's a hardcore Bollywood fan and she loves to cover the nostalgic topics on the same. From fashion trends to famous characters, she can make anyone love Bollywood! Her best article has been 90s Bollywood fashion, a readers' favorite so far! Prior to her experience with ShilpaAhuja.com, Sahana has written as a freelance author for online magazine, Mashup Corner, and interned at EventsHigh as a content writer. Her blogs on basic fashion, makeup, fitness and city's food joints that gave her a chance to experiment with her writing. She also has voiced her opinions about feminism and equal rights for men and women at PolkaCafe journals and after quitting her job, she decided to take up writing as her full time career.
Sahana is an engineering graduate and has worked in an MNC, Tesco, for more than a year as an Operations Support. It was her sheer love for fashion that made her quit the monotonous 9 to 5 job to pursue a career in the fashion industry. She's originally from Bangalore and is currently settled in Chennai (she's loving the city)! For any queries and discussions, contact her at [email protected] You can also tweet her at https://twitter.com/Sahana_17