Check out Emma Watson street style looks – and get some nice inspiration on how to pair essential fashion items with statement pieces to create fun outfits! We've picked out some of our favorite Emma Watson casual outfits!
Hey girls! The Guy and I have been doing a Harry Potter marathon for the past few days. And that's perhaps why Guy has made a list of the best street style looks of Emma Watson ever!
Emma Watson may have played the role of the studious Hermione Granger in the Harry Potter movies, but in real life, the girl is very often very well dressed! Well, that's not to say that studious girls can't be well dressed. Anyways… if you're looking for some casual outfit inspiration, or college style ideas, here are some of the best images of Emma Watson casual fashion and our lessons from 'em…
Casual Fashion: Emma Watson Street Style Outfits
One of the best things I like about Emma Watson's personal style is that she uses basic items very often, and pairs them nicely with a statement item to create an interesting, eye-catching outfit! Like this basic white button-down shirt here, paired with a patterned mini-skirt, pendant necklace and booties. 
Studded bag with a studded sleeve trench coat. I like those dotted tights.
I love this look – very clean and classy – a sheer dress with a nude-colored lining and black pipings. One of my faves amongst Emma Watson casual outfits!
Some of her travel looks are very nice and comfy too! This fur vest and cut-out shoes look would also be great for a Sunday outing with friends.
These two are very casual classroom-type teenager fashion looks!
Another comfy travel look…
I like this look – chic and cute. Plus the shoes are cute. 
Here's her workout look – badly caught in an unflattering expression. Sorry, Emma, but I had to put it in!
Another travel look, which makes my case that Emma Watson casual fashion is all about using the basic fashion items and pairing them with fun, statement pieces. Here she creates a comfy travel look with a basic tee, leggings and boots, just made chic by layering on top this black jacket!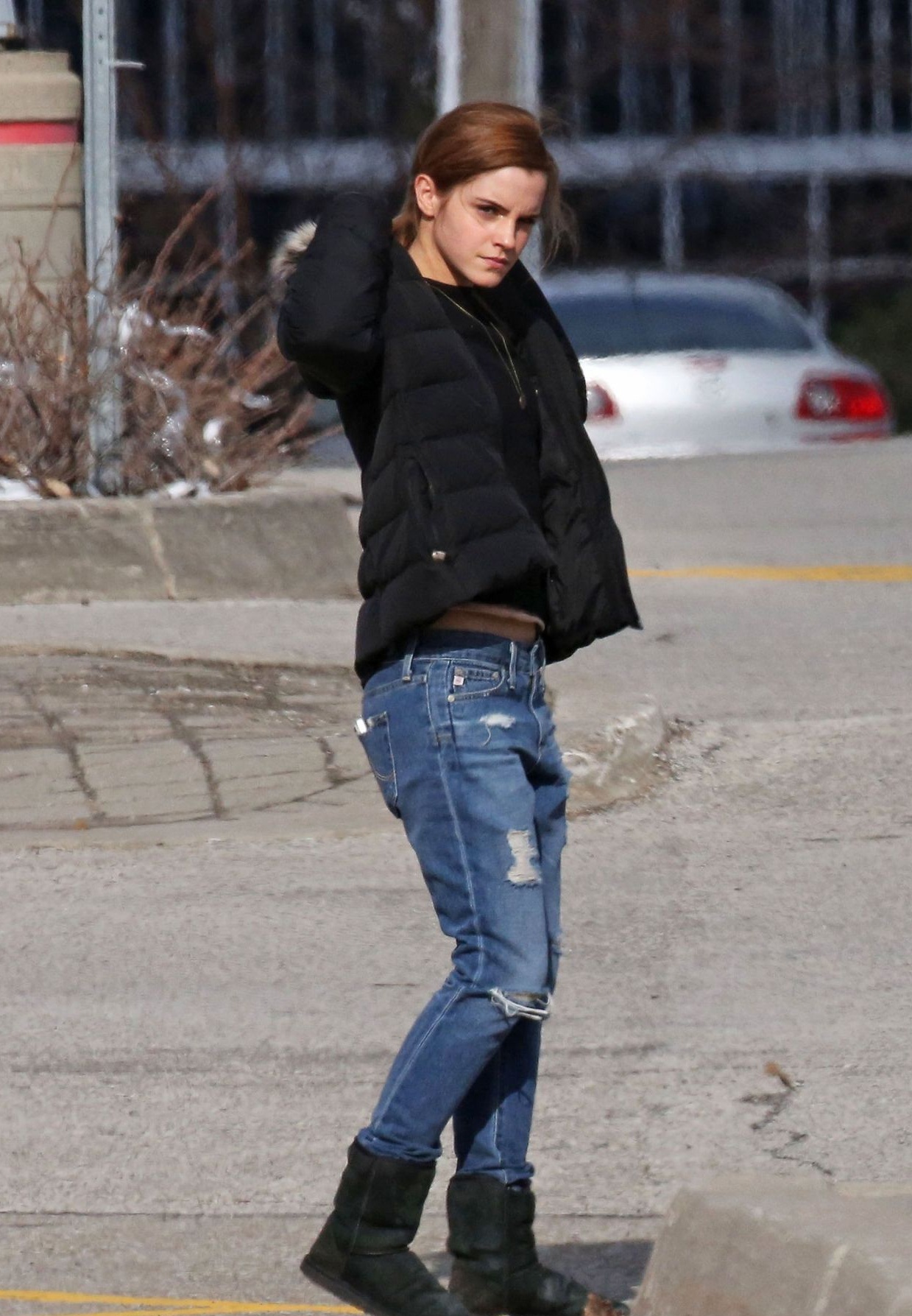 This one's not exactly street-style, but I like the French beret and the matching coat!

Emma Watson street style is all about comfort over fashion. Practical, isn't it?
Again, not exactly an Emma Watson street-style look – but I love this look nonetheless. Perfect for a party or graduation or a fancy date night!
Yet another travel look – where she reuses the studded bag from before!
This one of Emma Watson casual outfits has her wearing a simple striped sweater with a girl-next-door pair of skinny jeans.
This look is such a preppy rich-kid type look! But a nice one nonetheless! A pair of lace shorts and white button-down with a dusty pink blazer and tie. With nude pumps. i would pair black loafers with it and wear it on a day out with friends! And (possibly I wouldn't be bold enough to carry that hat!)
So, that's Emma Watson street style looks. Do you like her style? Which one did you like the best? Lemme know below!
Also read: Emma Watson Red Carpet Dresses and Best Looks Ever!
Shilpa Ahuja the editor-in-chief of ShilpaAhuja.com, which she founded with the goal of inspiring confidence in the modern working woman through fashion. Other than defining the direction of the magazine, she also writes about fashion & beauty trend forecasts, industry analysis, and opinions.
Shilpa's work has been published in the University of Fashion blog and Jet Airways magazine. She is also an artist, illustrator and cartoonist. She is also the creator of Audrey O., a comic series that represents the lifestyle of millennial women. She enjoys creative writing and world travel. Her art has been exhibited at Harvard Graduate School of Design and the Aroma Hotel, Chandigarh and been published in Chandigarh Times.
Originally from Chandigarh, Shilpa also has a degree in architecture and has worked in interior project management. She is also the author of the book "Designing a Chinese Cultural Center in India". Shilpa has a Masters in Design Studies degree from Harvard University.
For feedback and questions, please email [email protected]