K-drama and K-pop are influencing the youth across the globe. With their OTT yet wearable street style and cool hair colors, we are loving K-pop fashion! So here we are with some cool ideas on how to dress like a K-pop star.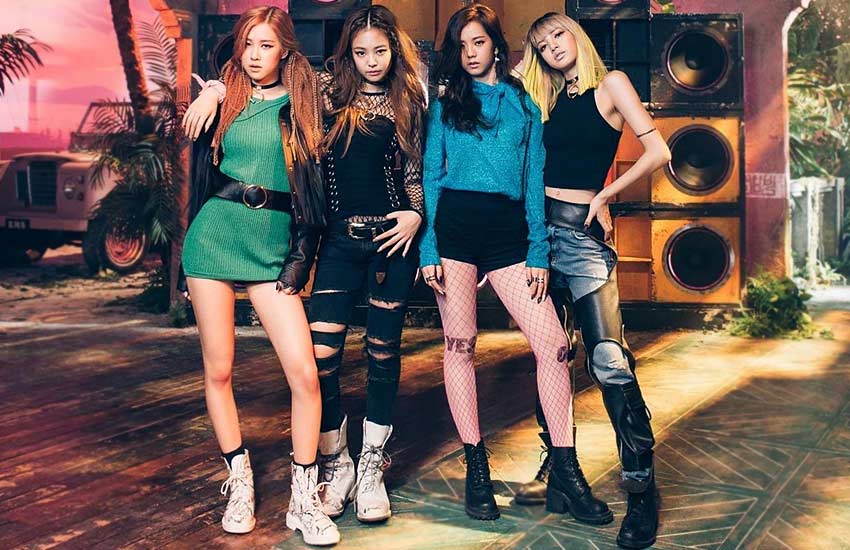 In the late 2000s, K-pop made an impact on numerous music lovers around the world and created a revolution in pop culture. The millennials and Gen Z who follow K-pop are expressing their interest in learning the Korean culture, fashion, and cuisine. Now K-pop has become a global sensation.
Not only for the music industry, but currently K-pop is also central to other industries like fashion and cosmetics too. From street style to stage performances, K-pop fashion never fails to amaze us. Their color-blocking outfits, exclusive hair accessories, hairstyles, makeup, accessories, and sporty fashion make them stand out.
Are you a K-pop/K-drama fan? Read the article to get the ultimate K-pop style.
Basic Korean Fashion Essentials
Before diving into how to dress like a K-pop star, lets talk a bit about the basic fashion clothes that make up their wardrobes. Pullovers, sweatshirts, wide-leg pants, T-shirts over strappy dresses, denim hot pants, and ripped jeans are the staple Korean fashion. Koreans love pastel colors because they make them feel young and are pleasing to the eye. So try to fill your wardrobe with pastel colors as much as possible. Soft hues are Korean celebrities' go-to fashion style.
And when it comes to accessories, masks have become one of the significant accessories in Korea due to high pollution in Seoul. Unlike other countries, Koreans wear masks in everyday life, so you can find adorable mask collections in Korean fashion.
And the most important one is that Korean women are fond of hair accessories like hair clips, hairpins, headbands, and more so make sure to collect a bunch of hair accessories to dress your hair pretty. K-pop stars love ear-piercings. They usually have three or more piercings, which means it's essential to have a nice set of earrings, studs, and ear cuffs.
How to Dress like a K-pop Star
Now that we have discussed the wardrobe basic you need to collect, let's go over a few tips that will help you create the perfect K-pop outfits!
1. How Many Clothes are Too Many?
Just layer your outfits. Be creative, don't hesitate to mix and match colors, and try different prints. Layering helps to personalize your look and you can create a new style every time with the same old clothes. There are multiple ways to layer your outfits so you can get an exclusive look effortlessly. Wear a leather jacket over a button-down shirt with a T-shirt, or pair a vest and blouse with a miniskirt. Style skinny jeans with a fitted top and layer them with a trench coat. For the summer, try a longline shrug instead of a trench coat.
2. You Deserve More Accessories
Accessories play a vital role when one wants to dress like a K-pop star, and they give extra charm to your outfits. Remember, a ring is not only for your ring finger, so wear rings on as many fingers as you want. Try a multi-strand necklace, dangling earrings, ear cuffs, bracelets, and oversized embellished sunglasses.
Hats are also one of the indispensable accessories in K-pop fashion, so try different types of hats like beanies, floppy hats, baseball caps or bucket hats to match your outfits. And don't miss out on hair accessories like bobby pins, headbands, and bow clips. Everything you wear has to be outstanding, so try something fresh and unique.
3. Genderless Fashion in K-pop
Almost all K-pop idols wear unisex clothing to normalize genderless fashion. BTS, TXT, GOT7, NCT, and Big Bang are popular K-pop boy bands pushing the boundaries of fashion. They are not afraid of straying from the gender norms. Whether it's a concert or airport fashion, K-pop idols are constantly breaking down gender stereotypes. You can find popular K-pop idols wearing crop tops, skirts, lace shirts, nail paintings, and corsets to prove that clothes have no gender. So just express yourself and your fearless gender identity like your favorite idols.
4. K-pop Idols' Makeup
K-pop is known for its twinkling makeup, bold eyeshadow, and sharp eyeliner. So try glittery eyeliner and shimmery eyeshadow to get that look. Gluing rhinestones on your cheeks, around your eyes, like anywhere on your face, will add glam to your look. And go for a neon or vibrant color palette to experiment with different makeup glows. To achieve smooth flawless glass skin like K-pop stars, use good quality primer and foundation. And you can emulate their makeup style better by contouring your face in a 'V' shape with the help of highlighter and contour to get that sharp 'V' shaped chin.
5. Cut-out Fashion
Wear more "hollow" outfits when trying to dress like a K-pop star. Grab your old jeans, T-shirt, hoodies and cut them. You can crop them, chop them, trim them and make an incredible outfit out of your old clothes. V from BTS is known for his amazing cut T-shirts. Likewise, Lisa from BlackPink also wears cut-out outfits often and her tailored hollow denim jacket was the talk of the town in 2018. Hawasa from Momoland nailed the concert with cut-out pants. Yeji from ITZY wore a cut-out furry cape outfit for the Golden Disc Award show that was a top-notch look.
6. Oversized Outfits
K-pop is not all about bright popping colors and fitted garments. K-pop idols love to wear oversized outfits for a cool and relaxed look .They like mom jeans, big hoodies, drop shoulder T-shirts, and extra-large shirts. J-hope from BTS is well known for his oversized fashion; he enjoys wearing oversized outfits. Their fashion statement proves that the colors don't need to be bright and complementing all the time. They can be dull and neutral for a simple yet significant look.
7. Inspiring Hair Color
K-pop stars are famous for their impressive hair color choices. They always prefer to come up with inspiring hair colors for every new album. So try to color your hair with refreshing hues. You can go for electric blue, pink, yellow, coral, purple, cotton candy, or mint green. Don't hesitate to dye your favorite color. You can do global coloring, highlighting or just simple hair streaks and incorporate your outfit with your hair to get a playful aesthetic look.
L to R: NCT Xiaojun, ATEEZ San
8. Popular Hairstyles of K-pop Stars
K-pop idols come up with different kinds of hairstyles every season. Especially female K-pop stars give more importance to their hairstyle in every new album. To dress like a K-pop star, one of the popular hairstyles you should try is C-curls. K-pop star IU is popularly known for this hairstyle, which is suitable for short hair.
The hippie perm hairstyle is suitable for long and medium length hair. Sulli's hippie perm hairstyle was a cultural reset in K-pop industry. The messy double bun pucca hairstyle will bring out the cuteness in you. Pigtails will take you back to school and don't forget the bangs! They are the most prominent hairstyle of K-pop stars.
9. All-black Outfits
Not fond of colors? You can go for an all-black look. There is a saying, "When in doubt, wear all black". You can take this saying seriously when it comes to K-pop because Red Velvet's Seulgi is the queen of black in the K-pop fashion nation. BTS' Jungkook is also known for rocking all-black outfits. You can call the K-pop boy band Big Bang as Incognito for their all-black outfits in the 'Love' song. So you can easily pull off the K-pop idol's look by just wearing black.
10. Top Korean Brands
Now that we have talked about how to dress like a K-pop star, do you want to know what fashion brands K-pop idols wear? Here are some of the top Korean fashion brands to try:
KYE- The collection heavily focuses on sports-luxe aesthetics. Widely known for street wear.
Style Nanda- The brand is devoted to both fashion and makeup. No.1 go-to online boutique for Korean idols.
PlayNoMore- It's an accessories brand offering jewelry, shoes, hats, and handbags.
Nohant- The brand meets the urban edge aesthetic style and it's one of the favorite brands for Korean celebrities.
Ader Error- Their brand sells unisex casual wear and leans towards comfort with luxury.

K-pop fashion doesn't have any rules. You are a free spirit. If you want to dress like a K-pop star, you can play with prints, mix-match colors, wear multiple accessories, try bold eye makeup, or go all-black.
But remember, clothes won't give you confidence. Your confidence, paired with a know-how of how to embellish yourself will make you look like a K-pop star. "Whatcha waiting for? Go pick your style – You're a rockstar".
We would love to hear your thoughts on K-pop style, and your favorite K-pop idols. So let us in the comments below! Also, share your stunning pictures wearing K-pop style outfits by tagging us on Instagram @shilpaahujadotcom.
Sowndarya Gopala Krishnan is a Fashion Journalist Intern at ShilpaAhuja.com. She graduated with a bachelor's degree in Fashion Technology from Sona College of Technology, Salem. Before ShilpaAhuja.com, she did her internship as an Assistant Costume Designer in Kollywood movies. She also works as a freelance stylist for product/brand photo-shoots. Her hobbies are playing piano, writing haikus, watching documentaries about different countries to know their lifestyle, fashion, technology and culture. Her life motto is, "Never stop exploring yourself; feel the new you every day."