Fashion devotion was the theme of Dolce & Gabbana fashion show at Milan Fashion Week. The Fall Winter 2018 collection had both fashion & technology together. Read on to know more!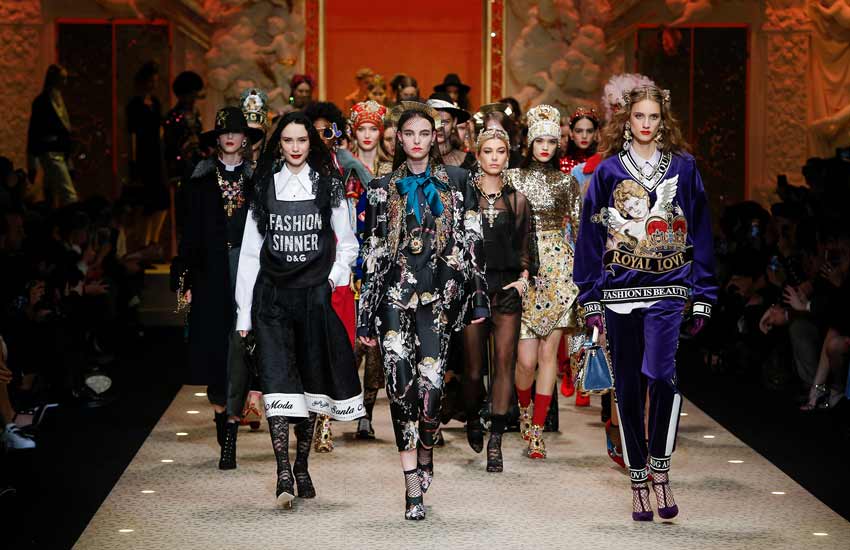 We are all addicted to fashion. In fact, fashion has become our religion. Is devotion to fashion a sin? Because if it is, we are happy to be sinners. That's the creative note Dolce & Gabbana fashion show for Fall Winter 2018-19 collection started on. A set of drones carrying the house's signature handbags flew all around the runway for almost 3 minutes. After having millennials and real-life D&G wearers as models in the Fall 2017 collection, and now with drones, can we expect a rocket launch in the upcoming seasons like Chanel?! Well, it was almost like angels were flying around the runway with lights on the top of the drone. And then they exited the exquisite runway that had Milan's beautiful architecture as the backdrop.
That's when the models started their walks. The first look had a top with lace details and the text 'Fashion Sinners'. Also, lace sock boots complemented the look well! With the black lace, Holy cross pendants, black gloves, this collection was Sunday church wear for converts whose new god is fashion!
Virgin Mary icon sweatshirts and sequined dresses were adorned. The show gradually moved on to velvet loungewear, loose trousers, pantsuits, denim jackets, sweatshirts and so on.
Accessories were aplenty and the best parts of the entire collection, as is always the case in a Dolce & Gabbana fashion show. From unique headbands to novelty sunglasses to sexy handbags, they were all drool-worthy! Jewelry, too, was noteworthy! There were multiple necklaces, drop and dangle earrings. Shoes included fishnet and lace sock booties, embellished, logo and metallic shoes.
The Dolce & Gabbana fashion show also had a look had a model wearing priest's black robes – a real eye-catcher! If you think it was too much, well, it was! But the devoted fans of the house may not agree! And afterall, that's what "fashion sinning" is all about! However, a beautiful collection of tailored suits and blingy embellishments, the signature style always stands out!
Dolce & Gabbana Fashion Show for Fall 2018 Ready-to-Wear Collection: Gallery
Image Credits: Dolce Gabbana