Dior Homme Fall/Winter 2017 collection is about teenage years of the boys. Discover the casual, formal and street style menswear collection!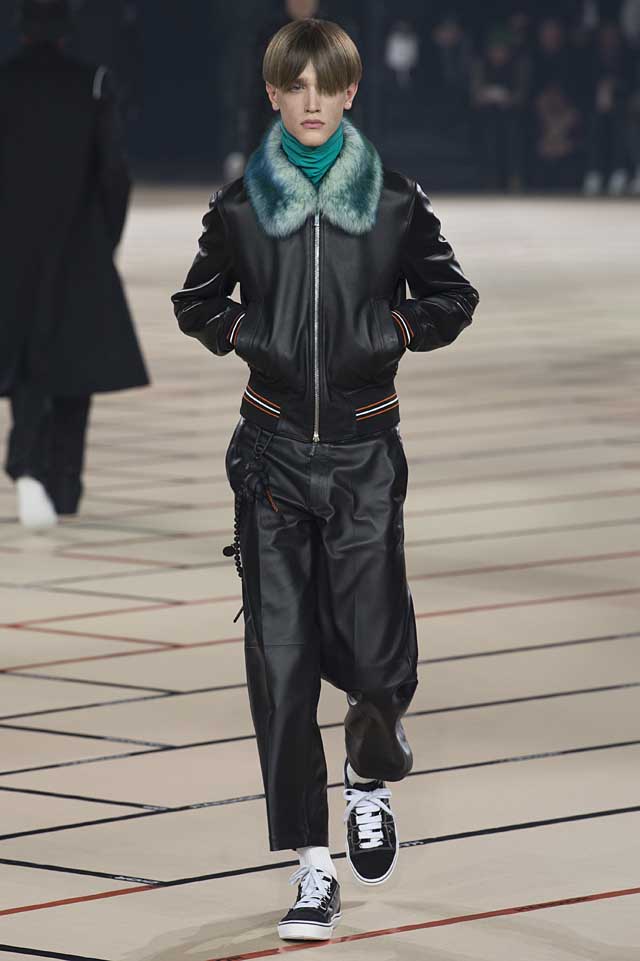 The runway of Dior Homme Fall/Winter 2017 fashion show was set up with colorful lights with small flags lined up at the top. According to the creative director of Dior menswear, Kris Van Assche, the collection was about glimpses of teenage years and a celebration of memories and dreams. The collection showcased the youth rave and hardcore, which they're calling the 'HarDior' culture. The concept also evolved when Kris thought why the youth today aren't wearing tailored clothes. So, he came up with the idea of giving them the right tailoring.
The show started with black striped suits and gradually moved on to having hints of colors like bright orange, red, green and blue here and there in black outfits. From formal wear, the show moved on to casual and street style. The jacket sleeves were cropped slightly above the hands and chic cropped pants were also seen.
Velvet seems to be the hot favorite for designers on the runways this year and it's evident with the Dior Homme 2017 collection too. In an interesting look, a bright red velvet suit was paired with a graphic printed bag.
There were cool accessories too, like lapel pins on jackets that read 'HARDIOR'. The safety pin shaped lapel pin and neckpiece with the letters 'HARDIOR' on tiny cubes looked stylish! The trousers had a punk style beaded accessory hanging on one side of the waist. There was teddy bear shaped dolls hung along with it in some of the looks for a teenager look. There were bucket hats with the hair standing up (electrified effect)! Gloves came in black leather, sometimes red and bright orange. Other accessories included plain and printed bags. Youthful backpacks were also seen.
The collection had lots of sweaters, worn with suits for a statement look. They were in different colors like black and green. Graphic sweaters were cool, especially the one with 'They should just let us rave'.
There were different types of outerwear paired with suits, like down jacket, parka, coats, bomber jackets and vests. The unique outerwear was a coat with zipper details near the sleeves giving an illusion of a cape. This looked really fashionable and can be tried by the fashion enthusiasts!  I loved the sleeveless hoodie worn on a suit. There were flashes of bright orange inside the hoodie making it look vibrant. Jackets and suits were adorned with prints of illustrative paintings. My favorite is the printed bomber jacket paired with cropped trousers that looked cool.
My favorite looks from the Dior Homme 2017 collection are the printed wool suit and with art print suit. I also loved the pairing of the solid colored zipper detail sweater on the suit.
Dior Homme Fall/Winter 2017: Gallery
Sahana is a Senior Staff Writer at ShilpaAhuja.com. With an experience in fashion and lifestyle writing, Sahana is responsible for Indian and international fashion week coverage every year, and is developing an expertise in apparel trend forecasting. She also writes about health and fitness, having pursued yoga for 6 years now. She's not a gym person at all but is all for "running in the park" and is an amateur cyclist. Books and coffee are her other passions. She's also an amateur photographer. She's a hardcore Bollywood fan and she loves to cover the nostalgic topics on the same. From fashion trends to famous characters, she can make anyone love Bollywood! Her best article has been 90s Bollywood fashion, a readers' favorite so far! Prior to her experience with ShilpaAhuja.com, Sahana has written as a freelance author for online magazine, Mashup Corner, and interned at EventsHigh as a content writer. Her blogs on basic fashion, makeup, fitness and city's food joints that gave her a chance to experiment with her writing. She also has voiced her opinions about feminism and equal rights for men and women at PolkaCafe journals and after quitting her job, she decided to take up writing as her full time career.
Sahana is an engineering graduate and has worked in an MNC, Tesco, for more than a year as an Operations Support. It was her sheer love for fashion that made her quit the monotonous 9 to 5 job to pursue a career in the fashion industry. She's originally from Bangalore and is currently settled in Chennai (she's loving the city)! For any queries and discussions, contact her at [email protected] You can also tweet her at https://twitter.com/Sahana_17