Discover the latest Dior Autumn Winter 2016-17 haute couture collection, which borrows from some of Christian Dior's signature design philosophies.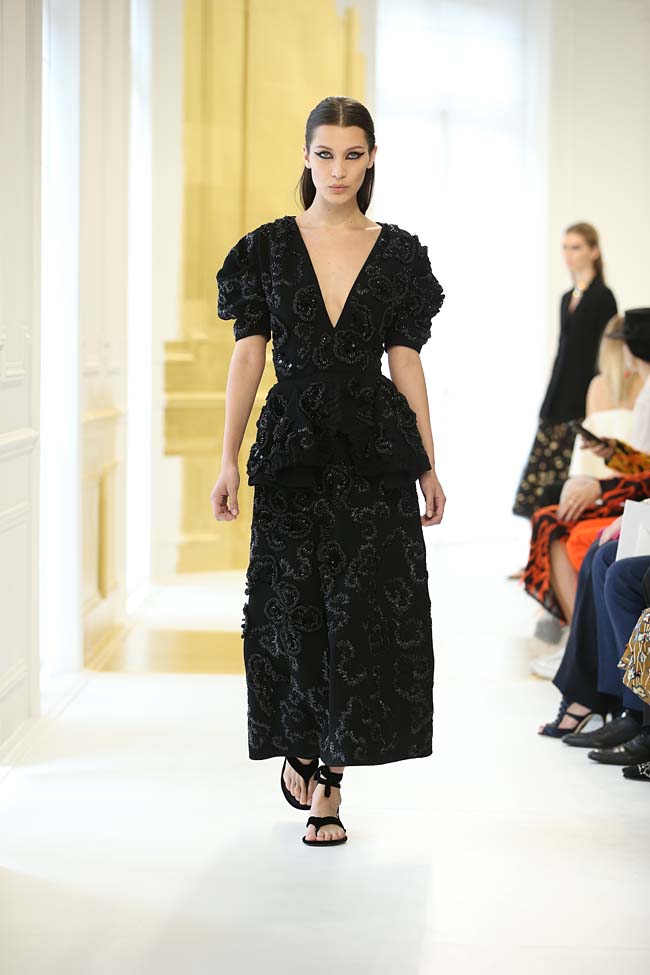 Dior Autumn Winter 2016-17 haute couture fashion show took place at the home of the couture label,
30, Avenue Montaigne
. Fittingly, the collection was inspired by some of Christian Dior's signature design fundamentals.
The collection revisited black and white as the "original palette", representing the contrasting combination of yin and yang of everything – masculinity and femininity, history and modernity.
As such, the collection is abundant in the juxtaposition of contemporary over classic elements. The strappy, open toe shoes are a far cry from the pointy-toe pumps we are used to seeing in so many of Dior's collections, almost reminding me of Valentino designs. And then there's the striking eye makeup – heavily lined eyes in kohl with an unmissable wing on either side. These two elements are rooted in history.
The silhouettes place emphasis on combining volume with structure – flared skirts with peplums, puffed sleeves and cinched-in waistlines of bar jackets. To me, black and white are the ultimate color palette because they represent purity and they suit all skin tones, all body types. They look sophisticated and rich. As the fashion show's description says, "Like a painting by Picasso when he chose monochrome over color to better focus on structure, the collection becomes a study in form and shape.
These are my two favorite looks from this fashion show. Both embellished, head-to-toe black. One is a mermaid-cut midi-dress with a gorgeous silhouette that accentuates the feminine curves with shoulders covered in sheer fabric, and silver/gold embroidery. The other is a black full-sleeved top worn with a black organza guipure and velvet silk skirt. I love the way the top is pleated and then combined with the sheer skirt with similar patterns.
The models wore no jewelry, which is a fresh take on outfits after seeing multi-finger rings, long chain necklaces and anklets in the previous couple of shows. Plus the collection description notes that here, the embroidery and embellishments on the dresses are "worn like jewelry".
This collection also brings two strong points – that black is the new black (and even the old black; frankly, no color ever took the place of black in fashion!) and the pairing of wool and silk outfits with open-toe shoes we would usually reserve for the summers. Now whether we actually wear them in the winter remains to be seen!
Dior Autumn Winter 2016-17 Haute Couture Collection: Gallery
Image Credits: Julia Perie (Christian Dior)
Shilpa Ahuja the editor-in-chief of ShilpaAhuja.com, which she founded with the goal of inspiring confidence in the modern working woman through fashion. Other than defining the direction of the magazine, she also writes about fashion & beauty trend forecasts, industry analysis, and opinions.
Shilpa's work has been published in the University of Fashion blog and Jet Airways magazine. She is also an artist, illustrator and cartoonist. She is also the creator of Audrey O., a comic series that represents the lifestyle of millennial women. She enjoys creative writing and world travel. Her art has been exhibited at Harvard Graduate School of Design and the Aroma Hotel, Chandigarh and been published in Chandigarh Times.
Originally from Chandigarh, Shilpa also has a degree in architecture and has worked in interior project management. She is also the author of the book "Designing a Chinese Cultural Center in India". Shilpa has a Masters in Design Studies degree from Harvard University.
For feedback and questions, please email [email protected]