Discover the latest trends in wedding sherwani for men. From Rohit Bal to Manish Malhotra, we've checked out the complete latest collections of menswear couture and ready-to-wear for this wedding season: Autumn Winter 2015-2016! And selected the best and hottest wedding sherwanis for the hot, hot Indian grooms!
It's that time of the year again, when fireworks light up the Indian skies! The Indian festive and wedding season is almost here, and that means lots of shopping for the brides and grooms, and even the wedding guests.
This year is a special one for the stylish grooms because so many Indian fashion designers came up with gorgeous men's designs in their collections. So if you are a groom-to-be, then congratulations on finally deciding to take the plunge! And without further ado, let's find out the latest styles in wedding sherwani for men and fashion trends for Indian grooms!
Style #1: Wedding Sherwani for Men: The Classics
Most designers included the traditional designs in their collections. These included brocade or silk sherwanis, plain or with paisley patterns paired with white or matching chooridar or pajamas. The latest colors in trend for 2015-2016 are wine, black, silver, navy, gold and burgundy. Some designs include velvet bundhgalas.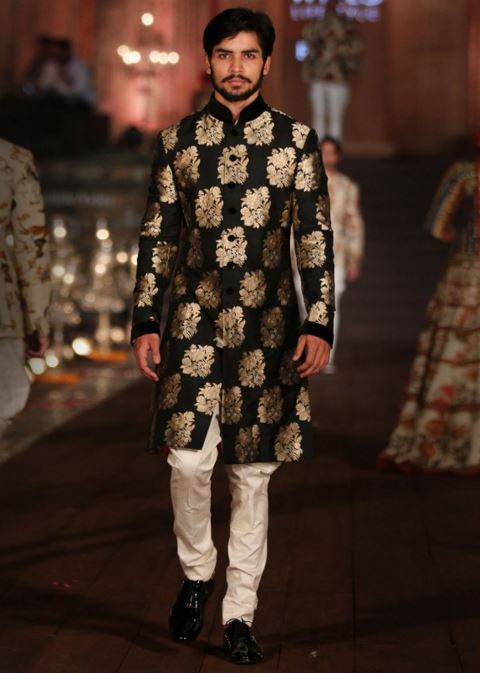 Style #2: Wedding Sherwani for Men: Plain Velvet and Velvet Details
Velvet is back in trend from last year. And this time it wants to be the center of attention. Lots of velvet was seen particularly in Manish Malhotra's collection, who designed plain velvet sherwani with gold button placket on front. Some designs also included a velvet yoke in a contrasting color. In Shantanu and Nikhil's collection, velvet was used in collars, duppatas or jootis (shoes).
Style #3: Wedding Sherwani for Men: Border Details
Sherwanis with contrasting and interesting borders are also very trendy. Both Manish Malhotra and Shantanu & Nikhil had designs with plain sherwanis that had bronze patterned borders.
Style #4: Wedding Sherwani for Men: Contrasting Dupatta
This is not a new trend. We've been seeing cream and gold sherwanis with red duppattas for years. But this year, duppattas have upped their game. Silk and velvet duppattas with gold borders or paisley patterns in a myraid of colors are very trendy, like purple, gold, scarlet, grey or pink.
Style #5: Wedding Sherwani for Men: Sleeve and Shoulder Embroidery
My favorite trend! Embroidery and embellishements only on the sleeves and shoulders is very trendy and looks great! It's the best way this wedding season to have understated style! This trend was seen in the designs of Manish Malhotra, Rohit Bal and Shantanu & Nikhil. Go for a plain sherwani that has gold or bronze embroidered sleeves or shoulders.
Style #6: Wedding Sherwani for Men: Unconventional Styles
This year, we saw a lot of gorgeous and unconventional styles in sherwanis. Some included bold botanical and floral patterns in embroidery in contrasting colors like red, olive green and sky blue. Some sherwanis were in unconventional colors like sea green and grape. Some had brocade patterned chooridars paired with plain sherwanis, and some had asymmetric designs inspired by double-breasted kurtas.
Style #7: Wedding Sherwani for Men: Broad Pants
Broad or flared pants are also very trendy this season. Pair them with traditional bundhgala sherwani or edgy designs like Rohit Bal's geometric pattern sherwani.
For Your Friends!
And here are some of the best selections for your friends, the best man or perhaps for you on the sangeet nights! The latest trends for wedding suits and evening jackets in menswear include embroidered front. Manish Malhotra's designs included matching resham embroidery on bundhgala or dinner jackets. They were paired with contrasting skinny or slim pants. Some of his designs also included plain velvet dinner jackets paired with skinny pants, including the showstopper outfit worn by Ranbir Kapoor for his AW15-16 show. Rohit Bal's designs included contrasting embroidery in gold on jackets open at the front. The trendiest colors include white, ivory, navy, black, burgundy, maroon and wine.
Shilpa Ahuja the editor-in-chief of ShilpaAhuja.com, which she founded with the goal of inspiring confidence in the modern working woman through fashion. Other than defining the direction of the magazine, she also writes about fashion & beauty trend forecasts, industry analysis, and opinions.
Shilpa's work has been published in the University of Fashion blog and Jet Airways magazine. She is also an artist, illustrator and cartoonist. She is also the creator of Audrey O., a comic series that represents the lifestyle of millennial women. She enjoys creative writing and world travel. Her art has been exhibited at Harvard Graduate School of Design and the Aroma Hotel, Chandigarh and been published in Chandigarh Times.
Originally from Chandigarh, Shilpa also has a degree in architecture and has worked in interior project management. She is also the author of the book "Designing a Chinese Cultural Center in India". Shilpa has a Masters in Design Studies degree from Harvard University.
For feedback and questions, please email [email protected]