Looking to wear good luck charms in 2016? Here's some of the best designer monkey fashion – from Gucci earrings to Valentino monkey jacket – shop not just for retail therapy but also for good luck this season!
2016 is the year of the monkey. And in this global village, if we are wearing Chinese fashion, doing up our homes with feng-shui, why won't we also let Chinese good luck charms enter our wardrobe? Plus our favorite design houses have come up with the cutest monkey fashion, and it's hard to pass up even if you're a non-believer! So let's take a look at our top picks in good luck charm fashion shopping!
Rebecca Minkoff 'Chinese New Year' Monkey Sticker Set & Clutch
Topshop All-Over Monkey Print Socks
Topshop Monkey Bag Charm
Monkey Mint Apple Watch band
Michael Kors Monkey Business Key Fob
Valentino Studded suede jacket
Topshop Monkey Print Cheeky Boypants
Kate Spade New York Chinese New Year Monkey Metro Watch
Marc Jacobs Monkey iPhone 6/6s Case
Gucci monkey earrings with glass pearls
Marc Jacobs Monkey Wallet
Salvatore Ferragamo Monkey and Jungle Print Scarf
Salvatore Ferragamo Red Monkey and Jungle Print Scarf
Markus Lupfer Monkey Ears Sequin Beanie
PJ Salvage Monkeys Flannel Pajama Set
Diane von Furstenberg Monkey Pendant Necklace
No 21 Bow Monkey-embellished satin mules
Christian Siriano Strapless Monkey-Print Cocktail Dress, Monkey
Christian Siriano monkey embroidered A-line skirt
Christian Siriano monkey embroidered blazer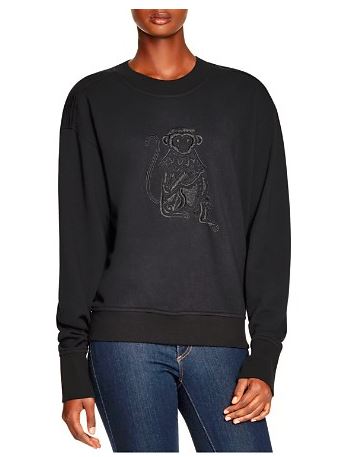 DKNY Monkey Sweatshirt
Harrods Chinese New Year Crescent Cosmetic Bag
Chinese New Year Monkey Charm
Aren't these cute?! Do you have a good luck item of clothing or accessory? And which one of these did you love the most? Lemme know! Comment below! Hope you have a 2016 filled with good luck! 😉
Muaah XOXO
Shilpa Ahuja the editor-in-chief of ShilpaAhuja.com, which she founded with the goal of inspiring confidence in the modern working woman through fashion. Other than defining the direction of the magazine, she also writes about fashion & beauty trend forecasts, industry analysis, and opinions.
Shilpa's work has been published in the University of Fashion blog and Jet Airways magazine. She is also an artist, illustrator and cartoonist. She is also the creator of Audrey O., a comic series that represents the lifestyle of millennial women. She enjoys creative writing and world travel. Her art has been exhibited at Harvard Graduate School of Design and the Aroma Hotel, Chandigarh and been published in Chandigarh Times.
Originally from Chandigarh, Shilpa also has a degree in architecture and has worked in interior project management. She is also the author of the book "Designing a Chinese Cultural Center in India". Shilpa has a Masters in Design Studies degree from Harvard University.
For feedback and questions, please email [email protected]