Dive into the cyberpunk and post-apocalyptic aesthetics and explore how to blend the futuristic, dystopian fashion into your personal style.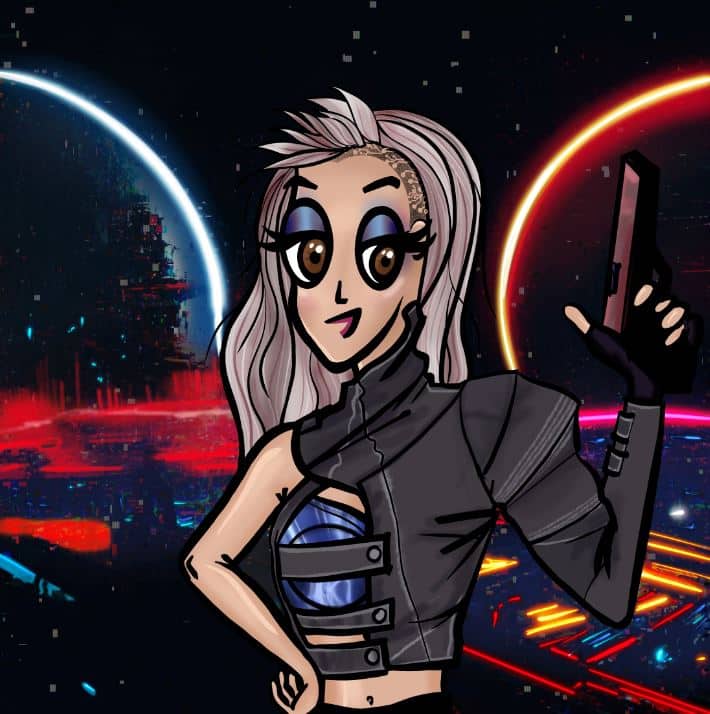 What is Cyber Punk and Post-apocalyptic Fashion?
Cyberpunk and post-apocalyptic aesthetics have been rising and falling since their emergence in the 1980s. We can loosely define this style as a blend of punk, futuristic technology, and a social commentary on what's to come. Owing its origin in the cyborg and sci-fi movies and games of the time, it has grown into multiple dimensions in the past years.
Ideally, cyberpunk and post-apocalyptic aesthetics would include fashion statements like leather-based ornaments, unique use of patterns and colors, and technological edges to clothing. The aim of this fashion is essentially to radiate a futuristic essence.
As we can notice, it is much louder than other mainstream fashion aesthetics and has a deeper philosophical meaning in its existence. Unlike the other aesthetics we encounter, cyberpunk and post-apocalyptic aesthetics creatively speak of and to the future.
The Difference Between Cyberpunk and Post-apocalyptic
In many aspects, cyberpunk and post-apocalyptic aesthetics are used almost as synonyms for each other. While their origin and essence might overlap, there is a distinct difference between these aesthetics. The primary contrast lies in the perspectives of the future.
Cyberpunk is a fashion aesthetic that paints the future as a world with intense technological advancement. This optimistic view allows the aesthetic to be colorful, bright, and flashy. What we witness in this aesthetic is the representation of a hyper-advanced society, as though straight out of a sci-fi movie.
Post-apocalyptic aesthetic on the other hand, as the name suggests, aims to recreate a dystopian society as a result of the current environmental depletion. The aesthetic incorporates more of a dusty image, with dark ashy shades accessorized with apocalyptic necessities like masks and protective gears.
Both the cyberpunk and post-apocalyptic aesthetics showcase how though they are similar in their motives, their perspectives and approach make them drastically different from one another. We also get to see that there lies an underlying message and reason for the aesthetic. The cyberpunk aesthetic aims to appreciate the global revolution and the advancement of technologies while the post apocalyptic aesthetic warns humans about the destruction that can befall.
The Emergence of Cyberpunk and Post-apocalyptic Fashion
The cyberpunk and post-apocalyptic aesthetics first came into play with the introduction of dystopian and sci-fi in art forms like literature and films, further fueled by the advent of the internet. The film adaptation of the novel "Do Androids Dream of Electric Sheep?" by Philip K. Dick into "Blade Runner" in 1982 is seen as the starting point of these aesthetics. Another influence of importance is Cyberpunk 2077, a virtual game that stands true to its name – radiating the theme of futuristic elements.
Akin to the emergence of several fashion statements, it's pretty natural for themes and aesthetics of other literary forms to translate into fashion, leading to the creation of a fashion trend. And as expected of styles, it evolves and transforms concerning its time. What was once an imitation or representation of the futuristic advancements of science and technology has now become its own style with a trendy monochromic edge.
The influence of many dystopian and sci-fi novels and films like The Matrix (1999), The Terminator (1984), Gattaca (1997), THX 1138 (1971), and many more continue to mend and shape the aesthetic and how it evolves as a fashion genre. To explore more recent influences that thrive on these fashion aesthetics, movies such as The Matrix Resurrections (2021) and the TV Show Westworld (2016) would be great examples.
The wardrobe and aesthetic presented here closely relates to the cyberpunk fashion that we witness currently. These films and shows have not just displayed a perfect representation of these aesthetics but have also influenced and inspired the aesthetic to evolve diversely.
Cyberpunk and Post-apocalyptic Dressing Guide
As all fashion statements go, there's no one way to interpret or execute this style. Cyberpunk and post-apocalyptic aesthetics have many dimensions and different ways of presentation. While some people prefer the heavy sci-fi and futuristic elements, showcasing the scientific advancement in the future, others like to accept the style that speaks of the apocalyptic and dystopian future that's to occur.
How to Dress Cyberpunk
To better understand the cyberpunk aesthetic, let's dive deeper into its essence. As the name suggests, this fashion aesthetic involves itself with the technological advancements and social developments of the future society. It incorporates a perspective that resembles a massive growth in the field of science and technology.
Contrasting Color Palette with Neons
Color palette takes quite an importance in defining this aesthetic, since it sets the primary tone of differentiating the two aesthetics. To best recreate the cyberpunk aesthetic, pairing black and dark shades with bright, neon colors is a great way. You can also try metallic shades and pair them with neons or black.
Your clothing palette should display a contrast combination of colors. While the ideal base color is often black, you can experiment further with colors like grey, off-white, and white and pair them with daring colors like neon pink, bright red, or a dashing green. Other colors to try are bright purple, teal, turquoise, bright green and cerulean blue.
Sci-fi Accessories
The accessories you choose for your outfit becomes essential to radiate the cyberpunk aesthetic. The essence of the aesthetic is to reflect the scientific advancement of our society. So choose technological or sci-fi accessories like neon light sabers, LED glasses, protective vests, and funky bags. These work well for a costume, but there are also options for creating everyday 'fits.
You can take it up a notch but including leather gloves, chunky boots, and silver geometric jewelry to give your cyberpunk fits a more classy dimension. What the two aesthetics commonly share is their base of utilitarianism. Hence, choosing accessories that speak functionality and utilitarianism with respect to cyberpunk is what we need.
Functional Futuristic Clothing
Similar to accessories, your clothing also calls for the utter need for utilitarianism and functionality. Hence, an ideal cyberpunk wardrobe would involve cargo pants, jackets with multifunctional pockets and zips, Also try
Fabrics play an important role in creating this aesthetic, so pay attention to those. Go for clothes of leather and latex fabric. You can also try faux metallic leather, cargo, black denim, polyester, knits and viscose.
With a goal to represent the wardrobe of sci-fi and futuristic films, using these movies as a source of reference can greatly help. For cyberpunk aesthetics, The Matrix Reloaded serves as a great model. We can see the main character, Neo, perfectly execute the aesthetic with his latex clothing, monochrome outfits, and ever-permanent sunglasses.
Similarly, in the movie, Ready Player One, the aesthetic reaches another step with the hi-tech bodysuits, virtual reality gadgets, and other futuristic features.
How to Dress Post-apocalyptic
When it comes to dressing for the post-apocalyptic aesthetic, though it's futuristic, the perspective is more dystopian; as in it looks at the future, not in its developments, but rather its destruction. As a result, the typical post-apocalyptic wardrobe would involve a more dull palette, including clothes in a ragged dimension, and with functional purposes. It often calls for multi-layering and uses protective gears or various kinds like swords, guns, masks, etc., for accessories.
Dusty Color Palette
The colors that comprise in your outfit plays a huge role in communicating this aesthetic. For post-apocalyptic aesthetic, it would be best to choose darker shades that you can mix and match with your outfits. Go for subtle pairings in post-apocalyptic outfits, instead of creating contrast.
Some ideal colors would be dark browns, greys, off whites, and obviously black. These colors works best with dull, dusty and pale color shades to pair in your outfit. You can also opt for a monochromic style where you layer clothes of shades of the same color, like pale green or dull grey shades throughout.
Dystopian Accessories
Accessories become a crucial element in constructing your postapocalyptic aesthetics, and akin to cyberpunk, this aesthetic, too, looks out for utilitarianism. However, another quality the accessories require is protectiveness.
Hence, you can accessorize your fits with ultraprotective masks, multifunctional boots, protective gears, duffel bags, gun slots, and secured eye masks. There are, of course, many levels to accessorizing, and the degree to which you'd like to build on your outfit depends on your personal style and fashion motifs.
Ripped & Survivalist Clothing
Obvious enough, the kind of clothes you choose is vital for your style to radiate the postapocalyptic aesthetic. And here, you can take loads of inspiration from what we see in dystopian films. If you're thinking cargo pants, leather jackets with multiple pockets, ripped knit tops, and clothes with numerous chains and zips, you've got it right.
The post-apocalyptic fashion is best represented in movies like Dune and Mad Max. These movies adopt a color palette that precisely represents the aesthetic, composing of dull and dusty shades like light grey, dull olive green, light beige, etc. What further develops the aesthetic is clothes with multipurpose zips and pockets, duffel bags, protective gadgets, and other accessories that radiate survivalism.
Personalization
Of course, all these things doesn't have to be copy-pasted into your style. You can create your own cyberpunk or post apocalyptic/ dystopian aesthetic by toning up or down the interpretation of accessories and clothes. Based on your preference for aesthetics, colors, accessories, and clothing, you can play around with these aesthetics to find what fits you the best.
It's also important to remember that cyberpunk and dystopian fashion are an umbrella to many styles. There are various degrees and ways to showcase these aesthetics, and you can never strictly define them. While some would want to go all out with gadgets, heavy accessories, and bulky clothes that resemble the gaming world, others might go absolutely minimalistic, sticking with just dark monochrome outfits and light add-ons.
After all, it is true that fashion can be very abstract and subjective. Once you've figured these out, all that's left is for you to blend them into a style that best defines your understanding of the cyberpunk and post-apocalyptic aesthetic. Now that we've looked at the basics of these aesthetics, let's dive into the brands and stores that showcase a perfect accumulation of these aesthetics.
Cyberpunk and Post-apocalyptic Fits on the Runways?
A lot of fashion brands have been recognizing the widespread market interest in the cyberpunk and post-apocalyptic aesthetics, motivating them to incorporate these styles in their collections. Due to this, the aesthetics which were once hard to find are more accessible to us.
But before we dive into that, let's have a run-through of the remarkable cyberpunk and postapocalyptic fashion collections, that have wonderfully exposed the aesthetics' dimensions.
Thierry Mugler's A/W 1991 collection that introduced molded jackets and latex bodysuits along with 20471120's, a Japanese brand, 1998 "Yikes" collection with its dystopian fashion really set the bar for these aesthetics. Of course, we can't leave out Dior A/W 1999 collection, which was inspired by the evergreen sci-fi, The Matrix (1999).
For a recent understanding of these aesthetics, Rick Owens' A/W 2014 "Moody" and Blackmerle's 2016-19 collection creates a unique and interesting representation of these aesthetics. Over the years, the aesthetics has grown more subtle but has evolved into a more intriguing segment of fashion.
Sites to Cop Your Cyberpunk and Post-apocalyptic Fits
To really step up your cyberpunk game, Cryoflesh comes in very handy. They've got an interesting range of clothes with a wide variety too. For a more dystopian vibe, Demobaza provides unique and high-end post-apocalyptic clothing. Their new collection SS22 and their collaboration with 'Dune' is quite outstanding.
Immoral Fashion is another great stop for your cyberpunk fits. Though they're a Gothic-based store, much of their products can neatly enter your cyberpunk closet. And if you're someone who prioritizes functionality, the Acronym is the stop for you. They're a luxury cyberpunk clothing line that showcases a great variety of functional clothing for your cyberpunk and post-apocalyptic fits.
If you're looking for more subtle and minimalistic looks within the cyberpunk and post-apocalyptic aesthetics then you find them at sites like Urbanic. However, to dive deeper into the style you can visit Etsy. They provide an extensive collection of both the cyberpunk and postapocalyptic styles that perfectly radiate these aesthetics. You can get everything from your accessories, clothes and other gears from there, and they've got quite some variety.
Another option you can go for is Ubuy; they've got a great variety in their pieces, with a good accumulation of the cyberpunk and post-apocalyptic styles. For further exploration, you can also check out these cyberpunk and post-apocalyptic fashion platforms: Plastik Wrap, Neurolab, The Dark Store, and Rebels Market.
Start exploring your aesthetic with respect to cyberpunk and postapocalyptic fashion and let us know what aspect of these aesthetics you found most interesting! And don't forget to tag us @shilpaahuja.com on Instagram when you share your dystopian/ sci-fi looks, make-up, nails, and whatnot, so we can 'like' your pics!
Also check out more aesthetics here:
Types of Fashion Aesthetics to Try Now!
Aishwarya Sai S. is Fashion Journalist at ShilpaAhuja.com. She's a Chennai-based writer who just graduated from Stella Maris College with her Bachelor's degree, majoring in English and Communication Skills. She's passionate about art, fashion, music, and literature; and loves to endlessly scroll through creative platforms that both inspire her and allow her to artistically express herself. Enjoying leadership roles and craving an active participation in the society, she's constantly searching for new experiences.