There is a fine line between freedom of expression and open disrespect. But who decides it? In this article, we have compiled everything you need to know about cultural appropriation in fashion.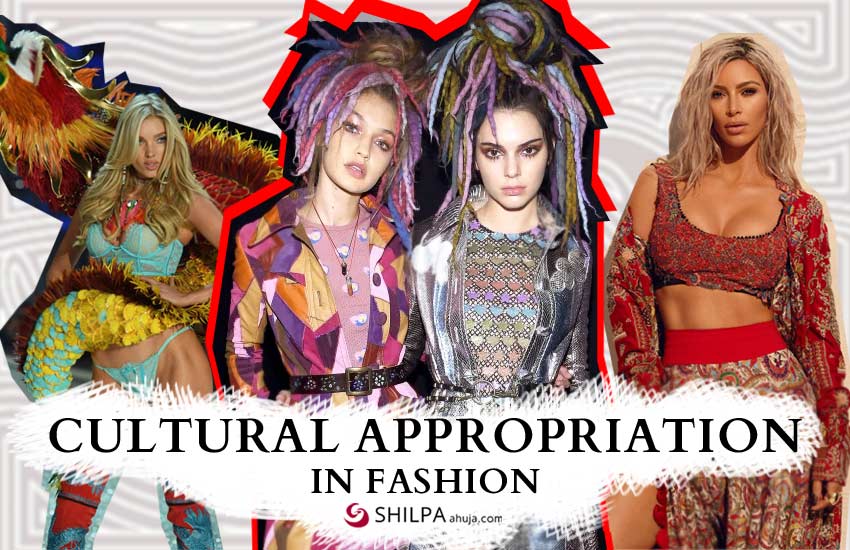 A designer must know the difference between paying respect and exploiting a culture. However, it is surprising to see mainstream designers constantly contributing towards cultural appropriation in the fashion industry.
If you may ask the definition, cultural appropriation in fashion refers to the use of elements of a non-dominant culture in a way that does not respect their original meaning or give credit to their source.
It is not something new but prevailing for decades. For instance, during the 17th century, English and French aristocrats adopted the three-piece suit from the traditional ensemble of Islamic countries. Similarly, English Regency era dandies adapted the Indian churidars into slim-fitting pants.
In 2011, Karl Lagerfeld, the late Creative Director of Chanel created the Paris-Bombay Metiers d'Art collection. Inspiration was taken from the aesthetics of India, saree-esque drapes, anarkalis, and salwar-kameez, sprawled across the runway. In addition, the predominantly white models walked in bindis, naths, maang-tikas, hath-phools, and dreadlocks. However, no one objected to the show. It is not because Chanel did not offend people, but because minority groups did not have a voice back then like they have now. Indeed with the help of social media, minority communities can now express their long-held concerns and feelings.
From Gucci selling $800 turbans on their website to Kim Kardashian's so-called "exotic" fashion choices, scroll through some of the most questionable cultural appropriation moments captured in the fashion industry in recent times.
Cultural Appropriation in Fashion Shows
Each fashion week, the legacy of luxury giants adopting minorities' culture resurfaces. We have compiled a list of designers that frequently seem to feature appropriated culture in their collections.
1. Marc Jacobs
When it comes to Marc Jacobs, cultural appropriation in fashion shows is nothing new. He is constantly under the spotlight for his serious affair with appropriating cultures. The Spring/Summer 2017 show featured mainly white models like Karlie Kloss, Gigi and Bella Hadid, Kendall Jenner swarmed across the runway in faux dreadlocks hairdo. Most likely, Marc was unaware that black women get fired from jobs and discriminated against at work for wearing their ethnic styles, including dreadlocks. It caused havoc on the internet as the upset communities called out the designer for using their lifestyle as a trend.
Not even a year later, the designer made another blunder at his Spring/Summer 2018 show. This time it was the head wraps, again, on white models. Viewers were quick to call him out, as the hairstylist for the collection cited the 70s as the inspiration but made no reference to the head wrap's origins. To clarify, head wraps have served as a uniform for the collective identity of millions of enslaved women.
2.  Gucci
One of the infamous examples of cultural appropriation in fashion is when Gucci was under fire for listing Indy Turban for $790 as an accessory on their website. The product debuted during Gucci's Fall 2018/2019 runway on multiple white models, antagonized the members of the Sikh community. Later, they expressed their frustration over the product by explaining that the Sikh turban is not a hot new accessory for sale but an article of faith for those who practice Sikhism.
Certainly, it was easy for Gucci to put Indy Turbans on the ramp and sell them as a hat. However, many Sikh men and women around the world face violence and mistrust for wearing them.
3. Victoria's Secret
Next, where do we even begin with Victoria's Secret? The grand fashion show featuring angel wings, bedazzled lingerie with no plus-size representation, often engages in cultural appropriation that leaves us shaking our heads in dismay.
2010: Wild Things
During their show in 2010, models donned animal print lingerie surrounded by men in sarongs and skirts. All the models both male, and female, were covered with black lines and other patterns. By the way, it was supposed to represent indigenous body art.
2012: Calendar Girls
Similarly, during the 2012 show, angels walked the ramp to represent a month of the year and a holiday associated with it. Karlie Kloss walked down the runway wearing a feather headpiece with suede fringe, leopard-print lingerie for November to represent Thanksgiving. Hurt communities expressed their anger and called out Victoria's Secret for glorifying the genocide that indigenous people suffered.
2016: Road Ahead
Again in their Road Ahead segment of the 2016 show, designers drew inspiration from traditional Chinese prints to create flowy capes, thigh-high boots, oversized jackets, traditional jewelry, headdresses, and halter-neck crop tops. Chinese viewers took their anger to social media. They bashed the show for using traditional prints in making lingerie. Also, using a fully feathered dragon that represents good luck, strength, and health in Chinese culture as a prop wrapped around Elsa Hosk's torso.
Cultural Appropriation in Fashion Magazines
1. Vogue Arabia
In March 2017, Vogue Arabia launched their very first issue featuring a veiled Gigi Hadid. The much-awaited launch provoked cries of cultural appropriation from the audience. They expected a woman more relevant to the Middle East community on the cover. Muslim women across the globe face violence, hate, and discrimination for wearing a hijab. Consequently, fans called out Gigi for using hijab as a mere fashion accessory for the shoot.
2. Harper's Bazaar China
Singer, songwriter and business mogul Rihanna posed for Harper's Bazaar China August issue in 2019. She appeared in a vibrant blue gown with pleated, avant-garde sleeves, a hairstyle like that of traditional Chinese style, eyebrows blocked, and lips painted red just at the center. As a result, it garnered mixed reactions from the audience. While some Twitterati accused her of appropriating Chinese culture, others called it an appreciation of culture.
Harper's Bazaar China shared images from the shoot on their Instagram handle and revealed the concept behind the cover. It was a western-style icon-meets-eastern aesthetic. In this case, it was not cultural appropriation because the entire team behind Harper's Bazaar China was Chinese and was credited in both Rihanna and Harper bazaar China's Instagram post.
Cultural Appropriation at Music Festivals
Coachella
The Coachella Festival is an annual music and arts festival held in California. Festival-goers and celebrities often dress in bindis, feathered headdresses, cornrows, henna tattoos, and war paints for "Coachella lewks" for Instagram likes. For the most part, these looks are drawn from someone else's culture with no regard for their historical significance.
Cultural Appropriation in Music Videos & Performances
1. Hymn For The Weekend- Coldplay ft. Beyonce
British rock band Coldplay's Hymn for the Weekend music video has now surpassed over one billion views on YouTube. Filmed during the festival of Holi, Chris Martin traveled through the narrow streets of Mumbai in a tuk-tuk. As a result, a handful of people described it as appreciating our culture, many of them accused it of cultural appropriation because of the stereotypical depiction of India as a country of narrow lanes, Sadhus, elephants, and snake-charmers.
Perhaps the band could have immersed themselves in Indian culture and paid homage without dressing Beyoncé in a traditional ensemble. Above all, Queen Bey did not even travel to India for the shoot.
2. Come and Get it- Selena Gomez
In 2013, Selena Gomez performed Come & Get It at MTV Movie Awards. She made her entry in a veil, donning a bindi as an accessory for her performance. In addition to bindi, she also incorporated a little Bollywood dance routine into her choreography. Offended Indian fans expressed their disappointment on the internet. Indeed, bindi is not to be casually adorned for indecent performances or as a fashion accessory.
Cultural Appropriation in Fashion by Celebrities
1. Kylie Jenner
The youngest sibling of the Kardashian-Jenner "Klan" has always been in the news for various reasons. Last year, Twitter users accused Kylie of cultural appropriation. She posted a picture from an old photo shoot where her platinum blonde hair was styled in twists (a protective style in the African-American culture). Eventually, Kylie deleted it from her Instagram after receiving backlash.
2. Kim Kardashian
Recently, Kim Kardashian posted a few pictures from her latest campaign for her brand KKW-Beauty. Fans accused her of misappropriating religious symbols by sporting Om earrings. Users took their anger to Twitter and explained that Hinduism is not an aesthetic. In the meantime, it isn't the first time users accused her of appropriating Indian culture. In 2019, Kim shared a picture where she styled a maang-tika (traditionally worn by brides) with a crop top and a skirt.
How to Do it Right?
Even though it is a simple notion to grasp, many people still believe that the ability to express themselves in henna stickers and Amazon-bought bindis is more essential than considering the culture they are stealing. We can avoid cultural appropriation in fashion if designers and celebrities embrace the history behind their inspiration. Also, they must work with the artists from the said community and give them due credit. For instance, take a peek at a couple of cultural appreciation moments captured in the fashion industry.
1. Christian Louboutin x Sabyasachi
In 2017, Sabyasachi Mukherjee and Christian Louboutin teamed up to create a limited-edition collection of shoes and bags, namely "Candy Store" for men and women. Classic Christian Louboutin styles were reinterpreted and handcrafted in the most exquisite silk fabrics embellished with zardozi from Sabyasachi's collection. Truly the shoes and bags were each of a kind and made-to-measure.
2. Kim Kardashian West x Vogue India
In 2018, Kim Kardashian appeared on the cover of Vogue India and wore various traditional Indian ensembles custom-made by some of the top Indian designers like Anita Dongre, Sabyasachi Mukherjee, Anamika Khanna, and more. Moreover, Anaita Shroff Adajania, Fashion Director for Vogue India, styled each look.
To summarize, it is not difficult to avoid cultural appropriation in fashion. Fashion is all about creativity. Our travels, and foreign experiences always positively impact creativity. But fashion designing is also a responsibility, especially when you have the opportunity to educate your community about another community that has been oppressed in the past.
Therefore, the persistent stealing of cultures means one of two things: either designers and celebrities do not know, or they do not care to know. What is your take on this? Let us know your thoughts by commenting below or tweeting @shilpa1ahuja.
Akarshi is a Fashion Journalist at ShilpaAhuja.com. She has completed her bachelor's degree in Fashion Design from Amity University, Mumbai, and is originally from Mumbai itself. Prior to ShilpaAhuja.com, she worked with an e-commerce fashion brand where she interned as a fashion designer and also led the social media marketing team for the company. She loves fashion, blogging, sketching, baking, and traveling. When she's not writing, she loves to read about astronomy.