From the different braiding patterns to spectacular crochet hairstyles, here's everything you need to know about crochet braids!
When it comes to hair color and hairstyle choices, we all know that the options are endless. From fun ombre and balayage hair to afros, braids and twists, picking a hairdo is no easy task! I'm sure we've all dreamed of having sleek straight hair, perfect waves or being curly haired at some point. But with these beautiful hair looks, come lots of heat, hair loss, damage and other such issues.
Enter crochet braids! You can now have any hairstyle and hair color of your choice, all without touching your original hair! Plus, they look so much more realistic than hair wigs. So check out some beautiful crochet hairstyles pictures below!
Crochet Hair Styles
Crochet braids are a type of protective hairstyle wherein the natural hair is braided into different patterns, after which synthetic hair is crocheted into it. This technique is also called as latch hook braids as a latch hook or crochet hook is used to weave in the synthetic extensions. So let's check out some cool crochet hairstyles!
The reason most women prefer to not color their hair is because of the toll it takes on their locks. But now you can have different hair colors and change them up according to your mood, all without damaging your tresses! Try bold colors, cause this is honestly the best way to do it! Or colored curls with cornrows peeking out is a popular crochet braid hairdo. Or try trendy balayage or ombre highlights.
From afros and tight ringlets to loose curls, there are many crochet hair styles to choose from.
It doesn't always have to be just about curls. You can go for some sleek & straight crochet styles or some waves!
Get a li'l creative with some fancy senegalese twist braid styles, box braids and marley hair crochet braids!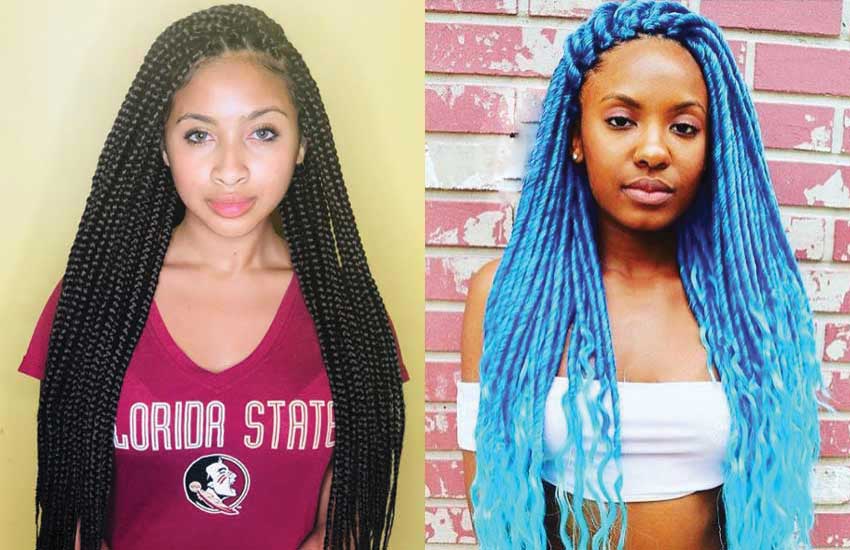 Also read: African Hair Braiding: Fascinating Styles & Different Types of Braids
Braid Pattern for Crochet Braids
The braids are the most important part of crochet hairstyles. They provide the foundation for whatever look you're going for. The braids can be of different sizes and spaced apart at different lengths based on the volume you want in the end hairstyle. So here are some common crochet braid patterns that you can DIY at home or get done at a salon.
1. Straight back crochet braids pattern
2. Twist crochet braids
3. Beehive crochet braid hair pattern
4. Micro braid crochet pattern
Invisible Part Crochet Braids
Sometimes, when you're rocking a crochet hairstyle, the braids underneath show and it's not always a good look. Unless you're going for the peeking-out crochet braided hairdo. One trick to having crochet hair that looks natural and like it's growing out of your scalp is to crochet hair extensions to your real hair leading up to the the braid and not the braid itself. I've seen plenty of beauty and hair gurus do this on YouTube and it makes all the difference!
Crochet Braid Pattern for Ponytail
For ponytails and updos, the most ideal foundation would be a spiral or beehive braid pattern. These kind of patterns help to hold a pony the best. But if you're aiming for a ponytail look with visible braids leading up to the pony, divide your hair into four halves, braid regular cornrows and crochet at the center.
Other cool ideas to try are twisted ponytails and glam updos and ponytails with beads and accessories.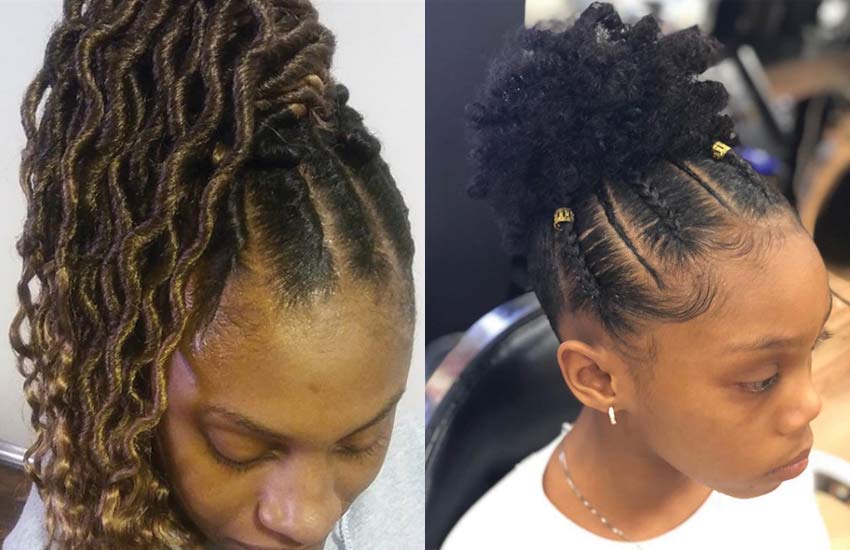 Wet and Wavy Crochet Hair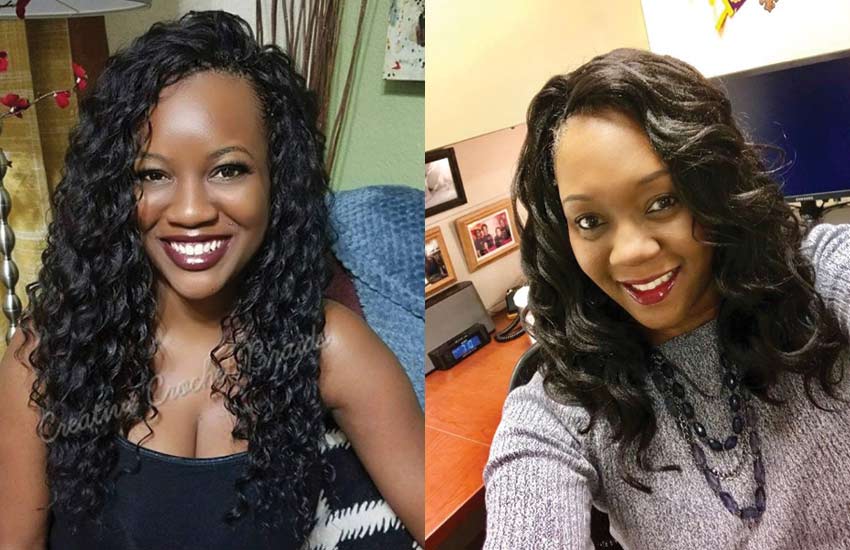 No more hours and hours of styling and mousse and fixing spray to achieve that beachy wet hair look. You can now get hair extensions with the wet and wavy effect. This look works great with both excess volume and less volume. Do what works best for you!
And of course, wet kinky crochet curls look just as great too!
Crochet Braids in a Bun
You can't ever go wrong with a classic bun. And what better hairdo than these crochet braids in a bun for the hot sweaty summer months?!
So that was our guide on crochet braids! Which of these DIY crochet braids were your favorite? Tell us by tweeting @shilpa1ahuja!
Image Credits: Instagram
Also read:
– Crown Braid Black Hair Designs for Your Mesmerizing Insta Pics!
– 11 Fringe Hair Cuts & Styles to Try That'll Give You a Makeover!
– 50 Easiest Curly Hairstyles & Haircuts for Long Curly Hair
– Hair Extensions: All You Need to Know About Different Types & Trends
Nishita is a Staff Writer/ Journalist at ShilpaAhuja.com. She is a graduate of National Institute of Fashion Technology and has a degree in leather design. A lover of all things fashion, she writes about everything from beauty, hair and lifestyle to fashion trends and how-to's. Her area of expertise is outfit ideas but being fresh out of college, she also loves writing about college fashion. Her new found love of baking is currently taking over her life, making her write about all things chocolate and easy recipes. With a flair for sketching and a great eye for detail, she's previously designed leather garments for brands like Diesel and Salsa. When she's not writing, she's busy reading extremely sappy Nicholas Spark's novels, sewing clothes and listening to some indie rock. Also super passionate about photography, she loves portraits and wildlife photography – a habit turned love that formed with the amount of traveling she did as a teenager. As a girl who grew up with books and movies like Pride & Prejudice, her love for period fashion is huge. And being curly haired, she's always on a constant hunt for solutions to problems that come with having ringlets and loves sharing them with people through her articles. For feedback and questions, email [email protected] or connect with her on twitter @ni95.