An interview of J.K. Rowling was just released about the upcoming movie Fantastic Beasts: Crimes of Grindelwald, and she revealed some major plot points we were already speculating. Discover the Crimes of Grindelwald theories she confirmed and what we're yet to find out!
Hey everyone! The premiere of Fantastic Beasts: Crimes of Grindelwald is less than a month away, and as a Harry Potter/ Wizarding World fan, I couldn't be more excited! The upcoming film is a sequel to Fantastic Beasts and Where to Find Them, and is written by J.K. Rowling as sort of a prequel series to Harry Potter. Set in the same fictional universe, the series will explore the life of Albus Dumbledore, and how he defeated Gellert Grindelwald, world's most powerful dark wizard after Voldemort. This saga is really, as JKR says, about, "How Dumbledore became Dumbledore."
The final trailer has already been released and analyzed over and over. Also, a small interview with J.K. Rowling and some of the main cast members was just released two hours ago as I started writing this article. JKR discussed the basic setup of the film and in the process, confirmed what fans have already been speculating since the trailers.
So, today, let's go over what we know about Fantastic Beasts: Crimes of Grindelwald. Let's  review some of the plot points and Crimes of Grindelwald theories Joe just confirmed, as we gear up for the movie to release!
J.K. Rowling Confirms Some Crimes of Grindelwald Theories
1. Grindelwald Escapes Prison in The Beginning of the Film
This seems like the early premise of the film, and that it will set the film's events in motion. The villain already foreshadowed his escape in the climax scene of Fantastic Beasts and Where to Find Them with what he said to Seraphina Picquery after his arrest, "Do you think you can hold me?" And the trailers show him escaping in the rain, on a thestral driven carriage.
This was also confirmed by Pottermore, and J.K. Rowling just confirmed, "Grindelwald's been in jail in New York for a few months," in her interview. She added, "And, inevitably he escapes." We also know that this will be one of the very first scenes of the movie, since the movie's soundtrack has been released and it lays out the names of the tracks, the first one being, "The Thestral Chase".

2. Grindelwald Has a Large Following Already

The antagonist is not alone. That much is clear. We see him making a speech to a large gathering in the trailer. Eddie Redmayne who plays Newt Scamander added to this premise, saying, "There is a new threat as Grindelwald mobilizes."
3. Credence Survived
This one's obvious, since we see him in several scenes throughout the trailer, and Ezra Miller, who plays his character, has been on the film's promotional tours and interviews. Again, J.K. Rowling also confirmed this yesterday, which brings us to our next point…
4. Credence is Looking for His Identity & is Related to the Lestranges
Joe added, "For Credence, the big question now is…". After this, the interview cut to a scene from the film, with Credence saying to Nagini, "I wanna know who I am."
We already got this clue from the early poster releases, which the tagline, "Searching for identity," on Credence's poster. We do see a family tree in the trailer, drawn on the wall of what looks like a sewer. Also, new character Yusuf Kama is staring at it. The family tree shows Credence Barebone below Corvus Lestrange. Additionally, it shows that his real name is also Corvus Lestrange, and he's also a half-brother to Leta Lestrange, who has a romantic history with Newt.
I'll give credit to Super Carlin Brothers for working out the pixelated font in the family tree!
5. Grindelwald Knows of Credence's Identity & is After Him
We see Grindy is after Credence because he says, "The path that he's following, the trail that will lead him to me," as he stares at a vision/hologram of Credence. This also makes me assume that he already knows that Credence is looking for his family origins, and that he knows of them.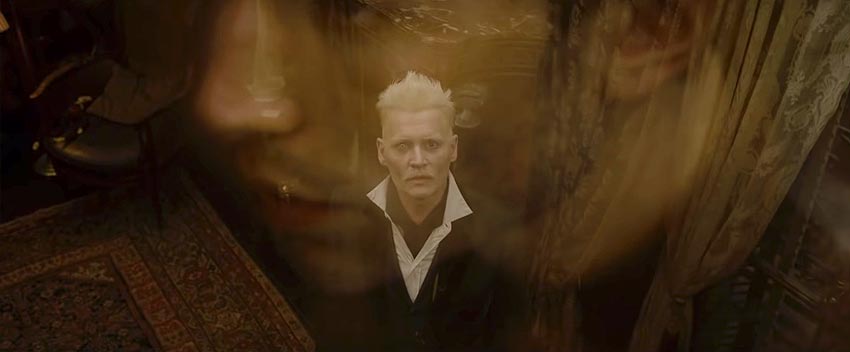 That's why he's so certain that Credence will eventually be led to him. Is he related to the Lestranges, too? Afterall, we do see him in what's called as the Lestrange Mausoleum, in one of the new Entertainment Weekly posters, while he gives his speech to his followers.
6. Credence is the Reason Everyone Goes to Paris
At least, many of the characters. J.K. Rowling confirms, "The reason everyone goes to Paris, really, is Credence," in her interview. We also know that Albus Dumbledore sorta instructs Newt to go to Paris as he gives him the address of a safehouse there. We now know he sends him there to look for Credence. Dumbledore adds, "Credence may not know who he is yet, but he needs to be found. So I rather hope that you may be the one to find him." And I guess we can also assume that Tina is also searching for Credence, as she goes to Paris. We do know for sure that at some point, Newt is looking for Tina in the film, as one of the soundtracks released is titled, "Newt Tracks Tina."
7. Newt is Sort of "The Chosen One"
The trailer and all of the news surrounding the movie acknowledges that Newt has to be the one to move against Grindelwald while Dumbledore can't. We don't know why, and it seems we won't even find out in the upcoming movie. Newt asks Dumbledore, "Why me?" in the trailer.
JKR was even questioned by Twitter [email protected]_callmetommy_, "Wait so even experienced aurors can't take Grindelwald down but Dumbledore expect a magizoologist who got expelled from Hogwarts to do it?" [sic]. And to this, JKR replied, "I could write you an essay in response to this, but it would give you the whole plot of the Fantastic Beasts franchise, so not going to…"
Sometimes we do think that the trailers reveal too much, and confirm too many Crimes of Grindelwald theories. For us, Joe said that whatever we think we know, the end of the movie might be a surprise for us fans. Hmm, so the movie is still hiding some secrets, that's good!
So, do you have any of your own Crimes of Grindelwald theories? Lemme know below, or tweet me @shilpa1ahuja!
Muaah 🙂
Shilpa Ahuja the editor-in-chief of ShilpaAhuja.com, which she founded with the goal of inspiring confidence in the modern working woman through fashion. Other than defining the direction of the magazine, she also writes about fashion & beauty trend forecasts, industry analysis, and opinions.
Shilpa's work has been published in the University of Fashion blog and Jet Airways magazine. She is also an artist, illustrator and cartoonist. She is also the creator of Audrey O., a comic series that represents the lifestyle of millennial women. She enjoys creative writing and world travel. Her art has been exhibited at Harvard Graduate School of Design and the Aroma Hotel, Chandigarh and been published in Chandigarh Times.
Originally from Chandigarh, Shilpa also has a degree in architecture and has worked in interior project management. She is also the author of the book "Designing a Chinese Cultural Center in India". Shilpa has a Masters in Design Studies degree from Harvard University.
For feedback and questions, please email [email protected]