From hilarious to ridiculous, here are the best Coronavirus memes to get you through your day. Plus, we share the funny and totally relatable ways people in quarantine are spending their time. I'm sorry, earth is closed today.
Coronavirus – yet another problem 2020 has thrown at us, the biggest one we've seen in decades. And while healthcare workers are working overtime, governments and workplaces have taken drastic steps to reduce the local transmission rates. A handful of countries have nation-wide lockdowns, while many have region-wide lockdowns. Countless workplaces around the globe have asked their employees to work from home, and many schools and universities have closed indefinitely.
To know more information & see live stats in our country, please visit our Coronavirus dashboard.
Coronavirus Memes: Quarantine & Chill
And when people are at home – what do they do? Of course, the answer is always memes! On Twitter, we're seeing all sorts of ways people are spending their time in self-isolation and quarantines. People from all over the world are sharing funny and beautiful things. Some are missing socializing, while others are biding their time away as their workplaces have shut down.
Let's take a look at our top favorite picks, which are guaranteed to make you laugh, cry, say awww (or in case of the last one, even feel disgusted!).
Note: Currently, we're having some trouble playing the embedded Twitter video memes on desktop. They're working perfectly fine if you visit this page on your mobile phones though.
We Always Knew Umbridge in the Harry Potter Series Represented Something Else. She just wasn't Human.
We Aren't a Very Smart Species Afterall
We thought we'd get work done if every event gets cancelled. And yet, here we are – sleeping, eating all our quantine snacks in the first 48 hours, and deciding which side of the couch to sit on.
Quentin Tarantino, Tentin Quarantino

If You Really Wanna Be Safe
It's called living in a bubble.
Parents are Having a Hard Time
Don't worry, memes will help them get through the difficult time.
Fashion During the Coronavirus Era

Coughs are a Stigma

When Corona has the Corona Virus
2020 is Nothing Like What We Hoped It'd Be
Socializing During Corona Virus
Extroverts find a way to hang out with their friends. Just like introverts find a way to stay quiet even during parties.
This is What I Think My Brother is Doing
His work-from-home days start today, and his wife has gone to live with her parents for a few days (with his kids). ShilpaAhuja.com reached out to him for an official statement. He neither confirmed nor denied when I sent him this gif, asking him if this is what he's up to.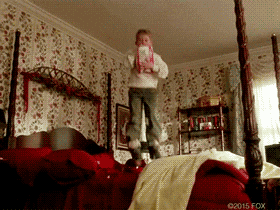 Creative House Parties
Oh they still party in Italy, who said you have to be in the same room to party with one another?
Fourth day of quarantine in Italy: italians dancing and singing to macarena in their balconies pic.twitter.com/SpXgbV2F0V

— valeska (@iatemuggles) March 13, 2020
A pianist and saxophone player make the most of home quarantine and spread some positivity in the neighborhood.
This the type of energy we need right now (and UBI)

Piano: Alberto Gestoso @albertogestoso on IG

Sax: Alexander Lebron Torrent
@alexlebrontorrent on IG#Italy #CoronaVirusChallenge #CoronavirusOutbreak pic.twitter.com/2s7ryxqWZz

— Mike Allen 🧢 (@mikeallenfpv) March 17, 2020
Time to Take Out Your Most Ridiculous Halloween Costume
Dinosaurs had to take out trash when an asteroid headed to the earth, and they take out trash when Coronavirus engulfs their planet. The T-Rexes are responsible citizens. Be like the T-Rexes
The most exciting part of the day when in #QuarantineLife #CoronaVirusChallenge pic.twitter.com/tAT6RijrPM

— RALPHtheREX™ (@RALPHTHEREX) March 17, 2020
You're my only hope, Stormtrooper hemlet.
The mask…😷#Coronavirus #CoronaVirusChallenge #COVIDー19 #Covid_19 #Covid19 pic.twitter.com/m9eLJ05oyI

— MatMonde (@MatMonde_) March 15, 2020
What to Do When You Are in Quarantine
This is one of the most popular Coronavirus memes. Only if there were enough cars on the road for the sock-puppet to eat…
This is what people are doing in quarantine😂😂😂😂💥💥#CoronaVirusChallenge pic.twitter.com/cEEkDBtZ8M

— RYCKYLAZE® (@ryckylaze) March 16, 2020
No One Needs that Much Toilet Paper, Says Who?
And you thought people are hoarding toilet paper to wipe their asses? Lol, you clearly don't understand humans as well as you think you do.
Quarantine Day 12:#stayhomechallenge #QuarantineLife #WuhanVirus #CoronaVirusChallenge #ChineseVirus pic.twitter.com/8gimP6smtf

— B. Machiavelli (@machiavelli_b) March 17, 2020
That's the Only Corona We Need in Our Lives
They say quarantine can be a positive time. A time to learn new skills. Perhaps these Coronavirus memes can inspire us while making us laugh.
Stay at home. Learn a skill#CoronaVirusChallenge pic.twitter.com/8VXABlE3lP

— Rory Preddy🥑 (@rorypreddy) March 15, 2020
Finally, We Find Time to Make Our Assignments Pretty
No more dates, no more drinks with friends, no more pointless meetings with our TAs and professors…
day 3 of quarantine: start writing my essay pic.twitter.com/8JnRtBvoLO

— umam (@hotmanpairs) March 17, 2020
Lonely Parties
I wanna party…
Me in my room day 3 of the quarantine cause i just wanna rave 😢 pic.twitter.com/lzVPyimVcw

— Baby ♡ 🔜 My Bed (@meganhelenaa) March 17, 2020
Virtual Dating
People's dating lives are getting reduced to the digital world. Thank god I'm married, otherwise I'd content myself with just movies and TV shows…
The corona virus got me and the homie meeting on virtual reality games #CoronaVirusChallenge pic.twitter.com/9bHAdIDPJI

— jesenia (@notwaiifu) March 18, 2020
Home-Alone Instrumental
Some are getting creative, this one has created a whole instrumental by mixing up alone-at-home noises! Sound on!
Day 6 of the quarantine. pic.twitter.com/BpCWCdrfi7

— jamie (@gnuman1979) March 15, 2020
Homouflage
It's easy to feel lost and without purpose. We don't go to work just for the money. Runs deep, this one…
This is how I feel in my house today. Day 6 of the quarantine. pic.twitter.com/IAGpnNTIXt

— Giulia (@giulianovali) March 13, 2020
The Streets Are Yours to Dance on
This looks like South Africa, even the attitude does! Coronavirus memes have to include songs about the epidemic. The song will be stuck in your head all day. You're welcome.
Mood 🦠🦠🦠#CoronaVirusChallenge #QuarantineChallenge https://t.co/OL64UP63Hf pic.twitter.com/QcR1COt1FT

— GMACCASH (@GmacCash) March 18, 2020
Extroverts are Having the Worst Time
Now do you understand how we introverts feel when you force us to go to parties? Kill me now!
Day 3 of quarantine #coronapocolypse #lol #QuarantineAndChill pic.twitter.com/jz00Z7q0vg

— birke (@Brieftaube6) March 16, 2020
Remembering the Time We Actually Used to Get Bored
Someone on Twitter has taken out his hand-held video game collection. Ready to play tetris?
day 6 of quarantine: had to whip out the collection pic.twitter.com/ih2L8MBCFG

— b (@BaileySchloer) March 17, 2020
Here's one more… Ooh! Even I should do that. Wait, no. I already have a home-office…
day 7 of the quarantine: pic.twitter.com/mn8isrcIPx

— 🅱️en (@BenNoClout) March 17, 2020
How Not to Waste Your Time
This one is too much!
Day 4 of quarantine pic.twitter.com/t9DxoSz2e6

— madame communism: warlord (@darthmewwww) March 17, 2020
Some teenagers have recklessly created an unhygienic #CoronaVirusChallenge, which involves licking public toilet-seats in a really stupid effort to show they don't care about their well-being. Here I am washing my hands incessantly and not even as much as going out, and here are some who think they're invincible (I value my life, thank you).
When an airborne virus pandemic isn't enough for dumbass millennials, they'll add dysentery to the list. #CoronaVirusChallenge pic.twitter.com/LZO5jaXcZt

— Ian G Haworth (@ighaworth) March 15, 2020
Which are your personal fave Coronavirus memes? Share with us on Twitter @shilpa1huja and let us have a laugh too. We all need it at a time like this.
Shilpa Ahuja the editor-in-chief of ShilpaAhuja.com, which she founded with the goal of inspiring confidence in the modern working woman through fashion. Other than defining the direction of the magazine, she also writes about fashion & beauty trend forecasts, industry analysis, and opinions.
Shilpa's work has been published in the University of Fashion blog and Jet Airways magazine. She is also an artist, illustrator and cartoonist. She is also the creator of Audrey O., a comic series that represents the lifestyle of millennial women. She enjoys creative writing and world travel. Her art has been exhibited at Harvard Graduate School of Design and the Aroma Hotel, Chandigarh and been published in Chandigarh Times.
Originally from Chandigarh, Shilpa also has a degree in architecture and has worked in interior project management. She is also the author of the book "Designing a Chinese Cultural Center in India". Shilpa has a Masters in Design Studies degree from Harvard University.
For feedback and questions, please email [email protected]