Sakura tattoos have been taking the world by storm lately. From what each color tattoo means to plenty of designs, this article will make you want to get a cherry blossom tattoo for yourself!
Cherry blossoms hold so much meaning within them, I can't see why any girl wouldn't want to get them inked. What started out as a prominent part of Japanese and Chinese cultures is now a popular choice of tattoo amongst women. Tattoos will stay with you to the ends of life and what better than getting one with full of meaning to keep you motivated and inspired at all times!
Cherry Blossom Tattoo Meaning
Popularly known as sakura in Japan, this flower stands for beauty, delicacy of life and renewal. Cherry blossoms bloom during the springtime and wither and die within two weeks of their blooming. They signify that no matter how beautiful and spectacular life is, it's short-lived. It's for those who appreciate change and know that nothing lasts forever!
Different Cherry Blossom Tattoo Designs
From watercolor tattoos to line work and miniature ones, there are plenty of trends in  cherry blossom tree tattoo designs. Check them all about below!
Japanese Cherry Blossom Tattoo
Cherry blossoms with some Japanese phrase or word of your choice or along with traditional symbols like yin yang, a Japanese hand fan or koi fish. Chinese cherry blossom tattoos along with mandarin text are huge too.
Minimalist Sakura Tattoo
A simple cherry blossom line drawing or a colored cherry blossom tattoo with falling petals are good ideas for a minimal sakura tree tattoo design. You can keep it monochromatic, too.
Branch Tattoo
Cherry blossom tattoos look all the more realistic when they have branches. Try a thin, tiny branch or a thick branch splitting into smaller branches, dotted with flowers here and there.
Small Cherry Blossom Tattoo
Small sakura tattoos on the finger or ankle are great for those who love hidden tattoos.
Watercolor Cherry Blossom Tattoo
Cherry blossom flower tattoos and watercolor tattoos are huge trends on their own. Put them together and you'll have the trendiest tattoo in town! Perfect as small arm tattoos.
Cherry Blossom Flower Tattoo
A cherry blossom tattoo design without branches won't make it look any less pretty or real-looking. In fact, it's one of the cutest and best flower tattoos. Just get a flower on its own or along with a leaf or a bunch of flowers.
Hummingbird Cherry Blossom Tattoo
Hummingbirds and cherry blossom tattoo designs are often gotten together 'cause these birds are usually found on cherry blossom trees, sucking the nectar from the flowers. It's the perfect accompaniment to your cherry blossom tree tattoo. Dragonfly and cherry blossom tattoos are quite popular too.
Where to Get Your Cherry Blossom Tree Tattoo
Wrist Tree Tattoo
Get an almost bracelet-like band of pretty cherry blossoms around your wrist or keep it minimal with a small flower on or above the wrist.
Cherry Blossom Shoulder Tattoo
Blossom tattoos on the shoulder look exceptionally sexy and there are plenty of ways to show them off – wearing something with one shoulder, off-shoulder, sleeveless, halter and the list goes on!
Cherry Blossom Sleeve Tattoo
Branches and flowers twirled around your arm and forearm is an awesome cherry blossom sleeve tattoo idea.
Tree Back Tattoo
These are great 'cause you can go as big and as bold as you want as there's more surface area to work with and you can also keep it hidden whenever you please. A cherry blossom tree or branch with an effect of petals being blown away by wind and some scattered at the bottom would make for a cute back tattoo.
Cherry Blossom Side Tattoo
Japanese cherry blossom tattoo designs look extra pretty on the side at the rib. It's a painful place to get a tattoo but hey, the end result is so worth it. Pull it off with a cut-out dress!
Cherry Blossom Thigh Tattoo
Colored or black and grey, cherry blossom tattoo designs look beautiful on the thigh. Small flowers or tree branches going all the way up to the hip or even rib cage are some great ideas for unique thigh tattoos.
Cherry Blossom Leg Tattoo
There are so many places on the leg where you can get a tattoo. Get them at the ankle, calf or one trailing from your thighs down to your ankles.
Cherry Blossom Foot Tattoos
These are very popular among women 'cause they resemble an anklet made of flowers. You could even get a floral tattoo along the side of the foot.
Cherry Blossom Tattoo in Different Styles
You don't have to stick to traditional tattoo styles. Here are some great options we recommend for a unique look.
Realistic Cherry Blossoms Tattoo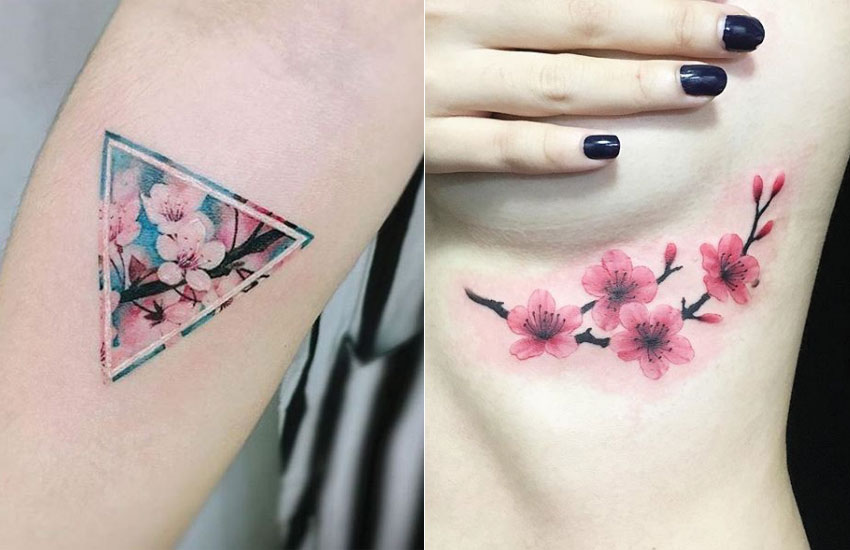 Botanical tattoos have been all the rage lately. So opt for some realistic looking cherry blossoms with five petals in white, pink or red.
Black and White Cherry Blossom Tattoo
For some weird reason, I find tattoos more meaningful when they're achromatic. So, these are the ones I'd most likely get. Don't get me wrong, colored ones are beautiful too and obviously, more realistic. But there's something about black and white cherry blossom tattoo designs.
White Cherry Blossom Tattoo
Don't know why but white cherry blossoms are not as popular as pink and red ones in the tattoo world. These types of tattoos are ideal if you want a beautiful cherry blossom tattoo that it isn't too mainstream. It's also perfect if you want something really subtle.
So those were our ideas for cherry blossom tattoos! What did you think of them? And will you be getting one? Let us know by tweeting @shilpa1ahuja 😀
Image Credits: Instagram
Also read:
– 60 Cute Tattoo Ideas | Best Tattoo Designs for Women
– Feather Tattoo: Meaning, Types, Designs, Ideas & Inspiration!
– Lotus Flower Tattoo Designs to Get Inked
– Tattoo Styles: 16 Most Popular & Cool Tattoo Ideas
– King and Queen Tattoos | Best Couple Tattoo Ideas
– Tattoos for Men: 50 Guy Tattoo Ideas for All Body Parts
– Tattoo Removal: Guide to Types of Processes, Cost & Pains Involved!
Nishita is a Staff Writer/ Journalist at ShilpaAhuja.com. She is a graduate of National Institute of Fashion Technology and has a degree in leather design. A lover of all things fashion, she writes about everything from beauty, hair and lifestyle to fashion trends and how-to's. Her area of expertise is outfit ideas but being fresh out of college, she also loves writing about college fashion. Her new found love of baking is currently taking over her life, making her write about all things chocolate and easy recipes. With a flair for sketching and a great eye for detail, she's previously designed leather garments for brands like Diesel and Salsa. When she's not writing, she's busy reading extremely sappy Nicholas Spark's novels, sewing clothes and listening to some indie rock. Also super passionate about photography, she loves portraits and wildlife photography – a habit turned love that formed with the amount of traveling she did as a teenager. As a girl who grew up with books and movies like Pride & Prejudice, her love for period fashion is huge. And being curly haired, she's always on a constant hunt for solutions to problems that come with having ringlets and loves sharing them with people through her articles. For feedback and questions, email [email protected] or connect with her on twitter @ni95.