The Chanel woman is truly a woman who travels. A lot. Internationally. Because all of Karl Lagerfeld's collections are not only inspired by travels and exotic destinations, but also speak very clearly of their inspirations. The latest Chanel Cruise 2016-17 collection is a good example. Presented in Havana, Cuba, the collection takes all its inspiration from the location and is reminiscent of the Caribbean region in a great way.
Some of the looks are very peasant-like, and some really posh, some are a blend, but all come together in a signature Chanel way – inclusive of the classic elements like the tweed jacket, multi-strand pearl necklaces and charms. The elements themselves blend into the Cuban theme – a tweed pencil skirt with fringed hemline paired with a classy jacket, a charms belt worn over a pair of boy pants, a tweed jacket worn over a graphic tee with the word 'Coco' on it.
The fashion show started with menswear-inspired looks, including tux jackets worn over waistcoats and retro-looking broad ties, flared pants, sheer pussybow blouses, fedoras and loafers. The looks soon progressed to vacation-inspired outfits, like ruffled midi-dresses with tropical leaf and flower patterns and applique.
Some of the common elements (and my favorites) were shoulder flower pins, toe-less socks worn with flat open-toe sandals and a variation of belts. Accessories were, in fact the most interesting, which, along with layering, gave the outfits their unique, memorable feel. Some of the accessories used classic Chanel elements differently. Leather-woven chain-links reminiscent of Chanel bags made up the belt buckles and pearl strings became woven into broad sandal straps.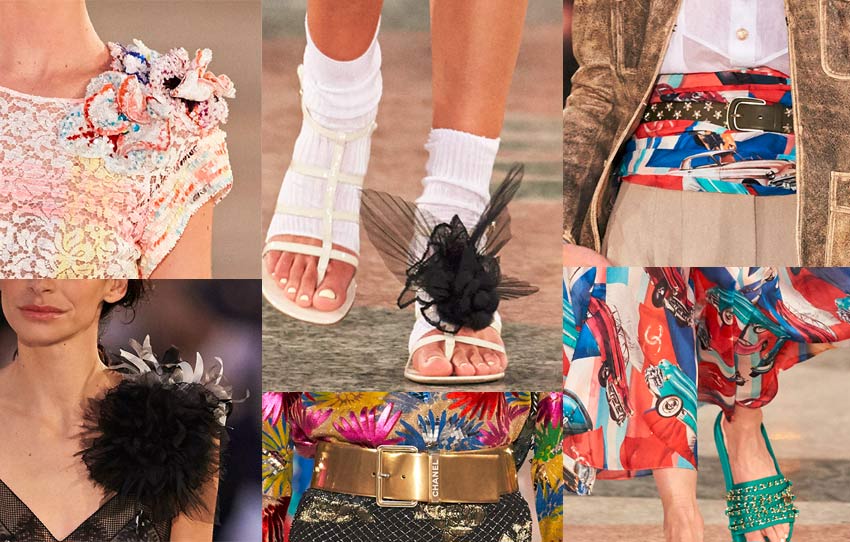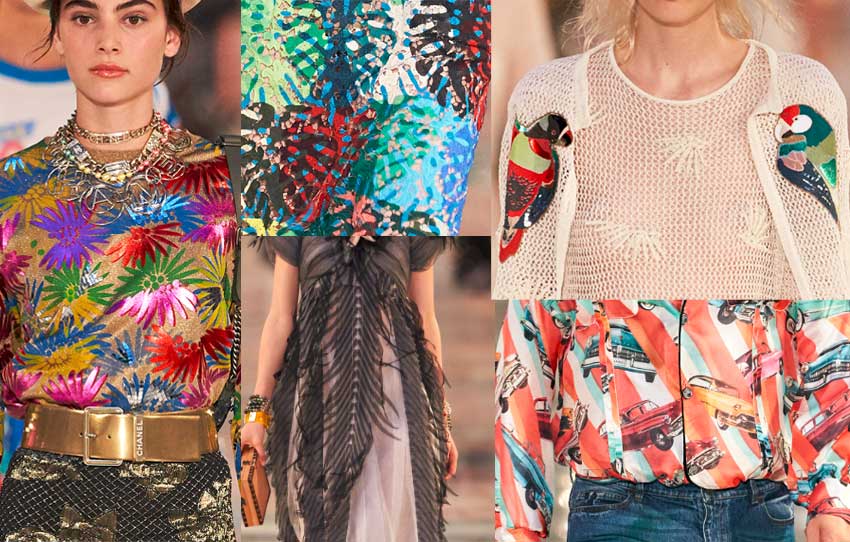 The color palette was black and white in the first few looks, and then quickly graduated to khaki, beiges, reds and unnaturally faded denim. The second half of the fashion show included representatives from nearly every color family – bright yellow, turquoise, camel, coral, tan, rose and plenty of multi-colored dresses!
Chanel Cruise 2016-17 Collection: Gallery

Image Credit: Chanel
Shilpa Ahuja the editor-in-chief of ShilpaAhuja.com, which she founded with the goal of inspiring confidence in the modern working woman through fashion. Other than defining the direction of the magazine, she also writes about fashion & beauty trend forecasts, industry analysis, and opinions.
Shilpa's work has been published in the University of Fashion blog and Jet Airways magazine. She is also an artist, illustrator and cartoonist. She is also the creator of Audrey O., a comic series that represents the lifestyle of millennial women. She enjoys creative writing and world travel. Her art has been exhibited at Harvard Graduate School of Design and the Aroma Hotel, Chandigarh and been published in Chandigarh Times.
Originally from Chandigarh, Shilpa also has a degree in architecture and has worked in interior project management. She is also the author of the book "Designing a Chinese Cultural Center in India". Shilpa has a Masters in Design Studies degree from Harvard University.
For feedback and questions, please email [email protected]