The minimalistic look of the DiorSplit sunglasses is hot this season. Here's how the celebrities are rocking these designer sunglasses with street style!
Hey gorgeous! I already wrote about DiorSplit Sunglasses that were first launched with Spring Summer 2016 ready-to-wear collection. These two-tone sunglasses are Dior's hottest summer accessory, and their slim, minimalistic look is getting popular with the celebrities, too.
I also featured a pair of light blue DiorSplits two of my looks, pairing them with jeans and crop tops. If you want more ideas on how to rock this season's sexiest designer sunglasses, take a look at these celebrities who incorporated DiorSplit glasses into their summer style:
Celebs Sporting This Season's Hot Designer Sunglasses
Bella Hadid, who walked the ramp for Dior's latest FW16 collection and also modelled for their makeup range, was spotted walking in Soho in June, 2016 in New York City. She sported the Diorsplits with a spaghetti top and a frayed denim skirt paired with black leather booties.
Elle Fanning wore the pink Diorsplit sunglasses while shopping in Studio City, Los Angeles, California in July, 2016. She paired them with a summer LBD, white sneakers and a backpack.
Actress Kate Bosworth paired the Diorsplits with beachwear. She shows off her bikini body while on vacation in Oahu, Hawaii in March, 2016.
Lottie Moss wore the designer sunglasses with a bikini, too. Here she is as seen in Spain on July 4, 2016. She also paired her bikini with a matching red scarf and a large tote.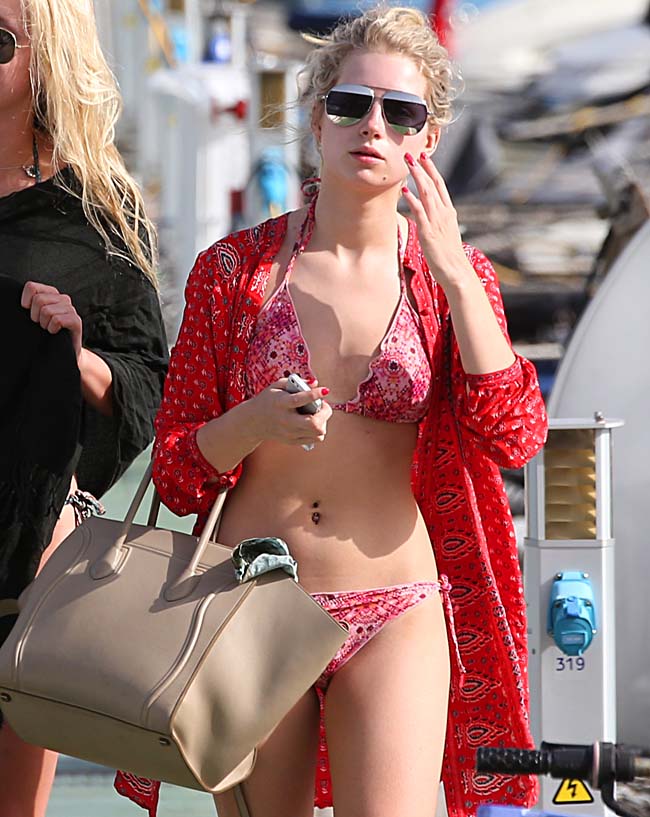 Here's yet another celebrity rocking the sunglasses with transition-season street style. Olivia Wilde wore the pink ones in July, 2016. She paired them with a biker jacket over a tee, black skinny jeans and leather booties.
Chanel Iman was spotted at Coachella, 2016 wearing the designer sunglasses in black with a boho outfit. The Victoria's Secret model paired them with denim low rise shorts and a green crop top and a silver necklace.
Are you also wearing DiorSplits this season? Lemme know hat you paired them with! As for me, check out my looks featuring these sunglasses:

Shilpa Ahuja the editor-in-chief of ShilpaAhuja.com, which she founded with the goal of inspiring confidence in the modern working woman through fashion. Other than defining the direction of the magazine, she also writes about fashion & beauty trend forecasts, industry analysis, and opinions.
Shilpa's work has been published in the University of Fashion blog and Jet Airways magazine. She is also an artist, illustrator and cartoonist. She is also the creator of Audrey O., a comic series that represents the lifestyle of millennial women. She enjoys creative writing and world travel. Her art has been exhibited at Harvard Graduate School of Design and the Aroma Hotel, Chandigarh and been published in Chandigarh Times.
Originally from Chandigarh, Shilpa also has a degree in architecture and has worked in interior project management. She is also the author of the book "Designing a Chinese Cultural Center in India". Shilpa has a Masters in Design Studies degree from Harvard University.
For feedback and questions, please email [email protected]