From modern to traditional, from simple to heavy, here are 25 latest bridal mehndi designs for 2019 for your wedding. Discover the top new mehndi trends!
Hey gorgeous! Mehndi is not just for the brides. In fact, this lovely tradition is what every lady at a wedding shares. Also, from weddings to receptions, engagements to parties and family functions, latest mehendi designs are always something for girls to try.
Mehndi is one of the most beautiful things that are the mark of an Indian bride. It's what sets us apart from the brides of all other countries, along with our colorful bridal outfits. And mehendi a tradition that every Indian girl loves to carry forward. But mehndi trends keep changing just as frequently as lehenga designs. If you're looking for something latest to adorn your hands and feet, you gotta check out the top new trends for this year.
25 Latest Bridal Mehndi Designs & Trends for 2019
If you're getting married soon and are looking for the latest bridal mehndi designs for 2019, you've come to the right place! Whether you're looking for Arabic mehendi designs or something simple, something trendy or traditional, I've compiled all the newest trends every bride should know about. Let's go!
1. City Skyline Design
Bridal mehndi designs are getting more and more modern. City skyline motifs are becoming the top trends to adorn at the end of the mehndi. In this mehendi design, the artist has combined lotuses with monuments such as the Brooklyn Bridge, Statue of Liberty and the city skyline of NYC. Perfect for NRI brides or those who met their fiancé abroad.
2. Jaimala Scene
Looking for beautiful mehendi designs for full hand for a dulhan? Scenes depicting the wedding ceremony are really trendy among bridal mehendi designs these days. Go for bride and groom in the jaimala ceremony. You can combine them with the traditional wedding motifs like lotuses or roses. Good examples include shehnaai, kalash, musical instruments like tabla or birds.
3. International Monuments
International monuments or city skyline and the night sky are also very popular among the latest mehendi designs for weddings. Combine them with the traditional bridal motifs like peacock, jaali, leaves, lotus and lace. This would also be a great idea for your first karwachauth.
4. Love-Story Inspired Bridal Mehndi Designs
Some of the latest bridal mehendi designs also include motifs depicting the couple's unique love story. So take some pictures or sketches with you to show to your mehendi artist. They can be about how you met your husband, fell in love, your first date or your proposal. You can even get these all over your arms or feet, and ask your husband later to guess which one depicts what. These bridal mehendi designs can also make for great pictures and extremely cherished memories for years to come.
5. Proposal Scene
I'm loving this bridal mehendi design that shows a man proposing to a woman under beautiful bells, surrounded by birds and flowers in a garden. Oh, that's a dream come true for any girl! So tell your love story through your lovely bridal mehendi designs, and let your bridesmaids and relatives swoon over the art. The lotuses and Taj Mahal just add even more beauty to the whole mehendi look. Great idea for a modern dulhan.
6. Lace Bridal Mehndi Designs
I love this breathtaking mehendi design for an unconventional bride. This lovely mehndi design is really new and unlike anything I've ever seen before. You can go for lace designs on both hands that connect to lace bracelets or armlets through leaves. You can even match the lace design of your hands on your feet. This would also be a great idea for your brother's wedding.
Also read: Mehendi Outfits for Indian Brides: The Complete Guide
7. Lace Gloves
If you like lace + roses and are looking for something unconventional, this would be the perfect design for you. Lace gloves are a totally modern design, in fact, these are inspired by the western bridal attire. So these are the perfect bridal mehendi designs for fashionistas.
Go for a half glove mehndi design, which ends at the center of your hand. You can combine it with Gothic inspired chains and diamonds. This would be the perfect idea for unconventional brides or even for your roka or anniversary.
8. Modern Motifs (Tea-Cups, Hearts, Bells)
What's new in the latest mehendi designs for brides? Chic bridal mehendi designs include modern motifs, like tea-cups, hearts or traditional motifs like jaali, leaves or mandalas. We are seeing designs that continue on both the hands, small empty spaces and Arabic inspired black, filled-in designs. You can go for this with just the regular mehendi.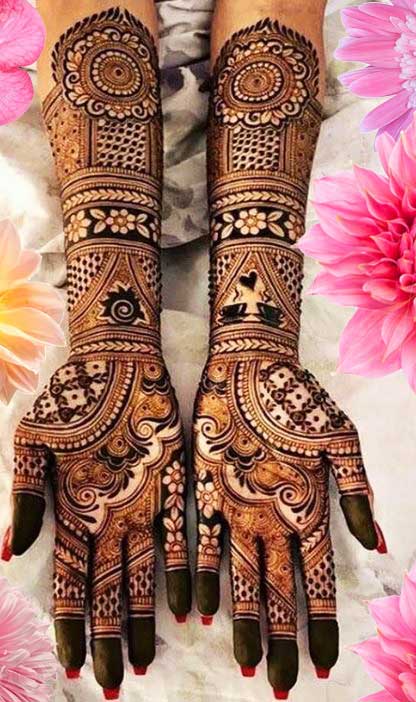 9. Birds & Open Bird-Cages
Birds and bird cage designs are among the top bridal mehndi designs for 2019. Open cages and birds depict freedom and beginning a new life. And I'm also loving the black and white design with negative and positive spaces which is very in right now. Great idea for brides who like simple designs with deep meanings.
10. Wedding Shlokas
Auspicious wedding mantras and shlokas written in mehndi over the bride's arm are becoming quite popular this year. Shlokas are often associated with positivity and blessings for marital bliss. Combine them with wedding scenes, musical instruments, birds, and lotuses.
11. Cartoon/ Pop-Culture Couples
If you are a cartoon-lover or movie buff, instead of a bride and groom, you can also go for famous couple characters like Jasmine and Aladdin on your hands to depict your cute love story. Combine these with beautiful Arabic skyline or scenery. Here, the artist has also added lots of beautiful roses, jaali designs, lotuses and the names of the bride and groom.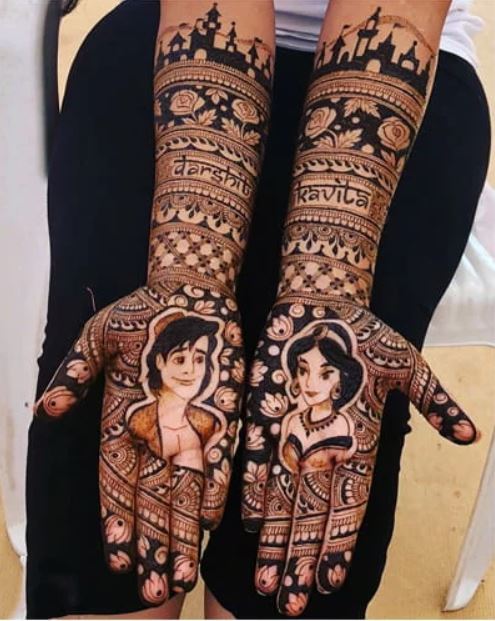 12. Designer Finger-Tips
Gone are the days when the mehndi designs included the back of the tips of your fingers fully covered with mehendi. This year, just ask your mehendi artist to leave empty spaces within the tips. There, he can draw leaves or beautiful roses. You can also go for asymmetrically filled-in tips, connecting flowers or jaali design.
13. Taj Mahal
If you like scenic designs, then go for a Taj Mahal that also shows its reflection. This whole scenery would be a great idea for a bride. Bridal mehendi designs in 2019 also include popular bird motifs like swans or parrots.
14. Wedding Scenes (Doli, Baraat, Sindoor, Varmala)
We've already shown the varmala scene motifs above, but even the other wedding scenes are getting extremely popular. Wedding rituals are the centuries-old traditions of India, and are considered very auspicious. Request your mehndi designer to mix them up and draw them all over the arm for making beautiful bridal mehndi designs that'll be great for pictures and memories.
15. Rose Climbers/ Rose Garden
Garden depictions are one of my favorite latest bridal mehndi designs this year. 2019 is all about creating beauty by combining modern and traditional. So if you don't want to go for large roses, try smaller rose climbers spread all over the hands, or clusters of small roses spread out over the arm along with leaves, jaali, birds and other garden scenery.
16. Arabic Bridal Mehndi With Rhinestones
Two-tone Arabic mehendi designs are really trendy right now. You can decorate them with rhinestones, Swarovski crystals or large colored stones. Make sure you're not allergic to the mehendi colors before you get this design. The latest colored mehendi designs include mandala, tendrils and bracelet motifs.
Also read: Latest Arabic Mehndi Design Trends You Haven't Tried Before (But Need to)!
17. Large Roses
If you love roses, here are some Indian mehandi design  photos for your next wedding, party or family function. Which bride wouldn't love for her hands and feet adorned with pretty and intricate bridal mehendi designs or roses and leaves?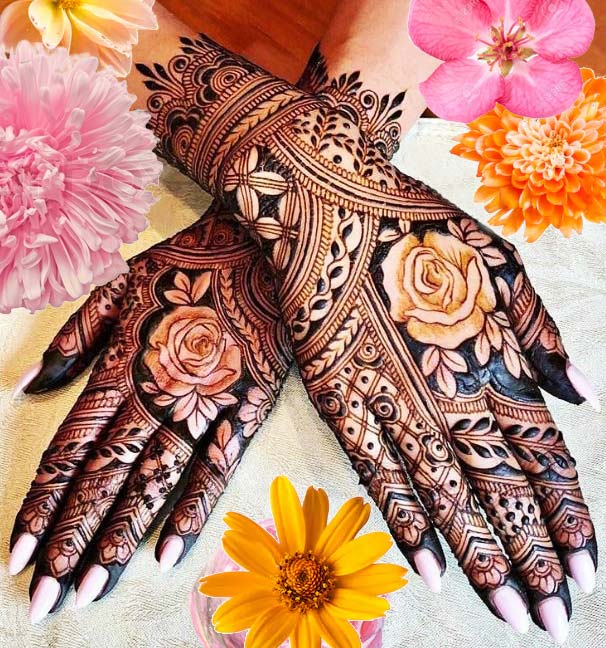 18. Rose or Lotus Bracelet/Cuff
This beautiful trend is perfect for brides who want a mehendi design that strikes a balance between traditional and modern art. You can also go for Taj Mahal motifs on both your hands. Bridal mehendi designs that end with a skyline, international monuments or Taj Mahal are really trendy right now. You can get them drawn over a bracelet of roses or lotuses.  Or you can also go for a circular design that continues across both hands. This would also be a great idea for your first karwachouth.
19. Nail Borders
Looking for some latest bridal mehndi designs to show off your nail art? Then go for this kind of design that gives the nails a bold border. Along with that, this design also uses finger motifs that start from the nails and go till mid finger. Combine it with lotuses, leaves or jaali patterns. If you really want to focus on your nails, you can just leave the rest of your hand empty and focus on the fingers only.
20. Elephants
If you're looking for a mehndi design that is simple yet heavy, here's an idea for you. Go for big bracelet designs with a lot of filled in spaces and where the empty space is, make lotus motifs. You can also get interesting animal or bird designs like peacocks, elephants on both the hands. Fill the empty spaces with dots or clusters of dots.
21. Tabla, Dholki & Shehnai
22. Traditional Mandala
If you're looking for a traditional bridal mehendi design, this is a great idea. In this design, a mandala is drawn along with jaali pattern. I'm loving its traditional simplicity. Go for a mandala design with prominent empty spaces that involve a play of thick and light strokes.
23. Lotuses
Among all the flowers, lotuses are the trendiest in bridal mehendi designs this year. The latest patterns include lotus or tulip climbers (or bel). You can combine it with leaf, jaali, and floral designs. Go for lotuses drawn as negative or empty spaces in between a filled-in or black mehndi space.
24. Peacock Tail
We're used to swan and peacock designs, but in 2019, go for the complete peacock motifs. These peacock feathers have to be very delicately done to evoke traditional elegance. This design includes the whole peacock from head to tail, replete with feathers and a garden he's standing in! Isn't it so beautiful?
25. Large Empty Spaces
Looking for a simple bridal mehndi design? If you're the kind of girl who loves intricate designs yet that aren't too extra, this one's for you. Peacocks are back and we are loving them with roses, leaves and lotus motifs. You can also add negative spaces with hearts, leaf bel, or the feathers of the peacock.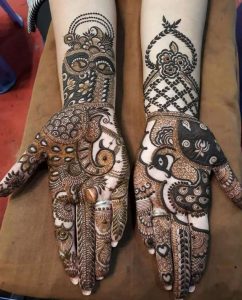 So I hope you liked my collection of bridal mehendi designs & trends. Which one are you gonna get? I'd love to see your wedding mehndi, so show it to me by tagging me on Instagram @shilpaahujadotcom!
<3
Read next:
– Mehndi Designs of 2018 Bring a Chic Minimalism to India
– 101 Latest Mehendi Designs & Beautiful Trends for Girls
Shilpa Ahuja the editor-in-chief of ShilpaAhuja.com, which she founded with the goal of inspiring confidence in the modern working woman through fashion. Other than defining the direction of the magazine, she also writes about fashion & beauty trend forecasts, industry analysis, and opinions.
Shilpa's work has been published in the University of Fashion blog and Jet Airways magazine. She is also an artist, illustrator and cartoonist. She is also the creator of Audrey O., a comic series that represents the lifestyle of millennial women. She enjoys creative writing and world travel. Her art has been exhibited at Harvard Graduate School of Design and the Aroma Hotel, Chandigarh and been published in Chandigarh Times.
Originally from Chandigarh, Shilpa also has a degree in architecture and has worked in interior project management. She is also the author of the book "Designing a Chinese Cultural Center in India". Shilpa has a Masters in Design Studies degree from Harvard University.
For feedback and questions, please email [email protected]