How far has the basic swimsuit progressed in Indian culture? From retro sports style swimsuit to new age string bikinis, here's the evolution of Bollywood bikini decade by decade!
Hey gorgeous! Wearing a bikini today is not a big deal. Or is it? A lot of Indian women get inspired by Indian Bollywood fashion. And Bollywood and bikinis have a strong relationship because the latter is used to market a lot of the former!
Ever wondered when the bikini trend first started in Bollywood? Well, it goes back to 1960s when the actress, Tanuja Chandra sported one in the movie, Chand Aur Suraj. Since then there has been no looking back, the Bollywood bikini has evolved, taking inspiration from Hollywood and even got Bollywoodized sometimes (Duh! So typical!)
The styles kept evolving. But are the Bollywood heroines in bikini shown for empowerment or objectification? Let's find out! Let's take a look at the evolution of Bollywood bikini!
Bollywood Actress Bikini: 1960s
Of course, the bikini started by not being a bikini at all. Tanuja wore a backless swimsuit with an overskirt that made it look like what can today be called a party slip dress! What I love the most about this look is that her swimsuit is backless and yet comfortable to swim in. This Bollywood bikini style was the beginning of swimwear in Indian cinema.
Movie: Chand Aur Suraj
Actress: Tanuja
Year: 1965
It's common for Bollywood to take its style inspiration from Hollywood. Back in the 60s, it took a few years for trends to make their way to the east. The 50s Marilyn Monroe style bikini was taking over Bollywood by storm in the 60s. It was a bikini and it was sensuous. Sharmila Tagore was one of the first actresses to sport it. The leopard print bikini she wore for a magazine shoot was too sexy to handle.
Back in the sixties, the Bollywood bikini body used to be curvy, as this was to the era in which a curvy body was considered fit and sexy. She also sported a blue one-piece swimsuit in the movie, An Evening in Paris, which was apt for swimming and sailing. Not overtly sexy, but empowering nonetheless. But it was fashionable, too, with prints and the bright color complementing her.
Filmfare magazine cover
Actress: Sharmila Tagore
Year: 1966
Movie: An Evening in Paris
Actress: Sharmila Tagore
Year: 1967
Indian Actress Bikini: 1970s
In the 70s, Bollywood bikini was all about adornments and experimentation. There were cut outs, embellishments and ruffles. Nutan wore a slip dress-esque swimsuit, which was popular as a 60s Bollywood bikini style, with side cutouts. She accessorized it with a hat for a beach look.
And one can never forget the famous look by Dimple Kapadia worn in the movie, Bobby. The simple yet elegant two-piece bikini was sensuous, hot and she stole a million hearts with it. The curves were relatable, unapologetic and real before gymming and heavy photo-editing became fashion industry essentials.
Movie: Yaadgar
Actress: Nutan
Year: 1970

Movie: Bobby
Actress: Dimple Kapadia
Year: 1973
Bollywood Bikini of 1980s
By the 80s, some of Bollywood's top actresses had rocked swimsuits. However, the eighties was the era where the swimsuit was used to grab attention rather than for swimming. The looks were chic and elegant but also too decorative.
Also read: 80s Bollywood Fashion: The Iconic 80s Bollywood Trends
They were more like posing costumes rather than swimming attire, accessorized with makeup, chic haircuts, sarongs and jewelry. Parveen Babi popularized sarongs in the movie, Yeh Nazdeekiyan. However, in the late 80s, the one-piece swimsuit made a comeback, which would continue in the nineties. Madhuri Dixit sported the sports style bikini in the movie, Tezaab. The subtle makeup look was back and the bikini was worn to serve the purpose.
Movie: Yeh Nazdeekiyan
Actress: Parveen Babi
Year: 1982
Actress: Zeenat Aman

Actress: Madhuri Dixit
Movie: Tezaab
Year: 1988
Bollywood Heroines in Bikini: 1990s
The 90s was influenced heavily by the famous American series, Baywatch. Swimwear became about the sport, not about casually lounging around a beach. The looks became unadorned but yet attractive. The single piece bikini made a comeback but the bodies were super toned compared to the earlier decades. High-leg swimsuits became trendy with a peek of the cleavage.
Also check out: Best and Worst 90s Bollywood Fashion
Both the actresses of the movie Baazigar, Kajol and Shilpa Shetty, sported Baywatch style printed monokinis. Size zero was not a thing yet, but having a fit body was given much more importance. Also, the same style continued throughout the nineties with actresses like Juhi Chawla and Urmila Matondkar sporting 'em.
Actress: Kajol
Movie: Baazigar
Year: 1993
Actress: Shilpa Shetty
Movie: Baazigar
Year: 1993
Movie: Darr
Actress: Juhi Chawla
Year: 1993
Movie: Rangeela
Actress: Urmila Matondkar
Year: 1995

Movie: Takkar
Actress: Sonali Bendre
Year: 1995
Bollywood Bikini Babes of 2000s
The decade of sporty pool-wear gave way to the glam, sensationalist naughties. Too much of experimentation was done with the Bollywood bikini. From metallics to prints to donning makeup, the list is endless. It was quite funny to see them onscreen, too. The string bikinis became popular along with hardware details like links and stones. From Minissha Lamba to Bipasha Basu to Tanisha Mukerji, almost all the actresses sported the skimpy string bikini. Some of 80s Bollywood bikini was back. The looks were created for photoshoots but not to take a dip in the pool.
The 2000s also saw overdone accessories like multiple necklaces, cuffs, bracelets, finger rings and what not. Amrita Arora wore heels with a bikini. The 2000s missed the definition of swimwear, completely. The tacky makeup told the viewers swimwear is not functional to take a dip in the sea but only meant to be eye-candy in the movies.
And the bikini had to be sported with a perfect body. There was no room for extra flabs or fat in the body. Such a siziest era. Of course, Kareena Kapoor popularized "size-zero" and made it worse. The decade did play an important role, however. With major Indian female celebrities sporting bikinis either in the movies or in a photoshoot for magazine editorials, the clothing item became a rite of passage for Bollywood actresses.
Early 2000s Bollywood Bikini
Actress: Celina Jaitley
Movie: Janasheen
Year: 2003
Actress: Mallika Sherawat
Movie: Murder
Year: 2004
Movie: Naach
Actress: Antara Mali
Year: 2004
Movie: Neal n Nikki
Actress: Tanisha Mukerji
Year: 2005
Movie: Dhoom 2
Actress: Bipasha Basu
Year: 2006

Movie: Dostana
Actress: Priyanka Chopra
Year: 2008
Actress: Kareena Kapoor
Movie: Tashan
Year: 2008
Actress: Minissha Lamba
Movie: Kidnap
Year: 2008

Movie: Kambakkht Ishq
Actress: Amrita Arora
Year: 2009

Actress: Kangana Ranaut
Movie: Kites
Year: 2010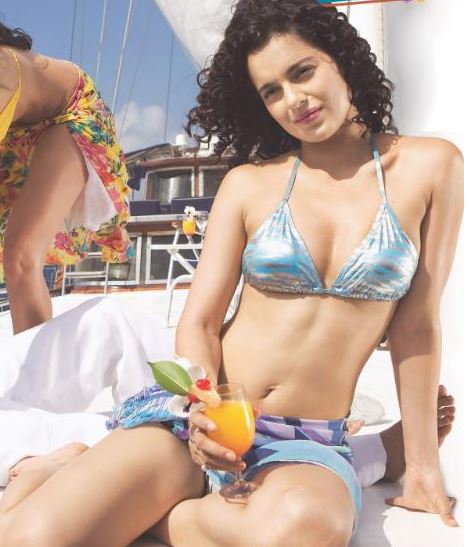 Actress: Jiah Khan
Movie: Housefull
Year: 2010
Best Bollywood Bikini: 2010s
In the early 2010s the concept of feminism started to be taken seriously. So, this is an era where actresses are actually wearing what suits them without over accessorizing or succumbing to trends. Whether one is curvy or thin or fat, everyone are donning them with confidence. It is also the decade where wearing a bikini is no longer a big deal. Bollywood is helping normalize sporting one onscreen or off screen. A sculpted model-like body is neither unnecessary nor apologetic, everything is okay.
For example, Alia Bhatt donned a bright yellow color bikini in the movie, Student of The Year. She sported it with all ease and no abs. Also, Shraddha Kapoor wore a bralette top paired with a sarong and looked fabulous. And one cannot miss, Anushka Sharma's sports style bikini in the movie, Jab Tak Hai Jaan. We guess the decade of empowerment through fashion is really here in India. Hope we never go back to the dark ages of having to wear something just because you're expected to!!
Bollywood Bikini: Late 2000s to Present
Movie: Ladies vs Ricky Bahl
Actress: Anushka Sharma
Year: 2011

Movie: Student Of the Year
Actress: Alia Bhatt
Year: 2012
Movie: Deepika Padukone
Actress: Deepika Padukone
Year: 2012
Movie: Jab Tak Hai Jaan
Actress: Anushka Sharma
Year: 2012
Movie: Race 2
Actress: Deepika Padukone
Year: 2013
Movie: Boss
Actress: Aditi Rao Hydari
Year: 2013
Movie: Bewakoofiyaan
Actress: Sonam Kapoor
Year: 2014
Movie: Yaariyan
Actress: Evelyn Lakshmi Sharma
Year: 2014
Movie: Bang Bang
Actress: Katrina Kaif
Year: 2014
Movie: Shaandaar
Actress: Alia Bhatt
Year: 2015
Movie: Baaghi
Actress: Shraddha Kapoor
Year: 2016
Movie: Dishoom
Actress: Nargis Fakhri
Year: 2016

Movie: Judwaa 2
Actress: Taapsee Pannu
Year: 2017
So, did you love the evolution of Bollywood bikini styles? What's your take on it? Let us know by tweeting @shilpa1ahuja!
Also, read:
–Indian Bollywood Fashion Through Decades: 1960s to Present
–The Most Fashionable Movie Characters in Bollywood Ever
–Top Bollywood Actresses' Instagram Accounts to Follow
–11 Female Bollywood Characters We Connect With
–Most Iconic Bollywood Costumes & Indian Actress Looks Ever – Top 15
Sahana is a Senior Staff Writer at ShilpaAhuja.com. With an experience in fashion and lifestyle writing, Sahana is responsible for Indian and international fashion week coverage every year, and is developing an expertise in apparel trend forecasting. She also writes about health and fitness, having pursued yoga for 6 years now. She's not a gym person at all but is all for "running in the park" and is an amateur cyclist. Books and coffee are her other passions. She's also an amateur photographer. She's a hardcore Bollywood fan and she loves to cover the nostalgic topics on the same. From fashion trends to famous characters, she can make anyone love Bollywood! Her best article has been 90s Bollywood fashion, a readers' favorite so far! Prior to her experience with ShilpaAhuja.com, Sahana has written as a freelance author for online magazine, Mashup Corner, and interned at EventsHigh as a content writer. Her blogs on basic fashion, makeup, fitness and city's food joints that gave her a chance to experiment with her writing. She also has voiced her opinions about feminism and equal rights for men and women at PolkaCafe journals and after quitting her job, she decided to take up writing as her full time career.
Sahana is an engineering graduate and has worked in an MNC, Tesco, for more than a year as an Operations Support. It was her sheer love for fashion that made her quit the monotonous 9 to 5 job to pursue a career in the fashion industry. She's originally from Bangalore and is currently settled in Chennai (she's loving the city)! For any queries and discussions, contact her at [email protected] You can also tweet her at https://twitter.com/Sahana_17